Mount Washington Hillclimb - NE
New Hampshire, USA, August 21, 2004
2003 Results Results Past winners
England conquers the mountain
Official report
England was going all out
Photo ©: Travis Drennen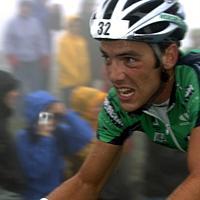 The weather on New England's highest peak was even nastier than usual today, but the Volkswagen Mt. Washington Auto Road Bicycle Hillclimb was one of the most exciting battles in its 32-year history, as Justin England of San Anselmo, California, outdueled Philip Wong of Gloucester, Mass., to the summit of the 6288-foot peak in a time of 58 minutes 50 seconds.
Meanwhile, former Williams College track runner-turned cyclist Aimee Vasse pulled away from the rest of the women's field in the early going and pedaled steadily up the 7.6-mile Auto Road to take the victory in one hour 10 minutes 44 seconds.
Riding this all-uphill race for the first time, England took the lead at the start, followed by Wong, Joshua Dillon of Essex Junction, Vermont, Andrew Knight of South Burlington, Vt., and Seth Hosmer of Concord, N.H. Last year Wong was runnerup to Mt. Washington course record-holder Tom Danielson (49:24), who is now racing on the professional circuit in Europe. This year Wong found himself pursuing England for four miles, narrowing the gap from 20 seconds at the halfway point of the race to ten seconds at 4 miles and finally overtaking the Californian as they struggled with the wet unpaved section of the course.
England's lead
Photo ©: Travis Drennen

At that point, said Wong later, "I did most of the pace-making, waiting for him to drop. I ramped it up, but he attacked."
"He put some digs in on me in the last two miles," said England. "Then with 500 meters to go, I put my head down and went for it." As horizontal rain blew riders from side to side, and 100-foot visibility made it difficult to maintain a sense of how much road lay ahead, England pushed furiously up the final 22-percent grade to beat Wong by five seconds. They were the only two riders who managed the ascent in less than one hour.
England, a professional rider with the Webcor team, hopes his success at Mt. Washington will help him rise to the ranks of international competition, as similar performances here have done for Danielson and for Tyler Hamilton.
Aimee Vasse
Photo ©: Travis Drennen

As the first wave of riders sprinted forward at the start, the first woman was 27-year-old Kerry Litka, a high school science teacher from Franklin, N.H., also making her debut here. With the advantage of prior experience, Vasse followed Litka for half a mile, then passed her definitively.
"I couldn't stay with her," said Litka. "In some conditions we may be about equal, but on a pure climb she's stronger." Litka finished nearly five minutes behind, in 1:15:41.
Vasse, who finished sixth here last year, used her experience to overcome not only Litka but also the worst of the weather. "A few times I thought I was going to fall," she said afterward, "so I rode directly into the wind to stay up. I kept passing people. This year was much better than last year!"
Vasse, still riding as an amateur, hopes to turn pro, but not until she has mastered the tactics required for riding in a peloton.
Teamwork
Photo ©: Travis Drennen
"I have trouble with pack riding," she said. "This (climbing) is my forte."
Third woman was first veteran rider Martha Robertson, 46, of Vermont, in 1:21:53. Fourth was another veteran, Codere Dominique, in 1:23:28.
Andrew Knight pulled ahead of Joshua Dillon to take third in 1:01:05, with Dillon fourth in 1:02:01. Seth Hosmer stayed steadily in fifth, finishing in 1:02:45.
More than 600 cyclists competed, including 75 in the elite first wave and half a dozen pairs riding tandem bicycles.
The race, a benefit for the Tin Mountain Conservation Center in North Conway, New Hampshire, awarded first prizes of $1500 to England and Vasse.
Everyone was feeling the pain
Photo ©: Travis Drennen

Photography
Images by Travis Drennen/www.tddesignimages.com
Results, 12.3 km
Overall

1 Justin England                     58.50
2 Philip Wong                         0.05
3 Andrew Knight                       2.15
4 Joshua Dillon                       3.11
5 Seth Hosmer                         3.55
6 Jesse Anthony                       4.18
7 David Thompson                      5.12
8 Scott Fiore                         5.20
9 John Bayley                         5.32
10 Benoit Fradette                    6.11
11 Phillip Kenealy                    8.09
12 Ian Ayers                          8.13
13 David Burnett                      8.36
14 Kristopher Auer                    9.36
15 Bruce Schlatter                   10.33
16 Terry Marshall                    10.38
17 Doug Jansen                       11.11
18 Aimee Vasse                       11.54
19 Keith Guinta                      12.20
20 Andrew Chambers                   12.22
21 Ian Gordon                        12.36
22 William R. Black                       
23 Geoff Hamilton                    12.58
24 Rejean Boivin                     13.06
25 Lawrence Reed                     13.12
26 Yuri Whitehead                    13.48
27 Kevin Bessett                     13.55
28 Pierre Reid                       14.07
29 Mike Laracy                       14.10
30 Peter Stetson                     14.18
31 Rick Trainer                      14.39
32 Jeremiah Ketola                   14.42
33 Bob Mcclennan                     14.52
34 Jeffrey Kozlowski                 15.14
35 Jason Venditti                    15.19
36 Jon Orcutt                        15.28
37 Craig Antonides                   15.29
38 John Bracchi                      15.36
39 Mike Merritt                      15.37
40 Jack Hutchinson                   15.42
41 Pascal Sauvayre                   16.09
42 Andreas Daiber                    16.15
43 Tim Buckley                       16.28
44 Aleksandr Twarog                  16.43
45 Kerry Litka                       16.51
46 Mike Mccusker                     17.03
47 Marvin Wang                       17.04
48 Chris Mayhew                      17.10
49 Christopher Smith                 17.11
50 Alan Antonelli                    17.14
51 Mark Pitts                        17.20
52 Greg Probst                       17.24
53 Alain Bilocq                      17.30
54 Edward Kirby                      17.48
55 Eric Brandhorst                   17.59
56 Ed Rushton                        18.14
57 Tyler Munroe                      18.22
58 Etienne Chevrier                       
59 Jeff Jones                        18.27
60 Mark Johnson                      18.30
61 Mark Lockwood                     18.39
62 Andrew Curry                      18.41
63 Nick Crawford                     18.43
64 Rick Powell                       18.49
65 Willard Rice                      19.02
66 Sean Capizzo                      19.03
67 Todd Brown                        19.05
68 Peter Miller                      19.12
69 Francois Martel                   19.19
70 Joshua Bartlett                   19.31
71 Thomas Snow                       19.59
72 Joe Tonon                              
73 Lloyd Crawford                    20.00
74 Todd Nordblom                     20.01
75 Jigger Herman                     20.10
76 Andrew Kennedy                    20.11
77 Eric Tanner                       20.23
78 Stephen Miele Jr.                      
79 Thomas Valeo                      20.25
80 Dana Deschenes                    20.36
81 Sean Ford                         20.37
82 Luca Reba                         20.59
83 Matthew Bowman                    21.05
84 Eric Geoffrion                    21.12
85 James Odorisio                    21.20
86 Fish Frusciante                   21.26
87 Jeremy Symonds                    21.39
88 Ray Ray Rhatigan                  21.40
89 Christopher Gagne                 22.04
90 Rob Martin                        22.32
91 Art Leblanc                       22.34
92 Randy Weintraub                        
93 Sean Roskey                            
94 Craig Yannuzzi                    22.38
95 Andrew Watson                     22.44
96 Daniel Tullai                     22.46
97 Normand Collard                        
98 Glen Fraser                       22.51
99 Timothy Arnold                    22.53
100 Eric Pendleton                   22.56
101 Dan Harrigan                          
102 Leo Devellian                    22.59
103 Kg O'donnell                     23.01
104 Karl Beckert                          
105 Albert Lyman, Jr.                23.02
106 Tony Zelle                       23.03
107 Martha Robertson                      
108 Terry Milan                      23.09
109 Brian Lang                       23.13
110 Chris Kobran                     23.27
111 Harry Stover                     23.36
112 Russ Guertin                     23.44
113 Lawrence Driscoll                23.45
114 Gregory Bodkins                  24.07
115 Petr Smetanka                    24.17
116 Pablo Arias                      24.18
117 Matthew Feiner                   24.21
118 Bill Haelsen                     24.22
119 Hank Schiffman                   24.23
120 Gary Gilberti                    24.28
121 Neil Favreau                     24.31
122 William Fallon                   24.40
123 Michael Meagher                  24.45
124 Codere Dominique                 24.48
125 Chris Connaughty                 25.02
126 Steven Mcgrath                   25.14
127 Dennis Oconnor                   25.16
128 Eric Schenker                    25.19
129 Bob Fitzhenry                    25.23
130 Joseph Reagan                    25.30
131 David Thomson                    25.40
132 David Gladstone                  25.48
133 Dana Brown                       25.56
134 Ted Austin                            
135 Collin Galloway                       
136 Mike Di Rado                     25.57
137 Jeff Johnson                     26.00
138 Wayne Cunningham                 26.12
139 Alden Cadwell                    26.19
140 Kim & John Melloni / Scheub      26.23
141 Anthony Giguere                  26.24
142 Tom Luther                       26.28
143 Keith Kelly                      26.29
144 Richard Person                   26.33
145 Maxime Lecours                   26.44
146 Louise Barriss                   26.46
147 Tom Ayers                        27.05
148 John Anderson                         
149 Ronald Garon                     27.19
150 Michael Vanrandwyk               27.25
151 Sarah Sauvayre                   27.42
152 Eric Schildge                    27.45
153 Michael Cole                     27.51
154 Robert Dongoski                  27.53
155 Vincent Antonelli                27.58
156 James Mangrum                    28.05
157 Norman Laurin                         
158 William Strickland               28.16
159 Peter & Mike Cataldo / Goodr     28.27
160 Jonathan Kelley                  28.33
161 Daniel Paige                     28.35
162 James Gagne                      28.39
163 Rich Korn                        28.41
164 David Lipson                     28.48
165 Kevin Cahill                          
166 Mark Greenleaf                        
167 Mark Semiao                      28.51
168 John Caruso                      28.54
169 Hal Stewart                      28.58
170 Chris Mayo                       29.06
171 Joseph Bracchitta                29.07
172 Mary Georgetti                   29.09
173 Andrew Gilbert                   29.12
174 Corey Connell                    29.21
175 Keith Liggett                    29.37
176 Steve Vosburgh                        
177 Bruce Hiltunen                   29.40
178 Peter Romeyn                     29.41
179 Eric Ellingson                   29.45
180 Richard Tapply                   29.46
181 Edward Mcnamara                  30.05
182 Glen Cunningham                  30.16
183 Mark Roskey                      30.18
184 Jose Martinez                    30.19
185 Roger Costales                        
186 Erik Weston                      30.38
187 David Degroot                    30.49
188 Christopher Milan                31.00
189 Thomas Cross                     31.03
190 Anthony Dow                      31.13
191 David Clark                      31.24
192 Matt Miffitt                     31.25
193 Christopher Weier                31.33
194 Robert Dufour                         
195 Jonathan Lapierre                31.37
196 Don Kirouac                      31.39
197 David Bell                       31.40
198 Kevin Hays                       31.50
199 Heather Mckendry                 31.55
200 Daniel Rosenbaum                 31.59
201 Chris Mckeown                    32.05
202 Peter Merrill                    32.11
203 Joe Orsino                       32.16
204 Martin O'connell                 32.26
205 Rol Hesselbart                   32.35
206 Ian Gardiner                     32.40
207 John Smey                        32.49
208 Anthony Discipio                 32.52
209 Joe Semple                       33.08
210 Paul Berton                           
211 James Guild                      33.23
212 Brandon Rainoff                  33.24
213 Ed Ting                          33.34
214 Gerald Gerrish                   34.01
215 Nathan Miller                    34.05
216 David Lieb                       34.06
217 Paolo Marinoni                   34.08
218 David Caron                      34.10
219 Stuart Seraina                   34.13
220 David Symmes                     34.17
221 Kamm Meehan                      34.34
222 Denis Niez                       34.56
223 Christopher Ramsay               35.04
224 Mohsen Ghodsi                    35.09
225 Alan Davidowski                  35.12
226 Christopher Meagher              35.18
227 Joe Mitchell                     35.22
228 Peter Doran                      35.39
229 Bill Humphreys                   35.41
230 Paul Boudreau                    35.45
231 Brad Lapin                       35.51
232 Daniel Bukkhegyi                 35.58
233 Dan Tully                        36.09
234 Kevin Brennan                    36.12
235 John Hankins                          
236 Peter Savage                     36.35
237 Peter Failla                          
238 Chris Auty                       36.37
239 Bryan Budd                       36.38
240 Ray Tierney                      36.43
241 Frederic Seers                   36.45
242 Scott Alexander                  36.56
243 Steven Carmichael                37.02
244 Thomas Durkin                    37.18
245 Ronald Geneau                    37.19
246 Terrence Mortell                 37.25
247 George Thompson                  37.33
248 Mark Merchant                    37.36
249 Ed Kloskowski                    37.41
250 Tuyen Tran                       37.50
251 Paul Callahan                         
252 Bill Chapman                     37.58
253 Patrick Ford                     38.00
254 John Valavane                    38.06
255 James H. Wier                    38.09
256 Kevin Mcnamara                   38.25
257 Brad Walker                      38.32
258 Tom Raymond                      38.39
259 Dennis Loria                     38.47
260 Freddy Cicerchia                 38.56
261 Billy Starr                      39.16
262 Michael Holzman                  39.20
263 Glen Cunningham                  39.22
264 Roger Abrams                     39.29
265 Mike Lucas                            
266 Lauren Hefferon                  39.31
267 Andre Galiffi                         
268 Philip Rees                      39.43
269 John Durante                     39.46
270 Darren Lange                     39.49
271 Jean-Claude Leclerc              39.58
272 Hal Kingsbury                    39.59
273 Louis Tremblay                   40.00
274 Craig Grondin                    40.11
275 James O'malley                   40.21
276 Brian Hax                        40.26
277 Tom West                         40.32
278 Richard Gladstone                40.39
279 Andrew Kelley                    40.43
280 Andrew Kuklinski                 41.04
281 Kevin Killourie                  41.12
282 Philip Mitchell                  41.13
283 Laura Ponsetto                   41.15
284 Steve Centorino                  41.18
285 Luc Provencher                   41.31
286 Robert King                      41.36
287 Richard Schmiedel                41.40
288 Kevin Ruane                           
289 Patrick Ruane                    41.41
290 Stephen Loose                    41.48
291 David Schirmer                   41.52
292 Mike Hart                        41.58
293 Paul Zerbinopoulos               42.08
294 Jeffrey Polack                   42.11
295 Paul Spencer                     42.17
296 Gary Gingras                     42.19
297 Curt Detzer                      42.22
298 Larry Roman                      42.26
299 Ted Landers                      42.28
300 David Pehlemann                  42.31
301 Michael Wiggins                  42.32
302 Andrew Cutler                    42.34
303 Douglas Barrette                 42.55
304 Jeremiah Evarts                  43.00
305 Paul Burns                       43.02
306 Brian Cap                        43.03
307 Marc Drabik                      43.04
308 Jill Colburn                     43.06
309 Donald Martin                    43.10
310 Chessell Mcgee                   43.12
311 Arthur Milano                    43.25
312 Kris Bonello                     43.32
313 Keith Doughty                    43.38
314 Scott Soutra                     43.43
315 Bob Potter                       43.58
316 Jason Byrnes                     44.07
317 Steve Eppich                     44.08
318 Hannah Sullivan                  44.13
319 Dean Karnopp                     44.19
320 Mark Benton                           
321 Javier Pazos                     44.20
322 Leo Kolshorn                     44.25
323 Larry Gazda                      44.29
324 Carissa O'gara                   44.43
325 Mark Andrew                      44.55
326 Diana Hanks                      45.03
327 Andrew Holzman                        
328 Pete Cary                        45.09
329 Dave Case                        45.11
330 Stephanie Bryant                 45.23
331 Richard Renner                   45.26
332 Tim Higgins                      45.36
333 Brian Caraker                    45.52
334 Husam Sahin                      45.55
335 Albert Bertha                    45.56
336 Francis Bonelli                  46.02
337 William Fallisi                  46.18
338 David Lundin                     46.21
339 Ken Limburg                      46.24
340 Susan Lowery                     46.36
341 Robert Flis                      46.44
342 Mick O'gara                      46.45
343 David Salanitro                  46.48
344 Dino Fiscaletti                  46.50
345 George Winter                    46.52
346 Michael Weinstein                     
347 Timothy Wolfe                    47.02
348 Clifford Aronson                 47.07
349 Hugh Wilkinson                   47.09
350 Andrew Roy                       47.13
351 Michael Moorehead                47.16
352 Darrell Maier                    47.20
353 Timothy Andrew                   47.24
354 Jon Chamoff                      47.27
355 Peter Stahl                      47.30
356 Jean Cunningham                  47.33
357 Giuseppe Marinoni                47.57
358 Daniel Weier                          
359 Thomas Dugdale                   48.09
360 Neil Mcinnis                     48.13
361 Michael Bingham                  48.14
362 Steven Maxwell                   48.25
363 Robert Fernley                   48.29
364 Mark Given                       48.38
365 Robert Finkelsen                 48.41
366 Debra Leslie                     48.45
367 Lisa Antonelli                   48.51
368 Eugene Goffredo                  49.18
369 David Strollo                    49.29
370 Stephen Billings                 49.30
371 David Toth                       49.32
372 Ken Cargill                      49.34
373 Dave King                        49.39
374 Kevin Devine                     49.45
375 Richard Goldberg                 49.49
376 Jennifer Klau                    50.07
377 Jennifer Kline                   50.10
378 Jim Munsie                       50.11
379 Michael O'neill                  50.33
380 Linda Luther                     50.41
381 Nathaniel Novod                  50.57
382 John Cavanaugh                   50.58
383 Edward Hickey                    50.59
384 Kimberly Freedman                     
385 Lawrence Vuolo                   51.04
386 Israel Amaro                          
387 Kenneth Trinkus                  51.09
388 Linda Noyes                      51.12
389 John Talucci                     51.15
390 Robert Winter                    51.23
391 Dan Mattson                      51.24
392 Alex Clark                       51.28
393 Allan Edwards                    51.49
394 Joe Rapuano                      51.50
395 Theresa Lak                      51.56
396 Matthew Rignanese                52.11
397 Robert Todd                      52.17
398 Michael Jaworski                 52.21
399 Michelle Piro                    52.30
400 Michael Campbell                 52.32
401 Charley Stetson                  52.45
402 Rich Laracy                      52.52
403 Richard Higgins                  53.04
404 Richard Devellian                53.05
405 Tracey Boyden                    53.21
406 William Charron                  53.26
407 David Kellem                     53.32
408 Eugene Van Loan Iii              53.44
409 Chris Reeve                      53.46
410 Bill Olson                       54.51
411 Russell Johnson                  54.58
412 Jeffrey Sheehan                  55.00
413 Jeffrey Macwilliams              55.03
414 Paul Fallisi                     55.09
415 Joan Pew                         55.26
416 David Martin                     55.29
417 Paul Boudreau                    55.43
418 Scott Dallaire                   55.46
419 Thomas Dickinson                      
420 David Singleton                  55.48
421 Peter Richards                   55.51
422 Steven Siegel                    55.52
423 Aaron Prinz                      56.11
424 Andy Soles                       56.31
425 Keith Sullivan                   56.36
426 Michael Leahy                    56.40
427 John Burns                       56.43
428 Paul Denison                     56.46
429 Suzanne Young                    56.47
430 Scott Donnelly                   57.22
431 Neil Campisano                   57.27
432 William Page                     57.37
433 Nick Anderle                     57.41
434 John Bonnell                     57.55
435 Tim Husband                      57.59
436 B. Pike Noyes                    58.04
437 Shawn Carll                      58.07
438 Sam Stern                        58.15
439 Joe Sheehan                      58.16
440 Todd Spencer                     58.18
441 Richard Huntley                       
442 Fred Stedtler                    58.24
443 Kevin Tobias                     58.47
444 Elaine Skawski                        
445 Blake Fitch                      59.05
446 Thomas Johnston                  59.10
447 John Weaver                      59.18
448 Roger Epstein                    59.35
449 Eric Levy                        59.46
450 Don Wemple                     1.00.08
451 Bob Sardella                   1.00.33
452 Josh Brustin                   1.00.37
453 Craig Trottier                 1.01.45
454 Timothy Mckeown                1.02.29
455 Peter Swiniarski               1.02.37
456 Jeff & Kim Markuns                    
457 John Grummitt                  1.03.25
458 Karl Huck                      1.04.03
459 Ken Daignault                  1.04.07
460 John Cameron                   1.04.24
461 Phil Hemenway                  1.05.02
462 Brian Jalet                    1.05.12
463 Brian Brader                   1.05.40
464 Anthony R. Jessen              1.05.53
465 John Agnew                     1.06.00
466 David Hrdlicka                 1.06.01
467 Maurice Foley                  1.06.38
468 Mark Legere                    1.06.53
469 Scott Hasz                     1.07.07
470 Henry Bradley                  1.07.19
471 Robert Wilson                  1.07.48
472 Robert Sagula                  1.07.52
473 Stanley Bodkins                1.08.13
474 Edward Bassett                 1.08.43
475 Anthony Beisler                1.09.38
476 Todd Mccloy                    1.09.44
477 John Bakke                     1.09.58
478 Blair Kolbeck                         
479 Jack Chapman                   1.10.04
480 Drew Kolbeck                   1.10.07
481 Don Lamothe                    1.10.11
482 Doreen Wiggins                 1.10.18
483 William Sharp                  1.10.24
484 Arturo Castillon               1.10.26
485 Anne O'connor                  1.10.35
486 Roger Hobby                    1.10.42
487 Deborah Degroot                1.10.46
488 Iver Allgrove                  1.10.47
489 Terrence Fisher                1.11.23
490 Richard Marriott               1.11.37
491 Todd Skeddle                   1.12.03
492 William Robitaille             1.12.17
493 Mark Buatti                    1.12.32
494 Duane Arndt                    1.13.43
495 Thomas Regner                  1.14.11
496 Mark Dubeau                    1.14.39
497 Jeff Donnelly                  1.15.21
498 Jean-Pierre Bluteau            1.15.36
499 Tom Kelly                      1.15.51
500 Kris Dobbins                   1.16.24
501 James Whittum                  1.16.45
502 Robert Kerr                    1.16.49
503 Alan Eusden                    1.17.46
504 Domenick Presa                 1.18.02
505 James Hartley                  1.18.11
506 Paul Durand                    1.18.35
507 Stephen Fonstein               1.18.51
508 Chris Demarco                  1.19.33
509 J Mark                         1.20.13
510 Dave Patti                     1.20.16
511 Mike Dalton                    1.20.22
512 Charles Mottola                1.20.32
513 G L Brown                      1.21.57
514 Adam Dehner                    1.21.58
515 Neil Stanton                   1.22.34
516 Kerry Kehoe                    1.22.37
517 Keith Francis                  1.23.29
518 John Stetson                   1.23.54
519 John Schiepers                 1.24.22
520 William Charleton                     
521 Ray Boulanger                  1.25.42
522 Linda Elek                     1.25.47
523 Dennis Oneill                  1.26.00
524 Kevin Mahan                    1.28.45
525 Kathleen Sher                  1.29.16
526 Allan Miller                   1.30.01
527 David Debartolo-Stone          1.34.56
528 Peter Cram                     1.34.59
529 Paul Lapin                     1.35.08
530 Stephanie Brown                1.35.17
531 Annie Valerioti                1.36.03
532 Robert Thornton                1.36.05
533 Janet Geneau                   1.37.39
534 Bill Hamilton                  1.38.12
535 Lois Van Hoesen                1.38.33
536 John Wagner                    1.38.56
537 Robert Champlin                1.43.48
538 Michael Manning                1.47.05

Results by Category

Women 19 - 29
 
1 Aimee Vasse                      1.10.44
2 Kerry Litka                         4.57
3 Hannah Sullivan                    32.19
 
Women 30 - 39
 
1 Mary Georgetti                   1.27.59
2 Heather Mckendry                    2.46
3 Chessell Mcgee                     14.03
4 Stephanie Bryant                   16.14
5 Jennifer Klau                      20.58
6 Tracey Boyden                      24.12
7 Elaine Skawski                     29.38
8 Blake Fitch                        29.56
9 Deborah Degroot                    41.37
10 Stephanie Brown                 1.06.08
 
Women 40 - 49
 
1 Martha Robertson                 1.21.53
2 Codere Dominique                    1.45
3 Louise Barriss                      3.43
4 Sarah Sauvayre                      4.39
5 Lauren Hefferon                    16.28
6 Laura Ponsetto                     18.12
7 Jill Colburn                       20.03
8 Carissa O'gara                     21.40
9 Diana Hanks                        22.00
10 Susan Lowery                      23.33
11 Jean Cunningham                   24.30
12 Debra Leslie                      25.42
13 Lisa Antonelli                    25.48
14 Jennifer Kline                    27.07
15 Linda Luther                      27.38
16 Kimberly Freedman                 27.56
17 Linda Noyes                       28.09
18 Theresa Lak                       28.53
19 Michelle Piro                     29.27
20 Joan Pew                          32.23
21 Suzanne Young                     33.44
22 Doreen Wiggins                    47.15
23 Anne O'connor                     47.32
24 Kathleen Sher                   1.06.13
25 Annie Valerioti                 1.13.00
 
Women 50 - 59
 
1 Linda Elek                       2.24.37
2 Janet Geneau                       11.52
3 Lois Van Hoesen                    12.46
 
Men 1 - 18
 
1 Jesse Anthony                    1.03.08
2 Ian Ayers                           3.55
3 Ian Gordon                          8.18
4 Yuri Whitehead                      9.30
5 Mark Lockwood                      14.21
6 Nick Crawford                      14.25
7 Todd Nordblom                      15.43
8 Eric Schildge                      23.27
9 Corey Connell                      25.03
10 Christopher Weier                 27.15
11 Nathan Miller                     29.47
12 Charley Stetson                   48.27
13 John Schiepers                  1.20.04
 
Men 19 - 29
 
1 Justin England                     58.50
2 Philip Wong                         0.05
3 Andrew Knight                       2.15
4 Joshua Dillon                       3.11
5 Seth Hosmer                         3.55
6 David Thompson                      5.12
7 Peter Stetson                      14.18
8 Mike Merritt                       15.37
9 Aleksandr Twarog                   16.43
10 Chris Mayhew                      17.10
11 Etienne Chevrier                  18.22
12 Andrew Curry                      18.41
13 Peter Miller                      19.12
14 Joshua Bartlett                   19.31
15 Stephen Miele Jr.                 20.23
16 Thomas Valeo                      20.25
17 Dan Harrigan                      22.56
18 David Thomson                     25.40
19 Anthony Giguere                   26.24
20 Maxime Lecours                    26.44
21 James Mangrum                     28.05
22 David Lipson                      28.48
23 John Caruso                       28.54
24 Keith Liggett                     29.37
25 Anthony Dow                       31.13
26 Jonathan Lapierre                 31.37
27 Ian Gardiner                      32.40
28 Brad Walker                       38.32
29 Dan Mattson                       51.24
30 Neil Campisano                    57.27
31 Scott Hasz                      1.07.07
 
Men 30 - 39
 
1 Scott Fiore                      1.04.10
2 John Bayley                         0.12
3 Kristopher Auer                     4.16
4 Bruce Schlatter                     5.13
5 Geoff Hamilton                      7.38
6 Rejean Boivin                       7.46
7 Kevin Bessett                       8.35
8 Mike Laracy                         8.50
9 Jeremiah Ketola                     9.22
10 Jeffrey Kozlowski                  9.54
11 Jason Venditti                     9.59
12 John Bracchi                      10.16
13 Andreas Daiber                    10.55
14 Marvin Wang                       11.44
15 Christopher Smith                 11.51
16 Alan Antonelli                    11.54
17 Greg Probst                       12.04
18 Alain Bilocq                      12.10
19 Edward Kirby                      12.28
20 Ed Rushton                        12.54
21 Jeff Jones                        13.07
22 Willard Rice                      13.42
23 Sean Capizzo                      13.43
24 Joe Tonon                         14.39
25 Andrew Kennedy                    14.51
26 Sean Ford                         15.17
27 Luca Reba                         15.39
28 Matthew Bowman                    15.45
29 Jeremy Symonds                    16.19
30 Christopher Gagne                 16.44
31 Rob Martin                        17.12
32 Randy Weintraub                   17.14
33 Craig Yannuzzi                    17.18
34 Andrew Watson                     17.24
35 Daniel Tullai                     17.26
36 Brian Lang                        17.53
37 Harry Stover                      18.16
38 Gregory Bodkins                   18.47
39 Petr Smetanka                     18.57
40 Pablo Arias                       18.58
41 Bill Haelsen                      19.02
42 Neil Favreau                      19.11
43 Eric Schenker                     19.59
44 Bob Fitzhenry                     20.03
45 Collin Galloway                   20.36
46 Jeff Johnson                      20.40
47 Wayne Cunningham                  20.52
48 Keith Kelly                       21.09
49 Richard Person                    21.13
50 John Anderson                     21.45
51 Ronald Garon                      21.59
52 Michael Cole                      22.31
53 Robert Dongoski                   22.33
54 Vincent Antonelli                 22.38
55 William Strickland                22.56
56 Daniel Paige                      23.15
57 James Gagne                       23.19
58 Eric Ellingson                    24.25
59 Jose Martinez                     24.59
60 Erik Weston                       25.18
61 David Degroot                     25.29
62 Matt Miffitt                      26.05
63 David Bell                        26.20
64 Daniel Rosenbaum                  26.39
65 Joe Orsino                        26.56
66 John Smey                         27.29
67 Gerald Gerrish                    28.41
68 David Lieb                        28.46
69 Paolo Marinoni                    28.48
70 David Caron                       28.50
71 Stuart Seraina                    28.53
72 David Symmes                      28.57
73 Denis Niez                        29.36
74 Christopher Ramsay                29.44
75 Alan Davidowski                   29.52
76 Joe Mitchell                      30.02
77 Brad Lapin                        30.31
78 Daniel Bukkhegyi                  30.38
79 Kevin Brennan                     30.52
80 Peter Failla                      31.15
81 Frederic Seers                    31.25
82 Steven Carmichael                 31.42
83 Mark Merchant                     32.16
84 Ed Kloskowski                     32.21
85 Tuyen Tran                        32.30
86 Patrick Ford                      32.40
87 Andre Galiffi                     34.11
88 Darren Lange                      34.29
89 Louis Tremblay                    34.40
90 Craig Grondin                     34.51
91 Tom West                          35.12
92 Andrew Kelley                     35.23
93 Andrew Kuklinski                  35.44
94 Kevin Killourie                   35.52
95 Steve Centorino                   35.58
96 Kevin Ruane                       36.20
97 Patrick Ruane                     36.21
98 Gary Gingras                      36.59
99 David Pehlemann                   37.11
100 Marc Drabik                      37.44
101 Kris Bonello                     38.12
102 Jason Byrnes                     38.47
103 Javier Pazos                     39.00
104 Leo Kolshorn                     39.05
105 Dave Case                        39.51
106 Tim Higgins                      40.16
107 Brian Caraker                    40.32
108 David Lundin                     41.01
109 David Salanitro                  41.28
110 Andrew Roy                       41.53
111 Michael Moorehead                41.56
112 David Toth                       44.12
113 Kevin Devine                     44.25
114 Richard Goldberg                 44.29
115 Israel Amaro                     45.44
116 Kenneth Trinkus                  45.49
117 John Talucci                     45.55
118 Rich Laracy                      47.32
119 Chris Reeve                      48.26
120 David Martin                     50.09
121 Paul Boudreau                    50.23
122 Scott Dallaire                   50.26
123 Aaron Prinz                      50.51
124 Keith Sullivan                   51.16
125 Tim Husband                      52.39
126 Joe Sheehan                      52.56
127 Todd Spencer                     52.58
128 Eric Levy                        54.26
129 Josh Brustin                     55.17
130 Timothy Mckeown                  57.09
131 John Grummitt                    58.05
132 Brian Jalet                      59.52
133 Henry Bradley                  1.01.59
134 Anthony Beisler                1.04.18
135 Todd Mccloy                    1.04.24
136 John Bakke                     1.04.38
137 Arturo Castillon               1.05.06
138 Roger Hobby                    1.05.22
139 Iver Allgrove                  1.05.27
140 Todd Skeddle                   1.06.43
141 Duane Arndt                    1.08.23
142 Jeff Donnelly                  1.10.01
143 Jean-Pierre Bluteau            1.10.16
144 J Mark                         1.14.53
145 Dave Patti                     1.14.56
146 Adam Dehner                    1.16.38
147 David Debartolo-Stone          1.29.36
148 Paul Lapin                     1.29.48
149 Michael Manning                1.41.45
 
Men 40 - 49
 
1 Benoit Fradette                  1.05.01
2 Phillip Kenealy                     1.58
3 David Burnett                       2.25
4 Terry Marshall                      4.27
5 Doug Jansen                         5.00
6 Keith Guinta                        6.09
7 Andrew Chambers                     6.11
8 Lawrence Reed                       7.01
9 Pierre Reid                         7.56
10 Rick Trainer                       8.28
11 Bob Mcclennan                      8.41
12 Jon Orcutt                         9.17
13 Craig Antonides                    9.18
14 Pascal Sauvayre                    9.58
15 Tim Buckley                       10.17
16 Mark Pitts                        11.09
17 Eric Brandhorst                   11.48
18 Tyler Munroe                      12.11
19 Mark Johnson                      12.19
20 Rick Powell                       12.38
21 Todd Brown                        12.54
22 Thomas Snow                       13.48
23 Jigger Herman                     13.59
24 Eric Tanner                       14.12
25 Dana Deschenes                    14.25
26 Eric Geoffrion                    15.01
27 James Odorisio                    15.09
28 Ray Ray Rhatigan                  15.29
29 Sean Roskey                       16.23
30 Normand Collard                   16.35
31 Glen Fraser                       16.40
32 Timothy Arnold                    16.42
33 Eric Pendleton                    16.45
34 Leo Devellian                     16.48
35 Karl Beckert                      16.50
36 Albert Lyman, Jr.                 16.51
37 Tony Zelle                        16.52
38 Terry Milan                       16.58
39 Chris Kobran                      17.16
40 Russ Guertin                      17.33
41 Lawrence Driscoll                 17.34
42 Matthew Feiner                    18.10
43 Gary Gilberti                     18.17
44 William Fallon                    18.29
45 Michael Meagher                   18.34
46 Chris Connaughty                  18.51
47 Steven Mcgrath                    19.03
48 Dennis Oconnor                    19.05
49 Joseph Reagan                     19.19
50 David Gladstone                   19.37
51 Dana Brown                        19.45
52 Ted Austin                             
53 Mike Di Rado                      19.46
54 Alden Cadwell                     20.08
55 Tom Luther                        20.17
56 Michael Vanrandwyk                21.14
57 Norman Laurin                     21.54
58 Jonathan Kelley                   22.22
59 Kevin Cahill                      22.37
60 Mark Greenleaf                         
61 Mark Semiao                       22.40
62 Hal Stewart                       22.47
63 Chris Mayo                        22.55
64 Joseph Bracchitta                 22.56
65 Andrew Gilbert                    23.01
66 Steve Vosburgh                    23.26
67 Bruce Hiltunen                    23.29
68 Peter Romeyn                      23.30
69 Edward Mcnamara                   23.54
70 Glen Cunningham                   24.05
71 Mark Roskey                       24.07
72 Roger Costales                    24.08
73 Christopher Milan                 24.49
74 Thomas Cross                      24.52
75 David Clark                       25.13
76 Don Kirouac                       25.28
77 Kevin Hays                        25.39
78 Chris Mckeown                     25.54
79 Peter Merrill                     26.00
80 Martin O'connell                  26.15
81 Anthony Discipio                  26.41
82 Joe Semple                        26.57
83 Paul Berton                            
84 James Guild                       27.12
85 Ed Ting                           27.23
86 Kamm Meehan                       28.23
87 Mohsen Ghodsi                     28.58
88 Christopher Meagher               29.07
89 Peter Doran                       29.28
90 Paul Boudreau                     29.34
91 Dan Tully                         29.58
92 John Hankins                      30.01
93 Bryan Budd                        30.27
94 Ray Tierney                       30.32
95 Scott Alexander                   30.45
96 Thomas Durkin                     31.07
97 Terrence Mortell                  31.14
98 George Thompson                   31.22
99 Paul Callahan                     31.39
100 James H. Wier                    31.58
101 Kevin Mcnamara                   32.14
102 Dennis Loria                     32.36
103 Michael Holzman                  33.09
104 Glen Cunningham                  33.11
105 Roger Abrams                     33.18
106 Philip Rees                      33.32
107 John Durante                     33.35
108 Hal Kingsbury                    33.48
109 James O'malley                   34.10
110 Brian Hax                        34.15
111 Richard Gladstone                34.28
112 Luc Provencher                   35.20
113 Richard Schmiedel                35.29
114 Stephen Loose                    35.37
115 Mike Hart                        35.47
116 Paul Zerbinopoulos               35.57
117 Paul Spencer                     36.06
118 Curt Detzer                      36.11
119 Ted Landers                      36.17
120 Michael Wiggins                  36.21
121 Andrew Cutler                    36.23
122 Douglas Barrette                 36.44
123 Jeremiah Evarts                  36.49
124 Paul Burns                       36.51
125 Brian Cap                        36.52
126 Donald Martin                    36.59
127 Keith Doughty                    37.27
128 Scott Soutra                     37.32
129 Bob Potter                       37.47
130 Steve Eppich                     37.57
131 Dean Karnopp                     38.08
132 Mark Benton                           
133 Larry Gazda                      38.18
134 Mark Andrew                      38.44
135 Andrew Holzman                   38.52
136 Husam Sahin                      39.44
137 Albert Bertha                    39.45
138 William Fallisi                  40.07
139 Ken Limburg                      40.13
140 Robert Flis                      40.33
141 Mick O'gara                      40.34
142 Dino Fiscaletti                  40.39
143 George Winter                    40.41
144 Michael Weinstein                     
145 Timothy Wolfe                    40.51
146 Clifford Aronson                 40.56
147 Darrell Maier                    41.09
148 Timothy Andrew                   41.13
149 Peter Stahl                      41.19
150 Daniel Weier                     41.46
151 Thomas Dugdale                   41.58
152 Neil Mcinnis                     42.02
153 Steven Maxwell                   42.14
154 Mark Given                       42.27
155 Robert Finkelsen                 42.30
156 Eugene Goffredo                  43.07
157 David Strollo                    43.18
158 Stephen Billings                 43.19
159 Ken Cargill                      43.23
160 Dave King                        43.28
161 Michael O'neill                  44.22
162 Nathaniel Novod                  44.46
163 John Cavanaugh                   44.47
164 Edward Hickey                    44.48
165 Lawrence Vuolo                   44.53
166 Robert Winter                    45.12
167 Allan Edwards                    45.38
168 Joe Rapuano                      45.39
169 Matthew Rignanese                46.00
170 Robert Todd                      46.06
171 Michael Jaworski                 46.10
172 Richard Higgins                  46.53
173 William Charron                  47.15
174 David Kellem                     47.21
175 Russell Johnson                  48.47
176 Jeffrey Sheehan                  48.49
177 Jeffrey Macwilliams              48.52
178 Paul Fallisi                     48.58
179 Thomas Dickinson                 49.35
180 David Singleton                  49.37
181 Steven Siegel                    49.41
182 Andy Soles                       50.20
183 John Burns                       50.32
184 Scott Donnelly                   51.11
185 William Page                     51.26
186 Nick Anderle                     51.30
187 John Bonnell                     51.44
188 B. Pike Noyes                    51.53
189 Shawn Carll                      51.56
190 Kevin Tobias                     52.36
191 John Weaver                      53.07
192 Craig Trottier                   55.34
193 Peter Swiniarski                 56.26
194 Karl Huck                        57.52
195 Ken Daignault                    57.56
196 John Cameron                     58.13
197 Phil Hemenway                    58.51
198 Brian Brader                     59.29
199 Anthony R. Jessen                59.42
200 John Agnew                       59.49
201 David Hrdlicka                   59.50
202 Maurice Foley                  1.00.27
203 Mark Legere                    1.00.42
204 Robert Sagula                  1.01.41
205 Blair Kolbeck                  1.03.47
206 Drew Kolbeck                   1.03.56
207 Don Lamothe                    1.04.00
208 William Sharp                  1.04.13
209 Terrence Fisher                1.05.12
210 William Robitaille             1.06.06
211 Mark Buatti                    1.06.21
212 Mark Dubeau                    1.08.28
213 Kris Dobbins                   1.10.13
214 James Whittum                  1.10.34
215 Robert Kerr                    1.10.38
216 Alan Eusden                    1.11.35
217 Domenick Presa                 1.11.51
218 Paul Durand                    1.12.24
219 Chris Demarco                  1.13.22
220 Neil Stanton                   1.16.23
221 Kerry Kehoe                    1.16.26
222 John Stetson                   1.17.43
223 Kevin Mahan                    1.22.34
224 Allan Miller                   1.23.50
225 Peter Cram                     1.28.48
226 Robert Thornton                1.29.54
227 John Wagner                    1.32.45
228 Robert Champlin                1.37.37
 
Men 50 - 59
 
1 William R. Black                 1.11.26
2 Jack Hutchinson                     3.06
3 Mike Mccusker                       4.27
4 Francois Martel                     6.43
5 Lloyd Crawford                      7.24
6 Fish Frusciante                     8.50
7 Kg O'donnell                       10.25
8 Hank Schiffman                     11.47
9 Tom Ayers                          14.29
10 Rich Korn                         16.05
11 Richard Tapply                    17.10
12 Robert Dufour                     18.57
13 Rol Hesselbart                    19.59
14 Brandon Rainoff                   20.48
15 Chris Auty                        24.01
16 Ronald Geneau                     24.43
17 John Valavane                     25.30
18 Tom Raymond                       26.03
19 Freddy Cicerchia                  26.20
20 Billy Starr                       26.40
21 Mike Lucas                        26.53
22 Jean-Claude Leclerc               27.22
23 Philip Mitchell                   28.37
24 Robert King                       29.00
25 David Schirmer                    29.16
26 Jeffrey Polack                    29.35
27 Larry Roman                       29.50
28 Arthur Milano                     30.49
29 Pete Cary                         32.33
30 Richard Renner                    32.50
31 Francis Bonelli                   33.26
32 Hugh Wilkinson                    34.33
33 Jon Chamoff                       34.51
34 Michael Bingham                   35.38
35 Robert Fernley                    35.53
36 Alex Clark                        38.52
37 Michael Campbell                  39.56
38 Bill Olson                        42.15
39 Michael Leahy                     44.04
40 Paul Denison                      44.10
41 Sam Stern                         45.39
42 Fred Stedtler                     45.48
43 Thomas Johnston                   46.34
44 Roger Epstein                     46.59
45 Don Wemple                        47.32
46 Bob Sardella                      47.57
47 Robert Wilson                     55.12
48 Edward Bassett                    56.07
49 Jack Chapman                      57.28
50 Thomas Regner                   1.01.35
51 Tom Kelly                       1.03.15
52 James Hartley                   1.05.35
53 Stephen Fonstein                1.06.15
54 Mike Dalton                     1.07.46
55 Charles Mottola                 1.07.56
56 Keith Francis                   1.10.53
57 William Charleton               1.11.46
58 Ray Boulanger                   1.13.06
59 Dennis Oneill                   1.13.24
 
Men 60 - 69
 
1 Art Leblanc                      1.21.24
2 Bill Humphreys                     13.07
3 Peter Savage                       14.01
4 Bill Chapman                       15.24
5 Giuseppe Marinoni                  25.23
6 Jim Munsie                         27.37
7 Richard Devellian                  30.31
8 Eugene Van Loan Iii                31.10
9 Peter Richards                     33.17
10 Richard Huntley                   35.44
11 Stanley Bodkins                   45.39
12 Richard Marriott                  49.03
13 G L Brown                         59.23
14 Bill Hamilton                   1.15.38
 
Tandem
 
1 Kim & John Melloni / Scheub      1.25.13
2 Peter & Mike Cataldo / Goodr        2.04
3 Jeff & Kim Markuns                 36.14

Past winners
Men
 
2003 Thomas Danielson (USA) Saturn         51.05
2002 Tom Danielson (Mercury)               49.24
2001 Tim Johnson (USA) Saturn              53.31
2000 Tim Johnson (USA)                     55.46
1999 Tyler Hamilton (USA)                  50.21
1998 Robert Dapice (USA)                   59.19
1997 Tyler Hamilton (USA))                 51.56
 
Women
 
2003 Geneviéve Jeanson (Can) Rona-Esker    59.58
2002 Geneviève Jeanson (Can) Rona          54.02
2001 Karen Bockel (Ger) Gatorade/Olbas   1.09.20
2000 Jeannie Longo (Fra)                   58.14
1999 Genevieve Jeanson (Can)             1.01.57
1998
1997 Marilyn Ruseckas                    1.11.38