Recently on Cyclingnews.com
20th Rothaus Regio-Tour International - 2.3
Germany, August 4-8, 2004
Main Page Results Previous Stage
Stage 5 - August 8: Herbolzheim - Vogtsburg/Kaiserstuhl, 177.1 km
Vogondy gets a birthday present
By Christine Schramm
Birthday boy Nicolas Vogondy (Fdjeux.com)
Photo ©: Christine Schramm

French rider Nicolas Vogondy (FDJeux.com) won the final stage of the Rothaus Regio Tour on his 27th birthday, beating StÚphane Auge and Geoffroy Lequatre (both Credit Agricole) in a small group sprint. Race leader Alexandre Vinokourov (T-Mobile) retained his leader's jersey on the final day and took home the big prize as the overall winner.
The last stage of the Regio-Tour went over 177 km from Herbolzheim to Vogtsburg. After having reached Vogtsburg for the first time, the riders had to do six laps until they were finally allowed to cross the finish line. On each of these laps, they had to cross the "Texas pass", a very steep mountain pass situated in the middle of the famous Kaiserstuhl, the so called "German Toscana", the hottest spot in Germany. And it was hot: 33 degrees celsius in the shade, but there hardly was any shade on the road...
The prize is huge
Photo ©: Christine Schramm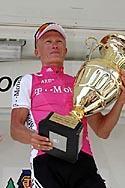 A breakaway group of eight riders escaped early from the peloton. Eventual winner Nicolas Vogondy (FDJeux.com) was one of them. The peloton was well controlled by the T-Mobile Team whose leader Alexandre Vinokourov was never in danger of losing his yellow jersey.
Birthday boy Nicolas Vogondy was the first to cross the finish line in Vogtsburg ahead of StÚphane AugÚ (Credit Agricole) and made himself the best present for his special day. Vinokourov won the 20th Rothaus Regio-Tour International, following in the footsteps of his teammate Jan Ullrich, who won the Tour in 1996.
Photography
Images by Christine Schramm/www.tourfoto.de
Results
1 Nicolas Vogondy (Fra) FDJeux.com                              4.26.19
2 StÚphane Auge (Fra) Credit Agricole                                  
3 Geoffroy Lequatre (Fra) Credit Agricole                              
4 Unai Osa (Spa) Illes Balears-Banesto                             0.03
5 Michele Gobbi (Ita) De Nardi                                     0.13
6 Lorenzo Bernucci (Ita) Landbouwkrediet-Colnago                   0.38
7 Bj÷rn Schr÷der (Ger) Team Wiesenhof                              0.39
8 Bart Voskamp (Ned) Chocolade Jacques Wincor-Nixdorf              0.42
9 Stephan Schreck (Ger) T-Mobile Team                              0.50
10 JosÚ Luis Arrieta (Spa) Illes Balears-Banesto                       
11 Marco Milesi (Ita) Vini Caldirola-Nobili Rubinetterie               
12 Alexandre Vinokourov (Kaz) T-Mobile Team                            
13 Philippe Gilbert (Bel) FDJeux.com                                   
14 Serhiy Honchar (Ukr) De Nardi                                       
15 Cadel Evans (Aus) T-Mobile Team                                     
16 Tomas Konecny (Cze) T-Mobile Team                                   
17 Thomas L÷vkvist (Swe) FDJeux.com                                    
18 Paolo Savoldelli (Ita) T-Mobile Team                                
19 Markus Fothen (Ger) Gerolsteiner                                    
20 Eric Leblacher (Fra) Credit Agricole                                
21 Andrey Kashechkin (Kaz) Credit Agricole                             
22 Christian Knees (Ger) Team Wiesenhof                                
23 Cristian Gasperoni (Ita) Landbouwkrediet-Colnago                    
24 Yaroslav Popovych (Ukr) Landbouwkrediet-Colnago                     
25 Rafael Nuritdinov (Uzb) De Nardi                                    
26 Stefano Cavallari (Ita) Vini Caldirola-Nobili Rubinetterie          
27 Christophe Le Mevel (Fra) Credit Agricole                           
28 Pierre Bourquenoud (Swi) R.A.G.T. Semences-MG Rover                 
29 Antonio Colom (Spa) Illes Balears-Banesto                           
30 Pablo Lastras-Garcia (Spa) Illes Balears-Banesto                    
31 Alexandre Botcharov (Rus) Credit Agricole                           
32 Giampaolo Cheula (Ita) Vini Caldirola-Nobili Rubinetterie           
33 Bert De Waele (Bel) Landbouwkrediet-Colnago                         
34 Paol Longo Borghini (Ita) Vini Caldirola-Nobili Rubinetterie        
35 Vladimir Duma (Ukr) Landbouwkrediet-Colnago                         
36 Nicolas Fritsch (Fra) FDJeux.com                                    
37 Frederik Willems (Bel) Vlaanderen-T Interim                     1.02
38 Frederik Veuchelen (Bel) Vlaanderen-T Interim                   2.14
39 Marcus Burghardt (Ger) German national team 2                   2.29
40 Uwe Hardter (Ger) Gerolsteiner                                      
41 Steve Zampieri (Swi) Vini Caldirola-Nobili Rubinetterie         2.45
42 Florent Brard (Fra) Chocolade Jacques Wincor-Nixdorf                
43 Maxime Monfort (Bel) Landbouwkrediet-Colnago                        
44 Matej Jurco (Svk) De Nardi                                      3.21
45 Lado Fumic (Ger) German national team 2                             
46 Vicente Reynes (Spa) Illes Balears-Banesto                          
47 Renaud Dion (Fra) R.A.G.T. Semences-MG Rover                        
48 JÚrÚmy Roy (Fra) FDJeux.com                                         
49 CÚdric Herve (Fra) Credit Agricole                                  
50 Sergey Lagutin (Uzb) Landbouwkrediet-Colnago                        
51 Massimiliano Mori (Ita) Domina Vacanze                              
52 Giulio Tomi (Ita) Vini Caldirola-Nobili Rubinetterie            8.41
53 Christian Werner (Ger) T-Mobile Team                            8.43
54 Robert Bartko (Ger) German national team 1                      8.44
55 Roger Beuchat (Swi) Vini Caldirola-Nobili Rubinetterie          8.46
56 Wouter Van Mechelen (Bel) Vlaanderen-T Interim                  8.47
57 Andreas Waelsch (Ger) German national team 1                    9.26
58 Robert Bengsch (Ger) German national team 1                         
59 David Meys (Bel) Vlaanderen-T Interim                               
60 Marc G÷lz (Ger) German national team 2                         13.14
61 Christian Lademann (Ger) German national team 1                     
DNF Robert F÷rster (Ger) Gerolsteiner                                  
DNF Sven Krauss (Ger) Gerolsteiner                                     
DNF Volker Ordowski (Ger) Gerolsteiner                                 
DNF Olaf Pollack (Ger) Gerolsteiner                                    
DNF Thomas Ziegler (Ger) Gerolsteiner                                  
DNF Marco Zanotti (Ita) Vini Caldirola-Nobili Rubinetterie             
DNF Leif Lampater (Ger) German national team 1                         
DNF Guido Fulst (Ger) German national team 1                           
DNF Christian Kux (Ger) German national team 1                         
DNF Karl-Christia K÷nig (Ger) German national team 1                   
DNF Simone Cadamuro (Ita) De Nardi                                     
DNF Mirco Lorenzetto (Ita) De Nardi                                    
DNF Alessandro Vanotti (Ita) De Nardi                                  
DNF Charles Wegelius (GBr) De Nardi                                    
DNF Torsten Hiekmann (Ger) T-Mobile Team                               
DNF Serguei Yakovlev (Kaz) T-Mobile Team                               
DNF Dimitry Muravyev (Kaz) Credit Agricole                             
DNF Cezary Zamana (Pol) Chocolade Jacques Wincor-Nixdorf               
DNF Bert Hiemstra (Ned) Chocolade Jacques Wincor-Nixdorf               
DNF Chris Peers (Bel) Chocolade Jacques Wincor-Nixdorf                 
DNF Rik Reinerink (Ned) Chocolade Jacques Wincor-Nixdorf               
DNF Eric Berthou (Fra) R.A.G.T. Semences-MG Rover                      
DNF Roman Lunovyy (Ukr) R.A.G.T. Semences-MG Rover                     
DNF Nicolas Reynaud (Fra) R.A.G.T. Semences-MG Rover                   
DNF Sebastian Siedler (Ger) Team Wiesenhof                             
DNF Roberto Lochowski (Ger) Team Wiesenhof                             
DNF Juan Horrach-Rippoll (Spa) Illes Balears-Banesto                   
DNF Steffen Radochla (Ger) Illes Balears-Banesto                       
DNF Antonio Tauler (Spa) Illes Balears-Banesto                         
DNF Freddy Bichot (Fra) FDJeux.com                                     
DNF Fabien Sanchez (Fra) FDJeux.com                                    
DNF Benoit Vaugrendard (Fra) FDJeux.com                                
DNF Andrus Aug (Est) Domina Vacanze                                    
DNF Martin Derganc (Slo) Domina Vacanze                                
DNF M. Antonio Fischer (Bra) Domina Vacanze                            
DNF Andris Nauduzs (Let) Domina Vacanze                                
DNF Giovanni Lombardi (Ita) Domina Vacanze                             
DNF Jan Kuyckx (Bel) Vlaanderen-T Interim                              
DNF Steven Caethoven (Bel) Vlaanderen-T Interim                        
DNF Benny De Schrooder (Bel) Vlaanderen-T Interim                      
DNF Marcel Sieberg (Ger) German national team 2                        
DNF Carsten Bresser (Ger) German national team 2                       
DNS Mickael Buffaz (Fra) R.A.G.T. Semences-MG Rover                    
 
Points
 
1 Nicolas Vogondy (Fra) FDJeux.com                                   15 pts
2 StÚphane Auge (Fra) Credit Agricole                                12
3 Geoffroy Lequatre (Fra) Credit Agricole                            10
4 Unai Osa (Spa) Illes Balears-Banesto                                8
5 Michele Gobbi (Ita) De Nardi                                        6
6 Lorenzo Bernucci (Ita) Landbouwkrediet-Colnago                      5
7 Bj÷rn Schr÷der (Ger) Team Wiesenhof                                 4
8 Bart Voskamp (Ned) Chocolade Jacques Wincor-Nixdorf                 3
9 Stephan Schreck (Ger) T-Mobile Team                                 2
10 JosÚ Luis Arrieta (Spa) Illes Balears-Banesto                      1
 
Mountains
 
Climb 1 - Cat. 1, km 84,9
 
1 Bart Voskamp (Ned) Chocolade Jacques Wincor-Nixdorf                10 pts
2 Marco Zanotti (Ita) Vini Caldirola-Nobili Rubinetterie              6
3 Lorenzo Bernucci (Ita) Landbouwkrediet-Colnago                      4
4 Bj÷rn Schr÷der (Ger) Team Wiesenhof                                 2
 
Climb 2 - Cat. 1, km 133,5
 
1 Bart Voskamp (Ned) Chocolade Jacques Wincor-Nixdorf                10 pts
2 Lorenzo Bernucci (Ita) Landbouwkrediet-Colnago                      6
3 StÚphane Auge (Fra) Credit Agricole                                 4
4 Geoffroy Lequatre (Fra) Credit Agricole                             2
 
Climb 3 - Cat. 1, km 149,7
 
1 Bart Voskamp (Ned) Chocolade Jacques Wincor-Nixdorf                10 pts
2 StÚphane Auge (Fra) Credit Agricole                                 6
3 Lorenzo Bernucci (Ita) Landbouwkrediet-Colnago                      4
4 Bj÷rn Schr÷der (Ger) Team Wiesenhof                                 2
 
Sprints
 
Sprint 1, km 41,1
 
1 Rik Reinerink (Ned) Chocolade Jacques Wincor-Nixdorf                3 pts
2 Bart Voskamp (Ned) Chocolade Jacques Wincor-Nixdorf                 2
3 Wouter Van Mechelen (Bel) Vlaanderen-T Interim                      1
 
Sprint 2, km 74,4
 
1 Wouter Van Mechelen (Bel) Vlaanderen-T Interim                      3 pts
2 StÚphane Auge (Fra) Credit Agricole                                 2
3 Bj÷rn Schr÷der (Ger) Team Wiesenhof                                 1
 
Sprint 3, km 106,8
 
1 Lorenzo Bernucci (Ita) Landbouwkrediet-Colnago                      3 pts
2 StÚphane Auge (Fra) Credit Agricole                                 2
3 Bj÷rn Schr÷der (Ger) Team Wiesenhof                                 1
 
Teams
 
1 Credit Agricole                                              13.19.47
2 FDJeux.com                                                       0.50
3 Illes Balears-Banesto                                            0.53
4 De Nardi                                                         1.03
5 Landbouwkrediet-Colnago                                          1.28
6 T-Mobile Team                                                    1.40
7 Vini Caldirola-Nobili Rubinetterie                                   
8 Vlaanderen-T Interim                                            11.13
9 German National Team 2                                          18.14
10 German National Team 1                                         26.46
 
Final general classification
 
1 Alexandre Vinokourov (Kaz) T-Mobile Team                     17.23.49
2 Stephan Schreck (Ger) T-Mobile Team                              0.08
3 Andrey Kashechkin (Kaz) Credit Agricole                          0.21
4 Markus Fothen (Ger) Gerolsteiner                                 0.47
5 Cadel Evans (Aus) T-Mobile Team                                  0.57
6 Tomas Konecny (Cze) T-Mobile Team                                1.04
7 Paolo Savoldelli (Ita) T-Mobile Team                             1.13
8 Yaroslav Popovych (Ukr) Landbouwkrediet-Colnago                  1.28
9 Philippe Gilbert (Bel) FDJeux.com                                1.32
10 Thomas L÷vkvist (Swe) FDJeux.com                                1.37
11 Antonio Colom (Spa) Illes Balears-Banesto                       1.48
12 Giampaolo Cheula (Ita) Vini Caldirola-Nobili Rubinetterie       1.59
13 Christian Knees (Ger) Team Wiesenhof                            2.05
14 Eric Leblacher (Fra) Credit Agricole                            2.15
15 Bert De Waele (Bel) Landbouwkrediet-Colnago                     2.17
16 Marco Milesi (Ita) Vini Caldirola-Nobili Rubinetterie           2.37
17 Stefano Cavallari (Ita) Vini Caldirola-Nobili Rubinetterie      2.48
18 Pierre Bourquenoud (Swi) R.A.G.T. Semences-MG Rover             3.08
19 Paol Longo Borghini (Ita) Vini Caldirola-Nobili Rubinetterie    3.16
20 Michele Gobbi (Ita) De Nardi                                    3.38
21 Vladimir Duma (Ukr) Landbouwkrediet-Colnago                     3.47
22 Nicolas Vogondy (Fra) FDJeux.com                                    
23 Cristian Gasperoni (Ita) Landbouwkrediet-Colnago                3.49
24 JosÚ Luis Arrieta (Spa) Illes Balears-Banesto                   4.39
25 Marcus Burghardt (Ger) German national team 2                   4.40
26 Alexandre Botcharov (Rus) Credit Agricole                       4.43
27 Nicolas Fritsch (Fra) FDJeux.com                                4.45
28 Massimiliano Mori (Ita) Domina Vacanze                          5.34
29 Pablo Lastras-Garcia (Spa) Illes Balears-Banesto                5.57
30 Steve Zampieri (Swi) Vini Caldirola-Nobili Rubinetterie         6.39
31 Uwe Hardter (Ger) Gerolsteiner                                  7.14
32 Lado Fumic (Ger) German national team 2                         8.22
33 Christian Werner (Ger) T-Mobile Team                           11.42
34 Serhiy Honchar (Ukr) De Nardi                                  23.54
35 StÚphane Auge (Fra) Credit Agricole                            23.56
36 Geoffroy Lequatre (Fra) Credit Agricole                        24.10
37 Christophe Le Mevel (Fra) Credit Agricole                      24.36
38 Unai Osa (Spa) Illes Balears-Banesto                           25.07
39 Bj÷rn Schr÷der (Ger) Team Wiesenhof                            25.20
40 Bart Voskamp (Ned) Chocolade Jacques Wincor-Nixdorf            25.40
41 Lorenzo Bernucci (Ita) Landbouwkrediet-Colnago                 26.02
42 Frederik Willems (Bel) Vlaanderen-T Interim                    26.06
43 Frederik Veuchelen (Bel) Vlaanderen-T Interim                  26.07
44 Florent Brard (Fra) Chocolade Jacques Wincor-Nixdorf           26.32
45 Vicente Reynes (Spa) Illes Balears-Banesto                     27.15
46 Matej Jurco (Svk) De Nardi                                     27.17
47 CÚdric Herve (Fra) Credit Agricole                             28.03
48 JÚrÚmy Roy (Fra) FDJeux.com                                    28.08
49 Sergey Lagutin (Uzb) Landbouwkrediet-Colnago                   28.46
50 Maxime Monfort (Bel) Landbouwkrediet-Colnago                   29.50
51 Robert Bartko (Ger) German national team 1                     32.26
52 David Meys (Bel) Vlaanderen-T Interim                          33.28
53 Giulio Tomi (Ita) Vini Caldirola-Nobili Rubinetterie           33.47
54 Andreas Waelsch (Ger) German national team 1                   34.04
55 Robert Bengsch (Ger) German national team 1                    34.07
56 Renaud Dion (Fra) R.A.G.T. Semences-MG Rover                   34.19
57 Roger Beuchat (Swi) Vini Caldirola-Nobili Rubinetterie         36.00
58 Christian Lademann (Ger) German national team 1                37.30
59 Marc G÷lz (Ger) German national team 2                         38.41
60 Rafael Nuritdinov (Uzb) De Nardi                               41.43
61 Wouter Van Mechelen (Bel) Vlaanderen-T Interim                 49.13
 
Points classification
 
1 Alexandre Vinokourov (Kaz) T-Mobile Team                           38 pts
2 Stephan Schreck (Ger) T-Mobile Team                                27
3 Philippe Gilbert (Bel) FDJeux.com                                  18
4 Andrey Kashechkin (Kaz) Credit Agricole                            18
5 Markus Fothen (Ger) Gerolsteiner                                   17
6 StÚphane Auge (Fra) Credit Agricole                                17
7 Nicolas Vogondy (Fra) FDJeux.com                                   15
8 Geoffroy Lequatre (Fra) Credit Agricole                            14
9 Tomas Konecny (Cze) T-Mobile Team                                  13
10 Lorenzo Bernucci (Ita) Landbouwkrediet-Colnago                    11
11 Massimiliano Mori (Ita) Domina Vacanze                             9
12 Cadel Evans (Aus) T-Mobile Team                                    8
13 Unai Osa (Spa) Illes Balears-Banesto                               8
14 Bart Voskamp (Ned) Chocolade Jacques Wincor-Nixdorf                8
15 Eric Leblacher (Fra) Credit Agricole                               6
16 Michele Gobbi (Ita) De Nardi                                       6
17 Bj÷rn Schr÷der (Ger) Team Wiesenhof                                6
18 Antonio Colom (Spa) Illes Balears-Banesto                          3
19 Stefano Cavallari (Ita) Vini Caldirola-Nobili Rubinetterie         2
20 Alexandre Botcharov (Rus) Credit Agricole                          2
21 Pablo Lastras-Garcia (Spa) Illes Balears-Banesto                   2
22 Serhiy Honchar (Ukr) De Nardi                                      2
23 Frederik Veuchelen (Bel) Vlaanderen-T Interim                      2
24 Vicente Reynes (Spa) Illes Balears-Banesto                         2
25 Maxime Monfort (Bel) Landbouwkrediet-Colnago                       2
26 Paolo Savoldelli (Ita) T-Mobile Team                               1
27 Thomas L÷vkvist (Swe) FDJeux.com                                   1
28 Vladimir Duma (Ukr) Landbouwkrediet-Colnago                        1
29 JosÚ Luis Arrieta (Spa) Illes Balears-Banesto                      1
 
Mountains classification
 
1 Roger Beuchat (Swi) Vini Caldirola-Nobili Rubinetterie             47 pts
2 Bart Voskamp (Ned) Chocolade Jacques Wincor-Nixdorf                44
3 Stephan Schreck (Ger) T-Mobile Team                                25
4 Lorenzo Bernucci (Ita) Landbouwkrediet-Colnago                     18
5 Maxime Monfort (Bel) Landbouwkrediet-Colnago                       12
6 Steve Zampieri (Swi) Vini Caldirola-Nobili Rubinetterie            10
7 StÚphane Auge (Fra) Credit Agricole                                10
8 JosÚ Luis Arrieta (Spa) Illes Balears-Banesto                       6
9 Marcus Burghardt (Ger) German national team 2                       6
10 Sergey Lagutin (Uzb) Landbouwkrediet-Colnago                       6
11 Bj÷rn Schr÷der (Ger) Team Wiesenhof                                4
12 Philippe Gilbert (Bel) FDJeux.com                                  2
13 Geoffroy Lequatre (Fra) Credit Agricole                            2
14 David Meys (Bel) Vlaanderen-T Interim                              2
15 Alexandre Botcharov (Rus) Credit Agricole                          1
 
Young rider classification
 
1 Andrey Kashechkin (Kaz) Credit Agricole                              
2 Markus Fothen (Ger) Gerolsteiner                                 0.26
3 Yaroslav Popovych (Ukr) Landbouwkrediet-Colnago                  1.07
4 Philippe Gilbert (Bel) FDJeux.com                                1.11
5 Thomas L÷vkvist (Swe) FDJeux.com                                 1.16
6 Giampaolo Cheula (Ita) Vini Caldirola-Nobili Rubinetterie        1.38
7 Christian Knees (Ger) Team Wiesenhof                             1.44
8 Paol Longo Borghini (Ita) Vini Caldirola-Nobili Rubinetterie     2.55
9 Marcus Burghardt (Ger) German national team 2                    4.19
10 Christian Werner (Ger) T-Mobile Team                           11.21
11 Geoffroy Lequatre (Fra) Credit Agricole                        23.49
12 Christophe Le Mevel (Fra) Credit Agricole                      24.15
13 Bj÷rn Schr÷der (Ger) Team Wiesenhof                            24.59
14 Lorenzo Bernucci (Ita) Landbouwkrediet-Colnago                 25.41
15 Frederik Willems (Bel) Vlaanderen-T Interim                    25.45
16 Vicente Reynes (Spa) Illes Balears-Banesto                     26.54
17 Matej Jurco (Svk) De Nardi                                     26.56
18 CÚdric Herve (Fra) Credit Agricole                             27.42
19 JÚrÚmy Roy (Fra) FDJeux.com                                    27.47
20 Sergey Lagutin (Uzb) Landbouwkrediet-Colnago                   28.25
21 Maxime Monfort (Bel) Landbouwkrediet-Colnago                   29.29
22 David Meys (Bel) Vlaanderen-T Interim                          33.07
23 Andreas Waelsch (Ger) German national team 1                   33.43
24 Robert Bengsch (Ger) German national team 1                    33.46
25 Wouter Van Mechelen (Bel) Vlaanderen-T Interim                 48.52
 
Teams classification
 
1 T-Mobile Team                                                        
2 Credit Agricole                                                  3.48
3 Landbouwkrediet-Colnago                                          4.12
4 FDJeux.com                                                       5.25
5 Vini Caldirola-Nobili Rubinetterie                               5.51
6 Illes Balears-Banesto                                            8.19
7 De Nardi                                                         9.08
8 German National Team 2                                          49.44
9 Vlaanderen-T Interim                                          1.22.46
10 German National Team 1                                       1.38.05