Recently on Cyclingnews.com
54th Tour de la Guadeloupe - 2.6
Guadeloupe, August 6-15, 2004
Main Page Results Previous Stage Next Stage
Stage 1 - August 7: Pointe-à-pitre - Saint-François, 156,3 km
French and Belgian success in stage 1
By Hedwig Kröner in Saint-François
The start in Pointe-à-pitre
Photo ©: Hedwig Kröner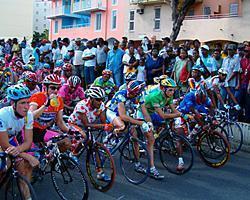 French rider Stéphane Bellicaud (France Métropole) has won the first stage of the Tour de la Guadeloupe, 156 km between Pointe-à-pitre and Saint-François. Bellicaud attacked a large breakaway group with over 50 km to go to solo in ahead of Daniel Musiol (Germany) and Willy Noyon (Excelsior) by 13 seconds. The race lead swapped hands to Belgian Norbert Poels, who finished fourth in today's stage.
The first stage departed in Pointe à Pitre at 9.30 a.m. with temperatures already around 30° Celsius under a blistering sun. As expected, it was a nervous start with various breakaway attempts right after the first Cat. 3 climb. Even Nicolas Dumont, ex-pro from Phonak and 10th overall at only 15" from Peña Peña, took his chances, but without success. Finally, on hilly terrain with coastal wind, a group of 21 riders got away, leaving behind Peña Peña as well as Daniel Bernal, second in the general classification.
Three Venezuelans, two Canadians, two riders from Sarre Moselle, three French and two Excelsior were the leading forces of this small field that managed to take a lead of up to 4'30. After approximately 100 of 156 km to go, one rider emerged out of the break: the Frenchman Stéphane Bellicaud had apparently made up his mind. He went ahead and left the chase group 1'00 behind.
The tempo was high, and although an impressive amount of spectators had gathered along the road to support the riders and provide water bottles against a soaring heat, some riders like Canada's Cory Jay suffered terrible cramps. Bellicaud pursued his effort until the end and was rewarded: at the 5 km mark, the chasers were still 0'33 behind. The Frenchman won the stage in Saint-François, with the chasers 0'13 back and the peloton at 1'39.
Meanwhile, two names were given in connection with the drug seizures at the airport before the race started: Venezuelan Tony Linares, who was very active in the stage and part of the breakaway, and Luis Castañeda from Colombia, riding for the Euro Mutuelle U.C.C. team. Although the investigation is serious, oddly enough there were no doping controls at the stage finish.
Photography
Images by Hedwig Kröner
Results
1 Stéphane Bellicaud  (Fra) France Métropole    3.40.03
2 Daniel Musiol (Ger) Germany                      0.13
3 Willy Noyon (Fra) Excelsior                          
4 Norbert Poels (Bel) Belgium                          
5 Régis Marechaux (Fra) LOFT                           
6 Frédéric Theobald (Fra) ASBM                         
7 Rik Kavsek (Bel) Belgium                             
8 Alexei Levdanski (Fra) Sarre-Moselle                 
9 Tony Linares (Ven) Vénézuela                         
10 Cyril Noel (Fra) France Métropole                   
11 Cédric Jourdan  (Fra) Sarre-Moselle                 
12 Darius Wojcieckowski (Pol) EDS                      
13 Bruno Langlois (Can) Canada                         
14 Jacky Gibrien (Fra) UCM                             
15 Martin Saint-Laurent (Can) Canada                   
                                                       
General classification after stage 1                   
                                                       
1 Norbert Poels (Bel) Belgium                   3.45.05
2 Bruno Langlois (Can) Canada                      0.01
3 Stéphane Bellicaud  (Fra) France Métropole       0.02
4 Régis Marechaux (Fra) LOFT                       0.03
5 Martin Saint-Laurent (Can) Canada                0.04
6 Rik Kavsek (Bel) Belgium                         0.09
7 Alexandre Lecoq (Fra) UVMG                       0.10
8 Cédric Pandolph (Fra) Orange                         
9 Darius Wojcieckowski (Pol) EDS                   0.11
10 Cédric Jourdan  (Fra) Sarre-Moselle             0.14
11 Carlos Ochoa (Ven) Vénézuela                        
12 Paul Torres (Ven) Vénézuela                     0.16
13 Freddy Hamlet (Fra) Excelsior                   0.22
14 Cyril Noel (Fra) France Métropole                   
15 Jacky Gibrien (Fra) UCM