Recently on Cyclingnews.com
28th Giro del Trentino - 2.2
Italy, April 20-23, 2004
Stage 1 - April 20: Arco - Marcena di Rumo val di Non, 168.5 km
Cunego takes charge
Simoni shows signs of life
"This is just the beginning"
Photo ©: Olympia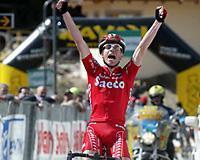 Away from the heart of the northern classics season carrying on in the Ardennes hills of Belgium and the Netherlands, another peloton continues its preparations for the first grand tour of the season, the Giro d'Italia in May. At the four day Giro del Trentino which got underway Tuesday, Gilberto Simoni and his Saeco team lined up eager to make amends for poor performances of late and inspire some confidence before 'Gibo' begins his maglia rosa defense in just a few weeks. Simoni showed that his form is indeed coming, but it was his younger apprentice Damiano Cunego who took the stage 1 honours in Marcena di Rumo.
"For me this doesn't represent an arrival, rather it's just a beginning," the young Cunego said after his win. "I hope to wear the jersey to the end of the race."
After a strictly piano start, covering barely 30 kilometres in the first hour, the peloton began to find its legs before the first contesting the first climb of this year's race. Team LPR's Elio Aggiano took the first points in Andalo (km 50), touching off a counter attack by Patrik Calcagni (Vini Caldirola) and Giuseppe Palumbo (Acqua & Sapone). These two didn't last too long ahead of the main field, which pulled them back just in time for Renzo Mazzoleni (Tenax) to jump clear on his own at kilometre 70.
Mazzoleni gained up to 2'10 over the main field before a chase group formed behind him. Graziano Gasparre (De Nardi) and Aitor Hernandez Gutierrez (LPR) slowly bridged the gap to the lone leader, adding some horsepower to the break. A larger chase group of twelve was also forming behind as one more man, Valery Kobzarenko of Acqua & Sapone, began to work his way across. Gutierrez took the next mountain points at Ronzone ahead of his two companions before Kobzarenko made contact with just 30km to race.
By this point Saeco was serious about the chase, and in the closing kilometres the break had been dragged back, allowing Cunego to put his youthful enthusiasm to good use. Forcing the pace in the final 5km, Cunego broke clear to win by 300 metres ahead of Jure Glocer (Formaggi Pinzolo Fiave'). Teammate and defending Trentino champion Simoni came in just five seconds later in 6th place, his first positive showing. As promised, better weather and a bit of sunshine were enough for Simoni to show that he is back on track for a run at a third Giro title.
Photography
Images by Olympia Photo
Results
1 Damiano Cunego (Ita) Saeco                                       4.49.22
2 Jure Golcer (Slo) Formaggi Pinzolo Fiave'                           0.01
3 Mikhaylo Khalilov (Ukr) Team ICET                                   0.05
4 Serhiy Honchar (Ukr) De Nardi
5 Laurent Dufaux (Swi) Quick.Step-Davitamon
6 Gilberto Simoni (Ita) Saeco
7 Juan Manuel Garate Cepa (Spa) Lampre
8 Giuseppe Muraglia (Ita) Formaggi Pinzolo Fiave'
9 Tiaan Kannemeyer (RSA) Team Barloworld-Androli Giocattoli
10 Jamie Burrow (GBr) Amore e Vita
11 Giuseppe Di Grande (Ita) Formaggi Pinzolo Fiave'
12 Radoslaw Romanik (Pol) Hoop CCC-Polsat TV
13 Gerhard Trampusch (Aut) Acqua & Sapone
14 Giuliano Figueras (Ita) Ceramiche Panaria-Margres
15 Juan Miguel Mercado Martin (Spa) Quick.Step-Davitamon
16 Pavel Tonkov (Rus) Vini Caldirola-Nobili Rubinetterie
17 Ruggero Borghi (Ita) De Nardi
18 Francisco Vila Errandonea (Spa) Lampre
19 Ryan Cox (RSA) Team Barloworld-Androli Giocattoli
20 Stefano Boggia (Ita) Team ICET
21 Luis Felipe Laverde Jimenez (Col) Formaggi Pinzolo Fiave'
22 Bo Hamburger (Den) Acqua & Sapone
23 Kyrylo Pospyeyev (Ukr) Acqua & Sapone
24 Igor Pugaci (Mda) De Nardi
25 Luca Mazzanti (Ita) Ceramiche Panaria-Margres
26 Tomasz Brozyna (Pol) Action
27 Sylwester Szmyd (Pol) Saeco
28 Slawomir Kohut (Pol) Hoop CCC-Polsat TV                            0.27
29 Giuseppe Palumbo (Ita) Acqua & Sapone
30 Alexandr Arekeev (Rus) Acqua & Sapone
31 Charly Wegelius (GBr) De Nardi
32 Leonardo Bertagnolli (Ita) Saeco
33 Przemyslaw Niemec (Pol) Miche
34 Radoslav Rogina (Cro) Tenax
35 Julio Alberto Perez Cuapio (Mex) Ceramiche Panaria-Margres
36 Kristjan Fajt (Slo) Tenax
37 Richard Virenque (Fra) Quick.Step-Davitamon
38 Ondrej Sosenka (Cze) Acqua & Sapone
39 Andrea Tonti (Ita) Saeco
40 Patrik Calcagni (Swi) Vini Caldirola-Nobili Rubinetterie
41 Piotr Chmielewski (Pol) Action
42 Marek Galinski (Pol) Hoop CCC-Polsat TV                            1.37
43 Roberto Sgambelluri (Ita) Vini Caldirola-Nobili Rubinetterie
44 Alessandro Vanotti (Ita) De Nardi
45 Emanuele Sella (Ita) Ceramiche Panaria-Margres
46 Laszlo Bodrogi (Hun) Quick.Step-Davitamon                          2.31
47 Arkadiusz Wojtas (Pol) Hoop CCC-Polsat TV
48 Paolo Lanfranchi (Ita) Ceramiche Panaria-Margres
49 Leonardo Giordani (Ita) De Nardi
50 Bartosz Huzarski (Pol) Action
51 Gianluca Tonetti (Ita) Tenax
52 Simone Bertoletti (Ita) Lampre
53 Andrea Masciarelli (Ita) Vini Caldirola-Nobili Rubinetterie
54 Matteo Cappe' (Ita) Formaggi Pinzolo Fiave'
55 Stefano Cavallari (Ita) Vini Caldirola-Nobili Rubinetterie         2.50
56 Darren Lill (RSA) Team Barloworld-Androli Giocattoli               2.50
57 Angelo Lopeboselli (Ita) Team LPR                                  2.50
58 Dmitri Gaynitdinov (Rus) Team ICET                                 2.50
59 Pedro Horrillo Munoz (Spa) Quick.Step-Davitamon                    4.23
60 Mariano Piccoli (Ita) Lampre
61 Daniele Pietropolli (Ita) Tenax
62 Giancarlo Ginestri (Ita) Tenax
63 Pasquale Muto (Ita) Miche
64 Frèdèric Amorison (Bel) Quick.Step-Davitamon
65 Gianluca Sironi (Ita) Vini Caldirola-Nobili Rubinetterie
66 Scott Davis (Aus) Ceramiche Panaria-Margres
67 Paolo Longoborghini (Ita) Vini Caldirola-Nobili Rubinetterie
68 Maurizio Carta (Ita) Miche
69 Rinaldo Nocentini (Ita) Acqua & Sapone
70 Quentino Rodrigues (Por) Hoop CCC-Polsat TV
71 Seweryn Kohut (Pol) Hoop CCC-Polsat TV
72 Danilo Andrenacci (Ita) Formaggi Pinzolo Fiave'                    4.53
73 Luca Nardello (Ita) Team LPR
74 Kirill Goloubev (Rus) Team ICET
75 Michele Gobbi (Ita) De Nardi                                       5.37
76 Aliaksandr Kychinski (Blr) Amore e Vita                            6.20
77 Dimitri Konyshev (Rus) Team LPR
78 Domenico Passuello (Ita) Amore e Vita
79 Kjell Carlstroem (Fin) Amore e Vita
80 Rodney Green (RSA) Team Barloworld-Androli Giocattoli
81 Alejandro Alberto Borrajo (Arg) Ceramiche Panaria-Margres
82 Oleksandr Klymenko (Ukr) Action                                    6.32
83 Juan Fuentes (Spa) Saeco                                           7.06
84 Aitor Hernandez Gutierrez (Spa) Team LPR
85 Andrew Bradley (Aut) Elk Haus Radteam
86 Paolo Fornaciari (Ita) Saeco
87 Elio Aggiano (Ita) Team LPR
88 Valery Kobzarenko (Ukr) Acqua & Sapone
89 Luca Solari (Ita) Team Barloworld-Androli Giocattoli
90 Gabriele Missaglia (Ita) Team Barloworld-Androli Giocattoli
91 Graziano Gasparre (Ita) De Nardi
92 Milan Kadlec (Cze) Vini Caldirola-Nobili Rubinetterie
93 Nicola Loda (Ita) Tenax                                            8.09
94 Wolfgang Murer (Aut) Elk Haus Radteam
95 Harald Totschnig (Aut) Elk Haus Radteam
96 Ivan Degasperi (Ita) Team LPR
97 Antonio Salomone (Ita) Team Barloworld-Androli Giocattoli
98 Marco Cedroni (Ita) Formaggi Pinzolo Fiave'
99 Oleksandr Kvachuk (Ukr) Lampre
100 Manuel Quinziato (Ita) Lampre
101 Renzo Mazzoleni (Ita) Tenax
102 Jan Svorada (Cze) Lampre
103 Michal Pawlyta (Pol) Action                                      10.15
104 Claudio Lucchini (Ita) Team LPR                                  11.40
105 Christian Murro (Ita) Miche
106 Domenico Gualdi (Ita) Formaggi Pinzolo Fiave'
107 Mario Hoeller (Aut) Elk Haus Radteam
108 Maurizio Varini (Ita) Miche
109 Balazs Rohtmer (Hun) Miche
110 Tom Southam (GBr) Amore e Vita
111 Stefano Casagranda (Ita) Saeco
112 Leonardo Caneschi (Ita) Miche
113 Daniele Masolino (Ita) Team LPR
114 Roland Wafler (Aut) Elk Haus Radteam
115 Krzysztof Krzywy (Pol) Action
116 Antonio D'aniello (Ita) Miche                                    13.16
117 Aurélien Clerc (Swi) Quick.Step-Davitamon                        15.20
118 Dean Podgornik (Slo) Tenax
119 Stefano Ciuffi (Ita) Amore e Vita                                16.48
120 Moreno Di Biase (Ita) Team ICET
121 Francesco Cipolletta (Ita) Team ICET
122 Samuel Tartaglia (Ita) Team ICET
123 Daniele Balestri (Ita) Team ICET
DNS Anders Groenqvist (Swe) Amore e Vita
DNF Martin Fischerlehner (Aut) Elk Haus Radteam
DNF Josè Antonio Garrido Lima (Spa) Quick.Step-Davitamon
DNF Ralph Scherzer (Aut) Elk Haus Radteam
 
Teams
 
1 Saeco                                                           14.28.16
2 Formaggi Pinzolo Fiave'                                             0.01
3 De Nardi                                                            0.05
4 Acqua & Sapone
5 Quick.Step-Davitamon                                                0.27
6 Ceramiche Panaria-Margres
7 Hoop CCC-Polsat TV                                                  1.59
8 Vini Caldirola-Nobili Rubinetterie
9 Lampre                                                              2.31
10 Team ICET                                                          2.50
11 Team Barloworld-Androni Giocattoli
12 Action                                                             2.53
13 Tenax                                                              3.15
14 Miche                                                              9.03
15 Amore e Vita                                                      12.35
16 Team LPR                                                          13.53
17 Elk Haus Radteam                                                  23.14
 
General classification after stage 1
 
1 Damiano Cunego (Ita) Saeco                                       4.49.12
2 Jure Golcer (Slo) Formaggi Pinzolo Fiave'                           0.05
3 Mikhaylo Khalilov (Ukr) Team ICET                                   0.11
4 Serhiy Honchar (Ukr) De Nardi                                       0.15
5 Laurent Dufaux (Swi) Quick.Step-Davitamon
6 Gilberto Simoni (Ita) Saeco
7 Juan Manuel Garate Cepa (Spa) Lampre
8 Giuseppe Muraglia (Ita) Formaggi Pinzolo Fiave'
9 Tiaan Kannemeyer (RSA) Team Barloworld-Androli Giocattoli
10 Jamie Burrow (GBr) Amore e Vita
11 Giuseppe Di Grande (Ita) Formaggi Pinzolo Fiave'
12 Radoslaw Romanik (Pol) Hoop CCC-Polsat TV
13 Gerhard Trampusch (Aut) Acqua & Sapone
14 Giuliano Figueras (Ita) Ceramiche Panaria-Margres
15 Juan Miguel Mercado Martin (Spa) Quick.Step-Davitamon
16 Pavel Tonkov (Rus) Vini Caldirola-Nobili Rubinetterie
17 Ruggero Borghi (Ita) De Nardi
18 Francisco Vila Errandonea (Spa) Lampre
19 Ryan Cox (RSA) Team Barloworld-Androli Giocattoli
20 Stefano Boggia (Ita) Team ICET
21 Luis Felipe Lavrde Jimenez (Col) Formaggi Pinzolo Fiave'
22 Bo Hamburger (Den) Acqua & Sapone
23 Kyrylo Pospyeyev (Ukr) Acqua & Sapone
24 Igor Pugaci (Mda) De Nardi
25 Luca Mazzanti (Ita) Ceramiche Panaria-Margres
26 Tomasz Brozyna (Pol) Action
27 Sylwester Szmyd (Pol) Saeco
28 Slawomir Kohut (Pol) Hoop CCC-Polsat TV                            0.37
29 Giuseppe Palumbo (Ita) Acqua & Sapone
30 Alexandr Arekeev (Rus) Acqua & Sapone
31 Charly Wegelius (GBr) De Nardi
32 Leonardo Bertagnolli (Ita) Saeco
33 Przemyslaw Niemec (Pol) Miche
34 Radoslav Rogina (Cro) Tenax
35 Julio Alberto Perez Cuapio (Mex) Ceramiche Panaria-Margres
36 Kristjan Fajt (Slo) Tenax
37 Richard Virenque (Fra) Quick.Step-Davitamon
38 Ondrej Sosenka (Cze) Acqua & Sapone
39 Andrea Tonti (Ita) Saeco
40 Patrik Calcagni (Swi) Vini Caldirola-Nobili Rubinetterie
41 Piotr Chmielewski (Pol) Action
42 Marek Galinski (Pol) Hoop CCC-Polsat TV                            1.47
43 Roberto Sgambelluri (Ita) Vini Caldirola-Nobili Rubinetterie
44 Alessandro Vanotti (Ita) De Nardi
45 Emanuele Sella (Ita) Ceramiche Panaria-Margres
46 Laszlo Bodrogi (Hun) Quick.Step-Davitamon                          2.41
47 Arkadiusz Wojtas (Pol) Hoop CCC-Polsat TV
48 Paolo Lanfranchi (Ita) Ceramiche Panaria-Margres
49 Leonardo Giordani (Ita) De Nardi
50 Bartosz Huzarski (Pol) Action
51 Gianluca Tonetti (Ita) Tenax
52 Simone Bertoletti (Ita) Lampre
53 Andrea Masciarelli (Ita) Vini Caldirola-Nobili Rubinetterie
54 Matteo Cappe' (Ita) Formaggi Pinzolo Fiave'
55 Stefano Cavallari (Ita) Vini Caldirola-Nobili Rubinetterie         3.00
56 Darren Lill (RSA) Team Barloworld-Androli Giocattoli               3.00
57 Angelo Lopeboselli (Ita) Team LPR                                  3.00
58 Dmitri Gaynitdinov (Rus) Team ICET                                 3.00
59 Pedro Horrillo Munoz (Spa) Quick.Step-Davitamon                    4.33
60 Mariano Piccoli (Ita) Lampre
61 Daniele Pietropolli (Ita) Tenax
62 Giancarlo Ginestri (Ita) Tenax
63 Pasquale Muto (Ita) Miche
64 Frèdèric Amorison (Bel) Quick.Step-Davitamon
65 Gianluca Sironi (Ita) Vini Caldirola-Nobili Rubinetterie
66 Scott Davis (Aus) Ceramiche Panaria-Margres
67 Paolo Longoborghini (Ita) Vini Caldirola-Nobili Rubinetterie
68 Maurizio Carta (Ita) Miche
69 Rinaldo Nocentini (Ita) Acqua & Sapone
70 Quentino Rodrigues (Por) Hoop CCC-Polsat TV
71 Seweryn Kohut (Pol) Hoop CCC-Polsat TV
72 Danilo Andrenacci (Ita) Formaggi Pinzolo Fiave'                    5.03
73 Luca Nardello (Ita) Team LPR
74 Kirill Goloubev (Rus) Team ICET
75 Michele Gobbi (Ita) De Nardi                                       5.47
76 Aliaksandr Kychinski (Blr) Amore e Vita                            6.30
77 Dimitri Konyshev (Rus) Team LPR
78 Domenico Passuello (Ita) Amore e Vita
79 Kjell Carlstroem (Fin) Amore e Vita
80 Rodney Green (RSA) Team Barloworld-Androli Giocattoli
81 Alejandro Alberto Borrajo (Arg) Ceramiche Panaria-Margres
82 Oleksandr Klymenko (Ukr) Action                                    6.42
83 Juan Fuentes (Spa) Saeco                                           7.16
84 Aitor Hernandez Gutierrez (Spa) Team LPR
85 Andrew Bradley (Aut) Elk Haus Radteam
86 Paolo Fornaciari (Ita) Saeco
87 Elio Aggiano (Ita) Team LPR
88 Valery Kobzarenko (Ukr) Acqua & Sapone
89 Luca Solari (Ita) Team Barloworld-Androli Giocattoli
90 Gabriele Missaglia (Ita) Team Barloworld-Androli Giocattoli
91 Graziano Gasparre (Ita) De Nardi
92 Milan Kadlec (Cze) Vini Caldirola-Nobili Rubinetterie
93 Nicola Loda (Ita) Tenax                                            8.19
94 Wolfgang Murer (Aut) Elk Haus Radteam
95 Harald Totschnig (Aut) Elk Haus Radteam
96 Ivan Degasperi (Ita) Team LPR
97 Antonio Salomone (Ita) Team Barloworld-Androli Giocattoli
98 Marco Cedroni (Ita) Formaggi Pinzolo Fiave'
99 Oleksandr Kvachuk (Ukr) Lampre
100 Manuel Quinziato (Ita) Lampre
101 Renzo Mazzoleni (Ita) Tenax
102 Jan Svorada (Cze) Lampre
103 Michal Pawlyta (Pol) Action                                      10.25
104 Claudio Lucchini (Ita) Team LPR                                  11.50
105 Christian Murro (Ita) Miche
106 Domenico Gualdi (Ita) Formaggi Pinzolo Fiave'
107 Mario Hoeller (Aut) Elk Haus Radteam
108 Maurizio Varini (Ita) Miche
109 Balazs Rohtmer (Hun) Miche
110 Tom Southam (GBr) Amore e Vita
111 Stefano Casagranda (Ita) Saeco
112 Leonardo Caneschi (Ita) Miche
113 Daniele Masolino (Ita) Team LPR
114 Roland Wafler (Aut) Elk Haus Radteam
115 Krzysztof Krzywy (Pol) Action
116 Antonio D'aniello (Ita) Miche                                    13.26
117 Aurélien Clerc (Swi) Quick.Step-Davitamon                        15.30
118 Dean Podgornik (Slo) Tenax
119 Stefano Ciuffi (Ita) Amore e Vita                                16.58
120 Moreno Di Biase (Ita) Team ICET
121 Francesco Cipolletta (Ita) Team ICET
122 Samuel Tartaglia (Ita) Team ICET
123 Daniele Balestri (Ita) Team ICET
 
Traguardi Volanti Classification
 
1 Graziano Gasparre (Ita) De Nardi                                       6 Pts
2 Renzo Mazzoleni (Ita) Tenax                                            4
3 Aitor Hernandez Gutierrez (Spa) Team LPR                               2
 
Mountains classification
 
1 Elio Aggiano (Ita) Team LPR                                            6 Pts
2 Aitor Hernandez Gutierrez (Spa) Team LPR                               4
3 Patrik Calcagni (Swi) Vini Caldirola-Nobili Rubinetterie               4
4 Giuseppe Palumbo (Ita) Acqua & Sapone                                  2
5 Graziano Gasparre (Ita) De Nardi                                       2
6 Renzo Mazzoleni (Ita) Tenax                                            1
 
Teams classification
 
1 Saeco                                                           14.28.16
2 Formaggi Pinzolo Fiave'                                             0.01
3 De Nardi                                                            0.05
4 Acqua & Sapone
5 Quick.Step-Davitamon                                                0.27
6 Ceramiche Panaria-Margres
7 Hoop CCC-Polsat TV                                                  1.59
8 Vini Caldirola-Nobili Rubinetterie
9 Lampre                                                              2.31
10 Team ICET                                                          2.50
11 Team Barloworld-Androni Giocattoli
12 Action                                                             2.53
13 Tenax                                                              3.15
14 Miche                                                              9.03
15 Amore e Vita                                                      12.35
16 Team LPR                                                          13.53
17 Elk Haus Radteam                                                  23.14