92nd Grote Scheldeprijs - Vlaanderen - 1.1
Belgium, April 14, 2004
2003 Results Results Past winners
Dank u Johan
A perfect end for Museeuw as Boonen takes the flowers in Schoten
By Jeff Jones in Schoten
Boonen wins. McEwen doesn't like it
Photo ©: CN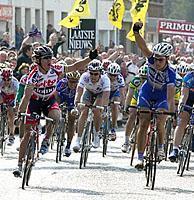 Tom Boonen and the Quick.Step-Davitamon team combined give Johan Museeuw the perfect send off in the last race of his career, with Boonen crossing the line just centimetres in front of Robbie McEwen to win the 92nd Scheldeprijs Vlaanderen in Schoten. The race finished in a bunch sprint and once again, Boonen was piloted to the line by Stefano Zanini, with De Nardi's Simone Cadamuro claiming third spot.
Museeuw was superb right up to the end, even attacking the peloton with 13 km to go with his full strength. But there were to be no presents from the peloton for the Lion of Flanders, and he was brought back after 5 kilometres of freedom. However, as Museeuw also intended, it allowed Quick.Step some breathing space before preparing the final sprint for Boonen, and the young sprinter did not let them down.
Tom Boonen (Quick.Step-Davitamon)
Photo ©: CN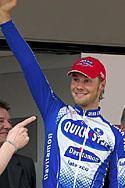 "I'll never forget what [Museeuw] has done for me," said Boonen after taking his third big win of the season. Boonen had kept himself active in the last lap, getting into the various breaks that formed, not wanting to be left behind. "I saw the guys ride away and I thought of last year. At the end I had Stefano there, but I came a bit early to the front. Stefano had to do a lot."
Robbie McEwen tried to come around Boonen in the last 100 metres, but the Lotto-Domo sprinter couldn't, and threw up his arm in frustration and protest as he crossed the line, accusing Boonen of moving off his line in the sprint. "I was certain that I would have won," said an angry McEwen. "Tom moved to the right and I couldn't make my last jump. Therefore I lost the sprint. You're certainly frustrated if you lose like this.
"I haven't seen the images from above, but I was 100 percent sure that I would pass him. The jury said to me that in any case they will look at it."
The jury found no reason to disqualify Boonen, as his movement was minimal. When Boonen heard that McEwen had protested, his response was slightly incredulous. "I don't know why he would object, I don't see anything wrong with my sprint. He's probably frustrated because he couldn't win!"
Museeuw's parting words
Johan Museeuw (Quick.Step-Davitamon)
Photo ©: CN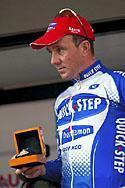 Although Johan Museeuw did not cry for half an hour after the finish today, there were mixed emotions from him after his final race. As the huge crowd chanted "Johan, Johan, Johan", the Lion gave his parting words to the people and the media. "I feel very sad, very emotional, but happy that it's over, that everything is behind me. There were some sad moments, but I made a lot of people happy. To retire like this is the nicest way possible. It's now better that I say goodbye and start a new life.
"I have no regrets. I've done a lot for the sport and cycling has given me a lot back. I think I will miss it now. To name names is hard, but thank you to all who supported me. Thanks everyone."
How it unfolded
Mattan and Capelle
Photo ©: CN

It was a perfect day for Museeuw's final race, with the sun shining brightly in Antwerp's Grote Markt, a light breeze blowing, and a huge mass of people eager to catch a glimpse of their champion. The Scheldeprijs is traditionally a sprinters race, run over a dead flat parcours with a few cobbled sections thrown in for good measure. And with little wind blowing today, it was going to be difficult to disrupt Quick.Step-Davitamon and Lotto-Domo's plans to have the race end in a bunch sprint.
Two riders certainly tried: Nico Mattan (Relax-Bodysol) and Andy Cappelle (Chocolade Jacques), the latter regaining form after a late start to the season. The pair escaped after 73 km and built up an eight minute lead, which gave them a comfortable advantage over the peloton as they entered the three finishing circuits with 51 km to go. But Quick.Step and Lotto-Domo, with occasional help from FDJeux.com and Landbouwkrediet, drove the peloton in full pursuit, bringing the gap down to 3'08 with 37 km to go.
Mattan and Cappelle persisted, with Mattan leaving Cappelle behind with 23 km to go, while the gap was still 40 seconds. This wasn't nearly enough, and although he survived into the bell lap, Mattan was finally hauled in with 13 km left. Just before he was caught, Quick.Step organised a set move for Johan Museeuw, with Knaven and Hulsmans slowing down as the Museeuw accelerated off the front for the last time.
Museeuw gave it everything and was immediately able to gain 100 metres lead, but Lotto-Domo and FDJ were having none of it, and kept the tempo high enough for Leon van Bon and Roger Hammond to close the gap and catch the Lion with 8 km to go. Tom Boonen saw the danger and jumped across to the group, which also included Baden Cooke and Bernhard Eisel (FDJ), Aart Vierhouten (Lotto-Domo), Kirk O'Bee (Navigators) and Jaan Kirsipuu (Ag2r). Of these, Cooke and Boonen were the last to stay away, but the peloton more or less came back together with 5 km to go.
Bedankt Johan!
Photo ©: Quick.Step-Davitamon

Quick.Step assumed the position in front with Knaven, Cretskens, Hulsmans and Zanini ready to lead out Boonen. Kirsipuu and McEwen (taken up by Leif Hoste) were also well placed, and it was up to Quick.Step to finish it off. Into a light headwind, Zanini hit the front with 500m to go with Boonen and McEwen in tow. Boonen leapt off Zanini's wheel, changing from his 13 into the 12 and then the 11 tooth cog. McEwen started to come round, but didn't quite have the legs and even thrust his head towards the big Belgian in the final metres, thinking that Boonen had moved off his line. But Boonen hadn't, and threw his bike marginally in front of McEwen's to win the Scheldeprijs Vlaanderen, his third Cat. 1/Hors Categorie race win this season.
Will Boonen be the next Museeuw? There are a lot of people hoping, needing another hero as big as Johan.
Photography
Images by Luc Claessen/Cyclingnews/www.actiefotos.be
Images by Quick.Step-Davitamon
Bedankt Johan! Thousands of people were out to bid the Lion of Flanders farewell in Schoten
Images by Jeff Jones/Cyclingnews.com
It was chaos at the finish in Schoten
Museeuw answered countless questions from he media after the race
Johan Museeuw was relaxed and calm at his final press conference
Results - 200 km
1 Tom Boonen (Bel) Quick.Step-Davitamon                     4.19.00 (46.332 km/h)
2 Robbie McEwen (Aus) Lotto-Domo
2 Simone Cadamuro (Ita) De Nardi
4 Enrico Poitschke (Ger) Team Wiesenhof
5 Bernhard Eisel (Aut) FDJeux.com
6 Alexandre Usov (Blr) Phonak Hearing Systems
7 Ludovic Capelle (Bel) Landbouwkrediet-Colnago
8 Enrico Deganio (Ita) Team Barloworld-Androni Giocattoli
9 Christoph Roodhooft (Bel) Mr. Bookmaker-Palmans
10 Roy Sentjens (Bel) Rabobank
11 Uros Murn (Slo) Phonak Hearing Systems
12 Jean-Patrick Nazon (Fra) Ag2r-Prevoyance
13 Marcin Lewandowski (Pol) Action
14 Nicolas Inaudi (Fra) Ag2r-Prevoyance
15 Stefan van Dijck (Ned) Lotto-Domo
16 Yuri Mitlushenko (Ukr) Landbouwkrediet-Colnago
17 Jaan Kirsipuu (Est) Ag2r-Prevoyance
18 René Obst (Ger) Team Wiesenhof
19 Nacor Burgos (Spa) Relax-Bodysol
20 Adam Wadecki (Pol) Action
21 Sébastien Chavanel (Fra) Brioches La Boulangere
22 Kirk O'Bee (USA) Navigators
23 Jo Planckaert (Bel) Mr. Bookmaker-Palmans
24 Roger Hammond (GBr) Mr. Bookmaker-Palmans
25 Alessandro Vanotti (Ita) De Nardi
26 Erki Putsep (Est) Ag2r-Prevoyance
27 Jans Koerts (Ned) Chocolade Jacques-Wincor Nixdorf
28 Allan Bo Andresen (Den) Bankgiroloterij
29 James Vanlandschoot (Bel) Relax-Bodysol
30 Siro Camponogara (Ita) Navigators
31 Lars Michaelsen (Den) Team CSC
32 Mark Walters (Can) Navigators
33 Martin Elmiger (Swi) Phonak Hearing Systems
34 Steven Caethoven (Bel) Vlaanderen-T Interim
35 Remco van der Ven (Ned) Bankgiroloterij
36 Mark Scanlon (Irl) Ag2r-Prevoyance
37 Maxime Monfort (Bel) Landbouwkrediet-Colnago
38 Dennis Kraft (Ger) Action
39 Steven de Jongh (Ned) Rabobank
40 Andy Flickinger (Fra) Ag2r-Prevoyance
41 Thomas Bruun Eriksen (Den) Team CSC
42 Unai Yus (Spa) Brioches La Boulangere
43 Jeremy Hunt (GBr) Mr. Bookmaker-Palmans
44 Ciaran Power (Irl) Navigators
45 Bert Hiemstra (Ned) Chocolade Jacques-Wincor Nixdorf
46 Rafael Nuritdinov (Uzb) De Nardi
47 Bobbie Traksel (Ned) Rabobank
48 Wesley Van Speybroeck (Bel) Vlaanderen-T Interim
49 Igor Abakoumov (Bel) Chocolade Jacques-Wincor Nixdorf
50 Ralf Grabsch (Ger) Team Wiesenhof
51 Michal Precechtel (Cze) eD'system - ZVVZ 
52 Maxim Rudenko (Ukr) Chocolade Jacques-Wincor Nixdorf
53 Stefano Zanini (Ita) Quick.Step-Davitamon
54 Michel Van Haecke (Bel) Mr. Bookmaker-Palmans
55 Michele Gobbi (Ita) De Nardi
56 Wim De Vocht (Bel) Relax-Bodysol
57 Christian Pfannenberger (Aut) eD'system - ZVVZ 
58 Johan Verstrepen (Bel) Landbouwkrediet-Colnago
59 David Derepas (Fra) FDJeux.com
60 Jan Kuyckx (Bel) Vlaanderen-T Interim
61 Björn Leukemans (Bel) Mr. Bookmaker-Palmans
62 Wilfried Cretskens (Bel) Quick.Step-Davitamon
63 Frank Schleck (Lux) Team CSC
64 Marc Streel (Bel) Landbouwkrediet-Colnago
65 Henk Vogels (Aus) Navigators
66 Grégory Rast (Swi) Phonak Hearing Systems
67 Stefan Adamsson (Swe) Team Barloworld-Androni Giocattoli
68 Chris Peers (Bel) Chocolade Jacques-Wincor Nixdorf
69 Tristan Hoffman (Ned) Team CSC
70 Marco Bos (Ned) Bankgiroloterij
71 Mark Renshaw (Aus) FDJeux.com
72 Peter Wuyts (Bel) Mr. Bookmaker-Palmans
73 David McKenzie (Aus) Navigators
74 Mikahil Timochine (Uzb) Landbouwkrediet-Colnago
75 Andy De Smet (Bel) Mr. Bookmaker-Palmans
76 Bert Roesems (Bel) Relax-Bodysol
77 Johan Museeuw (Bel) Quick.Step-Davitamon
78 Thomas Voeckler (Fra) Brioches La Boulangere
79 Leif Hoste (Bel) Lotto-Domo
80 Baden Cooke (Aus) FDJeux.com
81 Martin Müller (Ger) Team Wiesenhof
82 Geert Van Bondt (Bel) Landbouwkrediet-Colnago
83 Ronald Mutsaars (Ned) Rabobank
84 Leon van Bon (Ned) Lotto-Domo
85 Thorwald Veneberg (Ned) Rabobank
86 Frank Hoj (Den) Team CSC
87 Jimmy Madsen (Den) Team CSC
88 Sebastian Siedler (Ger) Team Wiesenhof
89 Koos Moerenhout (Ned) Lotto-Domo
90 Kevin De Weert (Bel) Rabobank
91 Stéphane Berges (Fra) Ag2r-Prevoyance
92 Johan Vansummeren (Bel) Relax-Bodysol
93 Rony Martias (Fra) Brioches La Boulangere
94 Jan Valach (Svk) eD'system - ZVVZ
95 Ryan Cox (RSA) Team Barloworld-Androni Giocattoli
96 Hans Dekkers (Ned) Rabobank
97 Nick Nuyens (Bel) Quick.Step-Davitamon
98 Aart Vierhouten (Ned) Lotto-Domo                         0.15
99 Matthew Wilson (Aus) FDJeux.com
100 Thierry Marichal (Bel) Lotto-Domo
101 Nico Eeckhout (Bel) Lotto-Domo
102 Servais Knaven (Ned) Quick.Step-Davitamon               0.22
103 Ludo Dierckxsens (Bel) Landbouwkrediet-Colnago
104 Alexandre Naulleau (Fra) Brioches La Boulangere
105 Koen Barbé (Bel) Vlaanderen-T Interim                   0.26
106 Gabriele Missaglia (Ita) Team Barloworld-Androni Giocattoli
107 Bogdan Bondariew (Ukr) Action
108 Geoffrey Demeyere (Bel) Vlaanderen-T Interim
109 Preben Van Hecke (Bel) Relax-Bodysol
110 Benoit Vaugrenard (Fra) FDJeux.com
111 Devis Miorin (Ita) De Nardi
112 Kevin Hulsmans (Bel) Quick.Step-Davitamon
113 Wouter Van Mechelen (Bel) Vlaanderen-T Interim
114 Julien Smink (Ned) Bankgiroloterij

Past winners
2003 Ludovic Capelle (Bel) Landbouwkrediet-Colnago  206 km in 4.40.00
2002 Robbie McEwen (Aus) Lotto-Adecco               205 km in 4.54.00
2001 Endrio Leoni (Ita) Alessio                     208 km in 4.49.00
2000 Endrio Leoni (Ita) Alessio                     200 km in 4.24.00
1999 Jeroen Blijlevens (Ned) TVM-Farm Frites        201 km in 4.35.00
1998 Servais Knaven (Ned) TVM-Farm Frites           203 km in 4.19.19
1997 Erik Zabel (Ger)
1996 Frank Vandenbroucke (Bel)
1995 Rossano Brassi (Ita)
1994 Peter Van Petegem (Bel)
1993 Mario Cipollini (Ita)
1992 Wilfried Nelissen (Bel)
1991 Mario Cipollini (Ita)
1990 John Talen (Ned)
1989 Jean-Marie Wampers (Bel)
1988 Jean-Paul Van Poppel (Ned)
1987 Etienne De Wilde (Bel)
1986 Jean-Paul Van Poppel (Ned)
1985 Adri Van der Poel (Ned)
1984 Ludo Peeters (Bel)
1983 Jan Bogaert (Bel)
1982 Ludo Schurgers (Bel)
1981 Ad Wijnands (Ned)
1980 Ludo Peeters (Bel)
1979 Daniel Willems (Bel)
1978 Dietrich Thurau (Ger)
1977 Marc Demeyer (Bel)
1976 Frans Verbeeck (Bel)
1975 Ronald Dewitte (Bel)
1974 Marc Demeyer (Bel)
1973 Freddy Maertens (Bel)
1972 Eddy Merckx (Bel)
1971 Gustaaf Van Roosbroeck (Bel)
1970 Roger De Vlaeminck (Bel)
1969 Walter Godefroot (Bel)
1968 Edward Sels (Bel)
1967 Paul In 'T'Ven (Bel)
1966 Joseph Spruyt (Bel)
1965 Willy Vannitsen (Bel)
1964 Joseph Hoevenaers (Bel)
1963 Piet Oellibrandt (Bel)
1962 Piet Oellibrandt (Bel)
1961 Raymond Vrancken (Bel)
1960 Piet Oellibrandt (Bel)
1959 Willy Butzen (Bel)
1958 Raymond Vrancken (Bel)
1957 Rik Van Looy (Bel)
1956 Rik Van Looy (Bel)
1955 Alberic Schotte (Bel)
1954 Roger Decock (Bel)
1953 Hans Dekkers (Ned)
1952 Roger Decorte (Bel)
1951 Ernest Sterckx (Bel)
1950 André Pieters (Bel)
1949 Roger Decorte (Bel)
1948 Achiel Buysse (Bel)
1947 René Mertens (Bel)
1946 Stan Ockers (Bel)
1943 Eloi Meulenberg (Bel)
1942 Lode Busschops (Bel)
1941 Stan Ockers (Bel)
1939 Achiel Buysse (Bel)
1938 Antoine Dignef (Bel)
1937 Sylvain Grysolle (Bel)
1936 Marcel Van Schil (Bel)
1935 Gerard Loncke (Bel)
1934 Léon Tommies (Bel)
1933 Horemans (Bel)
1932 Godefried De Vocht (Bel)
1931 Godefried De Vocht (Bel)
1930 Denis Verschueren (Bel)
1929 Joseph Wauters (Bel) 
1928 Joseph Dervaes (Bel)
1927 Georges Ronsse (Bel)
1926 Joseph Dervaes (Bel)
1924 René Vermandel (Bel)
1923 Emile Thollembbek (Bel)
1922 Florence Van den Bergh (Bel)
1921 René Vermandel (Bel)
1919 Isidoor Mechant (Bel)
1908 A. Kranskans (Bel)
1907 Maurice Leturgie (Fra)
 
Past winners by Mario Stiehl, www.world-of-cycling.com