42nd Ronde van Drenthe - 1.3
Netherlands, April 10, 2004
2003 Results Results Past winners
Dekker wins in home town
Exhaustion in the eyes of Erik Dekker
Photo ©: DCP-Bert Geerts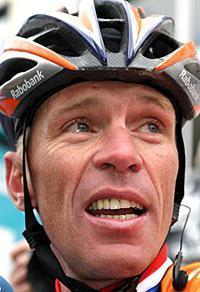 Erik Dekker (Rabobank) has won the 42nd Ronde van Drenthe, which starts and finishes in his home town of Hoogeveen. The Dutchman, who has shown excellent form so far this season, rode away from a group of eight riders with 18 km to go, eventually crossing the line 19 seconds ahead of David McKenzie (Navigators) and Simone Cadamuro (De Nardi). Dekker's previous best results in this race were second and third, but he had never won it.
The cold and drizzly weather conditions made the 42nd edition of this 202 km race tough for the 138 starters, and only 47 finished. The peloton had to tackled 12 cobbled sections as well as four ascensions of the short, but very steep (20%) VAM berg.
A group of eight extracted itself from the peloton containing Dekker, his teammate Joost Posthuma, McKenzie, Cadamuro, Rudie Kemna (BankGiroLoterij), Jeroen Boelen (Van Hemert), Germ Van Der Burg (Bert Story Piels) and Folkert De Haan (Apac). With Rabobank having the slight numerical advantage, Dekker was able to escape the group with 18 km to go, putting his time trialling abilities to good use to cross the line in Hoogeveen a winner. McKenzie outsprinted Cadamuro and Kemna for second.
Photography
Images by DCP-Bert Geerts
Results - 202.1 km
1 Erik Dekker (Ned) Rabobank                      5.08.17
2 David Mckenzie (Aus) Navigators Insurance CT       0.19
3 Simone Cadamuro (Ita) De Nardi                         
4 Rudie Kemna (Ned) Bankgiroloterij                      
5 Joost Posthuma (Ned) Rabobank                      0.24
6 Jeroen Boelen (Ned) Van Hemert Eurogifts           1.21
7 Germ Van Der Burg (Ned) Bert Story Piels           1.25
8 Folkert De Haan (Ned) Apac Cycling Team            1.32
9 Mark Walters (Can) Navigators Insurance CT         2.41
10 Stefan Adamsson (Swe) Barloworld Androni Giocat       
11 Karsten Kroon (Ned) Rabobank                          
12 Marvin Van Der Pluym (Ned) Van Hemert Eurogifts       
13 Joost Van Leijen (Ned) Van Vliet EBH advocaten        
14 Roy Curvers (Ned) Van Hemert Eurogifts                
15 Jos Lucassen (Ned) AXA Cycling Team               3.45
16 Wolfram Wiese (Ger) Comnet Senges                     
17 Hans Dekkers (Ned) Rabobank                           
18 Henk Vogels (Aus) Navigators Insurance CT         3.56
19 Adam Wadecki (Pol) Action ATI                     4.34
20 Kor Steenbergen (Ned) Dutch National Team             
21 Maarten Lenferink (Ned) Lowik Meubelen Tegeltoko      
22 Edwin Dunning (Ned) Dutch National Team               
23 Christian Knees (Ger) Team Wiesenhof                  
24 Pascal Hermes (Ned) AXA Cycling Team                  
25 John Sulkers (Ned) Van Hemert Eurogifts               
26 Hans-Jurgen Juretzek (Ger) Comnet Senges              
27 Alain Van Katwijk (Ned) Bankgiroloterij               
28 Paul Sneeboer (Ned) Apac Cycling Team                 
29 Adriaan Helmantel (Ned) Apac Cycling Team             
30 Matej Jurco (Svk) De Nardi                            
31 Julien Smink (Ned) Bankgiroloterij                    
32 Dennis Kraft (Ger) Action ATI                         
33 Jasper Lenferink (Ned) Bert Story Piels               
34 Frank Luikens (Ned) Dutch National Team               
35 Arthur Farenhout (Ned) AXA Cycling Team               
36 Dennis Smit (Ned) Van Vliet EBH advocaten             
37 Laurens Ten Dam (Ned) Bankgiroloterij                 
38 Fulco Van Gulik (Ned) Bert Story Piels            4.54
39 Marcin Lewandowski (Pol) Action ATI               6.30
40 Marcin Osinski (Pol) Action ATI                       
41 Alessandro Vanotti (Ita) De Nardi                     
42 Arne Kornegoor (Ned) Bert Story Piels                 
43 Gabriele Missaglia (Ita) Barloworld Androni Giocat    
44 Devis Miorin (Ita) De Nardi                           
45 Michele Gobbi (Ita) De Nardi                      6.42
46 Enrico Degano (Ita) Barloworld Androni Giocat         
47 Marco Bos (Ned) Bankgiroloterij                       


Past winners
2003 Rudie Kemna (Ned) Bankgiroloterij Cycling Team 
2002 Rudie Kemna (Ned)
2001 Cancelled
2000 Andy De Smet (Bel)
1999 Jans Koerts (Ned)
1998 Remco Van Der Ven (Ned)
1997 (2) Anthony Theus (Ned)
1996 Karsten Kroon (Ned)
1995 Pascal Appeldoorn (Ned)
1994 Anthony Theus (Ned)
1993 (2) Alard Engels (Ned)
1992 Paul Konings (Ned)
1991 Alard Engels (Ned)
1990 Gererad Kemper (Ned)
1989 Erik Knuvers (Ned)
1988 Stephan Räckers (Ned)
1987 Richard Luppes (Ned)
1986 Dick Dekker (Ned)
1985 Hen Boeve (Ned)
1984 Anton Van Der Steen (Ned)
1983 (2) Ron Snijders (Ned)
1982 Hans Baudoin (Ned)
1981 Ron Snijders (Ned)
1980 (2) Henk Mutsaars (Ned)
1979 Wim De Waal (Ned)
1978 Henk Mutsaars (Ned)
1977 Joop Ribbers (Ned)
1976 Wil Van Helvort (Ned)
1975 Jimmy Kruunenburg (Ned)
1974 Co Hoogendoorn (Ned)
1973 Gerrie Van Gerwen (Ned)
1972 Hennie Kuiper (Ned)
1971 Juul Bruessing (Ned)
1970 Popke  Oosterhof (Ned)
1969 Ben Janbroers (Ned)
1968 Jan Van Katwijk (Ned)
1967 Leen De Groot (Ned)
1966 Piet Tesselaer (Ned)
1965 Roel Hendriks (Ned)

1963-1964 No Race

1962 Bart Solaro (Ned)
1961 Cees De Jongh (Ned)
1960 Jurre Dokter (Ned)

Past winners by Mario Stiehl, www.world-of-cycling.com