Recently on Cyclingnews.com
5th Giro della Provincia di Lucca - 2.3
Italy, September 30-October 3, 2003
Stage 1 - September 30: Lucca - Castelvecchio Pascoli, km 162
Freire gets ready
Freire reopens the account
Photo ©: Sirotti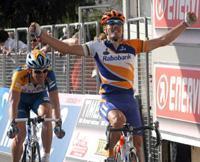 Rabobank's Oscar Freire signaled the return to fall form to which he has become accustomed, sprinting to victory in the opening road stage of the Giro della Provincia di Lucca, one of the final tune ups for the world championships. Freire, a two time world champion, scored an emphatic win after a generally lackluster season, and looked to be on the way back to the condition which has made him a perennial favourite for the rainbow jersey.
The peloton embarked on the race's first stage with a leisurely pace, covering just 64 kilometres in the first two hours of racing. Lampre's Francesco Casagrande tested the waters with some early attacks, but it wasn't until the race split and a group of 50 moved clear of the rest of the peloton that the action really began. Up front were most of the heavy favourites, including Freire, Casagrande, Michele Bartoli, Ivan Basso, Mirko Celestino, and Romans Vainsteins, among others.
As the race passed through the finishing circuit for the second time, Casagrande attacked again, getting a gap but unable to break the grip of the big lead group. Fassa Bortolo drove the race, as the remnants of the peloton drifted further and further behind, unable to close the gap that opened early. Casagrande's attack was unsuccessful, and the race looked to be heading for a bunch sprint in Castelvecchio Pascoli.
Rabobank once again took control for Freire, and despite a last ditch attack from Martin Hvastija (Tenax) that gained the Slovenian a 10" advantage inside of 10km. As Hvastija was caught the expected counter came from Roberto Petito at the 2km banner, but he too was unable to maintain the speed necessary ahead of Freire's teammates, swallowed by the bunch at 750m to the line. Freire knew the moment was his and launched his powerful sprint, jumping to the left side of the road. Only iBanesto.com's Ivan Gutierrez could catch his wheel, but could not come around the flying Spaniard.
Photography
Images by Fotoreporter Sirotti
Results
1 Oscar Freire Gomez (Spa) Rabobank                               4.15.44
2 José Ivan Gutierrez Palacios (Spa) iBanesto.com                        
3 Giuliano Figueras (Ita) Ceramiche Panaria-Fiordo                   0.02
4 Francesco Casagrande (Ita) Lampre                                      
5 Ivan Fanelli (Ita) Amore & Vita Beretta                                
6 Yaroslav Popovych (Ukr) Landbouwkrediet-Colnago                        
7 Andrea Moletta (Ita) Mercatone Uno-Scanavino                           
8 Denis Menchov (Rus) iBanesto.com                                       
9 Michele Bartoli (Ita) Fassa Bortolo                                    
10 Ruggero Borghi (Ita) Mercatone Uno-Scanavino                          
11 Ruben Plaza Molina (Spa) iBanesto.com                                 
12 Pietro Caucchioli (Ita) Alessio                                       
13 Andrea Peron (Ita) Team CSC                                           
14 Mirko Celestino (Ita) Saeco Macchine Per Caffe'                       
15 Frank Schleck (Lux) Team CSC                                          
16 Vladimir Karpets (Rus) iBanesto.com                                   
17 Serhiy Honchar (Ukr) De Nardi-Colpack                                 
18 Lorenzo Bernucci (Ita) Landbouwkrediet-Colnago                        
19 Andrea Masciarelli (Ita) Vini Caldirola-Saunier Duval             0.06
20 Massimo Giunti (Ita) Domina Vacanze-Elitron                           
21 Alexandr Kolobnev (Rus) Domina Vacanze-Elitron                        
22 Luca Mazzanti (Ita) Ceramiche Panaria-Fiordo                          
23 Ruben Lobato Elvira (Spa) Domina Vacanze-Elitron                      
24 Eugeni Petrov (Rus) iBanesto.com                                      
25 Andrea Noe' (Ita) Alessio                                             
26 Dariusz Baranowski (Pol) CCC Polsat                                   
27 Leonardo Giordani (Ita) De Nardi-Colpack                              
28 Ondrej Sosenka (Cze) CCC Polsat                                       
29 Maximilian Sciandri (GBr) Lampre                                      
30 Kjell Carlstrom (Fin) Amore & Vita Beretta                        0.10
31 Thomas Brozyna (Pol) CCC Polsat                                       
32 Marius Sabaliauskas (Ltu) Saeco Macchine Per Caffe'                   
33 Raffaele Ferrara (Ita) Alessio                                        
34 Piotr Przydzial (Pol) CCC Polsat                                      
35 Alessio Galletti (Ita) Saeco Macchine Per Caffe'                      
36 Wladimir Belli (Ita) Lampre                                           
37 Gabriele Missaglia (Ita) Lampre                                       
38 Steve Zampieri (Swi) Vini Caldirola-Saunier Duval                     
39 Volodymyr Bileka (Ukr) Landbouwkrediet-Colnago                    0.22
40 Romans Vainsteins (Lat) Vini Caldirola-Saunier Duval                  
41 Alessandro Spezialetti (Ita) Saeco Macchine Per Caffe'            0.28
42 Gerrit Glomser (Aut) Saeco Macchine Per Caffe'                    0.30
43 Roberto Petito (Ita) Fassa Bortolo                                0.34
44 Maarten Den Bakker (Ned) Rabobank                                 0.44
45 Martin Hvastija (Slo) Tenax                                           
46 Paolo Bossoni (Ita) Vini Caldirola-Saunier Duval                  0.46
47 Tom Sutahm (GBr) Amore & Vita Beretta                             0.51
48 Ivan Basso (Ita) Fassa Bortolo                                    1.07
49 Sergio Barbero (Ita) Lampre                                           
50 Marc Wauters (Bel) Rabobank                                       2.14
51 Ruslan Gryschenko (Ukr) Landbouwkrediet-Colnago                   2.19
52 Timothy Jones (Zim) Domina Vacanze-Elitron                       10.01
53 Dario David Cioni (Ita) Fassa Bortolo                            10.07
54 Marco Pinotti (Ita) Lampre                                       14.49
55 Nicola Loda (Ita) Fassa Bortolo                                       
56 Mauro Gerosa (Ita) Vini Caldirola-Saunier Duval                       
57 Santo Anza (Ita) Landbouwkrediet-Colnago                              
58 Jesus Ramirez Torres (Spa) Vini Caldirola-Saunier Duval               
59 Roberto Arroyo (Spa) Team CSC                                         
60 Claudio Lucchini (Ita) Landbouwkrediet-Colnago                        
61 Daniele Pietropolli (Ita) Tenax                                       
62 Ruslan Ivanov (Mda) Alessio                                           
63 Gianluca Tonetti (Ita) Tenax                                          
64 Stefano Zanini (Ita) Saeco Macchine Per Caffe'                        
65 Marco Velo (Ita) Fassa Bortolo                                        
66 Lorenzo Cardellini (Ita) Domina Vacanze-Elitron                       
67 Michael Blaudzun (Den) Team CSC                                       
68 Jimmi Madsen (Den) Team CSC                                           
69 Sergio Marinangeli (Ita) Domina Vacanze-Elitron                       
70 Mateusz Mroz (Pol) Amore & Vita Beretta                               
71 Rinaldo Nocentini (Ita) Formaggi Pinzolo-Ciarrocchi Imm.              
72 Julio Alberto Perez Cuapio (Mex) Ceramiche Panaria-Fiordo             
73 Gorazd Stangelj (Slo) Fassa Bortolo                                   
74 Robert Hunter (RSA) Rabobank                                          
75 Marek Galinski (Pol) CCC Polsat                                       
76 Davis Mcpartland (Aus) Tenax                                          
77 Slawomir Kohut (Pol) CCC Polsat                                       
78 Bram De Groot (Ned) Rabobank                                          
79 Luis Felipe Laverde Jimenez (Col) Formaggi Pinzolo-Ciarrocchi Imm.    
80 Filippo Perfetto (Ita) Ceramiche Panaria-Fiordo                       
81 Jon Odriozola Mugarza (Spa) iBanesto.com                              
82 Salvatore Scamardella (Ita) Landbouwkrediet-Colnago                   
83 Piotr Chmielewski (Pol) CCC Polsat                                    
84 Marc Lotz (Ned) Rabobank                                              
85 Luciano Pagliarini Mendonica (Bra) Lampre                             
86 Diego Caccia (Ita) Saeco Macchine Per Caffe'                          
87 Cristian Bonfanti (Ita) De Nardi-Colpack                              
88 Cristiano Frattini (Ita) Tenax                                        
89 Massimo Codol (Ita) Mercatone Uno-Scanavino                           
90 Andrus Aug (Est) De Nardi-Colpack                                     
91 Julian Sanchez Pimienta (Spa) Fassa Bortolo                           
92 Massimo Cigana (Ita) Mercatone Uno-Scanavino                          
93 Seweryn Kohut (Pol) CCC Polsat                                        
94 Paolo Lanfranchi (Ita) Ceramiche Panaria-Fiordo                       
95 Javier Pascual Rodriguez (Spa) iBanesto.com                           
96 Michele Gobbi (Ita) De Nardi-Colpack                                  
97 Graziano Gasparre (Ita) De Nardi-Colpack                              
98 Andrea Ferrigato (Ita) Alessio                                        
99 Massimiliano Mori (Ita) Formaggi Pinzolo-Ciarrocchi Imm.              
100 Alberto Ongarato (Ita) Domina Vacanze-Elitron                        
101 Joseba Albizu Lizaso (Spa) Mercatone Uno-Scanavino                   
102 Oscar Mason (Ita) Vini Caldirola-Saunier Duval                       
103 Giacomo Battistel (Ita) Amore & Vita Beretta                         
104 Milan Kadlec (Cze) Lampre                                            
105 Giosuè Bonomi (Ita) Saeco Macchine Per Caffe'                        
106 Fabio Baldato (Ita) Alessio                                          
107 Remmert Wielinga (Ned) Rabobank                                      
108 Jamie Burrow (GBr) Amore & Vita Beretta                              
109 Alejandro Alberto Borrajo (Arg) Ceramiche Panaria-Fiordo             
110 Scott Davis (Aus) Ceramiche Panaria-Fiordo                           
111 Giuliano Sulpizi (Ita) Formaggi Pinzolo-Ciarrocchi Imm.              
112 Matteo Cappe' (Ita) Formaggi Pinzolo-Ciarrocchi Imm.                 
113 Francesco Bellotti (Ita) Mercatone Uno-Scanavino                     
114 Marco Milesi (Ita) Vini Caldirola-Saunier Duval                      
115 Oscar Pozzi (Ita) Tenax                                              
116 Massimo Amichetti (Ita) Formaggi Pinzolo-Ciarrocchi Imm.             
117 Markus Knopfle (Ger) Tenax                                           
118 Marek Wesoly (Pol) Amore & Vita Beretta                              
119 Erik Dekker (Ned) Rabobank                                           
120 Marco Villa (Ita) Formaggi Pinzolo-Ciarrocchi Imm.                   
121 Cristian Gasperoni (Ita) Mercatone Uno-Scanavino                     
122 Crescenzo D'amore (Ita) Tenax                                        
123 Devis Miorin (Ita) De Nardi-Colpack                                  
124 Davide Casarotto (Ita) Alessio                                       
125 Sergiy Avdyeyez (Ukr) Landbouwkrediet-Colnago                        
DNF Mauro Zinetti (Ita) Amore & Vita Beretta                             
DNF Claudio Astolfi (Ita) Domina Vacanze-Elitron                         
DNF Giuseppe Muraglia (Ita) Formaggi Pinzolo-Ciarrocchi Imm.             
DNF Juan Antonio Flecha Giannoni (Spa) iBanesto.com                      
DNF Morten Knudsen (Den) Team CSC                                        
 
Points
 
1 Oscar Freire Gomez (Spa) Rabobank                                    15 pts
2 José Ivan Gutierrez Palacios (Spa) iBanesto.com                      13
3 Giuliano Figueras (Ita) Ceramiche Panaria-Fiordo                     11
4 Francesco Casagrande (Ita) Lampre                                     9
5 Ivan Fanelli (Ita) Amore & Vita Beretta                               8
6 Yaroslav Popovych (Ukr) Landbouwkrediet-Colnago                       7
7 Andrea Moletta (Ita) Mercatone Uno-Scanavino                          6
8 Denis Menchov (Rus) iBanesto.com                                      5
9 Michele Bartoli (Ita) Fassa Bortolo                                   4
10 Ruggero Borghi (Ita) Mercatone Uno-Scanavino                         3
11 Ruben Plaza Molina (Spa) iBanesto.com                                2
12 Pietro Caucchioli (Ita) Alessio                                      1
 
Teams
 
1 iBanesto.com                                                   12.47.16
2 Domina Vacanze-Elitron                                             0.14
3 Lampre                                                                 
4 Alessio                                                                
5 Saeco Macchine Per Caffe'                                          0.18
6 CCC Polsat                                                             
7 Landbouwkrediet-Colnago                                            0.22
8 Vini Caldirola-Saunier Duval                                       0.34
9 Amore & Vita Beretta                                               0.59
10 Fassa Bortolo                                                     1.39
11 Rabobank                                                          2.54
12 Team CSC                                                         14.49
13 Mercatone Uno-Scanavino                                               
14 Ceramiche Panaria-Fiordo                                         14.53
15 De Nardi-Colpack                                                      
16 Tenax                                                            30.18
17 Formaggi Pinzolo-Ciarrocchi Imm.                                 44.23
 
General classification after stage 1
 
1 Oscar Freire Gomez (Spa) Rabobank                               4.15.34
2 José Ivan Gutierrez Palacios (Spa) iBanesto.com                    0.04
3 Giuliano Figueras (Ita) Ceramiche Panaria-Fiordo                   0.08
4 Francesco Casagrande (Ita) Lampre                                  0.12
5 Ivan Fanelli (Ita) Amore & Vita Beretta                                
6 Yaroslav Popovych (Ukr) Landbouwkrediet-Colnago                        
7 Andrea Moletta (Ita) Mercatone Uno-Scanavino                           
8 Denis Menchov (Rus) iBanesto.com                                       
9 Michele Bartoli (Ita) Fassa Bortolo                                    
10 Ruggero Borghi (Ita) Mercatone Uno-Scanavino                          
11 Ruben Plaza Molina (Spa) iBanesto.com                                 
12 Pietro Caucchioli (Ita) Alessio                                       
13 Andrea Peron (Ita) Team CSC                                           
14 Mirko Celestino (Ita) Saeco Macchine Per Caffe'                       
15 Frank Schleck (Lux) Team CSC                                          
16 Vladimir Karpets (Rus) iBanesto.com                                   
17 Serhiy Honchar (Ukr) De Nardi-Colpack                                 
18 Lorenzo Bernucci (Ita) Landbouwkrediet-Colnago                        
19 Andrea Masciarelli (Ita) Vini Caldirola-Saunier Duval             0.16
20 Massimo Giunti (Ita) Domina Vacanze-Elitron                           
21 Alexandr Kolobnev (Rus) Domina Vacanze-Elitron                        
22 Luca Mazzanti (Ita) Ceramiche Panaria-Fiordo                          
23 Ruben Lobato Elvira (Spa) Domina Vacanze-Elitron                      
24 Eugeni Petrov (Rus) iBanesto.com                                      
25 Andrea Noe' (Ita) Alessio                                             
26 Dariusz Baranowski (Pol) CCC Polsat                                   
27 Leonardo Giordani (Ita) De Nardi-Colpack                              
28 Ondrej Sosenka (Cze) CCC Polsat                                       
29 Maximilian Sciandri (GBr) Lampre                                      
30 Kjell Carlstrom (Fin) Amore & Vita Beretta                        0.20
31 Thomas Brozyna (Pol) CCC Polsat                                       
32 Marius Sabaliauskas (Ltu) Saeco Macchine Per Caffe'                   
33 Raffaele Ferrara (Ita) Alessio                                        
34 Piotr Przydzial (Pol) CCC Polsat                                      
35 Alessio Galletti (Ita) Saeco Macchine Per Caffe'                      
36 Wladimir Belli (Ita) Lampre                                           
37 Gabriele Missaglia (Ita) Lampre                                       
38 Steve Zampieri (Swi) Vini Caldirola-Saunier Duval                     
39 Volodymyr Bileka (Ukr) Landbouwkrediet-Colnago                    0.32
40 Romans Vainsteins (Lat) Vini Caldirola-Saunier Duval                  
41 Alessandro Spezialetti (Ita) Saeco Macchine Per Caffe'            0.38
42 Gerrit Glomser (Aut) Saeco Macchine Per Caffe'                    0.40
43 Roberto Petito (Ita) Fassa Bortolo                                0.44
44 Maarten Den Bakker (Ned) Rabobank                                 0.54
45 Martin Hvastija (Slo) Tenax                                           
46 Paolo Bossoni (Ita) Vini Caldirola-Saunier Duval                  0.56
47 Tom Sutahm (GBr) Amore & Vita Beretta                             1.01
48 Ivan Basso (Ita) Fassa Bortolo                                    1.17
49 Sergio Barbero (Ita) Lampre                                           
50 Marc Wauters (Bel) Rabobank                                       2.24
51 Ruslan Gryschenko (Ukr) Landbouwkrediet-Colnago                   2.29
52 Timothy Jones (Zim) Domina Vacanze-Elitron                       10.11
53 Dario David Cioni (Ita) Fassa Bortolo                            10.17
54 Marco Pinotti (Ita) Lampre                                       14.59
55 Nicola Loda (Ita) Fassa Bortolo                                       
56 Mauro Gerosa (Ita) Vini Caldirola-Saunier Duval                       
57 Santo Anza (Ita) Landbouwkrediet-Colnago                              
58 Jesus Ramirez Torres (Spa) Vini Caldirola-Saunier Duval               
59 Roberto Arroyo (Spa) Team CSC                                         
60 Claudio Lucchini (Ita) Landbouwkrediet-Colnago                        
61 Daniele Pietropolli (Ita) Tenax                                       
62 Ruslan Ivanov (Mda) Alessio                                           
63 Gianluca Tonetti (Ita) Tenax                                          
64 Stefano Zanini (Ita) Saeco Macchine Per Caffe'                        
65 Marco Velo (Ita) Fassa Bortolo                                        
66 Lorenzo Cardellini (Ita) Domina Vacanze-Elitron                       
67 Michael Blaudzun (Den) Team CSC                                       
68 Jimmi Madsen (Den) Team CSC                                           
69 Sergio Marinangeli (Ita) Domina Vacanze-Elitron                       
70 Mateusz Mroz (Pol) Amore & Vita Beretta                               
71 Rinaldo Nocentini (Ita) Formaggi Pinzolo-Ciarrocchi Imm.              
72 Julio Alberto Perez Cuapio (Mex) Ceramiche Panaria-Fiordo             
73 Gorazd Stangelj (Slo) Fassa Bortolo                                   
74 Robert Hunter (RSA) Rabobank                                          
75 Marek Galinski (Pol) CCC Polsat                                       
76 Davis Mcpartland (Aus) Tenax                                          
77 Slawomir Kohut (Pol) CCC Polsat                                       
78 Bram De Groot (Ned) Rabobank                                          
79 Luis Felipe Laverde Jimenez (Col) Formaggi Pinzolo-Ciarrocchi Imm.    
80 Filippo Perfetto (Ita) Ceramiche Panaria-Fiordo                       
81 Jon Odriozola Mugarza (Spa) iBanesto.com                              
82 Salvatore Scamardella (Ita) Landbouwkrediet-Colnago                   
83 Piotr Chmielewski (Pol) CCC Polsat                                    
84 Marc Lotz (Ned) Rabobank                                              
85 Luciano Pagliarini Mendonica (Bra) Lampre                             
86 Diego Caccia (Ita) Saeco Macchine Per Caffe'                          
87 Cristian Bonfanti (Ita) De Nardi-Colpack                              
88 Cristiano Frattini (Ita) Tenax                                        
89 Massimo Codol (Ita) Mercatone Uno-Scanavino                           
90 Andrus Aug (Est) De Nardi-Colpack                                     
91 Julian Sanchez Pimienta (Spa) Fassa Bortolo                           
92 Massimo Cigana (Ita) Mercatone Uno-Scanavino                          
93 Seweryn Kohut (Pol) CCC Polsat                                        
94 Paolo Lanfranchi (Ita) Ceramiche Panaria-Fiordo                       
95 Javier Pascual Rodriguez (Spa) iBanesto.com                           
96 Michele Gobbi (Ita) De Nardi-Colpack                                  
97 Graziano Gasparre (Ita) De Nardi-Colpack                              
98 Andrea Ferrigato (Ita) Alessio                                        
99 Massimiliano Mori (Ita) Formaggi Pinzolo-Ciarrocchi Imm.              
100 Alberto Ongarato (Ita) Domina Vacanze-Elitron                        
101 Joseba Albizu Lizaso (Spa) Mercatone Uno-Scanavino                   
102 Oscar Mason (Ita) Vini Caldirola-Saunier Duval                       
103 Giacomo Battistel (Ita) Amore & Vita Beretta                         
104 Milan Kadlec (Cze) Lampre                                            
105 Giosuè Bonomi (Ita) Saeco Macchine Per Caffe'                        
106 Fabio Baldato (Ita) Alessio                                          
107 Remmert Wielinga (Ned) Rabobank                                      
108 Jamie Burrow (GBr) Amore & Vita Beretta                              
109 Alejandro Alberto Borrajo (Arg) Ceramiche Panaria-Fiordo             
110 Scott Davis (Aus) Ceramiche Panaria-Fiordo                           
111 Giuliano Sulpizi (Ita) Formaggi Pinzolo-Ciarrocchi Imm.              
112 Matteo Cappe' (Ita) Formaggi Pinzolo-Ciarrocchi Imm.                 
113 Francesco Bellotti (Ita) Mercatone Uno-Scanavino                     
114 Marco Milesi (Ita) Vini Caldirola-Saunier Duval                      
115 Oscar Pozzi (Ita) Tenax                                              
116 Massimo Amichetti (Ita) Formaggi Pinzolo-Ciarrocchi Imm.             
117 Markus Knopfle (Ger) Tenax                                           
118 Marek Wesoly (Pol) Amore & Vita Beretta                              
119 Erik Dekker (Ned) Rabobank                                           
120 Marco Villa (Ita) Formaggi Pinzolo-Ciarrocchi Imm.                   
121 Cristian Gasperoni (Ita) Mercatone Uno-Scanavino                     
122 Crescenzo D'amore (Ita) Tenax                                        
123 Devis Miorin (Ita) De Nardi-Colpack                                  
124 Davide Casarotto (Ita) Alessio                                       
125 Sergiy Avdyeyez (Ukr) Landbouwkrediet-Colnago                        
 
Points classification
 
1 Oscar Freire Gomez (Spa) Rabobank                                    15 pts
2 José Ivan Gutierrez Palacios (Spa) iBanesto.com                      13
3 Giuliano Figueras (Ita) Ceramiche Panaria-Fiordo                     11
4 Francesco Casagrande (Ita) Lampre                                     9
5 Ivan Fanelli (Ita) Amore & Vita Beretta                               8
6 Yaroslav Popovych (Ukr) Landbouwkrediet-Colnago                       7
7 Andrea Moletta (Ita) Mercatone Uno-Scanavino                          6
8 Denis Menchov (Rus) iBanesto.com                                      5
9 Michele Bartoli (Ita) Fassa Bortolo                                   4
10 Ruggero Borghi (Ita) Mercatone Uno-Scanavino                         3
11 Ruben Plaza Molina (Spa) iBanesto.com                                2
12 Pietro Caucchioli (Ita) Alessio                                      1
 
Teams classification
 
1 iBanesto.com                                                   12.47.16
2 Domina Vacanze-Elitron                                             0.14
3 Lampre                                                                 
4 Alessio                                                                
5 Saeco Macchine Per Caffe'                                          0.18
6 CCC Polsat                                                             
7 Landbouwkrediet-Colnago                                            0.22
8 Vini Caldirola-Saunier Duval                                       0.34
9 Amore & Vita Beretta                                               0.59
10 Fassa Bortolo                                                     1.39
11 Rabobank                                                          2.54
12 Team CSC                                                         14.49
13 Mercatone Uno-Scanavino                                               
14 Ceramiche Panaria-Fiordo                                         14.53
15 De Nardi-Colpack                                                      
16 Tenax                                                            30.18
17 Formaggi Pinzolo-Ciarrocchi Imm.                                 44.23