Recently on Cyclingnews.com
Gala Tour de France - NE
Luxembourg, September 21, 2003
2002 Results Results Past winners
Vino receives belated birthday gift
Familar faces at the Gala TdF
Photo ©: Hervé Dancerelle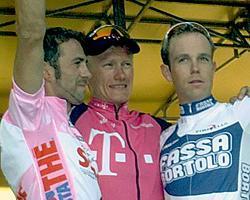 Held on Sunday afternoon by local club ACC Contern in the town of Luxembourg, the eighth Gala Tour de France was once again a popular sporting and festive event. The searing heat was to affect not only the riders, but also the thousands of spectators, who had come to encourage the 43 world-class riders who were about to embark on 90 laps of a 950 metre circuit, a total of 85.5 kilometres.
Among the star-studded cast was two-time winner of Giro d' Italia Gilberto Simoni (Saeco), L'Alpe d'Huez victor and sixth overall in the Centenary Tour de France, Iban Mayo (Euskaltel-Euskadi), recent winner of Paris-Brussels, Kim Kirchen (Fassa Bortolo), Kazah sensation Alexandre Vinokourov (Team Telekom), and Jean-Patrick Nazon (Jean Delatour), whose turn of speed earned him the highest sprinters' accolade after his victory on the Champs-Elysées.
Attacks began almost immediately, with a group of seven going clear after lap 2, but as inevitably happens on a tight circuit, a general regrouping occurred. The seven Team Luxembourg amateurs weren't to be dismayed though, continually animating the race in the company of their better-known rivals, however, the seven intermediate sprints remained the prerogative of the Frenchmen Jean-Patrick Nazon and Jimmy Casper.
With 20 laps remaining, things became more serious, with eternal escapist Jacky "Dudu" Durand (FDJeux.com) once again soloing off the front in a last-ditch effort. Durand managed to gain a maximum lead of 13 seconds, but the parochial crowd wasn't enough to see Dudu hold off the largely intact peloton, and with 10 laps to go, a more formidable break moved off the front, containing 2001 winner Ekimov, Vinokourov, Mayo, Simoni, Mengin, and Luxembourgers Kim Kirchen and Tom Flammang.
With just six laps left, Mayo and Russian veteran Ekimov moved off the front, gaining 15 seconds on the front group of riders. Just as the duo were caught three laps later, another pair leaped off the front - this time it was the Kazah-Italian combination of Vinokourov and Simoni, with crafty Kim Kirchen bridging the gap with less than two kilometres remaining.
The trio stayed away to the finish, and the sprint was decided in this order, with Vinokourov receiving a well-deserved, although slightly belated birthday present, who turned 30 years old five days ago. Jacky Durand received the combativité award for his incessant show of aggression, with Jean-Patrick Nazon awarded the sprinter's prize.
Photography
Images by Hervé Dancerelle
The podium - (L to R) Gilberto Simoni (Saeco, 2nd), Alexandre Vinokourov (Telekom, 1st) and Kim Kirchen (Fassa Bortolo, 3rd).
All the winners - (L to R) - Jacky Durand (FDJeux.com, combativité winner), Simoni, Vinokourov, Kirchen and Jean-Patrick Nazon (Jean Delatour, sprint winner).
With no time to lose, Gilberto Simoni rushes off to his next post-Tour appointment.
Results, 85.5 km

1 Alexandre Vinokourov (Team Telekom)           1.52.45 (45.499 km/h)
2 Gilberto Simoni (Saeco)
3 Kim Kirchen (Fassa Bortolo)
4 Tom Flammang (Cofidis)                           0.16
5 Viatcheslav Ekimov (US Postal Service)
6 Iban Mayo (Euskaltel)
7 Christophe Mengin (Fdjeux.com)                   0.17
8 Jimmy Casper (Fdjeux.com)                        0.23
9 Jacky Durand (Fdjeux.com)                        0.24
10 Ronny Kremer (Team Luxembourg)
11 Marcus Lunqvist (Crédit Agricole)
12 Max Becker (LC Tétange)
13 Steve Fogen (UC Dippach)
14 Steve Fries (UC Dippach)
15 Gusty Bausch (Team Luxembourg)                  0.25
16 Kurt Asle Arvesen (Team Fakta)
17 Marc Vanacker (Pannorimmo.com)
18 Claude Degano (LC Tétange)                      0.26
19 Laurent Didier (Team Luxembourg)
20 Pascal Triebel (CCI Differdange)                0.27
21 Claude Wolter (LC Kayl)
22 Dan Bintz (LC Tétange)
23 Marc Ernster (LC Kayl)
24 Stefan Adamsson (Team Bianchi)
25 Salvador Fernandez (LC Kayl)
26 Jean-Pierre Serafini (CCI Differdange)          0.28
27 Marten Johansson (CCI Differdange)
28 Patrick Gressnich (Team Luxembourg)             0.29
29 Jean-Patrick Nazon (Jean Delatour)              0.30
30 Gilles Hendel (Team Luxembourg)
31 Jérôme Junker (LC Tétange)
32 Christian Poos (Marlux-Wincor-Nixdorf)
33 Ben Wurth (Team Luxembourg)                     0.31
34 Yannick Michel (LC Tétange)
35 Sergey Yakovlev (Team Telekom)                  0.32
36 Steve Hansen (LP Muhlenbach)
37 Oliver Corpus (LC Tétange)
38 Giuseppe Guerini (Team Telekom)
39 Sébastien Mattozza (Marlux-Wincor-Nixdorf)
40 Christian Weiland (LC Tétange)              at 1 lap
41 Eric Fuchs (LC Kayl)
42 Joe Kirch  (Team Luxembourg)               at 2 laps

Past winners

2002 Laurent Jalabert (Fra) CSC Tiscali
2001 Vjatcheslav Ekimov (Rus) US Postal
2000 Laurent Jalabert (Fra)
1999 Richard Virenque (Fra)
1998 Marco Pantani (Ita)
1997 Johan Museeuw (Bel)
1996 Bjarne Rijs (Den)