Recently on Cyclingnews.com
40th Tour de l'Avenir - 2.5
France, September 4-13, 2003
Main Page Results Previous Stage
Stage 10 - September 13: La Crau - La Crau, 128 km
Dumoulin at last
I am Sam: Samuel Dumoulin wins again
Photo: © AFP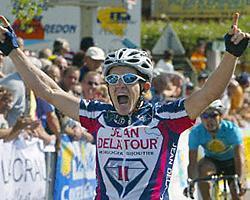 Samuel Dumoulin (Jean Delatour) has finally added a second Avenir stage win to his swag this year, taking the final stage in a bunch sprint in La Crau. The small Frenchman avoided two crashes in the final to finish ahead of Moritz Veit (German National Team) and Assan Bazayev (Kazakhstan National Team) at the end of the 128 km stage. Basque rider Egoi Martinez (Euskaltel-Euskadi) finished 21st and thus claimed the overall victory in the Tour de l'Avenir.
The final stage was run over two laps of a 64 km circuit around La Crau, with 81 riders taking the start. The pace was very high from the beginning, with a number of attacks trying to get clear. Euskaltel-Euskadi controlled everything, until Bazayev attacked after 20 km. He was joined by Calzati (Barloworld), Leblacher (CA) and Ljungblad (Swedish National Team) after 29 km, and the four leaders built up a 25" advantage.
After the côte de Rocbaron (km 36) they were caught as Samuel Dumoulin drove the peloton hard, splitting it into two parts. After 44 km, a larger break went with Lequatre (C.A), Sébastien Talabardon (BigMat), Ljungblad, Berthou (Barloworld), Kohl (Rabobank), Willems (Vlaanderen), Day (Carvalhelhos) and Veit (German National Team). They managed a maximum lead of 42 seconds but broke apart when Berthou and Lequatre attacked before the sprint at halfway (km 64).
Only Jonas Ljungblad managed to fight his way back, and there were three leaders at the 77 km mark with 40" advantage over the peloton. The gap was too small though, and they were finally caught before the côte de Rocbaron (km 101). After that, the bunch more or less remained together until the finish in La Crau, where there was a crash with 2 km to go, and then another one in the final sprint involving Vastaranta and Vanlandschoot.
Dumoulin avoided the crash to win the stage in front of Veit and Bazayev, while Egoi Martinez could raise his arms as he crossed the line further back as the overall winner of the "Tour of the Future".
Photos
Images by AFP
Results
1 Samuel Dumoulin (Fra) Jean Delatour                         2.48.21
2 Moritz Veit (Ger) German National Team                             
3 Assan Bazayev (Kaz) Kazakhstan National Team                       
4 David Herrero (Spa) Euskaltel-Euskadi                              
5 Jimmy Engoulvent (Fra) Brioches La Boulangère                      
6 Dimitri Muravyev (Kaz) Quick Step - Davitamon - Latexco            
7 Camille Bouquet (Fra) French National Team                         
8 Philippe Gilbert (Bel) FDJeux.com                                  
9 Theo Eltink (Ned) Rabobank TT3                                     
10 Marcus Fothen (Ger) German National Team                          
11 David Derepas (Fra) FDJeux.com                                    
12 Michiel Elijzen (Ned) Rabobank TT3                                
13 Ian Mcleod (RSA) Team HSBC                                        
14 Yves Delarue (Fra) Big Mat-Auber 93                               
15 Cédric Coutouly (Fra) French National Team                        
16 Gustavo Dominguez (Spa) Carvalhelhos-Boavista                     
17 Christian Knees (Ger) German National Team                        
18 David Breard (Fra) French National Team                           
19 Tobias Lergard (Swe) Swedish National Team                        
20 Gustavo Cesar Veloso (Spa) Carvalhelhos-Boavista                  
21 Egoi Martinez (Spa) Euskaltel-Euskadi                             
22 Darren Lill (RSA) Team HSBC                                       
23 Wolfgang Murer (Aut) Austrian National Team                       
24 Christophe Le Mevel (Fra) Crédit Agricole                         
25 Wim Vanhuffel (Bel) Vlaanderen-T Interim                          
26 Radoslav Rogina (Cro) Perutnina Ptuj                              
27 Geoffroy Lequatre (Fra) Crédit Agricole                           
28 Pierrick Fedrigo (Fra) Crédit Agricole                            
29 Maxim Iglinskiy (Kaz) Kazakhstan National Team                    
30 Thomas Lövkvist (Swe) Swedish National Team                       
31 Joost Posthuma (Ned) Rabobank TT3                                 
32 Jef Peeters (Bel) Vlaanderen-T Interim                            
33 Stefan Rucker (Aut) Austrian National Team                        
34 Ben Day (Aus) Carvalhelhos-Boavista                               
35 Ryan Cox (RSA) Team Barloworld                                    
36 Bernhard Kohl (Aut) Rabobank TT3                                  
37 Vadim Gorbachevskiy (Kaz) Kazakhstan National Team                
38 Maxime Mederel (Fra) French National Team                         
39 Preben Van Hecke (Bel) Quick Step - Davitamon - Latexco           
40 Sébastien Talabardon (Fra) Big Mat-Auber 93                       
41 Jeremy Maartens (RSA) Team HSBC                                   
42 Yannick Talabardon (Fra) Big Mat-Auber 93                         
43 Nicolas Meunier (Fra) Big Mat-Auber 93                            
44 Simons Gerrans (Aus) Carvalhelhos-Boavista                        
45 Johan Van Summeren (Bel) Quick Step - Davitamon - Latexco         
46 Josu Silloniz (Spa) Euskaltel-Euskadi                             
47 Patrick Mccarty (USA) USA National Team                           
48 Glenn Bak (Den) Team PH                                           
49 Cameron Mcleod (RSA) Team HSBC                                0.30
50 Dionisio Galparsoro (Spa) Euskaltel-Euskadi                       
51 Frederik Willems (Bel) Vlaanderen-T Interim                       
52 Thomas Voeckler (Fra) Brioches La Boulangère                      
53 Yuriy Krivtsov (Ukr) Jean Delatour                                
54 Martin Gratzer (Aut) Austrian National Team                   0.34
55 Matti Breschel (Den) Team PH                                      
56 Nico Sijmens (Bel) Vlaanderen-T Interim                           
57 Matej Marin (Slo) Perutnina Ptuj                              0.47
58 Tomislav Danculovic (Cro) Perutnina Ptuj                          
59 Sylvain Calzati (Fra) Team Barloworld                             
60 Danail Petrov (Bul) Carvalhelhos-Boavista                     0.48
61 Pavel Linet (Cze) Czech Republic National Team                0.58
62 Mikael Segersall (Swe) Swedish National Team                  1.05
63 Pierre Therville (Fra) Jean Delatour                          1.18
64 Christophe Edaleine (Fra) Jean Delatour                       1.21
65 Benoît Vaugrenard (Fra) FDJeux.com                                
66 Denis Robin (Fra) Crédit Agricole                             1.28
67 Matthieu Sprick (Fra) French National Team                    1.32
68 Andrey Medyannikov (Kaz) Kazakhstan National Team             2.24
69 Eric Leblacher (Fra) Crédit Agricole                              
70 Vladimir Gusev (Rus) Russian National Team                    4.37
71 Jonas Ljungblad (Swe) Swedish National Team                       
72 Dean Podgornik (Slo) Perutnina Ptuj                           5.48
73 Martin Pedersen (Den) Team PH                                 6.28
74 Eric Berthou (Fra) Team Barloworld                            8.51
75 Kamil Vrana (Cze) Czech Republic National Team                9.21
76 Martin Mares (Cze) Czech Republic National Team                   
77 Massimo Demarin (Cro) Perutnina Ptuj                              
78 José Carlos Rodrigues (Por) Carvalhelhos-Boavista            24.02
79 Jukka Vastaranta (Fin) Rabobank TT3                               
80 James Vanlandschoot (Bel) Vlaanderen-T Interim                    
DNF Mads Christensen (Den) Team PH                                   
DNS Alexandr Arekeev (Rus) Russian National Team                     
 
Points
 
1 Samuel Dumoulin (Fra) Jean Delatour                              30 pts
2 Moritz Veit (Ger) German National Team                           27
3 Assan Bazayev (Kaz) Kazakhstan National Team                     25
4 David Herrero (Spa) Euskaltel-Euskadi                            23
5 Jimmy Engoulvent (Fra) Brioches La Boulangère                    21
6 Dimitri Muravyev (Kaz) Quick Step - Davitamon - Latexco          19
7 Camille Bouquet (Fra) French National Team                       17
8 Philippe Gilbert (Bel) FDJeux.com                                15
9 Theo Eltink (Ned) Rabobank TT3                                   13
10 Marcus Fothen (Ger) German National Team                        11
11 David Derepas (Fra) FDJeux.com                                  10
12 Michiel Elijzen (Ned) Rabobank TT3                               9
13 Ian Mcleod (RSA) Team HSBC                                       8
14 Yves Delarue (Fra) Big Mat-Auber 93                              7
15 Cédric Coutouly (Fra) French National Team                       6
16 Gustavo Dominguez (Spa) Carvalhelhos-Boavista                    5
17 Christian Knees (Ger) German National Team                       4
18 David Breard (Fra) French National Team                          3
19 Tobias Lergard (Swe) Swedish National Team                       2
20 Gustavo Cesar Veloso (Spa) Carvalhelhos-Boavista                 1
 
Mountains
 
Côte De Rocbaron, 36.0 km                                            
1 Eric Leblacher (Fra) Crédit Agricole                              5 pts
2 Assan Bazayev (Kaz) Kazakhstan National Team                      3
3 Sylvain Calzati (Fra) Team Barloworld                             1
 
Côte De Rocbaron, 101.0 km                                           
1 Christophe Edaleine (Fra) Jean Delatour                           5 pts
2 David Herrero (Spa) Euskaltel-Euskadi                             3
3 Egoi Martinez (Spa) Euskaltel-Euskadi                             1
 
Final general classification
 
1 Egoi Martinez (Spa) Euskaltel-Euskadi                      35.29.38
2 Radoslav Rogina (Cro) Perutnina Ptuj                           2.02
3 Samuel Dumoulin (Fra) Jean Delatour                            3.36
4 Philippe Gilbert (Bel) FDJeux.com                              4.18
5 Pierrick Fedrigo (Fra) Crédit Agricole                         4.29
6 Thomas Lövkvist (Swe) Swedish National Team                    4.42
7 Tobias Lergard (Swe) Swedish National Team                     5.09
8 Gustavo Cesar Veloso (Spa) Carvalhelhos-Boavista               5.11
9 Jef Peeters (Bel) Vlaanderen-T Interim                         5.17
10 Nico Sijmens (Bel) Vlaanderen-T Interim                       5.25
11 Dimitri Muravyev (Kaz) Quick Step - Davitamon - Latexco       5.37
12 Preben Van Hecke (Bel) Quick Step - Davitamon - Latexco       5.43
13 Ben Day (Aus) Carvalhelhos-Boavista                           5.50
14 Jukka Vastaranta (Fin) Rabobank TT3                           5.51
15 Maxim Iglinskiy (Kaz) Kazakhstan National Team                6.08
16 Wim Vanhuffel (Bel) Vlaanderen-T Interim                      6.19
17 Joost Posthuma (Ned) Rabobank TT3                             6.43
18 Maxime Mederel (Fra) French National Team                     6.53
19 Assan Bazayev (Kaz) Kazakhstan National Team                  7.27
20 Theo Eltink (Ned) Rabobank TT3                                    
21 Patrick Mccarty (USA) USA National Team                       8.33
22 Gustavo Dominguez (Spa) Carvalhelhos-Boavista                 9.07
23 Camille Bouquet (Fra) French National Team                   10.39
24 Vladimir Gusev (Rus) Russian National Team                   11.13
25 Yannick Talabardon (Fra) Big Mat-Auber 93                    11.26
26 David Derepas (Fra) FDJeux.com                               12.00
27 Johan Van Summeren (Bel) Quick Step - Davitamon - Latexco    12.21
28 David Breard (Fra) French National Team                      13.03
29 Stefan Rucker (Aut) Austrian National Team                   13.55
30 Vadim Gorbachevskiy (Kaz) Kazakhstan National Team           15.32
31 Jeremy Maartens (RSA) Team HSBC                              17.36
32 Christophe Le Mevel (Fra) Crédit Agricole                    17.42
33 Sylvain Calzati (Fra) Team Barloworld                        17.48
34 Bernhard Kohl (Aut) Rabobank TT3                             18.37
35 Josu Silloniz (Spa) Euskaltel-Euskadi                        22.20
36 Tomislav Danculovic (Cro) Perutnina Ptuj                     23.05
37 Wolfgang Murer (Aut) Austrian National Team                  26.44
38 Cédric Coutouly (Fra) French National Team                   27.44
39 Dionisio Galparsoro (Spa) Euskaltel-Euskadi                  27.47
40 Michiel Elijzen (Ned) Rabobank TT3                           27.53
41 Christian Knees (Ger) German National Team                   31.47
42 Yuriy Krivtsov (Ukr) Jean Delatour                           36.14
43 Frederik Willems (Bel) Vlaanderen-T Interim                  38.38
44 David Herrero (Spa) Euskaltel-Euskadi                        39.03
45 Nicolas Meunier (Fra) Big Mat-Auber 93                       39.36
46 Andrey Medyannikov (Kaz) Kazakhstan National Team            42.51
47 Darren Lill (RSA) Team HSBC                                  42.55
48 James Vanlandschoot (Bel) Vlaanderen-T Interim               47.07
49 Jimmy Engoulvent (Fra) Brioches La Boulangère                49.06
50 Geoffroy Lequatre (Fra) Crédit Agricole                      49.37
51 Jonas Ljungblad (Swe) Swedish National Team                  50.51
52 Simons Gerrans (Aus) Carvalhelhos-Boavista                   51.07
53 Benoît Vaugrenard (Fra) FDJeux.com                           51.29
54 Matthieu Sprick (Fra) French National Team                   52.20
55 Martin Mares (Cze) Czech Republic National Team              52.52
56 Sébastien Talabardon (Fra) Big Mat-Auber 93                  53.45
57 Martin Pedersen (Den) Team PH                                55.43
58 Thomas Voeckler (Fra) Brioches La Boulangère                 56.39
59 Christophe Edaleine (Fra) Jean Delatour                      58.23
60 José Carlos Rodrigues (Por) Carvalhelhos-Boavista          1.04.32
61 Eric Leblacher (Fra) Crédit Agricole                       1.06.22
62 Ryan Cox (RSA) Team Barloworld                             1.07.07
63 Ian Mcleod (RSA) Team HSBC                                 1.13.59
64 Danail Petrov (Bul) Carvalhelhos-Boavista                  1.14.51
65 Dean Podgornik (Slo) Perutnina Ptuj                        1.15.46
66 Pierre Therville (Fra) Jean Delatour                       1.17.15
67 Pavel Linet (Cze) Czech Republic National Team             1.20.01
68 Marcus Fothen (Ger) German National Team                   1.23.10
69 Eric Berthou (Fra) Team Barloworld                         1.27.30
70 Yves Delarue (Fra) Big Mat-Auber 93                        1.29.28
71 Matti Breschel (Den) Team PH                               1.39.59
72 Cameron Mcleod (RSA) Team HSBC                             1.43.48
73 Glenn Bak (Den) Team PH                                    1.48.25
74 Kamil Vrana (Cze) Czech Republic National Team             1.52.35
75 Denis Robin (Fra) Crédit Agricole                          1.53.28
76 Matej Marin (Slo) Perutnina Ptuj                           1.54.48
77 Moritz Veit (Ger) German National Team                     2.07.51
78 Massimo Demarin (Cro) Perutnina Ptuj                       2.13.11
79 Martin Gratzer (Aut) Austrian National Team                2.15.41
80 Mikael Segersall (Swe) Swedish National Team               2.17.00
 
Points classification
 
1 Philippe Gilbert (Bel) FDJeux.com                               174 pts
2 Samuel Dumoulin (Fra) Jean Delatour                             162
3 Jukka Vastaranta (Fin) Rabobank TT3                             119
4 Egoi Martinez (Spa) Euskaltel-Euskadi                           106
5 Dimitri Muravyev (Kaz) Quick Step - Davitamon - Latexco          87
6 Maxim Iglinskiy (Kaz) Kazakhstan National Team                   85
7 Josu Silloniz (Spa) Euskaltel-Euskadi                            74
8 Assan Bazayev (Kaz) Kazakhstan National Team                     71
9 Jonas Ljungblad (Swe) Swedish National Team                      68
10 David Derepas (Fra) FDJeux.com                                  65
11 Thomas Voeckler (Fra) Brioches La Boulangère                    62
12 Gustavo Cesar Veloso (Spa) Carvalhelhos-Boavista                60
13 Radoslav Rogina (Cro) Perutnina Ptuj                            59
14 Theo Eltink (Ned) Rabobank TT3                                  59
15 Camille Bouquet (Fra) French National Team                      56
16 Jimmy Engoulvent (Fra) Brioches La Boulangère                   54
17 Nico Sijmens (Bel) Vlaanderen-T Interim                         54
18 Pierrick Fedrigo (Fra) Crédit Agricole                          52
19 Vladimir Gusev (Rus) Russian National Team                      51
20 Thomas Lövkvist (Swe) Swedish National Team                     45
21 Yuriy Krivtsov (Ukr) Jean Delatour                              44
22 James Vanlandschoot (Bel) Vlaanderen-T Interim                  43
23 Tobias Lergard (Swe) Swedish National Team                      38
24 Christophe Edaleine (Fra) Jean Delatour                         35
25 Marcus Fothen (Ger) German National Team                        35
26 Jef Peeters (Bel) Vlaanderen-T Interim                          33
27 Ben Day (Aus) Carvalhelhos-Boavista                             30
28 Gustavo Dominguez (Spa) Carvalhelhos-Boavista                   29
29 Moritz Veit (Ger) German National Team                          27
30 David Herrero (Spa) Euskaltel-Euskadi                           26
31 Eric Leblacher (Fra) Crédit Agricole                            26
32 Preben Van Hecke (Bel) Quick Step - Davitamon - Latexco         25
33 Matthieu Sprick (Fra) French National Team                      25
34 David Breard (Fra) French National Team                         25
35 Danail Petrov (Bul) Carvalhelhos-Boavista                       21
36 Dean Podgornik (Slo) Perutnina Ptuj                             21
37 Dionisio Galparsoro (Spa) Euskaltel-Euskadi                     21
38 Joost Posthuma (Ned) Rabobank TT3                               18
39 Michiel Elijzen (Ned) Rabobank TT3                              17
40 Benoît Vaugrenard (Fra) FDJeux.com                              14
41 José Carlos Rodrigues (Por) Carvalhelhos-Boavista               12
42 Matti Breschel (Den) Team PH                                    12
43 Wim Vanhuffel (Bel) Vlaanderen-T Interim                        12
44 Cédric Coutouly (Fra) French National Team                       9
45 Andrey Medyannikov (Kaz) Kazakhstan National Team                9
46 Ian Mcleod (RSA) Team HSBC                                       8
47 Yves Delarue (Fra) Big Mat-Auber 93                              8
48 Geoffroy Lequatre (Fra) Crédit Agricole                          8
49 Johan Van Summeren (Bel) Quick Step - Davitamon - Latexco        7
50 Stefan Rucker (Aut) Austrian National Team                       5
51 Simons Gerrans (Aus) Carvalhelhos-Boavista                       5
52 Maxime Mederel (Fra) French National Team                        5
53 Christian Knees (Ger) German National Team                       4
54 Eric Berthou (Fra) Team Barloworld                               4
55 Christophe Le Mevel (Fra) Crédit Agricole                        4
 
Mountains classification
 
1 Christophe Le Mevel (Fra) Crédit Agricole                       102 pts
2 Samuel Dumoulin (Fra) Jean Delatour                              74
3 Egoi Martinez (Spa) Euskaltel-Euskadi                            49
4 Eric Leblacher (Fra) Crédit Agricole                             45
5 Matthieu Sprick (Fra) French National Team                       32
6 Jukka Vastaranta (Fin) Rabobank TT3                              25
7 Danail Petrov (Bul) Carvalhelhos-Boavista                        23
8 Gustavo Cesar Veloso (Spa) Carvalhelhos-Boavista                 18
9 Pierrick Fedrigo (Fra) Crédit Agricole                           16
10 Tobias Lergard (Swe) Swedish National Team                      14
11 Nico Sijmens (Bel) Vlaanderen-T Interim                         13
12 Philippe Gilbert (Bel) FDJeux.com                               10
13 Wim Vanhuffel (Bel) Vlaanderen-T Interim                        10
14 David Derepas (Fra) FDJeux.com                                   9
15 James Vanlandschoot (Bel) Vlaanderen-T Interim                   9
16 Josu Silloniz (Spa) Euskaltel-Euskadi                            8
17 Thomas Lövkvist (Swe) Swedish National Team                      8
18 Radoslav Rogina (Cro) Perutnina Ptuj                             7
19 Preben Van Hecke (Bel) Quick Step - Davitamon - Latexco          7
20 David Herrero (Spa) Euskaltel-Euskadi                            6
21 Dionisio Galparsoro (Spa) Euskaltel-Euskadi                      6
22 Ben Day (Aus) Carvalhelhos-Boavista                              5
23 Geoffroy Lequatre (Fra) Crédit Agricole                          5
24 David Breard (Fra) French National Team                          5
25 Christophe Edaleine (Fra) Jean Delatour                          5
26 Cédric Coutouly (Fra) French National Team                       5
27 Maxime Mederel (Fra) French National Team                        4
28 Marcus Fothen (Ger) German National Team                         3
29 Gustavo Dominguez (Spa) Carvalhelhos-Boavista                    3
30 Assan Bazayev (Kaz) Kazakhstan National Team                     3
31 Camille Bouquet (Fra) French National Team                       3
32 Jef Peeters (Bel) Vlaanderen-T Interim                           2
33 Johan Van Summeren (Bel) Quick Step - Davitamon - Latexco        2
34 Yuriy Krivtsov (Ukr) Jean Delatour                               1
35 Sylvain Calzati (Fra) Team Barloworld                            1
36 Frederik Willems (Bel) Vlaanderen-T Interim                      1
37 Matti Breschel (Den) Team PH                                     1
 
Teams classification
 
1 Carvalhelhos - Boavista                                   106.43.16
2 Vlaanderen - T Interim                                         1.51
3 Rabobank TT3                                                   0.29
4 Quick Step-Davitamon-Latexco                                   3.34
5 Kazakhstan National Team                                      10.44
6 French National Team                                          10.50
7 Credit Agricole                                               19.28
8 Euskaltel - Euskadi                                           27.56
9 Swedish National Team                                         30.17
10 FDJeux.com                                                   32.47
11 Team Barloworld                                              48.47
12 Perutnina Ptuj                                             1.08.08
13 Bigmat.Auber 93                                            1.12.02
14 Jean Delatour                                              1.21.57
15 Team HSBC                                                  1.25.24
16 Austrian National Team                                     1.50.32
17 Team PH                                                    3.04.00
18 Czech Republic National Team                               3.25.32
19 German National Team                                       3.40.35