Pan American Games - JR
Santo Domingo, Dominican Republic, August 10-17, 2003
Main Page Results Previous Race Next Race
Day 2 - August 11: Road Individual Time Trial
Kimberly Bruckner
Photo: © AFP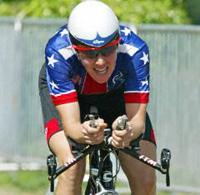 Serpa fastest; Bruckner leads US/Canada women's sweep
Jose Serpa of Colombia has won the men's individual time trial on the first day of road competition at the Pan-American Championships. Serpa covered the 50km course in 1.04.25, one minute 20 seconds ahead of second-placed Chris Baldwin (USA). Raųl Chacōn of Venezuela was third.
In the 30km women's event, Kimberly Bruckner led a US/Canada sweep of the podium, winning in 41.11. Second place went to Canada's Clara Hughes and third to Bruckner's compatriot Kristin Amstrong.
The time trial, on Santa Domingo's Mirador del Sur, presented a technical course for the riders, and things weren't made easier by the heat and humidity that is becoming the defining feature of these Games.
Baldwin admitted that he had struggled with the heat, saying, ""It was a difficult race to gauge my progress on. I am usually not that good in the hot temperatures and have always used breathing and lactate levels in the legs to monitor my progress - today I couldn't use those measures because of the heat. I felt so slow in the beginning, but as it turns out I started out way to fast. I'm happy with silver, but a little disappointed since I wanted to come through for all the tremendous support I've gotten from everybody over the last few weeks."
Kimberly Bruckner also described conditions as "challenging", but they didn't seem to slow her down much. "I had a couple of great time trials in Europe at the Giro and at Thuringen, so I knew my form was on and I was comfortable and confident doing a flat time trial," said Bruckner. "I am very happy winning a gold medal. Clara (Hughes) was definitely a threat and I knew I had to beat her if I wanted to win and she rode a great race."
Photography
Images by Andy Lee/

Images by AFP
Results
Men - 50 km

1 Jose Serpa (Colombia)                     1.04.45 (46.332 km/h)
2 Chris Baldwin (USA)                          0.39
3 Raul Chacon (Venezuela)                      0.55
4 Jose Medina (Chile)                          1.25
5 Domingo Gonzalez (Mexico)                    1.45
6 Marcio May (Brasil)                          2.14
7 Christopher Hedges (Bermudas)                2.26
8 Hernan Bonilla (Colombia)                    2.39
9 Alexandre Cloutier (Canada)                  2.55
10 Fischer Morillo (Brasil)                    3.17
11 Luis Romero (Cuba)                          3.28
12 Wendy Palacios (Dominican Republic)         5.23
13 Colby Pearce (USA)                          5.25
14 Juan Pablo Araya (Costa Rica)               5.33
15 Jean-Francois Laroche (Canada)              6.17
16 Abel Jochola (Guatemala)                    7.47
17 Ignacio Sarabia (Mexico)                    7.52
18 Geri Mewett (Bermudas)                      8.49
19 Charles Fabian (Antigua & Barbuda)         12.00

DNS Cid Michael Martinez (Bolivia)

Women - 30 km

1 Kimberly Bruckner (USA)                  41.11.00 (43.704 km/h)
2 Clara Hughes (Canada)                        0.38
3 Kristin Amstrong (USA)                       1.32
4 Paola Madriņan (Colombia)                    2.01
5 Joanka Gonzalez (Cuba)                       2.30
6 Rosane Kirsh (Brasil)                        2.49
7 Yudemis Dominguez (Cuba)                     3.05
8 Janildes Silva (Brasil)                      3.08
9 Evelyn Garcia (El Salvador)                  3.20
10 Sandra Gomez (Colombia)                     3.21
11 Marie Rosado (Puerto Rico)                  4.31
12 Ines Eppers (Bolivia)                       4.33
13 Anrossy Paruta (Venezuela)                  4.35
14 Amelia Blanco (Dominican Republic)          4.42
15 Julia Hawley (Bermudas)                     4.54
16 Maria Dolores Molina (Guatemala)            5.05
17 Patricia Palencia (Mexico)                  7.29
17 Maria Castaņeda (Guatemala)                 7.29

DNS Ana Padilla (Ecuador)