Mi-Août Bretonne #2 - 1.5
France, August 7, 2003
Young Aussie beach boy takes lead
By Jean-François Quénet in Perros-Guirec
Ben Johnson
Photo: © JF Quenet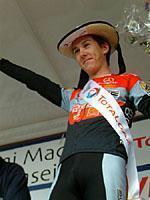 Since 1996 when the Australian national team directed by Heiko Salzwedel took part in the Mi-Août Bretonne with riders like David McKenzie, Rodney McGee, Deane Rogers, Tim Christopher, Marcel Gono and Jay Sweet, race organiser Louis Bihannic has seen kangaroos jumping from everywhere in the world. When he invited the American pro team Mercury, Jamie Drew won the overall and Baden Cooke a stage. Now he welcomes a Norwegian squad, Team Ringerike, and Simon Gerrans from Victoria came close to a stage win on day 2 while another Victorian Hilton Clarke riding for Team Barloworld from South Africa stayed all day at the front despite the course being very hilly and he's known for being a sprinter.
Above all, Ben Johnson took the lead from French professional Mickael Buffaz of Jean Delatour. Johnson hails from Noosa, a Paradise in Queensland where you wouldn't normally ride a bike but just go to the beach. He was 14 years old when he discovered the Tour de France under the guidance of Marcel Wüst at the prologue in Rouen in 1997. Now only 20, he's one of the most promising riders in French amateur cycling, riding for SCO Dijon, a well renowned division 1 club sponsored by Lapierre bikes just like FDJeux.com. But Johnson is also a good friend of David Millar - another smart regular visitor to Noosa, who isn't the only European cyclist to know where to find the good life during the off-season...and he'll ride in September-October for Cofidis as a stagiaire.
"I don't know in which races I'll be taking part with Cofidis yet," Johnson said. "But I'm happy to see that my form is coming up and that I'm better every day."
Before the Mi-Août bretonne, he raced another three days challenge in the Mayenne area and finished third. Here, he took fifth place on day 1 and made the break again on day 2. They were eight men in front after catching Stéphane Pétilleau, an ex-pro from Castorama, TVM, Gan and Crédit Agricole, who rode alone for almost 50km. Two of them were from VC Roubaix, a situation that helped Christophe Guillome to go away with 5km to go with Russian Alexei Sivakov from BigMat. With three to go, Gerrans went after them and rejoined them just as they crossed the finishing line.
The farm boy from Mansfield whose first coach was no less than Phil Anderson was frustrated of course. "But now I know I can do and I'm even more hungry for a win", he stated. Earlier this year he won one of the Bay crits ahead of Robbie McEwen and Stuart O'Grady, then he won a Norwegian cup race in April and a kermesse in Herk de Stadt in Belgium last week. He was also third in a stage of the Giro del Capo in South Africa and second in a stage of the Tour of Normandy in March. That's still not enough to make him happy with his first pro season at Team Ringerike.
There's much more to be seen from him. And from Johnson as well: "I had a break after the Baby Giro," he explained. Then I built up my form in a training camp but I found the condition earlier than expected. Tomorrow I'll first try to win the stage and ultimately the whole thing. This is my first time riding with the professionals but I think I can win the Mi-Août bretonne and keep the tradition of Aussie winners going."
It was also another impressive ride by Team Barloworld. Whether it's with Ryan Cox, Tiaan Kannemeyer, Clarke or a very aggressive Jacques Fullard, they never missed a breakaway! At the end, South African champion David George was contesting the victory. "I'm quite happy with this 5th place today, the form is coming up", he said. His big goal is the Tour de l'Ain next week, then he'll focus on the world championship because he's already scheduled for representing his country in Hamilton, Canada, in October.
Photography
Images by Jean-Francois Quenet
Results - 165.7 km
1 Christophe Guilllome (Fra) VC Roubaix     3.49.30
2 Alexei Sivakov (Rus) BigMat
3 Simon Gerrans (Aus) Team Ringerike
4 Francesco Cipoletta (Ita) Nippo Hodo         0.07
5 David George (RSA) Team Barloworld           0.13
6 Jérôme Bernard (Fra) Jean Delatour
7 Ben Johnson (Aus) SCO Dijon                  0.24
8 Stéphane Pétilleau (Fra) VC Roubaix
9 Freddy Ravaleu (Fra) VC Loudun               1.08
10 Christophe Laurent (Fra) Jean Delatour      1.27
11 Llyod Mondory (Fra) Jean Floc'h             1.30
12 Mickael Buffaz (Fra) Jean Delatour
13 Marc Staelen (Fra) UC Châteauroux
14 Yann Pivois (Fra) UC Châteauroux            1.36
15 Shinishi Fukushima (Jap) Bridgestone Anchor
16 Hilton Clarke (Aus) Team Barloworld
17 Ludovic Auger (Fra) BigMat                  1.45
18 Benoît Geoffroy (Fra) SCO Dijon             1.50
19 Jacques Fullard (RSA) Team Barloworld       4.57
20 Guillaume Auger (Fra) BigMat
21 Olivier Nari (Fra) Jean Floc'h
22 Pierre-Bernard Vaillant (Fra) Jean Floc'h
23 Sylvain Lemarchand (Fra) UCK Vannes
24 Franck Bigaud (Fra) UC Châteauroux
25 Pierre Therville (Fra) VC Vaulx-en-Velin
26 Gabriel Rasch (Nor) Team Ringerike          5.11
27 Tiaan Kannemeyer (RSA) Team Barloworld
28 Eddy Seigneur (Fra) Jean Delatour           5.26
29 Laurent Paumier (Fra) Oktos
30 Frédéric Mainguenaud (Fra) VC Loudun

Overall standings after race 2

1 Ben Johnson (Aus) SCO Dijon                  90 pts
2 Mickael Buffaz (Fra) Jean Delatour           88
3 Francesco Cipoletta (Ita) Nippo Hodo         84
4 Yann Pivois (Fra) UC Châteauroux             80
5 Llyod Mondory (Fra) Jean Floc'h              80
6 Jacques Fullard (RSA) Team Barloworld        72
7 Freddy Ravaleu (Fra) VC Loudun               66
8 Olivier Nari (Fra) Jean Floc'h               64
9 Hilton Clarke (Aus) Team Barloworld          64
10 Christophe Guilllome (Fra) VC Roubaix       60