An interview with Jonathan Vaughters - Part I
'V' Is For Venerable
By Anthony Tan
When you've been a professional bike rider competing at the highest level for almost a decade in Europe, it can't always be smooth sailing. To say that Jonathan Vaughters hasn't experienced his fair share of bad weather would be an understatement; Vaughters has done his time - nine years in fact - and recently has returned home to Denver, Colorado where his family, friends and ambitions now lie.
Some good times, some bad times
Photo: © AFP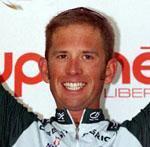 In the first part of this in-depth interview with 'The Professor' of the peloton, Anthony Tan speaks with Vaughters a few days after the Saturn Cycling Classic, where he finished sixth behind sentimental winner Chris Wherry of Team Mercury. JV talks about his decision to leave Credit Agricole, the US domestic racing scene and trying to get a 'gig' in the national team as a junior when you're up against the likes of Lance Armstrong and George Hincapie.
Cyclingnews: So how are you feeling after the Saturn Classic - and how did the race compare with last year, where it came down to a two-man battle between yourself and Chris Horner?
Jonathan Vaughters: Well physically I was around the same level as I was last year, but the race was raced differently and Mercury's team tactics were a little more effective than they were last year - and the stuff that I tried to do was a little less effective. It was a good race; it was well fought... I just came out on the losing end of it.
CN: How did you overcome the team tactics from the local teams last year, because again it was only yourself on CA?
"I spent nine years in Europe as a pro, and I also spent nine years being homesick."
JV: Well last year the difference was that the early breakaway that had gone only had two or three minutes at the bottom of the main climb, the Guanella Pass - whereas this year the break had something like 11 minutes. And when I put in my big effort on the climb to claw my way back up to the group containing Wherry, instead of doin' damage to all the other favourites, the only guy I was damaging was Scott Moninger. So I kind I used my bullets in the wrong spot... well not really the wrong spot, but it was the only way I could do it, and it didn't work out.
CN: You've just finished two races since your return home to Denver - the Mt Evans Hill climb and the Saturn Classic - both of those suited to climbing specialists like yourself. The Mt Evans climb bears an unusual resemblance to Mont Ventoux; how do the climbs in the US compare with those back home; is the variation more to do with quality of the field rather than the gradient of the climb?
JV: Oh yeah - the climbs in the Tour are generally steeper, but they're not at 3,000 or 4,000 metres. The climbs around Colorado are graded around 5-7% with Guanella Pass being the exception because it's a dirt road - whereas the climbs you do in the Tour go anywhere up to 10, 11, 12 - even 14%. Any climb in Europe is a little bit more power-based, even the long climbs; since you're down at a lower altitude, you've got more oxygen, so the game is a little more power-oriented. When you're doing races in Colorado, you're up at a really high altitude to begin with, so it has a little bit more to do with really pacing yourself and adapting your body to get used to working in really thin air.
CN: It's been a few weeks since your unfortunate exit from the Tour. How did it feel initially to be back home in Denver earlier than expected?
Now and then, everyone can do with a push in the right direction
Photo: © Beth Seliga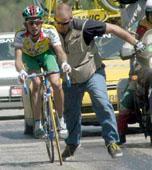 JV: Well pretty good actually. I spent nine years in Europe as a pro, and I also spent nine years being homesick. A lot of guys did better than me in that regard [being away from home], but for me, it was always something I had to overcome. I really like travelling, but I also really like coming back to Colorado - I'm really attached to the State... actually make that the United States! (laughs)
CN: It's quite apparent from your website that your guestbook has been flooded with "good luck" emails from everyone all over the world, from your next-door neighbour through to Andy Hampsten [the winner of the '88 Giro d'Italia lives in Tuscany but is originally from North Dakota - Ed]. What has the reaction been like from members of your team and other riders within the European peloton regarding your decision to move back to the US?
JV: Well... I really never talked to anyone in the European peloton other than my teammates because I kinda just made up my mind and left and that was that. There's being a couple of my friends from US Postal Service like Christian Vandevelde - I've talked with him, and he basically said: 'You know, for you it's the right decision,' because he knows me fairly well because we've been roommates before I was married and we lived together in Spain for years. He always knew it was a bit of a struggle for me to deal with the day-in, day-out grind of European cycling.
Every once in a while, I would just completely flip out and realise all I've been doing is riding a bike for the past three or four months, and when everyone was heading out to do their six-hour training ride I would say: 'I'm not going today.' I'd head down to the local art supply store and start whippin' out oil paintings for three or four days in a row to just settle my mind back down to sanity... and I think Christian always thought that was funny but at the same time he'd realise... well, that it was also completely understandable.
CN: You mentioned that your family, and especially your son was the primary motivator for moving back to the US. When did you start thinking about the move, and were there any other reasons that led to your decision to leave CA?
JV: Obviously that [family] is the first and foremost reason. But above and beyond that, I think my motivation for racing in Europe wasn't entirely there anymore. I kind of felt I had reached the highest point that I could reach - I know there are a lot of people out there who kept saying or kept hoping that I would reach the top ten in the Tour de France and whatever else, and I thank them for thinking so highly of me, but I know what it was like. I know how my body was feeling after five or six days of racing and I realised that I've got a lot of abilities in cycling but basically I fulfilled the maximum of my ability.
And at that point - in 2000, where I was third in the Tour of the Med, fifth in Paris-Nice, fifth in that, fourth in that - it was a great run of results in week-long stages, but I couldn't see how it was going to go any further than that. From there on out, I found it difficult to motivate myself to achieve something I already achieved.
It sounds crazy - most professional cyclists are like: "Well you could keep racing like this for another four or five more years and make good money," and I see their point, but I guess the financial rewards of it weren't enough for me to keep beating myself up to do something I'd already done before.
CN: It looks like Kevin Livingston is also returning back home, also citing family reasons for his departure from Team Telekom. Are you two good friends - have you had a chance to speak to Kevin about his move?
"I see a lot of the juniors and they've kinda got one foot in and one foot out - the guys from my generation - we all had it in our minds from early on."
JV: I haven't talked to him since he announced it, but it doesn't surprise me. He and I talked all year, and it seemed like whenever we were in a race talking, we were talking about things outside of cycling, like: 'If I started this company, or went into this or whatever,' - we were constantly talking about how to make a living after pro cycling was done; I don't think we ever discussed how we were actually doing in the race! (laughs)
Now that I look back in retrospect, I sort of realise that those conversations were a call to say: 'Wow, I've been doin' this for a long time, and it's now time to move on.' And I guess that's strange because we're both 29 years old... but both of us turned pro around the same time - we've been over in Europe a lot longer than most of the American pros over there with the exception of course of George [Hincapie] and Lance.
CN: And I guess that's what hurts - not using the grey matter?
JV: Yeah - that's what kills you - your brain goes stagnant for so long that eventually you just can't handle it anymore and you go: 'I've just gotta do something intellectual', as opposed to just physical.
CN: Speaking of racing back home, it appears the US domestic scene has really hotted up in the last few years, with locally-based teams providing a real springboard for riders wishing to further their careers in Europe, as well as local riders that enjoy the comforts of racing in their own country. What do you attribute these changes to - is it simply due to the Lance-factor that has spurred interest in road cycling?
JV: It's gotta have something to do with it. Actually I don't know exactly, but what I do know after talking with a friend of mine that works for the Outdoor Life Network [OLN] is that cycling's getting big - he told me that during this year's Tour, cycling got a 1.0 rating share, which basically means there's about 700,000 households tuned into the Tour every evening - which was beating US pro baseball on ESPN during the same timeslot.
That just goes to show you the impact that the Lance factor is having... and I can imagine that some of that impact has started trickling down the domestic scene, because people now want to watch bike races because they've just seen an awesome spectacle on TV. Of course it makes it hard when Lance isn't actually there at these races, but hopefully people will start to recognise cycling stars on a smaller scale in the US.
These days there's 4 or 5 teams dukin' it out
Photo: © Neal McQuarie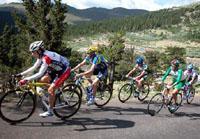 CN: How does the men's domestic scene (in the US) today compare with the scene five or ten years ago? Do you have an idea what percentage of riders were making a living from the sport back then versus today?
JV: I don't know what the percentage would be, but when I was last racing domestically ten years ago as an amateur and I would race all the professional races, there was always one dominant team and that was Coors Light. They would just dominate across the board, and occasionally when 7-Eleven or Motorola came back to the United States then they would have their hands full.
But nowadays there's four or five domestic teams that seem to be pretty much on an even keel - one weekend one will one, another weekend it's a different team - so there's obviously greater depth than there was before. Whether that means that there's more people making a living out of it, I'm not really sure though.
CN: You mentioned that you started racing in the same era as Bobby Julich, Kevin Livingston, Lance Armstrong, Tyler Hamilton, Fred Rodriguez and George Hincapie - an enormously talented group of cyclists. The competition must have been awfully fierce - how difficult was it to get noticed with such depth in talent, and did you always think you were going to "make it" during these years racing as a junior/espoir?
JV: Yeah - back when I started, just to get a spot on the junior national team or whatever else - it was all-out war! (laughs) People come up to me and say: 'I guess you won a few junior national championships'... I never won a junior championship! The best I ever did was third in the time trial - and if you look back at it, you can see why - the competition was unbelievable, and it was a really talented generation.
But above and beyond that, there were all these guys willing to put everything they had into cycling. Nowadays, I look at the young talent - and this might sound like a grumpy old pro - I see a lot of the juniors and they've kinda got one foot in and one foot out as far as pursuing it [a career as a pro cyclist]. And that makes sense to me... they've probably got their parents not real keen on them wanting to become a pro bike rider - so they've got parents like mine, where they want their kids to go to college and become a lawyer or whatever else.
The guys from my generation - the guys like George, Fred Rodriguez, I could go on - we all had it in our minds from early on. I know because I used to do training camps with them at the Olympic Training Center and it was like: 'I'm gonna be a pro in Europe and I'm gonna be a good one.'
Part II follows next Monday: JV muses on kicking off his career at the tail end of the Indurain era, building his reputation at the start of the Armstrong reign at US Postal, some hiccups with Credit Agricole and life after pro cycling.