Mary McConneloug & Mike Broderick
Photo ©: Mary McConneloug & Mike Broderick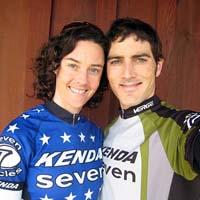 Team Kenda-Seven-NoTubes: The Mary McConneloug & Mike Broderick diary 2009
MTB "super-couple", US National cross country champion Mary McConneloug and Mike Broderick live together, train together, travel together and race together. They also share this diary on Cyclingnews.
Follow their adventures as they race the World Cup cross country circuit throughout 2009. Enjoy the unique, professional racing style of these two accomplished racers and world travelers.
Germany, May 13, 2009
Racing and riding in Germany
An ok campsite
Photo ©: Mary McConneloug & Mike Broderick

Any flight stretching into the double digits is time spent suffering–but for sure an 11-hour flight without any time change is easier to recover from than an 11-hour flight across multiple time zones. This was handy as we arrived to Germany on a beautiful spring morning and were whisked off to Ingolstadt by our friend and RV rental company owner Michael Braun (www.rv-rental-germany.com). We built up the bikes and took advantage of a local network of the most well-engineered and maintained back roads that we have had the pleasure to ride on in months.
We were happy to have the opportunity to park out behind our friend's place for a few days to re-figure out which side of the road to drive on as well as soak in some local flavor. We opted for an impromptu evening touring the historic down town of Ingolstadt, including a visit to the real Dr. Frankenstein house and sampling a couple of bavarian brews and weizen sausage in a nearby bier garten.
Spring ride
Photo ©: Mary McConneloug & Mike Broderick

Spring in Germany was looking pretty nice indeed until the rain started. at this point we got re-aquainted with our stationary trainer and the inside of our bigger than ever (but by no means American-sized) rental RV. The cold wet weather continued for days but having access to our custom Seven Cycles Titanium hard tails built up with the prototype SRAM XX group was enough to get us out in almost anything. I have always had a special interest in building the most radical bikes and at this point, ours are just over the top. Mary and I had discussed taking a weekend off racing to get in some specific and longer rides to prep for the upcoming European world cups; however, we decided that racing in the rain was going to be more appealing than just riding in the rain.
German bread shops
Photo ©: Mary McConneloug & Mike Broderick

It was a great experience to take part in the 23rd annual Bundesliga German National series race held in Munsingen and bring in a bit of international flavour as the only Americans in attendence. Mary and I both got in great workouts and in the end we learned two important lessons: 1) register early so you don't have to start at the back of the (very large) field of riders. 2) (learned for the race promoters that we know) holding the podium ceremony festivities inside a huge beer and food vending tent is a great way to set a festive atmosphere and pack the place with people (who might just be inspired to spend a few bucks) enjoying the after race festivities while watching the podium ceremony.
Mary and I spent another cozy on budget night in a quiet industrial zone down by the train tracks before we were off the next day in search of training grounds, a place to plug in the RV to find the elusive, unlocked wireless signal.
Preparing for the races.
Photo ©: Mary McConneloug & Mike Broderick

Time slips away living in the RV especially in the days leading up to the bigger races. Equipment checks, changes, tuning, washing a mix of short hard and easy tapering rides, cooking , eating and a unique social balance of visiting with friends and people who we only see on the race circuit. The key is enjoying the experience while reserving some time and head space for quiet respite to make sure we can focus and get to all that we need to perform at our best.
In its fourth season as a World Cup, the Offenburg venue was getting pretty dialed in. The course is difficult enough to call true mountain biking while still being buffed and bluestoned enough to handle most conditions without any complaints. An added attraction to the venue is its location in The Black Forest, which is close enough to civilization to draw a crowd and still out there enough to be among one of the best destinations in Germany for all types of cyclists.
Mary in Offenburg at the UCI World Cup.
Photo ©: Mary McConneloug & Mike Broderick

The past days were dry enough to make the track fast bumpy and rippable to the point where it's legendary, (even individually named) technical drops seemed less ominous than we had remembered. Though we were still wary since the Offenburg course changes personality pretty quickly with the weather and in fact holds the distinction of being the only race where we have actually changed a complete wheel set from dry to mud tires in the tech pit mid race.
Meeting great people and developing friendships that allow us to establish an infastructure to be able to rely on those talented friends for help in the pits is a haulmark of our program. Mary and I were grateful to have the help from our Belgian friends Michel and Olivier in the tech and feed zones to help us out on race day once again. At this point Mary and I see no shortage of requests to extend the services of our support program to others who happen to come up a bit short on race day resources... It's safe to say that there far more riders relying on friends and family support than there are with some sort of dedicated race day helper – even at the World Cup level.
Mike on Wolf's drop
Photo ©: Mary McConneloug & Mike Broderick

We have found time and again that there is really no one better suited to help out on race day than caring friends and family who often enjoy being able to lend a hand. Huge thanks go out once again to all of you who have (or some day will) be a part!
The racing was tough –no excuses, at the end of the day we ended up with a somewhat unsatisfactory 25th for Mary and a 91st for me – not all that sweet, but certainly something to remember when considering not completing that extra hour of riding or interval, stretching, sit ups or anything that just might give you that slightest advantage that could add up to give you a whole lot better result. With so many athletes riding at such a similar level, the men's field was just wheel to wheel, seconds apart for the entire race – 220 guys in a dusty row, few advancing much from the spot they had achieved on the start loop, though a never ending slew of little battles going on along the way.
Huge crowds
Photo ©: Mary McConneloug & Mike Broderick

The 100-strong women's field experienced much of the same with a remarkably high level of competition and few seconds separating the top finishers. A tough first European World Cup and a reality check on how hard you really have to fight to advance or even hold your your position!
The race day crowds were fantastic! Offenburg is clearly the pinacle of off-road racing in Germany and that is something really special in a country that is wild about mountain bikes. We were glad to be a part of it and look forward to returning again next year.
After the race
Photo ©: Mary McConneloug & Mike Broderick

Normally the day after any hard race is not ideal for a long ride, however having the option to outfit our Seven hard tails with our custom road training setup, (NoTubes 700c disc wheels with Kenda's ultra slick criterium road tires) was a lure too great to ignore and we found ourselves stretching our easy spin into something of a fantasy Black Forest road loop.
Soon we were all but lost in the manicured, forested hills passing through small villages built around fast running streams and towering churches that mark each quarter hour with their eerie tolls. We felt very lucky to be experiencing this part of the world and happy to have a moment to see another place so far and different from home. Out riding our bikes, training, aiming at building up again for next week's race and beyond, new goals and hopes were being established on the competitive end and at the same time we were fulfilled in a way that is possible only when in motion, involved in a process of reaching a goal or completing a task that is going according to plan.
Mike and Mary
Team Kenda/Seven/NoTubes
Photography
For a thumbnail gallery of these images, click here
Images by Mary McConneloug & Mike Broderick