Mary McConneloug & Mike Broderick
Photo ©: Mary McConneloug & Mike Broderick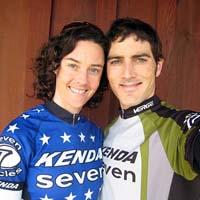 Team Kenda-Seven-NoTubes: The Mary McConneloug & Mike Broderick diary 2009
MTB "super-couple", US National cross country champion Mary McConneloug and Mike Broderick live together, train together, travel together and race together. They also share this diary on Cyclingnews.
Follow their adventures as they race the World Cup cross country circuit throughout 2009. Enjoy the unique, professional racing style of these two accomplished racers and world travelers.
Chile, April 2, 2009
South American adventures
Mary gets ready to head off
Photo ©: Mary McConneloug & Mike Broderick

Long days of maddening logistics and stressful preparation were the first sign that Mary and I were getting ready to kick off our 2009 race season. Careful planning for our style of racing and travel is critical. It's important to make certain we bring EVERYTHING that we might need for any given race, condition and time period throughout our entire adventure. Time and again this seems to be the toughest part of our tag team program. The longer the travel, the more intense the planning.
This one includes three weeks in Chile , two weeks in South Africa and two-plus months in Europe. It covers a lot of time, crosses seasonal boundaries and necessitates equipment for a wide range of riding conditions. For all these reasons, we were packing some pretty big luggage. The training, sleep and relationship becomes compromised as we shift into travel mode and try to accomplish the most critical things with our time left to live like "pro riders", but somehow we are always pushing it until the last minute.
Fruit stands in Chile
Photo ©: Mary McConneloug & Mike Broderick

The final two days, with only eight hours of sleep, were a difficult crunch and by the end, we were literally throwing random piles of our things into storage, leaving bikes and gear in people's attics and once again relying heavily on the goodness and generosity of our friends. Our last-minute style made a last-second testing visit by USADA (the US national anti-doping association - ed.) more inconvenient than the usual quick visit. After a force feeding of coffee and water to help squeeze the necessary 90ml out of Mary, we were in the car and on the road before the doping control officer was done filing away her papers. We only made our airport connection with some luck and the invaluable calm guidance from our friend and Norcal legend Duncan. True to form, the travel segment of our 2009 race season had begun.
Mary and I arrived in Chile on the morning of March 11 after 21 hours of travel complete with the American Airlines stewardess who would not let us stand up and stretch our legs due to "security concerns". That was another tough reminder of how things can be when you are at the mercy of the airlines and what this year could potentially have in store.
Chilean Caballeros
Photo ©: Mary McConneloug & Mike Broderick

We jettisoned every scrap of nut berry seed and other items in order to pass through the strict, Chilean agricultural customs, and we were cleared to enter the country. We hopped into a (big) cab and arrived at our friend Doc's styling penthouse where inner city tranquility is possible (with the windows shut tight), and our little Subaru and other critical South American accsessories laid in wait. Things were looking up!
We chose to arrive 10 days before the event to have a chance to get over the travel, get a look at the course and to catch up with some of our friends that we have not had the chance to see since our four months here last winter. Our first night, we took full advantage of our jet lag and stayed out most of the night visiting and taking part in a proper Chilean asado (cookout/party). The following day, after sleeping in and installing a new battery in the car (a great refresher for our rusty Spanish), we were off to our favorite quiet coastal town for a week of mountain bike specific preparation and some much needed recovery time.
Chile is a fantastic country, defying any short definition as it really seems to have it all – from the most modern conveniences of bustling Santigo to the most remote areas where the pace of life is slower and you have the chance to see things as you can imagine they might have been. Time flew by on the coast where I surprised myself with my resolve not to surf what is one of the greatest waves I have ever experienced and instead focused only on training and developing the bike builds to better cater to the ultra dry, marbly moon dust that is a given for central Chile in the late summer. Before we knew it, we were heading back to Santiago for the Pan Am Championships.
The Pan Am Championships
Mike undertakes one last battle
Photo ©: Mary McConneloug & Mike Broderick

Just riding the Pan American course was an adventure on its own. We quickly found on our pre-ride inspections that it was enough to fatigue the fittest and invite injury to the most skilled. Each three- mile lap provided 800 feet of abrupt climbing, and trecherous blue grove marble-coated descents, all rudely carved into the flank of the Andies. Technically demanding and being a course where true mountain bike skills were at a premium – it stood apart as a rare gem in a time when many other courses are becoming (in my opinion) far too fitness-oriented. By today's standards, it was practically an anomoly and one that I would like to see more of. Mary, on the other hand, had a slightly different opinion. With few exceptions, most of the competitors spent time collecting impromptu soil samples and picking cacti from various body parts.
The addition of top talent from the greater American continents and the chance at claiming (arguably) the most coveted one-day mountain bike title in this hemisphere did little to make things more relaxed and safe. On race day, it was hard to tell jerseys of the pro women apart after a few laps as everyone petty much turned brown. The 90-degree (Fahrenheit) heat effectively attached the thick plumes of dust to sweaty clothes in every area that was not already covered from direct impacts. It was a pretty extreme place to hold what was for most of the North Americans the first competition of the year, but at the same time time it was just another day at the races.
They needed a fourth arrow
Photo ©: Mary McConneloug & Mike Broderick

The Pan Am event was held in a stunning river valley and its remote atmosphere defied its locale just 10km from the city. The strong Chilean cycling community came out in force, were passionately involved in the event and were as friendly and as enthusiastic as any spectators we have had the opportunity to entertain. It was a great honor to represent and race for our country here and to be a part of another Pan Am championships.
Mary seemed dissatisfied by her fifth place finish, although a winter spent riding the road in rainy, cool northern California (even with the hyper-discipline that she showed this year) could do only so much to prepare someone for a race like this. Being the defending Continental Champion, she was forced to give up her throne, and I know it hurt her more than she let it show. I have to take a bit of the blame as I encouraged her to take the holeshot and she did so handily, but as the hours in the heat wore on, it became obvious that the way to have success here was to stay within your limits at all times. I look forward to her being able to reap the benefits of her specific training further down the line as she has a solid plan as per usual to have several peaks throughout the season coinciding with specific World Cups and World Championships.
Don't get your pedals caught in the sides of this bridge.
Photo ©: Mary McConneloug & Mike Broderick

I had a really solid steady power throughout my race. I was able to ride at a sustainable pace without loosing any time on the climbs and take advantage of the more technical sections to close gaps and advance my position. Unfortunately a slight miscalculation on the start loop saw me hit the ground pretty hard opening a deep gash in my shin and slightly crippling my bike. I was resolved to make the most of the day and took comfort in the fact that mine was not by any means the worst crash or injury of the day. It was pretty hairy out there. As my ride went on, I stayed at my limit and focussed on making the fewest number of mistakes.
Overall I was really happy with my fourth place performance as I was able to mix it up with some of the best riders on the continent, but just missing the podium and a coveted Pan American medal was a bit painful.
Painful times
Santiago's back yard
Photo ©: Mary McConneloug & Mike Broderick

Speaking of painful... obviously getting stitches is not a lot of fun but having to have them removed because you have a festering infection, requiring a timely extreme dose of antibiotics to prevent what could become catastrophic, is a real drag.
Short version is that after the race I got sick as hell. This sometimes happens to me after serious exertion in high heat. I have a method of recovery, but it takes some time so I was unable to get to the hospital right away and by the time I made it, my wound was pretty ugly. I asked them to stitch me because I wanted to ride the next day and was hoping to have the chance to surf the wave that I had denied myself in the name of racing.
They stitched me up hit me with antibiotics and a fresh tetanus shot. We bought some waterproof bandages and Mary and I headed out of Santiago three hours to our preferred, remote Chilean locale. That night I developed a fever of 104 degrees, had chills, couldn't sleep and basically just fell apart.
Trying to make things a bit more sanitary.
Photo ©: Mary McConneloug & Mike Broderick

Thanks to Mary's clear thinking and concern, we headed back to Santiago, had the wound re-opened and the antibiotics doubled. Now I am recovering with a lovely new orifice on my right shin and enough antibiotics in me to kill just about everything good and bad. Thanks to all the family who reciprocated to Mary's initial contact about this. Sorry for the worry, but we appreciate all the positive vibes.
I will have a few more days off the bike for sure but things are looking positive!
Hope everyone is doing well and moving on with Holomua (which means moving in a positive direction in Hawaiian). This is the middle name of my brother Steve and his wife Stacia's beautiful son, Hunter.
All the best,
Mike and Mary
Team Kenda-Seven-NoTubes
Photography
For a thumbnail gallery of these images, click here
Images by Mary McConneloug & Mike Broderick