New challenges: The Gunn-Rita Dahle Flesjå diary 2009
Gunn-Rita Dahle Flesjå overjoyed to win in Madrid
Photo ©: Dave McElwaine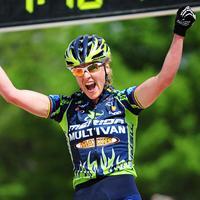 Norwegian cross-country mountain bike racer Gunn-Rita Dahle Flesjå made an impressive comeback last year after sitting out much of the previous season due to illness. In 2008, she won the Madrid, Spain, round of the UCI World Cup and the UCI Marathon World Championships and finished 12th in the World Cup final standings.
Dahle Flesjå will take on a new challenge in 2009 when she gives birth to her first child, expected in late March. With the support of her husband Kenneth Flesjå and her family, she aims to return to competition within a few months after becoming a mother.
Don't count her out for the late season World Cups and World Championships races. She was World Champion in 2002, 2004, 2005, and 2006, plus Olympic champion in 2004. In 2003 to 2006, she dominated the sport, winning the World Cup overall.
Follow her exploits in 2009 on Cyclingnews as she takes on a new, joint role as mother and elite racer. Or, for more Gunn-Rita, see her personal website: www.gunnrita.com
May 27, 2009
Our new life
Baby Bjørnar
Photo ©: Tony Fetch

Our little prince, Bjørnar, is already two months old. Our new existence with a little baby in the house has provided us with experiences and joys on a completely different level than ever before, and cannot be compared with anything else. Careful planning and effectiveness have attained a new meaning.
As I write, Bjørnar is out for a trip in the pram with his grandmother (Kenneth's mother). We already have good babysitting routines in place for when we need to exercise or have massages. It would have been impossible to manage without the help of our very kind family.
It didn't take long before I was back on my feet again after giving birth, largely due to already being in good physical shape. I had quite a tough labour lasting 22 hours, but I reckon the toughest battle was fought by little Bjørnar, who finally had to be extracted with suction. These were some long and dramatic hours, luckily with a professional team of doctors assisting, before our little son finally came into the world. Everything turned out alright in the end though, and I haven't lost my nerve after what I went through on the maternity ward either.
Gunn-Rita Dahle Flesjaa and her new son Bjørnar
Photo ©: Gunn-Rita Dahle Flesjaa

According to my due date, which was set after the first ultrasound, I was already a few weeks underway when I won the World Championship Marathon gold medal in Italy in the beginning of July 2008. In other words, Bjørnar has already experienced some excitement and has had to put up with a slightly bumpy start to his life.
My days are largely used for breastfeeding (Bjørnar knows healthy food), changing diapers, and cuddling with our little boy. He's a good little fellow who luckily sleeps most of the night, so I also get a few hours of sleep between feeding time and more changes of diapers. I've started cycling a bit again and it feels great. I do notice that I'm getting somewhat fewer hours of sleep than before, so it's not possible to exercise much more than this during these first months.
Dad, Kenneth, is naturally extremely proud and thinks it is fantastic that Bjørnar is a miniature copy of himself. Bjørnar hasn't inherited too many traits from his mother as of yet, but that might change with time. Nobody can take from me the fact that I gave birth to him. We started teaching Bjørnar to drink from a bottle quite early, so we could be more mobile regarding training and travels. Therefore I have to do a fair deal of pumping, but this also provides Kenneth with the enjoyment of feeding Bjørnar now and then.
Kenneth Flesjaa and Bjørnar
Photo ©: Gunn-Rita Dahle Flesjaa

Since Bjørnar came back from the hospital, changing diapers has become a natural part of life, for Kenneth too. He can't quite understand fathers who choose not to take part in this part of the bonding with a baby. The baby's table has become an arena for true closeness with our little boy. He has indeed both pooped and pissed on us during these weeks, and there's doubtless more where that came from.
Little Bjørnar started smiling very early. The first time was when he was only three weeks old. These days he's smiling, laughing and burbling all day long (and he certainly can scream too, with impressive volume), and sometimes we laugh so hard at him that we're almost weeping. Everybody who meets him is entertained by his funny expressions and strange noises. It's still strange being woken up by his little sounds in the morning. And it's also a strange thought that there are now three of us.
The new family of three
Photo ©: Tony Fetch

Here at home in Norway, the interest for cycling is greater than ever before. There are cyclists everywhere on the roads, both early and late. Both road races and mountain bike races have had a record-breaking participation locally, and we're thrilled to see that. We have enjoyed a winter and a spring at home in Norway for the first time in ten years. The cycling conditions have been very good. It's not necessary to leave the country to be able to do good training.
Grandmother and Bjørnar are back again from their trip out. Now the milk bar is opening and the faucet ready to be emptied. Luckily I produce a lot of milk, so our hungry little boy is usually well satisfied with what he's served, both early and late. Good luck with your training in the weeks to come. Remember that physical activity of all types is a good investment in your own health ?
Cyclist's greetings from Gunn-Rita and Kenneth (and The Little Feller)
Multivan Merida Biking Team
www.gunnrita.com
[Translation: Crispen T.P. de Lange].
Photography
For a thumbnail gallery of these images, click here
Images by Gunn-Rita Dahle Flesjaa
Images by Tony Fetch