New challenges: The Gunn-Rita Dahle FlesjŚ diary 2009
Gunn-Rita Dahle FlesjŚ overjoyed to win in Madrid
Photo ©: Dave McElwaine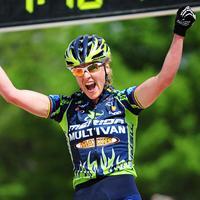 Norwegian cross-country mountain bike racer Gunn-Rita Dahle FlesjŚ made an impressive comeback last year after sitting out much of the previous season due to illness. In 2008, she won the Madrid, Spain, round of the UCI World Cup and the UCI Marathon World Championships and finished 12th in the World Cup final standings.
Dahle FlesjŚ will take on a new challenge in 2009 when she gives birth to her first child, expected in late March. With the support of her husband Kenneth FlesjŚ and her family, she aims to return to competition within a few months after becoming a mother.
Don't count her out for the late season World Cups and World Championships races. She was World Champion in 2002, 2004, 2005, and 2006, plus Olympic champion in 2004. In 2003 to 2006, she dominated the sport, winning the World Cup overall.
Follow her exploits in 2009 on Cyclingnews as she takes on a new, joint role as mother and elite racer. Or, for more Gunn-Rita, see her personal website: www.gunnrita.com
March 18, 2009
Just about ready to pop
World marathon champion Gunn-Rita Dahle Flesjaa
Photo ©: Gunn-Rita Dahle Flesjaa

One week remains before my due date and the tension is increasing daily. My belly is hard as a rock, and sometimes feels like it's going to explode. I go for walks every day and still swim two to three times per week. I'm not in any kind of pain, so it wouldn't be right to just sit at home and wait.
The days at home are passing quickly even though we're full of anticipation about meeting the little fellow who is inside my belly. With a certain amount of exercise, a few treatments, meetings of various kinds and a few local lectures here and there, I hardly have any empty time. Of course, I do notice that my energy level is a lot lower than normal, but I try to plan my days so there's some time for rest and relaxation on the sofa between on onslaughts.
Kenneth is exercising for the both of us these days. He needs to stock up on fitness, as he says, so he has a reserve when it's his turn to watch the child once Mother is on the go again. We had a gorgeous day of spring here in Sandnes yesterday. I got to swim and go for a long walk, while Kenneth was out on a long distance ride. He meets many cyclists on his rides these days, so quite a few have obviously started their preparations for the Nordsjørittet race.
It's been nice for both of us to be at home through January and February. It's almost 10 years since we've been at home in Norway at this time of year. It won't be a problem getting in the necessary amount of training during the coming seasons, even though we'll be more at home at this time of year than in previous years. From the point of view of cyclists, we've had surprisingly good and mild weather this winter - good cycling conditions. When the weather is really bad, we do have a super duper training studio in the basement where all necessary equipment is standing at the ready if necessary.
Gunn-Rita Dahle Flesjaa's belly keeps growing
Photo ©: Gunn-Rita Dahle Flesjaa

Outside the sun is shining again. I'm going to stroll down to the centre of Sandnes town in a little while to have a lunch with the organizer behind the Nordsjørittet race, Eli, and I'm looking forward to that. Afterwards I'm going to do a bit of shopping, then a round in the park, and then home again. We're having a visit from Kenneth's sisters this evening, so we'll be watching a film in the basement - and we never get tired of that!
If you haven't had your bike out yet this year, at least those of you who have already seen signs of spring, it's really high time you took "the lightning" out, and shine it up and get it rolling. It's a marvellous feeling, taking the first ride of the year through woods and over fields in the sun after a long winter on your indoor bicycle. Work those cranks and enjoy yourself.
Cyclist's greetings from Gunn-Rita and Kenneth (and The Little Feller)
Multivan Merida Biking Team
www.gunnrita.com
[Translation: Crispen T.P. de Lange].
Photography
For a thumbnail gallery of these images, click here
Images by Gunn-Rita Dahle Flesjaa