New challenges: The Gunn-Rita Dahle FlesjŚ diary 2009
Gunn-Rita Dahle FlesjŚ overjoyed to win in Madrid
Photo ©: Dave McElwaine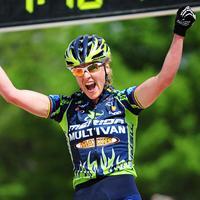 Norwegian cross-country mountain bike racer Gunn-Rita Dahle FlesjŚ made an impressive comeback last year after sitting out much of the previous season due to illness. In 2008, she won the Madrid, Spain, round of the UCI World Cup and the UCI Marathon World Championships and finished 12th in the World Cup final standings.
Dahle FlesjŚ will take on a new challenge in 2009 when she gives birth to her first child, expected in late March. With the support of her husband Kenneth FlesjŚ and her family, she aims to return to competition within a few months after becoming a mother.
Don't count her out for the late season World Cups and World Championships races. She was World Champion in 2002, 2004, 2005, and 2006, plus Olympic champion in 2004. In 2003 to 2006, she dominated the sport, winning the World Cup overall.
Follow her exploits in 2009 on Cyclingnews as she takes on a new, joint role as mother and elite racer. Or, for more Gunn-Rita, see her personal website: www.gunnrita.com
January 17, 2009
Looking back and forward
Elvis makes an appearance
Photo ©: Gunn Rita Dahle Flesjaa

The Christmas steak is finished and the presents have all been opened. It's been lovely for us to take part in a more "normal" form of Christmas celebration this year. Now we're looking forward to an exciting and action-packed New Year, both on and off our bikes.
We tend to spend the last days of the old year thinking through what 2008 has given us of both good and bad experiences, what it's taught us, and which challenges we've come up against. For me, I can summarize last year as an unforgettable year which gave me everything I had hoped for.
We succeeded in re-entering the world elite in cycling after a lengthy break due to sickness in 2007, we moved into our new house in September, and we received a solid bonus due to winning the Marathon World Championship last July. I addition to this, I've regained my good health, resulting in my pregnancy, which has been our dream for many years. In other words: a year neither of us will ever forget.
New Year's Eve and the first week of the New Year are often used to think about promises and expectations for what the coming 12 months will bring. The first challenge for both Kenneth and me in 2009 will be becoming parents for the first time. Our little boy is already a lively fellow who grows bigger every week and is supposed to be born in the end of March, if everything goes to plan. We feel very privileged to become parents, even though we don't know exactly what it is that awaits us. Most people say it's greater than anything else and cannot be described with words. It has to be experienced.
Gunn-Rita Dahle Flesjaa's belly and baby grow
Photo ©: Gunn Rita Dahle Flesjaa

I'm exercising every day, more or less, but duration and intensity are naturally reduced because of a steadily growing stomach. We've settled nicely into our new home, even though we've had to have visits from repairmen almost every day since we moved in, in the beginning of September. But now just about everything is in place and sorted.
I would hereby like to thank all our partners and supporters through an exciting season of 2008. Many people deserve a small piece of our World Championship gold medal this time also. Family, friends, fans and supporters worldwide are all important in the large puzzle of victory and success.
I hope you all have an exciting and fit New Year, in which a little exercise every day forms a solid foundation for great health through the whole year.
Cyclist's greetings from Gunn-Rita and Kenneth
Multivan Merida Biking Team
www.gunnrita.com
[Translation: Crispen T.P. de Lange].
Photography
For a thumbnail gallery of these images, click here
Images by Gunn Rita Dahle Flesjaa