Italy's Ivan Basso
Photo ©: Roberto Bettini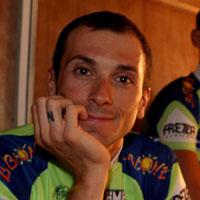 Brighter days ahead: The Ivan Basso Diary
Ivan Basso is back to racing after a forced rest of two years due to his involvement in Operación Puerto. The Italian, winner of the 2006 Giro d'Italia, looks to set the records straight and prove himself stronger than before while giving Cyclingnews' readers an inside look at his training and racing.
Back from a 16-month suspension, Basso ended his ban at the Japan Cup, October 26. He finished third in a close finish behind Damiano Cunego and Giovanni Visconti. The result was promising and Basso hopes there will be even brighter days ahead in 2009. Stay tuned as he recounts his journey back to the top of the sport.
March 31, 2009
An interesting week: Sanremo and Armstrong
Armstrong's collarbone
Ivan Basso time trials at the Tirreno-Adriatico
Photo ©: Sirotti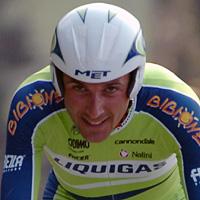 Hello everyone. It has been an exciting couple of weeks since I last wrote thanks to the fantastic win of Mark Cavendish and the unfortunate news of Lance Armstrong's fractured collarbone.
"When a friend has an accident the first thing you think about is what happened and his health"
- Basso on Armstrong's crash
I was very sorry to hear about Lance. Sure he is my colleague and my rival, but he is also a great friend. When a friend has an accident the first thing you think about is what happened and his health, and then you think about all the other stuff.
I have broken my collarbone before, but you can break them in many different ways. I don't know how difficult it will be for him to return because I don't know the exact details of how he fractured his collarbone – I have not followed it as closely as Cyclingnews! There are a lot of things you have to know in order to determine how and when Lance will return.
I am sure that he will be back strong because you know how Lance is, he is out of this world. He has done a lot of work in these last months, so in ten days he won't lose it all. Certainly, this incident will upset him, but he has the experience and capacity to overcome it. He is an extraordinary rider and a great champion.
I don't think he is out of the running for the Giro d'Italia title. All you have to do is think about what happened with Alberto Contador in 2008. He had not even planned to race, he had a strong season, he was in the middle of vacation and then he won the Giro.
Milano-Sanremo "like a Roman Emperor"
Sassi's sidebar
"A training camp at altitude is generally thought to be useful to improve a cyclist's performance level. The reasons are not yet clear, and it is not yet clear if it always improves riding performance. However, the belief of athletes and coaches are in that direction, and several studies corroborate this belief.
"It is thought that the best choice is not living and training at altitude, but living high and training low. This may be done in several places in Europe, but only few places meet cyclists' needs in winter and spring, like Sierra Nevada and Tenerife.
"Tenerife is also a good place, even if it does not feature as many flat courses at sea level as in Sierra Nevada and Granada. Basso will also have the opportunity to live several days with his teammates, and this is very useful before a race like the Giro d'Italia."
Ivan Basso with Lance Armstrong at the Milano-Sanremo
Photo ©: Sirotti

I did not do anything above average in Milano-Sanremo, but I did the best I could do for the team. I am happy with the race because it shows that I am going well in this phase of the season, after Tirreno-Adriatico. My form is progressing well and this brings me the most satisfaction, I think you could see that at Sanremo.
Nibali and I did well for Daniele Bennati, who was in great form for the race. When a grande campione like Mark Cavendish goes off for the win it is hard to do anything to stop it.
I can tell you that we have a good relationship, every time I see Mark we always exchange a few words and a grin. Often we will talk about the races or whatever when we are out on the road. When someone like him, a 23-year-old, wins, you have to applaud him – he did a heck of a number. Clearly, though, I would have preferred that my teammate won.
I saw the sprint afterwards, that night in the hotel. I don't know how he did it. It was a dominating type of win. He ruled the day like a Roman Emperor.
Bennati was not happy, clearly. I told him that he does not have to worry because sometimes a guy can win on the first attempt and sometimes it takes many attempts. Look at Mario Cipollini who won after 13 attempts!
Il Giro and Il Crono
Liquigas' Ivan Basso
Photo ©: Sirotti

After Sanremo I went and drove the Giro d'Italia's Sestri Levante time trial stage. It is not the key stage, but it is one of the key stages. I know that you read about me riding it twice already, but I wanted to see it yet again, and this time in my car.
It's like anything in life: the more times you see or do something, the more you become familiar with it. There are a lot of intricacies with this stage. There is the length, the descents, the climbs, the curves... it is inevitable that you have to see it many times to learn. Every time out there I learn it a little bit better.
Thursday, I had a long training ride on my time trial bike at home. I did 170 kilometres, three times the distance of the Sestri Levante time trial! Friday was another long one, but on my road bike: 230 kilometres. The week was strictly dedicated to hard riding, relaxing afterwards and spending time with my family.
I am taking off for the Spanish island of Tenerife on April 3. I will stay there with some my teammates until the 17th. The Classics team is there now, but they will leave and the stage racers will arrive. Of course, sleeping at altitude helps with the blood levels and the weather is always great there.
I will return from Spain to race GP Arona, Giro del Trentino and Liège-Bastogne-Liège. The night after Trentino finishes I take a plane directly to Liège. It is not an ideal situation to race Liège the day after, but I promised I would ride Trentino and I need to stick to my word.
Liège and Lombardia are the two classics that are most adapted to my characteristics. I will give it a go, but I don't know how it will be. Certainly, my form will be coming on target as the Giro d'Italia starts only a few days afterwards.
We will see how I progress in Spain. I will send in another diary entry when I am in Tenerife.
Take care and thanks for reading. Ivan.
Photography
For a thumbnail gallery of these images, click here
Images by Sirotti/www.sirotti.it