Italy's Ivan Basso
Photo ©: Roberto Bettini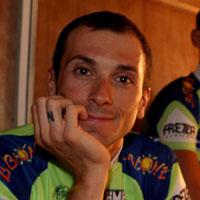 Brighter days ahead: The Ivan Basso Diary
Ivan Basso is back to racing after a forced rest of two years due to his involvement in Operación Puerto. The Italian, winner of the 2006 Giro d'Italia, looks to set the records straight and prove himself stronger than before while giving Cyclingnews' readers an inside look at his training and racing.
Back from a 16-month suspension, Basso ended his ban at the Japan Cup, October 26. He finished third in a close finish behind Damiano Cunego and Giovanni Visconti. The result was promising and Basso hopes there will be even brighter days ahead in 2009. Stay tuned as he recounts his journey back to the top of the sport.
March 9, 2009
Keeping in check for the Giro
Ivan Basso at the Giro del Friuli
Photo ©: Sirotti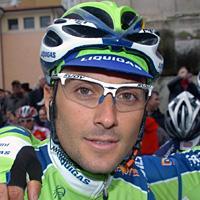 I've been through a lot since my last update on Cyclingnews. From the highs of competing in the biggest race since my return, to the despair of having to pull out, it's been a month of extremes. But despite having to leave the Tour of California on a bad note after injuring my left knee, things are already looking up.
The good thing is that I enjoyed racing in the USA. Over the first few days I was able to watch as my condition improved and I was staying with the top guys on the demanding parts of the race. I couldn't be happier at this stage of the season and it's another step in the right direction after gaining a solid base of fitness at the Tour de San Luis and the GP Etruschi.
The downside was knocking my knee on my bars and damaging some nerves in the knee. It compromised my form a little bit, with my planned visit to the wind tunnel and the following week of training put on hold. I had to take a few days off once I was home, but it gave me time to think about my training and my year so far. It was a rare time to pause and reflect, but one I certainly appreciated. I was off the bike for just a few days and then it was back to business. I then started to ride for a couple of hours each day. Then I ramped my training up to four or five hours a day. On Monday, March 2, I did 140 kilometres but at a low-intensity.
Basso has since raced the Giro del Friuli, March 4. He reported that his knee felt good. - ed.
Giro focus
While being off the bike I've spent a lot of time thinking about the Giro. I've heard that Damiano Cunego will use a standard road bike in the long time trial, but I've not made up my mind yet and I want to wait until I've ridden the course again. Last month I did it with Michele Bartoli as a training ride and I'm scheduled to ride the course again before I take off for Tirreno.
After Tirreno, I will ride the Giro d'Italia stages of Blockhaus, Monte Petrano and Vesuvio. These will be some of the most decisive mountain stages in the Giro, even if they are not the high mountains of the Alps and Dolomites.
I had been thinking about going to Spain's Sierra Nevada in April to train for 15 days too, but I have not yet decided. I will sit down with the team after Tirreno and talk about what the programme will be. I think that Franco Pellizotti and some others will be going to Tenerife during this same time period.
This month you may have heard some riders complaining about the ADAMS [Anti-Doping Administrative Management System] whereabouts system. Anti-doping agents have tested me eight times this year; and I don't think it is a lot. If some riders have problem with the complexity of the system or feel they have to give too much information then they should take the matter to the appropriate person. Talking to a journalist or a friend won't solve the problems.For example, some have problems because ADAMS is not available in Italian, but only in English. However it solves nothing to complain about in the press.
If you've been keeping your eyes peeled to Cyclingnews you will have also read that I will start the Giro with Pellizotti as co-caption. I don't have any problem with this and so far all the riders in the team have worked and trained well. We know that our team is united and strong. Maybe the public wants to see infighting like Greg LeMond and Bernard Hinault, but it's not the case because we are focused.
I have to get back to training and preparing for the Tirreno-Adriatico but I wont forget to check in with Cyclingnews after the race.
Take care and ciao!
Ivan
Photography
For a thumbnail gallery of these images, click here
Images by Sirotti/www.sirotti.it