An interview with USA Cycling president Mark Abramson, May 23, 2008
The era of the collegian
In March the USA Cycling board of directors elected its vice president, Mark Abramson, to succeed the term-limited Jim Ochowicz as president of the board. The new president comes from the ranks of collegiate cycling (NCCA), one of the five discipline associations, and is the first NCCA member to hold this position. Abramson spoke with Cyclingnews' North American Editor Mark Zalewski about where he plans on taking the board in his term.
The new board president of USA Cycling, Mark Abramson
Photo ©: USA Cycling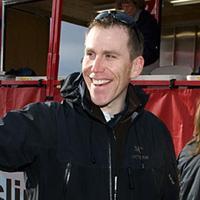 If one had to title the new USA Cycling board president Mark Abramson's upcoming term in office, it would be 'the era of the collegian'. This is because Abramson sits on the board of directors as the sole representative of the National Collegiate Cycling Association (NCCA). Collegiate cycling is where he was first exposed to bicycle racing and it is the vehicle that brought him up the ranks of USA Cycling.
"I became involved with racing in 1995," said Abramson. "I started mountain bike racing at Tufts University. Eastern Massachusetts is not exactly mountainous but we have surprisingly good singletrack." Abramson, 33 (but in true USAC fashion said, "Racing age, 34!") is a Boston native and currently resides in Cambridge running a software development company. "I grew up in Wayland in the suburbs of Boston. Boston has a great cycling community, but certainly a tight-knit racing community as well."
"This sport lives and breathes with the contribution of its volunteers, race promoters and team leaders."
-Abramson is keen to get more people involved in cycling, starting at the collegiate level.
Abramson continued his involvement with cycling in the collegiate ranks, both in racing itself and then promoting after graduation. "I was involved in collegiate cycling as a rider and then within the team when we hosted an eastern championships in 1996 - I was the promoter of that event. Then I became more involved with the eastern conference, and after I graduated I took over as assistant conference director and then conference director."
At this point collegiate cycling was not a full association within the governing body. Abramson continued increasing his involvement within the sub-discipline by expanding his work beyond New England and pushing for inclusion at the top level. "I became involved with collegiate cycling at the national level with the NCCA committee. We then worked to add ourselves as a full USA Cycling association, and became part of the board of trustees and got a seat on the board of directors. I served on the NCCA committee and became a trustee and then director.
"I've always considered myself a cyclist, but collegiate cycling was my introduction to the competitive side of the sport. I started off mountain bike racing but then I got bit by the road bug. That became my primary focus, though I did run the Boston Cyclocross Association for a number of years. We promoted a number of races in New England, so that was another outlet."
Following controversy
Abramson was at the U.S. collegiate national championships
Photo ©: USA Cycling

Abramson most recently held the position of vice president under president Jim Ochowicz, who is on the board as an at-large trustee of the United States Professional Racing Organization (USPRO). Ochowicz served for six years as board president, but not without controversy. A major point of controversy surrounded the departure of former USA Cycling CEO Gerard Bisceglia in April of 2006 - which stemmed from allegations made by Bisceglia of financial conflicts of interest by Ochowicz.
Bisceglia is currently suing USA Cycling and Ochowicz for wrongful termination.
The board, of which Abramson was a member at the time, absolved Ochowicz of any wrongdoing but also followed up with more clear rules as to board member involvement with outside interests.
"A lot of us are very involved with the sport and we are all volunteers," Abramson said regarding the allegations. "Jim Ochowicz is involved with a number of things with the sport - he was a professional road racer for a number of years - and having those relationships and that experience on the board is an asset. He served as board president for six years as a volunteer."
Abramson acknowledged that Ochowicz did have potential for conflicts due to his financial involvements within the sport. "Personally, I don't have a financial interest in cycling. I do a couple of small-fund projects with Mavic, Addidas and Pedro's [Boston-based cycling companies - Ed.] but outside of that, all of my work with cycling has been on a purely volunteer basis."
An issue that Bisceglia cited as a major problem was the separation between the board and the membership, something that has long been a hot-button issue for many in and around cycling in the U.S. Abramson said that he is aware of this issue and thinks it is something the board will continue to address, particularly in the area of board transparency.
"All of our processes as to how we operate as a board are publicly accessible. I think we can certainly do some more work in connecting with people - make it a little more open, like publishing our meeting minutes online. Give people a way to contribute through their local associations or particular disciplines, to make sure we are hearing all of the information we need to hear from the membership."
Toga! Toga! errr, Cycling! Cycling!
Because of his strong background within collegiate cycling, it is no surprise that developing that aspect of the governing body will be a priority for him. This goes along with the organisation's goals, which recently led to the formation of a permanent staff position managing collegiate and high school programs, filled by Daniel Matheny.
"Cycling is not an inexpensive sport, and quite frankly that is something we have struggled with in collegiate cycling."
-Abramson on the financial challenges facing collegiate cyclists.
"Daniel has been an incredible asset," he said. "But as I have become involved with the board there has been more focus on collegiate cycling, which is great. It has helped fund collegiate grassroots membership growth into other development programs within USA Cycling. And it really goes for all of the associations - the more involved with each other we become the better we all will be."
Abramson plans to take what he has learned in promoting collegiate cycling and translate that into broad practices across USA Cycling. "I've spent a lot of time thinking about opportunities and things that USA Cycling can do. I've really enjoyed the work we've done with strategic planning at the collegiate level, and it has been quite successful. This is a passion of mine and it is going to be a lot of fun.
"One thing that has been important to collegiate cycling specifically, is getting more people involved. As we all know this sport lives and breathes with the contribution of its volunteers, race promoters, team leaders... the people out there doing the tremendous amount of work for the sport.
"We need to make sure they have a good relationship with USA Cycling and that they have a meaningful way to contribute. There are so many people out there that want to know how they can help. With collegiate cycling we have done quite a good job with getting those people involved and empowering them. So that is something we need to focus on across the board."
Still, he believes in getting members while they are young, particularly in college. "We lose 25 percent of our membership every year!" he said regarding the unique challenge of collegiate cycling membership. "But the amazing thing is that we've been growing - we are the fastest growing segment of USA Cycling membership percentage wise. The graduates of collegiate cycling are going on to do great things - working in the bicycling industry, promote events, start their own teams - once you've gone through collegiate cycling you are going to be hooked!
"That is one of our big focuses, how can we get more people involved with the sport - which is a lifestyle sport. It is a sport our graduates can enjoy for the rest of their lives.
"We want to work closer with the bicycle industry, especially local bike shops, to capture everyone who considers themselves as a cyclist. A lot of that happens first in the local bike shop. That is something we have talked about at the board level. Give them an opportunity to join the Olympic movement."
With his background in collegiate cycling
Photo ©: USA Cycling

Going along with general membership growth, Abramson wants to focus on women's roles within the sport. "If there is one thing I have focused a lot on in collegiate cycling, it is bringing women into the sport. How many women define themselves as cyclists? That is a huge number! How many of them are involved with USA Cycling? Probably not as big of a percentage. USA Cycling's membership is around 12 percent women. Within collegiate cycling in the eastern conference we are 25 percent women. That is an area of membership growth that is really important. I really encourage women to get involved with the leadership rolls of their team, club, events or local association."
Of course his most salient experience within this area comes from college cycling - specifically the establishment of a collegiate all-stars women's team to race at the Nature Valley Grand Prix, drawn from the top performers at collegiate nationals.
"Some of those women had only been racing a year or two, but had come up through the ranks and now they have an opportunity to race at the highest level in this country! That, in turn, means access to professional teams. We are also now looking at the World University Games to select a men's team - that gives everyone something to shoot for and a way into the sport to get really fired up about."
State of the organisation
Abramson said that he is stepping into the new position with the organisation in a healthy state financially. "The membership growth and sponsorships, along with the USOC and USA Cycling development foundation, we have gotten ourselves into a good position financially.
"As far as nonprofits go, as long as nonprofits spend more than 80 percent on programs it is deemed successful. USA Cycling spends 90 percent of the annual budget on programs, for membership, development and elite programs. I would say we are a impressively efficient nonprofit organization."
Abramson also said that board operations will for the most part continue with the status quo. "No radical changes. There are a few things about how we operate, such as changes to governance, but that is just housekeeping."
But looking forward, Abramson said there are some areas that will see some new attention. "There are a tremendous amount of opportunities out there for us, BMX being in the Olympics is one. There are also a lot of things 'behind the scenes' that we can focus on as a board, processes and getting the word out about what we do.
"There is a lot that USA Cycling does and a lot of value we are trying to add to the license. Cycling is not an inexpensive sport, and quite frankly that is something we have struggled with in collegiate cycling. How can you get a student to come out and race a bike when they don't even have a bike? It is something we have been keenly aware of."
One question that many USAC license holders have asked is where the increased license fee money goes. "The rising cost of insurance and other factors have led to increases in fees," said Abramson. "But we are trying to add a lot of benefits to it, we are well over a million dollars in terms of sending that money back to the local association, where it has huge impact at the local level."
But in these terms, Abramson is quite aware of what John Q. Member experiences from the organisation, having been a member himself. "I've been a customer of much of the services USA Cycling provides for much of the time I have been involved with the sport in all its different capacities - mountain bike, road racing, collegiate cycling. I've been a racer, promoter, team leader running the clothing order, a conference director, trustee, committee member - so I have a comprehensive understanding of it all."
Abramson recommends that members who see problems with how things are run get involved to see change, as he did years ago. "You just need to get involved, look at things that need more attention and then get a group of people working on it and involved with the sport. And it can be a any area of the sport - some people are involved in junior development, which is great."
The new president is still planning on getting out of the office and the boardroom to put his energies to use with his foundation in collegiate cycling, as well as getting in a ride or two. "My focus for all my volunteer energies is with collegiate cycling, but I still love to ride and race. I am currently a category two."
Of course, a common question of any cyclist... what are you riding? "What's in the stable? My current team bike is a Giant TCR Advanced, which I love. But I also have a Cyfac, and a beautiful pink Serotta that we used in a RAAM fundraising team to beat cancer."
And if you do not live in New England and so cannot voice your opinions on the local group ride, as his riding group is likely to now do, you can still reach out to the board president. "My email address and number are on the web site, so... they are up there!"