An interview with Tom Boonen, January 18, 2008
Eye of the Tornado
Tom Boonen had a consistent 2007, winning races from January right through to the Tour de France and beyond – finally netting the green points jersey on the way. Cyclingnews' Ben Atkins caught up with the Flemish superstar at the Quick Step team's recent Benicassim training camp to reflect on last year and look forward to next.
Boonen was quite content to be in green
Photo ©: AFP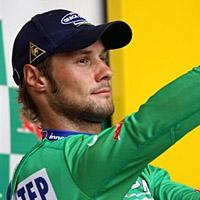 "For me it went okay," says the former World Champion, reflecting on a consistent 2007, "I had a very good year last year and I won my races in the beginning, straight on from the start in the Classics, I had my victories in Belgium." But the big one eluded him, as things didn't go to plan in the quest for a third consecutive Ronde van Vlaanderen. "The only thing: in Flanders I had a crash in the beginning of the race and it was hard to get into the race again. So that was I think the most terrible day of the Spring Classics for me. It was still okay; I mean ___ happens in races like that.
"Roubaix was very good, but we never got into a situation where we could bridge across for the first place in the final. Everybody was just waiting, it was a very very strange race, just like Tour of Flanders with the good weather, it was almost summer, it was 30 degrees. Strange races."
With the Classics over for another year, targets in the summer were also achieved by Boonen and his Quick Step team: "And then the Tour was very good: Green Jersey and two victories [not forgetting teammate Gert Steegmans' victory in Gent, where Boonen took second], so I think it was a successful year for me."
Another year, and another spring comes around, and for a powerful Flemish rider the targets remain constant. "It's always the same." He laughs, "I was in for the Classics, which won't change this year, and then the Tour. Then after the Tour we'll see if there's anything left in the body and maybe go for the Worlds."
Last year's Tour of Qatar – also the first race of Boonen's 2008 season – proved highly successful for him and his team. Boonen himself netted four of the five road stages and Quick Step took the team time trial, while team-mate Wilfried Cretskens took the overall. The team is not tempted to go all out this year to make it five out of five for Boonen, preferring to save something for what will prove to be a punishing early spring schedule.
A little less for a little more
"This year we'll try to do a little bit less in Qatar and just take it a little bit more easy in the beginning. We go to Qatar, to California, Paris-Nice, so I go to each side of the world. Then five days after Qatar we go back, then six days later we're in San Francisco. Then the Tuesday before Het Volk – that's only three days before Het Volk – we get back in Belgium so I think it will be a little bit of globe traveling."
"O'Grady did a very good race and deserved to win, but we'll try and get it back."
-Boonen wants the Paris-Roubaix title back.
The arduous travel must surely be one of the negative side effects of the increased globalisation of cycling. "We will be looking a little bit for a good shape, and trying not to be too good, too soon, and reserve everything for Paris-Nice, and then we're going for Sanremo and all the Classics."
Once again Boonen and his Quick Step team will line up for those Spring Classics, and look to get the better of their usual rivals. "I know who they are! It's always the same, I mean the last few years there was some younger riders who bridged across to the top. The older guys are almost all gone: just Klier maybe who's stayed in front a little bit."
Before a pedal has been turned in anger though, it's a little difficult to predict who is going to be on their best form and when, but there will be no prizes for guessing which particular riders will try to be at their best for particular days this April. "It's too soon now to tell who's going to be very good in the beginning, and the good names – everybody knows them – like Hoste, Ballan, I know them all, it's about who's going to be good or trying to be good at the beginning of the classics."
A new weapon in the Quick Step arsenal
Boonen's consecutive victories in Flanders
Photo ©: AFP

While the Quick Step team remains largely unchanged from last year, Boonen singles out one rider that could make the difference and be there where it counts in the key races this spring: former Discovery Channel rider, and current Belgian champion Stijn Devolder.
"I think Stijn is the guy we were missing last year. Stijn has to do the job that Peter [Van Petegem] was supposed to do last year. Peter was a good guy and I was really surprised at the way he came into the team. He was very good rider, but he came one year too late. His really top condition was gone. He was still there until the final started, but he wasn't able to do the things he did the years before."
Devolder however, will have no such problems: "I think Stijn is more able to do a good job and we'll try and work together in the final. He's perfect; his own personal ambitions are trying to do good in stage races: Giro [d'Italia], [Tour of] Switzerland, maybe Tour of Spain like he did this year, and then he wants to help me out. I think it will be a good role for him too, because he likes to fight and likes to race hard, and when you put him in a situation like that he's going to win races for sure."
For many years it seemed that the Paris-Roubaix belonged to this team – and its previous incarnations – but just recently, the race has been dominated by rival team CSC with imperious victories from Fabain Cancellara and Stuart O'Grady in the past two years. Boonen puts this down to the unusual way that the race has unfolded: "It's the situation; CSC was very strong with Cancellara and O'Grady. O'Grady was very strong in the final, but it was a strange Roubaix, like I told you. Guys went away very soon in the race, and nobody wanted to race behind them, and then we went fast over the cobbles. We were left with five guys and nobody wanted to race again."
Nevertheless, he is magnanimous in defeat. "O'Grady did a very good race and deserved to win, but we'll try and get it back."
The downside of winning
One of Boonen's early season wins
Photo ©: AFP

Boonen and Quick Step's domination – and expected domination – of classic races can also work against them as the rest of the peloton looks to them to make the moves and chase the breaks. "That's what makes it hard for me to win races, because we often get into situations where other teams try to isolate me, because they know that if I can stay in the final with three or four guys that we're probably going to control the race and try and make it a sprint or kill them somewhere else, and they try to isolate me.
"That's where you get into situations like in Arenberg – you get very often – you have to sacrifice your team soon. Then you get to fifty k's to go and you're all by yourself with three or four guys from other teams who are surrounding you and that's when you have to try to guess and be smart and then make up your mind and maybe make the race hard on your own."
Despite being only 27 years old, and likely to be one of the dominant riders for a good few years to come, Tom Boonen can already see a generation of younger riders poised to rise up and challenge the established order. One rider in particular has come to his attention: "The German guy – what's his name, from T-Mobile [now Team High Road] – the guy who won Gent-Wevelgem. Burghardt! Burghardt is there, some Italians also."
Not only that, but there seems to be a generation of even younger riders waiting in the wings to take over. "I think there are a lot of riders – also in Belgium – who are not at a good level yet, but trying so hard, and they will for sure be there this year. Maybe not to win the race but they can make it hard for us. There's not really a big big name that already has big results in the bigger races, from the younger guys, but there's some potential in there, and we have to be careful with younger guys because they're really motivated."
At home in Monaco
Boonen was in high demand
Photo ©: Ben Atkins

Much was made of Boonen's move from his home in Belgium to the millionaires' playground of Monaco a few years ago. Despite the cynicism he has experienced about the low taxes paid by residents, the climate and terrain have made day-to-day training much less complicated: "It's not only the training. It's better to train because you've got some hills and you've got a lot of nice quiet roads if you want to. Monaco by itself is nothing; it's like three k's, so you're out of Monaco in no time. I'm not there a lot in the summer. In the summer the it gets so busy that it's not possible to train there – it's possible, but it's so dangerous."
While maintaining his Belgian roots, little things like owning a very Monaco style Lamborghini Murciιlago – as well as having his team bike painted to match – would indicate that he is settling in and enjoying the anonymity that being "just another superstar" can bring: "The months I am there it's always quiet and it's more easy for me to live. I can go to the bakery and get some bread, I can go to the supermarket, nobody talks to me, nobody recognises me. Maybe they recognise me, but they don't bother you.
"It's strange, but it's like a little village, not a big town. Everybody knows each other after a while. In the beginning it was hard to get to know people, but once you start to know somebody then it goes fast and the last year I was a little bit more comfortable than the year before, so I like it a little bit more now. But it's not my objective to live there for the rest of my life."
"You don't have to train on the cobbles to ride fast; you have to train good and then ride fast on the cobbles."
-Boonen on training in Monaco.
Despite what one might think, the absence of cobbles, bergs and crosswinds don't adversely affect a rider who is training for races on that terrain. "When I wasn't living in Monaco I was going to training camps and was 50k from Monaco. You always look for the good weather, like we've come to Spain. You don't stay in Belgium to train in the snow, because in Belgium training for the classics, every rider wants to go to the good weather to prepare themselves properly in good health. You don't have to train on the cobbles to ride fast; you have to train good and then ride fast on the cobbles."
But the millionaires' lifestyle is not the be all and end all, and Boonen still finds himself homesick for the smell of the North Sea from time to time: "In the past it was even worse, but now... I still have it and I shall always have it, I'm sure of that. I can spend my time over there, but I always have to know that I can go home whenever I want to. Home will always be Belgium, I think."
To Beijing or no?
With the Olympics just two weeks after the Tour, there may be no Boonen in Beijing
Photo ©: AFP

As this year is an Olympic year – and Boonen has Bettini, the reigning champion on his team – we felt bound to ask him the obvious question about his hopes of flying out to Beijing. We expected the reply:
"I'd like to, but it's so hard this year that it's almost impossible to have a result. And just to go there to go, it may be nice just for a while, but this year the Worlds is a possibility. It will be hard to go to the Olympics just to take a look and enjoy yourself; then go back home... You do the Tour de France, you have to leave the Monday after the Tour because it's only two weeks after, you do the Olympics and two weeks later you're home, so you're six weeks away from home, and you have to start to prepare for the Worlds. I'll probably do the Tour of Spain, so it's a little bit too much." (laughs)
So, such a punishing schedule for a rider who wants to continue to do his job for a team and pursue realistic and achievable targets would seem to contradict recent reports in the Belgian media that he is considering an attempt on the team pursuit race with three of his Quick Step teammates. As far as the road race is concerned though, just to be there on a course that plainly doesn't suit a rider of his strengths is not on the cards.
"I think that [just being there] would be all, it would be good to be there, but I don't think it's nice to take a place away from another rider who's really motivated for a result just because we want to go there. There's only five riders..."
Olympics aside, there are plenty of races in the calendar that are seemingly made for Tom Boonen. From the cobbled Classics to the sprint stages of the Tour de France, and possibly even the World Championships, expect to see the rainbow-banded arms of Tornado Tom raised in victory many times in 2008.
Photography
For a thumbnail gallery of these images, click here
Images by AFP Photo
Images by Ben Atkins/Cyclingnews.com