An interview with Sylvain Chavanel, March 29, 2008
Chavanel starts to pay back Cofidis credit
Sylvain Chavanel's recent win in the Dwars door Vlaanderen gave the 28 year-old Frenchman a boost going into the Classics campaign, not to mention pleasing Cofidis' director sportif. The rider known as 'Mimosa' spoke with Cyclingnews' Brecht Decaluwé about the victory and what it means back at home.
Frenchman Sylvain Chavanel (Cofidis), 28, talks cobbles after winning the Dwars door Vlaanderen.
Photo ©: Bjorn Haake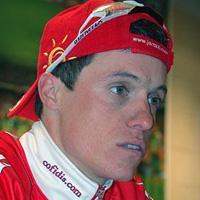 At the post-race press grill in Waregem Sylvain Chavanel was supported by his directeur sportif at Cofidis, Alain Deloeuil. The 53 year-old was all smiles about the performance of his poulain on Flemish soil. "Cofidis gave him credit in 2005 and now he's starting to pay us back," Deloeuil laughed.
The rider from Poitou-Charentes – older brother of Sébastien (Française des Jeux) - is enormously popular in France. He thanks this status not only to his potential as a cyclist – his country hoped he would become the next winner of the Tour de France – but the charm fans see in him, 'joix de vivre' as they say in French.
"Chavanel is not just a cyclist. Compare him with Jacky Durand, who didn't win that often but he was 'Durand' – an attacker, a guy who grabbed everybody's attention," Deloeuil explained. "Chavanel is well paid, even though he didn't really pay us back in terms of cycling performances it was fair enough for the sponsor because Chavanel offered Cofidis a lot of attention."
"I'm proud to have won over here. The cobbles and the hills give the race a special character."
- Chavanel on his Belgian win.
This year Chavanel has really started to pay his credit back thanks to his victory in Dwars door Vlaanderen. It was already his third win of the season, after stage wins in Paris-Nice and the Tour Méditerranéen.
"I'm proud to have won over here. The cobbles and the hills give the race a special character," Chavanel noted of the Flemish race. "But I'm aware of the fact that I'm far away of having the Flemish 'air.' Nevertheless, I feel that I'm appreciated over here, and that does something for me."
He received a lot of criticism in France last year as he didn't live up to some expectations. Chavanel was expected to fill up the gap that was left after the departure of big names like Richard Virenque and Laurent Jalabert. "I was the 'espoir eternal.' It bothered me, because I've never declared that I would win the Tour de France," reacted Chavanel. "I'm not a climber, I'm a puncher. I seldom win if a big group comes to the finish. I have to do it on my own, or pull off a 'numéro' like today," Chavanel smiled.
Sylvain Chavanel (Cofidis) takes his first season win Tour Méditerranéen
Photo ©: Roberto Bettini

"I came here to strengthen the team. The ambiance at Cofidis is great as everybody works for each other. When Nick [Nuyens] and myself were together in front during the finale it was a matter of taking the opportunities that came your way," Chavanel pointed out, and it wound up to be him who had the best opportunity.
Sylvain Chavanel, or 'Mimosa' as he is sometimes called, doesn't have the experience that is needed to be one of the favourites for the Ronde van Vlaanderen next Sunday, although the Dwars victory proves he has what it takes to fight on the cobbles and the small hills around Oudenaarde. "I've never raced the Tour of Flanders, but I'm confident on Belgian roads as I raced here during my first year as a pro," he continued, referring to when was riding for the small Bonjour team.
Chavanel turned out to be the first ever French winner in Dwars door Vlaanderen, but what would it be to win the Ronde van Vlaanderen. Only three French riders ever won the famous Spring Classic: Louison Bobet (1955), Jean Forestier (1956) and, more recently, Jacky Durand (1992). "Being the next one after Durand isn't too bad, is it?" Chavanel questioned. The big guns like Tom Boonen and Fabian Cancellara kept quiet in Dwars, but Chavanel wasn't fooled by their performances. "These races aren't their objectives. It doesn't matter for Boonen if he wins or not."
A few attending French journalists were surprised to see how relaxed Chavanel was when he was talking with the press; they noted that he is far more tight-lipped in France. Chavanel didn't hide his angry feeling towards his home country. "Hopefully this victory takes some of the critics away in France. For now, the most important thing for me is my two kids and my family. I can't battle at every front," Chavanel pointed towards the unreasonable expectations back home.
"I trained a lot this winter, about 2000 kilometres of mountain biking – which I'm fond of – but I also worked with a trainer for the first time, mainly to have a good basis. The main factor has been confidence, which I lacked in the past. It is good to see that there are no longer teams who can control an entire race... Actually, I don't give a damn about it all, I do my trick and that's it," Chavanel touched on a delicate subject.
The winner of Dwars door Vlaanderen concluded the post-race press meeting by giving away some of his tactics used throughout the race. "When we crossed the finish line for the first time, I said through the radio 'the frites and mergueze sausage smell fantastic, I'll stop by in the next lap to grab one.' We can't be serious all of the time, can we?" Chavanel concluded before leaving the press room to celebrate the victory with his team-mates.
Photography
For a thumbnail gallery of these images, click here
Images by Bjorn Haake/Cyclingnews.com
Images by Roberto Bettini/www.bettiniphoto.net