An interview with Johan Bruyneel, December 10, 2008
Bruyneel brings Astana back stronger for 2009
It has been a season of ups and downs for Team Astana's Johan Bruyneel. The team manager re-shaped a squad that was on its way out and turned it into a winning unit capable of the biggest objectives although the team was not invited to the sport's biggest event, the Tour de France. Cyclingnews' Bruce Hildenbrand talked with the Belgian about the 2008 season and what's in store for 2009 now that Lance Armstrong is onboard.
Belgian Johan Bruyneel re-shaped Team Astana from the fall of 2007 onwards
Photo ©: Roberto Bettini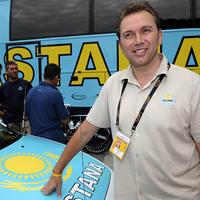 When he took over the beleaguered squad at the end of 2007, nobody wanted to join his team. Then, after he was able to hire some of the best stage racers in the world, the Amaury Sport Organisation (ASO) did not want his team to participate in the Tour. Throughout all the drama, Bruyneel and his riders persevered and in the process won the Tour of California, the Vuelta al País Vasco, the Vuelta a Castilla y León, the Tour de Romandie and the two Grand Tours to which they were invited, the Giro d'Italia and the Vuelta a España.
Bruyneel reflected on a very successful season and noted the two things of which he is most proud of. "Number one, taking all these victories, the fact that Team Astana stands for a reference in cycling right now – that was not the case last year at all. Number two, after all the difficulties we had starting up this team again – which wasn't easy at all, getting kicked out of races and stuff like that – that we have been able to prove that this is the best team."
Trying to prove you are the best team without competing in big races like the Tour, Paris-Roubaix and Liège-Bastogne-Liège was difficult.
"I just kept believing that we had a strong group of riders and a strong group of staff. The mental strength of the team was very, very strong. I have said it before, if you can be successful in the most difficult circumstances the satisfaction afterwards is so much bigger," he said.
"It is good to see that we are quite popular. People want to be with us."
- Bruyneel on Team Astana's growth the fall of 2007
Bruyneel ought to know. He made his director sportif debut with the arrival of Armstrong as a Grand Tour contender in 1999. The duo won seven editions of the Tour de France together, and Bruyneel went on to see three more Grand Tour wins with Alberto Contador.
Even with all the successes there were a few low points. "We wanted to be in the Tour de France and even when they announced [the team's exclusion] in the beginning of the year we still tried to get in. Not that we pushed very hard, but we tried. But, from the moment it was clear that we wouldn't win that battle we focused on other things."
When Bruyneel directed the US Postal and Discovery Channel teams, there was one goal centred on one rider. Team Astana had a more balanced attack with Contador, Levi Leipheimer and Andreas Klöden all taking major victories. "Basically, we had three strong leaders and they were all having their successes at different times of the season."
The success made life easier to plan for 2009. When Bruyneel went looking for riders last year there was little interest, so he re-stocked the team almost completely with riders he brought with him from the defunct Discovery Channel.
"This year, as of today, it is crazy how many people are calling me, riders and staff, who want to be on the Astana team. I think that is because right now, Astana stands for something. It is good to see that we are quite popular. People want to be with us."
Armstrong's comeback
Lance Armstrong with Alberto Contador at the team's training camp
Photo ©: Roberto Bettini

One rider who expressed interest for 2009 carries a huge pedigree. Seven-time Tour de France winner Lance Armstrong will make his comeback with Astana and his former directeur sportif, Bruyneel.
Bruyneel's bond with Armstrong
Bruyneel and Armstrong have a bond that has served them well over the years. Bruyneel discussed the relationship in detail in his book We Might as Well Win.
"It is a very special relationship we have built over the years. Even now, it remains a relationship of mutual respect. We don't need a lot of words to understand each other. I feel very comfortable with the way we understand each other."
Things haven't changed between the two, even after three years apart.
"Since the moment he told me about his comeback ... it feels like nothing has changed and it feels like he has never left. We have a very intense bond."
After three years out of competition, what does Bruyneel think the Texan needs to do to return to top-level form? "I am not very worried physically. He has always been a great athlete and he still is. He is very focused and I know he is very serious about his training and very, very passionate about it.
"I don't think the age is a problem. I think it is more a matter of those three years being out of the rhythm of competition. I think we will all have to wait to see – a little bit at Tour Down Under, but, above all, in California."
Regarding Armstrong's form, Bruyneel is both reserved and optimistic. "It is a question mark right now, but on the other hand there are things that make us think it shouldn't be. When we see that a guy he was frequently racing against [Carlos Sastre] has won the Tour. Levi was one of his rivals and he is still dominating. I think it is fair to say that he [Armstrong] will be at a very competitive level rivalling with the best."
While Armstrong indicated that he will be racing a full programme including a number of the Spring Classics, Bruyneel is targeting the Giro d'Italia for Armstrong to be at full strength.
Armstrong indicated that he wants to ride both the Giro and the Tour, but can he ride both and be competitive? "I think it is doable. It has been proven in the past that you can do it. You don't have to go any further than this year. ... Christian Vande Velde has done the Giro and then at the Tour he was at the top of his game. A guy like [Denis] Menchov, for example, was up there at the Giro and then at the Tour."
Managing the greats
Johan Bruyneel looks on
Photo ©: Roberto Bettini

With both Armstrong and Contador on the roster, Team Astana has two Grand Tour winners. Bruyneel discusses the differences and similarities of the two great champions.
"Alberto is a born climber who defends himself very, very well in the time trials. Those are two qualities to win a big stage race. Lance, in the period between 1999 and 2005, I think he was equal with the best climbers and he was the best time trialist so it was very difficult for him to lose a big stage race."
Contador will not defend his Giro d'Italia title, but focus his energy on repeating his 2007 Tour de France win. Armstrong will race at Contador's side for the first time in the season at the Tour, but leadership of the team will remain undecided until July's event.
"We are just trying to improve the little details."
- Bruyneel on Contador's time trial improvements
"In general before the start of the race you almost always know who the strongest guy is in your team. ... That is the guy we are going to race for. If that is [Haimar] Zubeldia or Klöden or Levi or Contador or Lance – it is the strongest guy who is going to have the support of the team."
Even though the team will ride for the strongest rider, Bruyneel admitted that it is a definite advantage to have so many riders capable of winning on the same team. He referred to the Vuelta a España, where the team was able to work with both Contador and Leipheimer as a possible winner up until the final stages.
The strategy sometimes means a strong rider having to put aside his own chances. "Even though Levi was in the lead, he had the yellow jersey, we decided that it was going to be Alberto as leader because we thought he was the best prepared and the strongest, especially he was the best climber."
Spain's Alberto Contador in the middle of old pals, Lance Armstrong and Johan Bruyneel
Photo ©: Pete Goding Photography

Leipheimer seems to be even further down the list of possible Grand Tour winners with Armstrong joining the team. Bruyneel noted that the American is aware that the strongest rider will always lead the team and that he will ride in support at the Grand Tours.
Bruyneel is working with Contador, who has shown some vulnerability against the clock. He believes that the Spaniard is already a good time trialist, but notes that trying to make any improvements is very tricky.
"We are just trying to improve the little details, always having in mind that he is never going to be a pure time trialist and that he has to remain a climber. So we have to try to find a balance there of what kind of maximum gain you can get by extreme positions and extreme aerodynamics compared to what is the power you can generate.
"What does it serve if you improve 30 seconds by extreme position in the time trial, but then the day after in the mountain stage you feel uncomfortable and you cannot accelerate or you cannot take advantage of your climbing skills? ... Alberto has been in the wind tunnel. We will see on the road how far he can get with those new positions."
With the improvements of Contador, the comeback of Armstrong, the backup from Leipheimer and Klöden, and the growth of the supporting riders, 2009 appears it will be even more rosy than 2008. It is far more than one could have imagined back in 2007, when Bruyneel took control of Astana.
Related articles:
Bruyneel talks Armstrong, Vino and Basso
Bruyneel: Armstrong can win any race
A winning formula once again?
Johan Bruyneel: A new start
Photography
For a thumbnail gallery of these images, click here
Images by Roberto Bettini/www.bettiniphoto.net
Images by Pete Goding Photography/www.petegodingphotography.com