An interview with Jochen Dornbusch, May 12, 2008
German women's coach optimistic
German national women's coach Jochen Dornbusch is optimistic about women's cycling in general and German women's cycling in particular. Cyclingnews' Susan Westemeyer caught up with him to find out his thoughts on the state of the sport and the upcoming Olympics in Beijing.
Dornbusch says that doping in women's cycling is less widespread than in the men's races
Photo ©: Bjorn Haake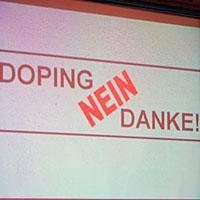 "In the last few years there have been great changes in women's cycling in Germany," he said. "We have professional, well-led teams, good appearances and good races. But what is missing is a bigger media presence. More reports on television are desperately needed, in order to help find sponsors for women's cycling."
There are only two German-registered teams in the peloton this year, Equipe Nürnberger and Team High Road. High Road has only five German women, but they include two of the biggest names, Ina-Yoko Teutenberg and former World champion Judith Arndt. The Equipe also boasts such top Germans as former World champion Regina Schleicher and Trixi Worrack. Dornbusch can also count on Hanka Kupfernagel, if he chooses to do so – she delivered a gold medal in the Worlds in Stuttgart last year.
Dornbusch has been the national women's coach since 1999. He came to the sport from its roots, saying that "I grew up in a bike shop, so I had a relationship with cycling already as a child. I was never a good rider, but I started working as a mechanic at the age of 20, to be able to finance my studies."
There are far fewer doping cases in women's cycling. Why this difference to men's cycling? "Women's cycling doesn't involve big money, like men's cycling. Therefore, those responsible in the background aren't financially motivated. A treatment by [Eufemiano] Fuentes costs about 30,000 euro, according to media reports. For the women, there are maybe only 10 percent of the peloton who earn that much. The rest have a lot less."
But it is not just for financial grounds, Dornbusch emphasised. "Besides, the women also see the theme of doping ethically and morally differently then their masculine colleagues. And, especially in Germany, we have seen in the last few years that it is possible to bring in very good results without doping."
"I grew up in a bike shop."
-Dornbusch describes his early involvement in the sport.
There are a number of good young women coming along, he noted, giving hope for continued good results for the future. "With Romy Kasper, Corinna Thumm and Lisa Brennauer, to name only a few, we have some very good young riders, who are still developing. When you see such outstanding riders as Marianne Vos and Marta Bastianelli, then you know that anything is possible in cycling for young athletes."
Turning to the Olympics, he said that the road course "is, in my opinion, very challenging. But the women must ride the closing round only two times, and so I think there are a number of riders who will be near the front. Perhaps even a sprinter." Non-German favourites here are "naturally Marianne Vos, Nicole Cooke, Noemi Cantele, Marta Bastanelli, Giorgia Bronzini and so on."
Ina-Yoko Teutenberg is one of the most successful
Photo ©: WomensCycling.net

Dornbusch thinks it looks good for the time trial, too. "The time trial course is identical to the road race's closing round. A challenging climb, but also a very long descent. The Germans have "very good time trialists in Judith Arndt and Hanka Kupfernagel, as well as Trixi Worrack. But we will have to wait and see whether it will be enough for a medal." The competition there will be "Kristin Armstrong, Christiane Soeder, Priska Doppman and possibly Zulfiya Zabirova."
The team will be named next month. "I will suggest my team to the Presidium of the BDR [Bund Deutscher Radfahrer, German cycling federation] in June." There are no specific norms for the riders to meet. "International results and team abilities are what count."
And who will be on that team? If he could nominate a team today, who would be on it? Dornbusch refuses to let himself be pinned down, saying "The same ones who I will nominate in June."
Dornbusch is coach for not only the road racers, but also the track team – which won't be in Beijing at all. The women's track team didn't exactly cover itself in glory at the recent Track World Championships in Manchester. He praised Verena Joos' performance in the individual pursuit, "3'36 minutes, and a personal best time, but still only good enough for 10th place." Additionally, the bronze medal in the women's pursuit "was nice, but it doesn't change anything about the situation that internationally we still have a lot of work ahead of us, in order to reach the top."
Hanka Kupfernagel is one of the strongest Germans
Photo ©: Cyclingnews.com

There have been some worries about the physical conditions of the Olympics, but he is doing his best to address those issues. "We will travel directly after the Thüringen Rundfahrt, so that the women can have a chance to get used to the temperature and humidity. I am not worried about the air pollution, because the actual course is far away from the centre of Beijing and the organisers are doing everything they can now to clean up the air."
Another issue is that of a possible protest against the host nation for its treatment of Tibet. It is already planned that the women will not attend the opening ceremony, but not out of protest. "The opening ceremony doesn't come into question for us, because the road race follows it directly. I leave it up to the women to decide whether and how they wish to protest."
The coach himself will have nothing to do with it. "I personally won't take part in any kind of action, because I am am not ready to use sport as a symbolic protest for political mistakes," he said. "I think that China has opened itself very much to the western world in the last few years, and the the other big nations don't always pay such good attention to human rights, either."
Photography
For a thumbnail gallery of these images, click here
Images by Bjorn Haake/Cyclingnews.com
Images by Cyclingnews.com
Images by WomensCycling.net