An interview with Enrico Gasparotto, January 28, 2008
Enrico Gasparotto: Growing up
Enrico Gasparotto – maglia rosa for two days the 2007 Giro d'Italia – faces some growing up in 2008 as graduates to a team where he will have more responsibility than he was given at Liquigas. Gregor Brown of Cyclingnews discovered that the 25-year-old Italian thinks the family-feel of Team Barloworld will give him the faith he needs as he tries to meet his season's goals.
Enrico Gasparotto (Barloworld)
Photo ©: Roberto Bettini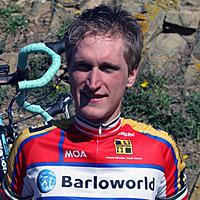 The blonde-haired rider from Italy's northeast region of Friuli-Venezia Giulia burst into the limelight of cycling as a neo-professional when he won the Italian Championships in 2005. As only one of five first year professional to wear his country's famed maglia tricolore the fame could have gone to his head, instead 'Gaspa' kept his cool and played a perfect domestique role for his Liquigas team-mates while selecting his moments to shine.
Though winless in 2007, he gained confidence with a successful spring and his stint in the leader's jersey of the Giro while helping Danilo Di Luca claim the final overall victory. He crossed the line first in the opening team trial stage thanks to the hard work of the entire Team Liquigas and was able to wear leader's jersey. After losing the jersey the following day to team-mate Di Luca, he took it back a final time on stage three.
Gasparotto took a major step at the end of the season - switching teams and making the decision to finally move from his family's home and into his own apartment. Switching teams for the first time since turning professional in 2005, he left the team of Roberto Amadio and the acid-green colours of Liquigas, deciding it was a time for a change. He talked to Claudio Corti, and in November decided to sign a one-year contract for the Professional Continental team registered in Great Britain and backed by a South African sponsor.
Speaking from the team's training camp in Marina di Bibbona (Toscana), he described the new team atmosphere. "Liquigas is a large team with a lot of big-named riders, but Corti has a good group with 20 riders. There are the big-named riders, even without being a ProTour team. We have [Baden] Cooke, [Robert] Hunter and [Mauricio] Soler, and really, we don't lack anything. In fact, it is more of a small family atmosphere."
"The most important thing that I find here is there is a huge amount of faith in me from Corti and the directeurs."
- Gasparotto describes the reasons for his switch to Barloworld.
The change might be the stimulus that 'Gaspa' needs as he embarks on this fourth professional year. He described the new team environment and the trust that is already felt after its first meeting in January.
"For me it was the first time to change a team. Last year, and before, I knew everyone. In the past few days, I had to get to know the new guys, even looking at the name of the bicycles!" he continued.
"After a while, and with the help of my English, I was able to enter into the group. The most important thing that I find here is there is a huge amount of faith in me from Corti and the directeurs. It was what I was searching for and what I needed.
"I need to be able to look at the others to see in that they believe in me and have faith in me as a rider. It allows me to get up in the morning and train. This is not just the directeurs, but also the team-mates and the mechanics. ... Now I just have to put in the training and hope of good luck regarding my health."
"This winter was good until the end of December," reflected Gasparotto as we sat in the lobby of the Hotel Marinetta on a Sunday evening in late January. "I had prepared really well and I was going well – at home in Casarsa della Delizia (near Pordenone) and also in Valencia. I did ten days in Valencia with [Stefano] Garzelli and [Dario] Andriotto of Acqua e Sapone. In January, I was sick, I had a fever for four days, which stopped me from training from January first until the eighth – eight days without the bicycle is enough.
"I stared training again on the ninth; however, here at the camp I still have good form. I think I was further ahead than last year, before I got sick – so I am not going so badly. I think I will have the form to try to win races at the end of February.
The laundry
California & Cipollini
"From the first until the last of school I studied English," he stated when asked how he learned the language so well. "In addition, I hosted an Australian rider some years ago, which really helped."
He was able to put his English skills to practice at the 2007 Tour of California. "Last year I was at the Tour of California. That was my first time there, and it was really nice and beautiful. In California, we were a well-rounded group – mechanics, riders and directeurs. We really enjoyed ourselves so much and we had a really good Tour of California – it was relaxed but also very demanding as a race."
The mention of California brought to mind one of his former Liquigas team-mates: the charismatic super-sprinter, Mario Cipollini, who just signed a contract to return to racing. The winner of 42 stages at the Giro d'Italia raced his last year as Gasparotto started his professional career.
"I think the contract with Rock Republic is more for a manager role than as a rider. I think that it is quite impossible for Mario to win a race now [at 40 years-old and after three years of retirement].
"He is supposed to race in California, but California was very hard last year. You have to be in form, it was very difficult for me to do a sprint last year... Cipollini is Cipollini, he has been out of racing and training, and he destroyed his knee while skiing. I think it is impossible for him to win a stage in California."
The two, who both celebrate their birthday on March 22, raced together only once. "I have a good memory of him, because the only race I did with him was the Giro della Lucca. It was the only time, and it was the last win of his career."
Gasparotto will take another step towards maturity by moving out of his childhood home and into his own apartment in Varese in February, but is still in a period of transition. "I have my maglia rosa in a frame now but it is not hung on the wall," Gasparotto stated of his prize from the 2007 Italian Grand Tour.
"I am waiting until I move to hang it. I am moving to Carnago (Varese) in February to live on my own. I will hang that on the wall with my maglia tricolore. I decided to move because in my region there are no [professional] cyclists, and training alone is hard. In Varese, there are many of my cycling friends, Andrea Noè, Charles Wegelius... It is also close to the life of Milano, and close to the Malpensa airport."
Gasparotto reckons that living on his own will help in his maturation process, something that, combined with changing teams for the first time, should make 2008 a break-out year. "I want to be able to live alone. I don't want to be a mamma's boy at home, and in Italy it is crazy [the number of young adults who live with their parents]. I remember when I first joined Liquigas and Marcus Ljungqvist laughed at me because I was living at home at 23 years-old."
Does he know how to do his own laundry? "Yes! Of course! I can also cook, or enough to survive [laughs]. I did 20 days in an apartment in St. Moritz on my own, and I cooked everyday. However, as a cyclist it is not so complicated because we aren't able to have so many extra ingredients. It is usually pasta in bianco or simply cooked meat. I am excited to live on my own and learn how to live in life.
On to the Classics
Gasparotto hopes to ride Ronde van Vlaanderen
Photo ©: Gregor Brown

The Italian's racing programme will start in Barloworld's sponsorship base of South Africa, but Gasparotto yearns to sink his teeth into the spring Classics. "I start in February in Africa at the Super Challenge Series, it is a five day race where each race counts on its own.
"Then I come back to Italy and race the Giro della Grosseto, Laigueglia, and then I was going to do the Giro di Sardegna but it has been cancelled. My next race will be the GP Lugano. From there it starts with Tirreno-Adriatico, Milano-Sanremo, Brabantse Piil, Three days De Panne, Tour of Flanders, Gent-Wevelgem."
He will celebrate his birthday on the day of Italy's greatest one-day race, Milano-Sanremo, or La Classicissima. Having ridden with past winner Filippo Pozzato in 2007 as part of Liquigas and being at the sharp-end in finale Gasparotto believes he knows what it takes to vie for victory.
"I have dream: I am Italian, it is my birthday and because last year I did the race so I know what to expect. Last year, I crashed two times but I was still there on the top of the Poggio, where I was tenth," he continued.
He will have to play the team's wildcard since it has Hunter and Cooke to battle in a bunch sprint. "I know how it will go because I rode for Liquigas last year, so I will have to try my luck earlier, using the other teams to find an escape. In a sprint, it is difficult for me to win against riders like [Daniele] Bennati and [Alessandro] Petacchi, but then we also have Hunter. However, I have to have my fantasies, and I have to invent something!"
Early memories of watching the race sprang to his mind. "I remember Claudio Chiappucci very well, and then the race where Moreno Argentin was nipped by Sean Kelly. He was assured to win but Kelly said 'see ya!' Then the recent ones like the wins of Mario Cipollini and 'Pippo' [Pozzato].
"It is an incredible race because it is 'easy': long and flat, three climbs and then a big mess in the finale. When we start in Milano it is cold, it is very emotional... it is Sanremo. I have no words to explain why it's so important. It is because I am Italian; that is the reason for sure. It is the first Classic of the year, and for Italians it is everything. It is open to a lot of type of riders... It is not as 'hard' as Liège or Flanders – 'closed races' – but at the end [of Sanremo] it is always the same.
However, the Italian also dreams of Belgian pavé, where he had his first sample last year as a last minute team draftee. He attacked the Dwars door Vlaanderen and then went on to finish third in the Brabantse Pijl, but did not race the big one – the Ronde van Vlaanderen.
"I would like to have something good in Belgium this year. I will have to preview Flanders because I never have raced it. I think being on Barloworld will be 'easier.' It will allow me to stay behind 'Benna' [Bennati], [Tom] Boonen, or someone, and that will work in my favour. When I was young, I always dreamt about Flanders. I saw all the editions on television. I would record them and re-watch them. It is a beautiful race, and the environment is special thanks to the fans."
Gasparotto will need a wild-card invitation
Photo ©: Gregor Brown

After Gent-Wevelgem, 'Gaspa' will return to Italy and re-evaluate where he is at in his season. If Barloworld gets its likely wildcard invitation to the Giro, he will be on the nine-man team that lines up in Sicilia on May 10.
"Last year, I had hoped to win a stage, but I wore the maglia rosa for two days. So, this year I hope to win a stage became winning the team time trial is different. Now I hope to have a stage on my own, to arrive first to the finish line.
"We will go with Soler, and he will be in his Tour de France form of last year. He will be able to win some stages have a good classification – the last week of the Giro is crazy-hard. We will help him in the first two weeks to stay out of trouble, but in that same time it will be a good chance for me to try for a stage. I think [Paolo] Bettini won't be there because he is riding the Tour de France in preparation for the Olympics, so that will open the door for me on some of the rolling stages. I will focus on exact stages after I finish my Belgian campaign at Gent-Wevelgem.
Photography
For a thumbnail gallery of these images, click here
Images by Roberto Bettini/www.bettiniphoto.net
Images by Gregor Brown/Cyclingnews.com
For more on Gasparotto read Gaspa aces spring exams.