Recently on Cyclingnews.com
An interview with Christophe Agnolutto, April 18, 2008
Finding stability in retirement
It's with mixed feelings that most professional riders choose to end their cycling careers. Cyclingnews' Hedwig Kröner talked to retired French pro Christophe Agnolutto on choosing the right moment, switching back into family mode and staying involved in cycling.
Back in 2000
Photo ©: AFP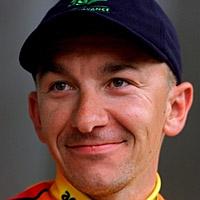 Looking at his palmarès, Frenchman Christophe Agnolutto achieved some beautiful victories, including the overall Tour de Suisse in 1997 and a stage at the Tour de France in 2000. But the former AG2R rider also knew how to be a no-less-important team-mate, helping his team leaders to glory during the last years of his active career.
Agnolutto only started cycling with ambition in his early twenties, and turned pro at the age of 25, in 1996, with Petit Casino. He remained true to the squad directed by Vincent Lavenu, which became Casino and later AG2R, until 2005, when Agritubel offered him a veteran position to finish his career in style.
Agnolutto was 37 years old in 2006 when he decided it was time to leave. "I would have wanted to do one last Tour de France in 2006, but Agritubel didn't select me for its roster," he recalled. "So I preferred to quit."
At first, it was "weird" for Agnolutto to stay at home, especially the first winter. "I did some jogging, I never completely stopped the sport," he said. "But I was 37, I have a wife and three children - it would have been more difficult if I had been 27. Moreover, I had been the one to decide to quit. Of course, I could have found another contract for one more year - but it might have been the year too much, if you know what I mean. It was the right moment to stop."
Christophe Agnolutto
Photo ©: Christophe Agnolutto

The Frenchman, who worked in publicity before becoming a pro cyclist, also had some professional plans to keep him busy. "I think retirement is worse when you don't have anything to do, no project. But I was about to create my own business, so I had no time to dwell on myself," he explained.
"Moreover, I keep close ties with the pros as I act as a vice-president of the French pro cyclists union (UNCP) - so I have to go to some races and events to stay informed. But I don't miss being gone in hotel rooms for half of the year at all!"
Keeping fit and sharing experiences
Agnolutto with his training group
Photo ©: Christophe Agnolutto

After he finished his pro racing career, Christophe Agnolutto had to go back to college, ironically, in order to stay inside the sport. "First, I passed the Brêvet d'Etat in cycling [a license needed to become a cycling coach - ed.], then I spent nine months at the CNPC in Pau [a "Sports and Commerce" school - ed.]. I trained for one year, all in all, with my big goal in mind: creating my own cycling vacation service in the Pyrenees."
He founded the company 'Agnolutto Bien être Sport' (ABES), which could be translated as 'Agnolutto Wellness & Sport'. Many former pros have chosen this activity as a way of staying in the sport and leveraging their fame. Ireland's Giro d'Italia and Tour de France winner, Stephen Roche, did so on the island of Mallorca, and more recently Axel Merckx organised camps in Canada, Belgium and France.
In this northern Spring, Agnolutto will offer cyclists a chance to ride the best roads around Salies de Béarn in the 'Pyrénnées Atlantiques', the west side of the Pyrenees.
The 'camps' certainly have an entertainment side, as one is based in a three-star hotel-casino just in front of Salies de Béarn's well-known thermal spa. But cycling, gambling and natural hot-tubs are not the distinguishing feature of these training camps: it's the opportunity to ride with current top-level professionals. Agnolutto said at least two pro riders will be present to ride with his cycling groups, as well as himself and another retired pro.
"For the first camp, I will have Christophe Moreau and Stéphane Goubert there. Then, Alexandre Botcharov, Stéphane Augé, Florent Brard, Nicolas Portal, Mathieu Ladagnous... the list goes on. The pros will be very available to my clients as all of us are accommodated in the same hotel. In the mornings, we ride some of France's most mythical mountains such as the Aubisque, Marie-Blanque and the Tourmalet. And in the afternoons, we visit the nearby towns of Pau, Biarritz and Lourdes."
The pros use their 'cycling vacation' to reconnoitre Tour de France stages, or simply train in the mountains. The speeds of special interval training, however, shouldn't deter recreational cyclists. "We all start riding easily together, and once the pros want to intensify their training, we split up into different groups according to fitness levels. Generally, the rides will be between two and four hours long," Agnolutto explained.
Further information about Christophe's camps can be found at his website.
The travel and being away from home are two reasons why Agnolutto didn't think about becoming a directeur sportif. "That would have been the same as being a rider, really," he continued. "They give you contracts for one or two years, and if the sponsor's gone, you have to look for something else, again. No stability.
"I wanted something on a long-term basis, and I didn't want to have to travel that much anymore. Plus, I had to be able to stay active: do some sport, not on a competitive level anymore, but on a regular basis."
ProTour struggle: "UCI will have to comply"
It could be argued that in 2008 there's almost more action off the bike than in the actual races, given the way that the sport's two major factions - the International Cycling Union (UCI) and race organiser Amaury Sport Organisation (ASO) - have slugged away in their power struggle.
As one of the three vice-presidents of the French pro cyclists union UNCP, which also includes foreign riders in French teams, Agnolutto serves as a mediator between French riders and organisations such as the UCI, the French Cycling Federation (FFC) or the CPA (international riders' association).
"Even we, inside the sport, have difficulties in understanding the conflict, but when I think about the general public..."
- Agnolutto talks about the UCI/ASO conflict..
The UNCP organises meetings with the French riders twice a year, at the GP de Rennes and at the French national road championships. At each meeting, a delegation of about 40 riders attend raise their problems and discuss possible solutions.
Perhaps the biggest issue in the riders' lives at the moment is the ongoing power struggle between the UCI and ASO - owner of the Tour de France and other major cycling events. The French media conglomerate has infuriated the UCI by splitting from the governing body and holding its races outside of the UCI framework, with the help of the French federation.
The schism for this season peaked with the Paris-Nice stage race, where all the major teams were present and raced, despite the UCI's threats of fines and suspensions if they took part. So far, no actions to penalise or sanction the riders and teams have been imposed by the UCI, and the ASO announced it would continue to make its races happen in the same way throughout the year. The riders, meanwhile, are caught between the two parties.
"The riders are fed up with it," said Agnolutto. "They feel like prisoners of the conflict, and can't do anything about it. It's getting tiring for everybody, and especially for the riders. It's already a hard sport, but when they tell you that you'll be suspended if you race - that's not very logical. UCI and ASO need to find a solution rapidly."
The Frenchman strongly opposed the UCI's tactics. "It's not up to the UCI to threaten the riders like this. The riders have an employer on top of them, who tells them to do their job. So they're not going to stay at home, they have to race. I think the UCI needs to back down a bit with respect to that.
Agnolutto winning his Tour stage
Photo ©: AFP

"It's not only the riders, but also the public who cannot bear this conflict any longer. Moreover, it's getting so complicated that nobody understands it anymore. Even we, inside the sport, have difficulties in understanding the conflict, but when I think about the general public..." he trailed off, reflecting a feeling that cycling is risking its traditional support base with its power struggle.
With regard to the sanctions possibly being carried out by the UCI for those riders who raced Paris-Nice, Agnolutto didn't have any new information. "I received an e-mail from the CPA, who met with the UCI, saying that an arbitrary panel would decide whether or not there will be sanctions against the riders who raced Paris-Nice. I don't think it will go ahead, but for now, we're not sure yet. If they do, there won't be any riders left to race! It's impossible that they do it. It's really going too far."
World Cup format worked
Agnolutto's last Paris-Roubaix
Photo ©: Brecht Decaluwé

Agnolutto's view was that the former World Cup calendar, which was re-jigged to become the ProTour in 2005, shouldn't have been changed in the first place, and that the ProTour didn't hold to the promises that were announced at its launch. "The system before the ProTour worked very well to me," he shrugged.
"There were points attributed at every race, and every event was important. The winner of the UCI classification really was the best rider of the year. It was a logical system, where riders and teams moved up and down according to their results. Now, the ProTour doesn't mean anything anymore.
"The greatest races are not on this calendar, and it only includes teams that comply with certain financial criteria. I think the UCI needs to understand that they made a mistake with the ProTour, and revise it. They put it in place without talking to anybody about it, and now we see the result. They created it so fast that nobody had the chance of discussing it."
He saw no other way out of the conflict than for the UCI to back-pedal and give in to the organisers' wishes. "For ASO, it doesn't change anything anymore whether the UCI exists or not," Agnolutto bluntly said.
"With or without the UCI, they hold their races. So I think it's up to the UCI to adapt to this situation. They have to correct their mistakes. If not, there will be less teams, less sponsors, and the whole of cycling will pay the bill. Just because of some people who don't want to back down.
"I think they will have to revise the ProTour - maybe not this season, but for 2009 for sure. They don't have a choice. I sure hope that we won't end up with two federations, although I know there is a chance that's what we're headed for. I hope the two parties will sit down and find a solution for 2009, when the ProTour license system ends.
"With regard to the sponsors, who paid a lot of money for the ProTour, the end of this season is frightening. There will be some damage, with the ProTour certainly stopping, and sponsors leaving. The teams will have less money, and therefore less riders. People will be out of a job, certainly."
Photography
For a thumbnail gallery of these images, click here
Images by Christophe Agnolutto
Christophe Agnolutto now gets more time in the shed tending to not only his own bikes, but those of participants in his cycling camps.
Agnolutto waves and keeps riding in his 'retirement', which in his case sees him acting as a riders' representative and organising cycling camps in the Pyrenees that include several active professionals
Images by AFP Photo
Images by Brecht Decaluwé/Cyclingnews.com