An interview with Chris Froome, November 21, 2008
Froome takes cycling's big step
Chris Froome took one gigantic step this year when he signed for Claudio Corti's Team Barloworld. The Kenya-born rider explained to Cyclingnews' Gregor Brown how he went from racing for a continental team to climbing the mountain passes of the Tour de France with the sports biggest names.
Chris Froome, 23, in the 2008 Tour de France
Photo ©: Roberto Bettini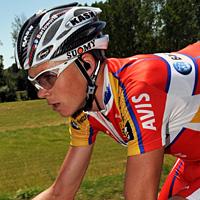 The year started off much like 2007 – in South Africa. Froome took part in the World's View Challenge and the Giro del Capo, but he was racing in the red strip of Team Barloworld. The 2008 season quickly looked different for the 23 year-old when he lined up for the Critérium International, Gent-Wevelgem, Amstel Gold, Flèche Wallonne and Liège-Bastogne-Liège, all within the space of one month.
Kenya
Chris Froome visits Kenya regularly, but has not lived there since he relocated to Johannesburg, South Africa, when he was 14 years old. For better or worse, he is tied to his birth country's cycling federation.
"My parents lived their all their lives; my grandparents moved there from Britain," explained Froome, who now lives near Brescia, Italy.
"I did have a Kenya passport, but resigned it two years ago to ride for Britain. I was born with a British passport; I got a Kenya passport when I was about 18 to represent Kenya in the Commonwealth Games – that was not the way to go."
In May he switched to a British racing licence to have a shot to ride the 2008 Olympics since Kenya did not qualify.
"They have not been helpful at all, it has been really disappointing. I did a lot with Kenyan cycling and to have them to deny me the opportunity to ride in the Olympics that leaves a bit of sour taste in my mouth. ... There is an Olympic rule that says you can't go to the Olympics for another nationality within three years of changing, unless your previous country agrees to let you go."
Corti on Froome
"I saw him last year in some races and I could tell he was a good racer," said Barloworld Team Manager, Claudio Corti.
"This year, he had his ups and downs, but when he was good he was flying. I remember the moment he was there at the base of the [Tour's] Alpe d'Huez with the favourites – he did a great ride."
Corti remarked on Froome's maturity. "He is a serious rider and he has clear ideas. I can tell he wants to say and live here in Italy – he rented a home, registered with the government and has a girlfriend."
He looks forward to seeing his young talent develop. "He is strong in the crono and on the climbs, in theory he is suited for stage races. He still has to improve; he is young."
If all those races were not enough to convince Froome he was in cycling's big league, he got the call to contest the Tour de France. Corti chose the tall, lightly built Froome to be a part of the nine-man team that would take on cycling's most important event.
The ball started rolling last year when Corti rounded out his South Africa-licensed, Italian flavoured team. Froome, who now races with a British licence, was the perfect fit for an international sponsor based in South Africa. Corti signed Froome, whose biggest win was Tour of Japan's stage six, for two years and the path was laid towards Brittany and the start of the Tour de France.
"It has been a big jump for me. The last three years have been a step up," Froome said. We met in Hotel Villa Castiglioni's elegant and grand sitting room at the World Championships in Varese, Italy. Its size dwarfed us – a bit like the cycling world he is growing into.
He had just come off a week's racing in Italy, the country where he makes his home base. "It has been a steady rise. I only really started racing properly when I left school at 18. Each year since then it has been a bit of an upgrade – an even progression."
Tour de France
Chris Froome looking comfortable
Photo ©: Roberto Bettini

"I was told at the beginning of the year that riding the Tour was possible – it was not one-hundred percent. ... I went well in the beginning of the season and I showed potential. I only really knew a couple of weeks before, there were a few of us up for the two spots."
Froome joined the Tour de France team that consisted of Mauricio Soler, Robbie Hunter, John-Lee Augustyn, Félix Rafael Cárdenas, Giampaolo Cheula, Baden Cooke, Moisés Dueñas and Paolo Longo Borghini. It was under pressure to meet last year's results – two stage wins with Hunter and Soler – and recover from a disappointing Giro d'Italia.
The press gave Froome an extra bit of pressure when he arrived in Brest. He was the first Kenyan rider to line up in the 105 year-old race and July 5 – with Kenyan flag on top of his dossard – he rode into history.
"It was a bit of shock getting to the Tour with all the media wanting stories. But it was good publicity to put my name out there in the cycling world," he recalled.
"The last three years have been a step up."
-Froome on his progression
The initial shock wore off and Froome concentrated on race – particularly the Pyrenean and Alpine passes that were approaching. Though he did not light the race on fire, he rode his debut Tour with consistency to finish 84th overall.
"I actually feel very comfortable with the team, I was incredibly lucky to get to ride the Tour in my first year," he said. "I could have not asked for the race to have gone better, I made it though even though I did not make any results. I leant so much in the Tour and I hope to be able to carry it forward and use it in the future.
"How to deal with the press, all the publicity that comes with the Tour, the doping scandal in the team – I had never seen something like that so close and it was quite a shock. To see all the top riders, all together like that, it's has given me a lot of focus and direction for where I need to go for the future.
While Carlos Sastre and Fränk Schleck out-foxed Cadel Evans on the Alpe d'Huez, Froome learnt the tricks of the trade.
"One moment, during the Alpe d'Huez stage, Corti called me back to the car to get more gels. I said, 'No, no. I am fine.' I just had one gel in my pocket. About four kilometres into Alpe d'Huez I blew completely and lost a hell of a lot of time. That hit home how important energy is, that showed me a lesson. He said, 'Why did you not come back? You needed about 10 gels, not one!'"
Froome smiled and revealed that the French passes pulled at his heartstrings despite the hard lesson. "I love the climbs in the Tour. The mountain passes are not like the Italian passes, which are extremely steep, where I start to struggle."
Hard times
Relaxed: Froome on the eve of his first Elite World Championships
Photo ©: Gregor Brown

The struggles began for Froome before the Tour de France left Brest. He lost his mother, one of the supporters of his racing career. If anything, he gained grit and determination that saw him though the three weeks and helped him confront the Tour's hard times.
"I had just come though a difficult stage. My mom passed away five weeks before the Tour; I had gone through a dip there. When I heard that I was going to the Tour it gave me a big motivation.
"It is difficult, but it gave me a lot of motivation and it gave me a lot of comfort. It is something she would have killed to have seen and it made me very happy that I was actually able to fulfil that. ... I had that in mind, thinking 'this is my first Tour and something she would have really wanted to have seen' and I had to stick in there and fight.
The fight came knocking on the team's door July 16 at Hotel Rex in Tarbes. French police searched the room of Froome's teammate, Spaniard Dueñas, and then took the rider away. Authorities announced Dueñas tested positive for EPO eight days prior, on the day of the time trial in Cholet.
World Championship: An experience
This year was the first time for Chris Froome to race in the Elite World Championships. He was not one of the 77 finishers, led by Italy's Alessandro Ballan, but the day was a learning experience.
How was the Worlds for you?
CF: I came off with a lap to go. ... It is my first race out of the Under-23s and it is good experience. I think I got to the 220-kilometre mark and my legs just were 'ufff' and they could not go anymore.
Was it a good representation for Team Great Britain?
CF: Yes. I am happy with it. We did not have anyone up there, but it was a good day in the experience pool. I tried to sit at the front as much as a could and when I blew, I blew – that was it.
Did the finish surprise you?
CF: I watched the last lap on the television. It was not really a surprise, I knew the Italians would really go for it, and that is exactly what they did.
Though they threw out Manuel Beltrán a few days before and Riccardo Riccò came a few days later, Dueñas' case rattled Froome and the Barloworld team.
"It is good how the team held together and stayed through the patch," said Froome.
"It is something she would have killed to have seen."
-Froome on his mother's wish to have her son in the Tour.
The team looked like it could leave the race in those heavy days that became worse when its financial backer said it would not continue. Following the Tour, Corti announced Barloworld would remain through the end of 2009 or until he could find another sponsor.
"Barloworld will stay on for 2009 and help try to find a new sponsor before they go out. I was not worried about the 2009 season, I knew that even if the team collapsed I would be able to find something else going forward."
But Froome understands why the sponsor pulled out. "I think it pushes the message very clearly. It is not just a case of a rider getting banned, but all 20 of your teammates not having a contract for next year and all the staff members – it is a lot more serious offence if you get caught."
Looking ahead
Froome on the famed Alpe d'Huez
Photo ©: Stephen McMahon

"I really enjoy longer and drawn out races like the Grand Tours. I would love to just build my season around the Tour. I am not sure if next year they will invite our team to the Tour – Barloworld did not have a great Giro d'Italia or Tour de France."
Froome will build on the positives and negatives of his first year with the big boys. He hopes to continue to develop as a stage race rider even if he does not get a chance to ride a Grand Tour in 2009.
"It would be good to aim for the general classification or for specific stages. If we don't get into the Tour I will have to aim for some other races. Some week-long stages races, like Giro del Trentino.
"The two strengths that I have are time trialling and climbing, and I prefer longer events – Grand Tours make sense. I obviously have a lot of work to do on my time trialling and climbing to reach that point."
Photography
For a thumbnail gallery of these images, click here
Images by Roberto Bettini/www.bettiniphoto.net
Images by Stephen McMahon/st.mcmahon@gmail.com
Images by Gregor Brown/Cyclingnews.com