Recently on Cyclingnews.com
An interview with Andy Schleck, April 9, 2008
Schleck: Changing focus
Andy Schleck
Andy Schleck
Photo ©: Roberto Bettini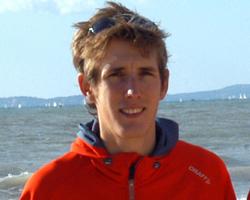 Born: June 10, 1985
Wins:
2007:Giro d'Italia: young rider classification
2006:Sachsen Tour, stages 3 & 5
Tour of Britain: mountains classification
2005:Luxembourg TT Championships
Teams: 2005 - 2008 - Team CSC
On CSC ending its sponsorship
Team CSC recently announced that it would not continue its sponsorship of Riis' team for 2009 and beyond. Schleck remains focused on his job and believes that Riis will have no trouble in finding a new backer for the team.
"I have a contract with Riis Cycling until 2010," he confirmed. "CSC pulled back sponsoring, but first of all I have to thank the sponsor because it has been there for many years. I think if our team does not find a sponsor then there is a big problem in cycling. I am confident. It is strange situation where people are asking you what you are thinking, but I would rather focus my energy on riding and getting results.
2007 Giro d'Italia
Andy Schleck was racing side-by-side with Danilo Di Luca during Tirreno-Adriatico. The Italian is making news in the paper – not for racing, but for the investigation based on controls following the 2007 Giro d'Italia Monte Zoncolan stage. The Italian Olympic Committee (CONI) is trying to serve Di Luca a two-year ban, which could mean the Giro title, would fall into Schleck's hands.
"I have read what they are saying on Cyclingnews. Of course, if he is banned and [CONI] takes the pink jersey from him, then I win, but that is not the way I want to.
"I am happy with what I got: the young rider jersey in my first Giro. Also, for a lot of people I was the heart-felt winner because I was new and it was unexpected. I cannot expect more."
Andy Schleck came of age with a superb performance at the 2007 Giro d'Italia, yet the Luxembourger holds no Grand Tour ambitions for 2008. The 22 year-old told Cyclingnews' Gregor Brown what stars he's shooting for in 2008.
For the 2008 season Andy Schleck has opted to change his focus slightly. Last year he targeted the Giro d'Italia, where he finished second overall and won the young riders competition, but this year he want to show his cards in the Ardennes Classics in April. After that he will take a break before building up to his second major goal of the season, the Olympic road race in Beijing.
"Right now I am building up for Amstel [Gold] and Liège-Bastogne-Liège," he said. "For Amstel I will be up there."
This year will be the first time that Schleck has focused on the tough Ardennes Classics. "Last year, I did Paris-Nice [16th - ed.]. I then went skiing for seven days after Paris-Nice," he said. "Bjarne [Riis] told me to go skiing, to relax and be able to re-focus on the Giro d'Italia.
"I told him I did not go crazy on the downhills, but some times... Anyway, I came back right before Amstel and Liège. I was up there in Liège until the finale, until Saint Nicolas [seven kilometres remaining - ed.]. I felt great, and I hope this year to do differently, to prepare 100 percent for the Classics. Last year, the focus was the Giro, but this year it is 100 percent for the Classics."
"I am older and stronger now, and I don't know where I will end up at the Tour."
-Schleck is unsure about what to expect at the Tour.
Schleck designed his off-season training with the month of April and more specifically, the Amstel Gold (April 20) and Liège-Bastogne-Liège (April 27) in mind. "I have done lots of training; I was away a total of seven weeks for training camps," he explained. "I did an early race in Argentina, San Luis, and the camp in California and then I went home. I took a rest because I needed to clear my head. My first really big race was the Tour du Haut Var. And here, in Tirreno- Adriatico, I got the race rhythm, which is what I was missing. I am where I want to be."
It was Schleck's brother, Fränk, who brought the family's name back to attention of the cycling world with his win in the 2006 edition of the Amstel Gold Race. It had been nearly 35 years since their father, Johnny, was zooming around the European roads with Jan Janssen and Luis Ocaña. This year Andy hopes to emulate his brothers success in the same race.
Giro d'Italia
Schleck rode into the lime light
Photo ©: Roberto Bettini

Schleck had already won two stages in the Sachsen Tour before that day to Santuario Nostra Signora della Guardia in the 2007 Giro, however, it was in the Italian Grand Tour that he gained the respect from the public and CSC, enabling him to gun for two big targets in 2008: the Ardennes and Olympics.
Schleck has decided not to return to Italy this May to defend his maglia bianca in the Giro d'Italia so that he can better concentrate on his season's second target, the Olympics.
"I miss it already," he said of Italy and the Giro. "I found a lot of supporters here in Italy. I don't know, I have the feeling that they kind of like me." During the 2007 Giro, Schleck was interviewed almost daily by Rai's Alessandro De Stefano, which normally included questions about the Italian girls. "Fabian [Cancellara] had taught me some Italian words, and I was having fun," he said with a grin. "Even now, I am not in great shape but I love to race here in Italy."
Tour de France: "Beyond that is the Olympics"
The decision to skip the Giro d'Italia also serves another purpose. It enables him to rest and refocus on the Olympics and will also see him start the Tour de France for the first time.
"Of course, the Tour is a big goal, and beyond that is the Olympics," he explained. "The Olympics road race is perhaps a bigger dream than the Tour, but we will have to see [how the form is] in the Tour. We will have three riders: Kim Kirchen, Fränk and me. It is maybe arrogant to say, but we have three riders that can go for a medal."
In cycling it seems that the Olympics winner gets lost amongst those who win races like the Tour de France and World Championships. But for Schleck the importance of the Olympics is derived from his small country and the event's infrequency. "The Olympics is every four years. I am from Luxembourg, which is a small country, and, it may sound silly, but I am really proud of it. I love my country and I really like to represent it at the world's, as I already I did last year.
"Some people, like when I raced in the USA two years ago, don't even know where Luxembourg is. But it is my home, it is where I am from, and I am proud of that and I want to do good at the Olympics. Once you have an Olympic medal no on can take that away from you."
Racing his first Grand Tour last year in Italy allowed Schleck to judge his abilities, and he believes the Tour is the right choice for 2008 given his Olympic ambitions. "We were discussing last year, should I go for the win in the Giro or should I go to the Tour to help Carlos and Fränk. I still don't know myself. Was I at my best last year at the Giro? I am older and stronger now, and I don't know where I will end up at the Tour.
"The Tour ends up being important for the Olympics, you go there, you do your work and you take it 'easy.' You go there as a domestique. Then I think you can really find good form for the Olympics, and I think Fränk and I have the potential to win the Olympics.
"Who knows, at the Tour, after two weeks, I may find myself up in the overall position and I am killing myself every day, and then I think it might be hard to prepare for the Olympics with that stress in your head. I am not worried about that, if I am in the Tour as a domestique, I can concentrate on the Olympics, but, on the to other hand, if I have a chance to play a role in the overall, then that is perfect as well."
Andy and brother Fränk, both ride for CSC,
Photo ©: Roberto Bettini

Murmers abound that his domestique role might infact be replaced with that of a leadership position and that we could see the other CSC riders backing Schleck like they did in the Giro d'Italia.
"There are always people talking, saying it could be like that," he stated. "I know that I won't be the first one to go back and get water bottles; I will do the first time trial à bloc, for sure, and then in the first mountain stages we will see how it goes.
"Maybe I will find myself back in the same position that I was last year at the Giro. I don't think so, but you never know."
Schleck also feels that he is no longer seen as an unknown commodity in the professional peloton. "Riders like Danilo Di Luca in the Giro, know who I am. Every stage, I rode well, and that is how I got to the top, it was not like [Thomas] Voeckler in the [2004] Tour, when he made the break and got some 20 minutes.
"I don't have a big head, saying 'I am going to finish top 10,' I am going there to see what happens and work as a domestique. It was the same in the Giro as last year. I will no go for the maillot blanc of young rider, the first priority is to win the Tour with Carlos and, maybe, Fränk."
The parcours of La Grande Boucle is favourable to Schleck; The Grand Départ in the cycling-rich region of Brittany, where he raced as an amateur, is well known to him. As well there are noticeably less time trial kilometres.
"There are less time trials, which is good for me. It is really hard, because the first stage is an uphill finish. I know the area there, and it is nasty. I raced in that area as an Under 23 rider." From there the Tour heads south towards the Pyrénées. "When you ride through the Massif Central, that is hard, and you still have the hard climbs to come. Those climbs are not suited for me, but for those guys like Davide Rebellin."
Whoever ends up riding as team captain, CSC will be a strong working unit. Schleck confirmed, "We will have Cancellara, Sastre, Fränk, Stuart O'Grady, Jens Voigt, and the rest I am not sure. All of us are close in the team; we are calling each other at home when the races are not going on."
For more on Schleck read The rise of another Schleck.
Photography
For a thumbnail gallery of these images, click here
Images by Roberto Bettini/www.bettiniphoto.net