An interview with Alessandro Petacchi, April 22, 2008
Doubts and ambitions for both Giro and Tour
He's targeting a return to the Tour de France after a five-year hiatus, but Alessandro Petacchi's participation still hinges on a Court of Arbitration for Sport (CAS) decision over his non-negative doping control from last year's Giro d'Italia. The Italian sprinting star didn't hide his doubts when Cyclingnews' Jean-François Quénet caught up with him at the Presidential Tour of Turkey last week.
Alessandro Petacchi hopes to shine in both the Giro d'Italia and the Tour de France
Photo ©: Jacob Sabine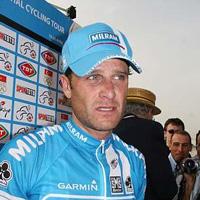 During a week in Turkey, Alessandro Petacchi has seen some beautiful landscapes and listened to the early morning calls of the muezzin calling Muslims to prayer. Not entirely dissimilar surroundings to those of his first professional victory, which came 10 years ago in Mersing, Malaysia at Le Tour de Langkawi. At the time, he wasn't yet a top sprinter, merely the fastest of a four-man breakaway group, and also won the race's King of the Mountains jersey - even after tackling the gruelling climb to Genting Highlands.
Now a confirmed member of cycling's sprinting elite, Petacchi was in Turkey to hone his form for the Giro d'Italia. But it wasn't an easy week for the Italian, who felt sick as a dog on several occasions during the race. On the morning of the final stage, Petacchi found himself awake at 5.00am. He was already coughing badly after winning Stage 6 the day before. "During the night, it got worse," explained the Tuscan prior to the final stage of the newly promoted 2.1 Turkish event. "Before the start of the stage, I decided that I wouldn't sprint today. I've been close to pulling out of the race a few times because I couldn't breathe and I was coughing on my bike", he said afterwards.
"This is the first time in my career that I've got sick twice in a row," he added. "Maybe I didn't take care of myself properly after Milan-San Remo. I don't know. I took antibiotics for one week. I thought I'd be fine after that. But sometimes there are still some germs of sickness remaining in the body. When I came to Turkey, I thought it was over but it wasn't. In fact, the heat has made me worse, I guess. Now my breathing is really short."
"I would like to not think about it at all, but I keep thinking about it and it hurts me."
-Petacchi is anxiously awaiting a CAS decision on his non-negative doping test from last year's Giro d'Italia.
Petacchi started taking antibiotics again on Sunday morning, and hopes to be fit again for his last race before the Giro - the Henninger Turm in Frankfurt on May 1. "I tried to understand and I spoke with some friends who have had this kind of flu three times in a row," he said. "It might be a virus. It's stronger than before. It sucks. I hope the weather will be fine at home and I'll be able to recover."
At the Tour of Turkey, the 34 year-old once again became the rider with the most victories this season. After Tom Boonen and Alberto Contador equalled his tally at Paris-Roubaix and the Vuelta al Pais Vasco respectively, Petacchi took stages one and six in Turkey to make it eight wins for the season so far.
"I've learned to not be emotional about the number of wins per year," he said. "It was my goal to reach 150 in my whole career [that includes criteriums but as far as official races are concerned, he has 138 - ed.]. I think that's a significant number. Winning is never easy. Here in Turkey my train hasn't worked as planned because my team-mates have been forced to chase more than we expected, but I've still managed to make it by myself at the end of the two stages I've won. It might only be the Tour of Turkey, but these wins are valuable for the way I achieved them."
Petacchi's Milram train were forced to do much of the peloton's dirty work,
Photo ©: Jacob Sabine
Petacchi might not be very exuberant when it comes to commenting on his successes, but he can be talkative and even charming when he has something to say about his hard time on the bike. "It's a pity that I've finished this race pretty sick," he said. "Otherwise my sensations are good. My physical condition is even excellent. On Saturday, I didn't have any trouble hanging on to the rhythm of the bunch that was going pretty fast on the hard climb. I just had to let them go towards the end of the climb because I couldn't breathe properly.
"This is not a bad race at all," he said of the Tour of Turkey. "It's a good preparation for the Giro. If the organisers manage to find roads with a better surface, this tour has a great future. The courses are well balanced. The climate is very good here in April and there's nothing bad to say about the hotels. Only the surface of the roads is sometimes stressful. It makes us tired every day. Safety can be improved as we've had to reach some finishing lines with a bit of a kamikaze downhill. But it's a good event, I've enjoyed it."
Now Petacchi has the Giro on his mind. "But I haven't even looked at the course yet," he stated. "I didn't look at the presentation. But I know that the difference with the Tour and the Vuelta is that there are always difficult stages at the beginning of the race and it makes the event very nervous. It's impossible for a sprinter to go to the Giro with an average physical condition, especially with a team time trial to start and climbs on the course very close to the stage finishes."
He may already have 25 Giro stage wins under his belt since 2003, but certainly wouldn't mind a few more this year. "The Giro is of course important for me," he said. "But I have a more important goal for this year, it's the Tour de France where I want to win again." Petacchi hasn't returned to the French event since 2004, when he pulled out prior to the start of Stage 6 after winning four stages.
And despite feeling less than 100 percent,
Photo ©: Tour of Turkey

"Last year I wanted to go back to the Tour," he recalled. "I was feeling better than ever when I exited the Giro. I had a great condition. My impression was that I was going to have a great Tour de France and I was very disappointed to be sidelined at the last minute."
Controversy still lingers over that non-negative doping test from the Giro d'Italia, when the asthma medication Salbutamol was found in Petacchi's sample. The Italian has a medical certificate to use the drug as an asthma control, but anti-doping experts have had differing opinions over the permitted quantity.
After being cleared of any wrongdoing by the Italian cycling federation, the Italian Olympic Committee (CONI) lodged an appeal against the decision, sending Petacchi's case to CAS where a final decision is expected before the end of April. "If they decide to punish me, then all my plans for Giro and Tour will be cancelled," he said. "But no matter what happens there, I'm here at the Tour of Turkey racing normally and doing my job as well as I can. We're waiting. Anything can be expected. I don't want to believe that everything will be fine because my disappointment would be too big if the decision wasn't in my favour. I would like to not think about it at all, but I keep thinking about it and it hurts me."
The CAS decision will have a significant bearing on Petacchi's contract negotiations with his Milram team. "My employers want me to sign for another year or two," he said with satisfaction. "I haven't decided yet how many more seasons I want to do, but it should be at least two or three. Since I broke my knee during the Giro two years ago, I've had ups and downs but I've managed to overcome most of them. As long as I win races, it means I'm still a competitive sprinter and there's no point quitting."
After two stage wins at the Tour of Turkey, it will be all or nothing for Petacchi at the Giro and the Tour this year.