US Women's Cycling Development Program diary
US Women's Cycling Development Program diarist Kathrine Carroll drives the pace in 'Toona"
Photo ©: Mark Zalewski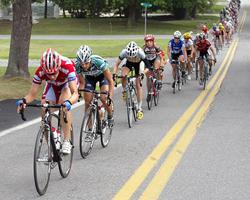 The US Women's Cycling Development program was founded by former pro rider, Michael Engleman, as a way to help promising young women cyclists reach their full potential as athletes. The USWCDP networks current and former women pro riders with up and coming athletes through mentoring and coaching.
With experienced mentors like Olympians Dede Barry and Mari Holden, along with current pros Amber Neben, Tina Pic, Kim Anderson and others, the USWCDP helps young riders like Mara Abbott, Katharine Carroll and many more to race better, find teams and become professional bike racers. The dedicated and well spoken women of this program provide thoughtful, compelling and sometimes hilarious anecdotes of their experiences in this diary.
For further reading about the programme, visit the USWCDP website
December 22, 2008
A team effort
By Amy Dombroski
Announcer Dave Towle and I chat
Photo ©: Brad Kaminski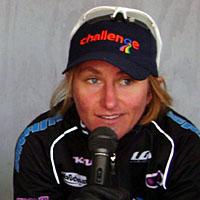 Good friends and sponsors – and sponsors who become good friends – are what make a bike racer's life possible. I can think of no reason that bike racing is different from any other sport, but the community is comprised of such a close-knit group of people who consistently look out for one another. I've been in other sports – ski racing, running, soccer, and perhaps it was because I sucked at all of them, but never have I received so much support and encouragement.
Road racing is a team and an individual sport. While it is the individual who wins the individual title, it is the team who fosters the win. While it is possible to use teamwork in cyclo-cross, I believe it is really an individual sport. Yes, Katerina and Georgia worked together to fend off third place. Yes, Tim and Jeremy worked against the Wells and Treefarms. But in the end, Tim and Georgia want to get to the line before Katerina and Jeremy. Now I'm going to contradict myself…Nationals was entirely a team effort.
This whole season I felt like a pinball, spiraling and rebounding off anyone willing to help. I went to Portland for the final stop of the USGPs and was treated like a queen. Donn Kellogg from Challenge Tires drove my bikes and wheels. Every race up to this point, I flew alone, with two bikes, an extra wheel bag, a duffel, and a backpack. I will admit that it cracked me, hard.
Dave Drumm preps the pit bike.
Photo ©: Brad Kaminski

So for these races, me and my duffel marched right up to United's Premier line and snatched my 6A seat off to Portland. Somehow United got my flight in on time and my bag made it too. Dave Drumm, my mechanic from Webcor and stand-in mechanic for 'cross was waiting in Mabel (his Golf) and we were off to the venue where my bikes were waiting. It was this clockwork all weekend, and while I didn't race particularly well, I wasn't sweating bullets on the start line, worried about how I was going to get home.
A week later and this clockwork continued. Dave drove from Portland to Boulder to pick me up, and then to Kansas for Nationals. Donn again handled the bikes. Michael Engleman coordinated gracious host housing for us with Kip and Andrea LaMunyon. A huge Boulder contingency had come to race and heckle. The best bike race announcers were doing what they do best. The weather decided not to piss on us. All my equipment ran flawlessly. And thanks to good company, I think we were cracking jokes and laughing for 120 hours straight. With all that taken care of, all I did was eat my cold oatmeal and pedal my bike.
I am ecstatic with how my season started and ended. Racing through the flu was a bad idea. Traveling every weekend was a bad idea. But I'll take the wins, I'll take the fifth place elite finish, and I'll hold onto the friends who are my teammates who decided to play a round of Amy-pinball.
Photography
For a thumbnail gallery of these images, click here
Images by Brad Kaminski