US Women's Cycling Development Program diary
US Women's Cycling Development Program diarist Kathrine Carroll drives the pace in 'Toona"
Photo ©: Mark Zalewski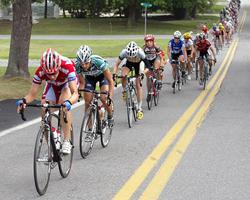 The US Women's Cycling Development program was founded by former pro rider, Michael Engleman, as a way to help promising young women cyclists reach their full potential as athletes. The USWCDP networks current and former women pro riders with up and coming athletes through mentoring and coaching.
With experienced mentors like Olympians Dede Barry and Mari Holden, along with current pros Amber Neben, Tina Pic, Kim Anderson and others, the USWCDP helps young riders like Mara Abbott, Katharine Carroll and many more to race better, find teams and become professional bike racers. The dedicated and well spoken women of this program provide thoughtful, compelling and sometimes hilarious anecdotes of their experiences in this diary.
For further reading about the programme, visit the USWCDP website
December 7, 2008
Mr. Toads wild ride in the Toscana
By Kristin McGrath
McGrath found the pace blistering in her very first European stage race
Photo ©: WomensCycling.net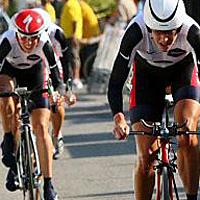 Mr. Toads' wild ride was how Brooke Miller summed up the racing I was about to partake in – my first European stage race, the Giro Della Toscana. While I wasn't sure exactly who Mr. Toad was and what his 'wild ride' consisted of, I grew a little concerned in that I could not dig up a race (in the few race-memories in my mind) that I could explain as Mr. Toad's – or Mr. Anyone's wild ride for that matter. So I mentally prepared myself to expect the unexpected and took a deep breath and then proceeded to almost pee my pants…errr chamois.
After the team time trial the day before our first mass start stage, where I hung onto Kristin Armstrong's wheel for the hardest six minutes and 49 seconds of racing I have ever done, I knew I was in for some racing that consisted of very high power outputs. After Jim Miller (USA director) told me to take the 'I'm a badass' approach to seeing high power outputs, I was actually quite excited to see what numbers stage 2a would bring out of my legs.
So here is what the first five km of racing was like…..sprint, brake, sprint, brake, sprint, brake, sprint…bunny hope the leg of some girl who just crashed, sprint, brake, move up a spot, lose five spots, stop and unclip….neutral start over. Thankfully Kristin had warned me the neutral starts were a special crazy of their own; I couldn't help but wonder what would happen if US neutral starts were like this.
Once racing officially commenced, I found it just like some wild and crazy ride. The streets were narrow, cars randomly peppered the course (on the left hand side) and the Italian word for caution became my best friend in moving through the peloton. I maintained my focus on Kristin's Red and Black Limar helmet for the entire race as she was my peloton partner and being near her would ensure me having good position.
McGrath will get to ride more races next season with the national team of the United States
Photo ©: CJ Farquharson

Having this one focus helped me move through the peloton. At one point it took me five minutes of hard concentration to move up to the front. I was there for just enough time to catch a glimpse of Carmen and Kathryn driving the pace on the front before I once again found myself twenty people back in a matter of seconds.
And so the race went, darting around the peloton of 150 girls, all eager to stay near the front, trying not to hit a car, iron fence, or brick wall, while still doing my best to help the team. By the time I reached the cobbled uphill finish, I was felling a little shell-shocked and yet I was also experiencing feelings of excitement….I had made it through my first European mass-start race intact, both physically and mentally. Now I just had to do it again in stage 2b four hours later and for four more stages.
As the week progressed my brain was starting to fill up with everything I was learning. It felt like I was racing harder and learning more than I had for the entire season combined. Every morning it took a few more cappuccinos to get all my neurons firing, yet every day brought more fun and craziness on my bike. Racing Toscana was a great way to cap off an exciting season of racing. I am looking forward to next year and more 'wild rides'.