US Women's Cycling Development Program diary
US Women's Cycling Development Program diarist Kathrine Carroll drives the pace in 'Toona"
Photo ©: Mark Zalewski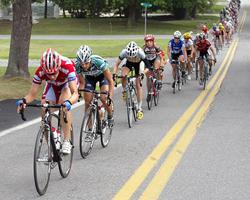 The US Women's Cycling Development program was founded by former pro rider, Michael Engleman, as a way to help promising young women cyclists reach their full potential as athletes. The USWCDP networks current and former women pro riders with up and coming athletes through mentoring and coaching.
With experienced mentors like Olympians Dede Barry and Mari Holden, along with current pros Amber Neben, Tina Pic, Kim Anderson and others, the USWCDP helps young riders like Mara Abbott, Katharine Carroll and many more to race better, find teams and become professional bike racers. The dedicated and well spoken women of this program provide thoughtful, compelling and sometimes hilarious anecdotes of their experiences in this diary.
For further reading about the programme, visit the USWCDP website
November 29, 2008
Reporting from the field
By Rebecca Much
Rebecca Much racing in Chicago
Photo ©: Michael Campbell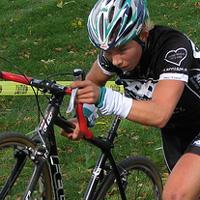 Hi everyone.
I'm reporting from the field. I am weighing over the repercussions I may face when I go to see my chiropractor, Dr Renn, after this endeavour. I've thought it over and am willing to accept the consequences for this once in a lifetime experiment. So here we go...
I am on the trainer in my house and doing my two-hour endurance ride that I have been prescribed. The field is my second story bedroom and I have the fan going, the windows open and the music blaring – my parents must be so proud of me right now! Its dark now and outdoor Chicago is not looking very appealing today...
As you can see, there is not much interesting going on in the field, so instead I will tell you about a couple of the cool things that are going on in other parts of the cycling field here in Chicago...
"The project is doing some incredible stuff."
- Much on World Bicycle Relief.
For starters, last Friday I went to visit my friend Chris Strout over at SRAM headquarters on Kingsbury St. Chris works specifically with the World Bicycle Relief, a project spear headed by the chi-town bike component company. He gave me a tour of SRAM and then sat me down to tell me all about the project. This seriously has to be one of the most simple and extremely effective efforts that are currently trying to help humanity. They have provided over 50,000 specially designed bicycles now to date, helping areas of great need, like tsunami victims in Sri Lanka and HIV caregivers in Zambia.
Check it out and support the cause – the project is doing some incredible stuff right now and I'm excited to start helping them a bit when I have time this winter.
Michael Engleman and Rebecca Much
Photo ©: Rebecca Much
The other cool programme to check out is Yojimbo's Track Cats, a bike team for aspiring inner-city Chicago juniors by providing them with track bikes, training and transportation to the velodrome. We still don't have a velodrome in the city limits so this programme is key to developing future generations of track racers. Some of the most giving people I know in the city run it and I would love to see it grow and help more kids – like myself a few years ago – get into riding.
Well, I'm going to have to sign off and get back to my serious endurance training as my heart rate is going up just thinking about all this neat stuff going on! I'm cooked enough for my liking to keep typing on my computer while riding, so until the next time take care and check out the programmes I mentioned!
Photography
For a thumbnail gallery of these images, click here
Images by Rebecca Much
Images by Michael Campbell