Recently on Cyclingnews.com
US Women's Cycling Development Program diary
US Women's Cycling Development Program diarist Kathrine Carroll drives the pace in 'Toona"
Photo ©: Mark Zalewski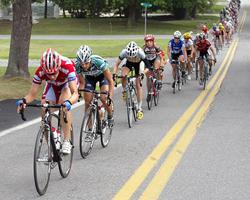 The US Women's Cycling Development program was founded by former pro rider, Michael Engleman, as a way to help promising young women cyclists reach their full potential as athletes. The USWCDP networks current and former women pro riders with up and coming athletes through mentoring and coaching.
With experienced mentors like Olympians Dede Barry and Mari Holden, along with current pros Amber Neben, Tina Pic, Kim Anderson and others, the USWCDP helps young riders like Mara Abbott, Katharine Carroll and many more to race better, find teams and become professional bike racers. The dedicated and well spoken women of this program provide thoughtful, compelling and sometimes hilarious anecdotes of their experiences in this diary.
For further reading about the programme, visit the USWCDP website
September 27, 2008
Trying things for the first time
By Missy Erickson
Happy in the Fort Lewis College colors.
Photo ©: Missy Erickson

My life as a college freshman has so far consisted of driving. Lots of driving and way too much fun. My hometown of Alexandria Minnesota lies in west central Minnesota, exit 103 on the interstate. I departed there the last week of August to begin my new life as a freshman at Fort Lewis College in Durango Colorado. The 21-hour drive wasnít really what I expected. Seeing all my belongings were packed away, I listened to the same Jason Mraz CD for about 10 hours and then I switched it to the radio, which at that time consisted of two radio talk shows, both on things I was not interested in, and I donít really know what they were about...
Of course I was super excited to be coming to college, as any other freshman would be, but I was more excited about racing on the track. Right off the bat I was moving into my dorm, said hi to my roommate, and then proceeded to tell her that I would be leaving the next morning to drive another 6 hours to Colorado Springs to train that the velodrome. The look on her face was a little confused. The only thing she asked me was, "How many bikes are you going to have in this room?" At that point, I only had one. My b-e-a-utiful Trek Madone, which at the moment is hanging from my wall-hanging-bike-rack-gadget that cost me $30 precious dollars. But about two hours later I came back in with another bike. Michael Engleman was gracious enough to lend me an amazing Giant AnthemW mountain bike from the USWCDP...which weíll just say my roommate, Carly, wasnít exactly thrilled about, but I think sheís getting used to it.
So just as I was getting settled in, I was off to the 7 eleven velodrome. I had never been on the track, and honestly I was a little scared, but so excited. Another 6 hours later, I was crashing in a house out of exhaustion from driving. The next morning, I was at the track riding #114...a little baby bike that introduced me to the world of a fixed gear. I will admit that I fell over once. Nobody saw it, or knew about it until now. But soon enough I found myself floating around the apron. And then I was riding around the track! It was amazing! I felt right at home. Our team trained in the morning and then we had an afternoon session where we did 200ís and such, which I really enjoyed.
Life after a week as a college freshman.
Photo ©: Missy Erickson

We came back to the track for another weekend of training, meaning I was once again driving to and from for a total of 12 more hours, but this time we have homework in the picture. I was getting used to the cyclist lifestyle, and I must say I was enjoying it, but then I have my education to account for. Although after that weekend I was beginning to have gag reflexes at the mention of a burrito.
Riding on the track, like I said, felt like home. I competed at the Collegiate Track Nationals in Colorado Springs this last weekend and had so much fun. I was part of the Italian, girls team pursuit, points race, 500, and the match sprint. The points race was something I had never done, actually, I had never done a great majority of these things, but the points race was very surprising. I found out after I was done that people were telling me to do things and I had absolutely no idea. I was mostly concentrated on not crashing and actually riding a fixed gear in a group of people. It was so fast and so fun. Everything was awesome! (Note: Missy finished 5th in the Collegiate National Championships Points Race in just her 5th day on a track)
Iíve realized how blessed I am to be at Fort Lewis and to be part of the cycling team with such great support. I still have support from back home with fellow riders, and itís even greater to have support right where you are from people who really want to help you. People like Rick Crawford, Michael Engleman, and Dave Hagan who are here at Fort Lewis are always willing to help with anything you need. And even at the track with Mark, Des, Clay, Shelby, and Cari. Already I have met so many amazing people who just want to help me achieve my goals.
What we looked like before.
Photo ©: Missy Erickson

There are so many things I need to learn, have to learn, and want to learn. I have dreams and goals, such as the Olympics, and becoming a pro-rider. In my three years of racing Iíve had this goal of being a national champion and every year Iíve worked harder to become that, and I believe that one day I will. Iím willing to do what it takes to get there, and programs like the Fort Lewis Cycling Team and the USWCDP are always willing to help. Iím so excited for what my future holds and I am so thankful for everyone that has helped me.
Now that track season has come to an end, I have increased my experience to 6 days on the track. Iíve got my road bike on the wall and a brand new Giant USWCDP provided MTB sitting next to me. As Michael said, "Itís still clean, you need to get it dirty." So tomorrow we shall have some fun , after class of course. Doing something Iíve never done before....again.
Photography
For a thumbnail gallery of these images, click here
Images by Missy Erickson