US Women's Cycling Development Program diary
US Women's Cycling Development Program diarist Kathrine Carroll drives the pace in 'Toona"
Photo ©: Mark Zalewski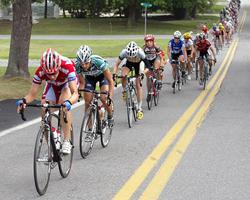 The US Women's Cycling Development program was founded by former pro rider, Michael Engleman, as a way to help promising young women cyclists reach their full potential as athletes. The USWCDP networks current and former women pro riders with up and coming athletes through mentoring and coaching.
With experienced mentors like Olympians Dede Barry and Mari Holden, along with current pros Amber Neben, Tina Pic, Kim Anderson and others, the USWCDP helps young riders like Mara Abbott, Katharine Carroll and many more to race better, find teams and become professional bike racers. The dedicated and well spoken women of this program provide thoughtful, compelling and sometimes hilarious anecdotes of their experiences in this diary.
For further reading about the programme, visit the USWCDP website
September 13, 2008
Butter bike
By Amy Dombroski
Amy Dombroski with her team
Photo ©: USWCDP
I woke up this morning to the pitter-patter of rain on my window – something I've grown accustomed to in the passed few weeks. After crawling out of the goose down feathers of my comforter, I assembled my rain riding attire. Mounting my bike, I was off on a little jaunt, sliding tires around the drenched corners of Boulder's bike paths.
I don't get smarter as I get older, I just get cleverer. I came to my secret passageway to the Reservoir, and saw what looked like a pool of peanut butter. So I rode through it. I can liken it to riding through wet pavement, because I have done that before by mistake. For those of you who haven't been caked with pavement or cement or asphalt, it was just like riding through chunky nut butter. Literally – the same colour, consistency, and you even get rocks to act as the peanut chunks. You move forward for a tire rotation or maybe two, and then come to a hurdling stop. Your wheels and frame become one.
A look at the buttery
Photo ©: Amy Dombroski

I dismounted and stood there in the pouring rain with a hand on my hip looking at my 40 pound buttered bike. To my left was a woman in a sparkling white SUV talking on her cell phone... She gave me a look which read, "look at this nut job covered in nut butter!" Then she quickly hit the lock button on her car, just to ensure I wouldn't come banging on her door and flinging mud all over the place. But this is why I say I'm clever: I hoisted the ridiculously heavy peanut butter and jelly bicycle onto my shoulder and began running toward the beach of the reservoir, Baywatch style. But alas! It's a reservoir, there are boats and water-loving boating people like their boats clean, so they spray the 'dirty water' off with cleaner water, so there are hoses everywhere! I snagged one and jet blasted my bike, but didn't have much affect. The mud was on there like cement, because I know how that is. After 15 minutes of spraying the bike I feel that I am ready to be part of the pit crew in Portland, Oregon.
My trusty rain gear kept me dry inside, but as I cruised passed all the skinny-minis running along the Reservoir, mud was catapulting this way and that. The skinny-minis dodged me like bullets as if they thought I was the sand-woman who emerged from the deathly mucks of the algae-laden reservoir.
I made it home, picked up my bike to rack it and heard water streaming within the tubes of the frame. I guess it's a sign that I should give it a little love before riding it again later today.
Photography
For a thumbnail gallery of these images, click here
Images by USWCDP
Images by Amy Dombroski