Recently on Cyclingnews.com
US Women's Cycling Development Program diary
US Women's Cycling Development Program diarist Kathrine Carroll drives the pace in 'Toona"
Photo ©: Mark Zalewski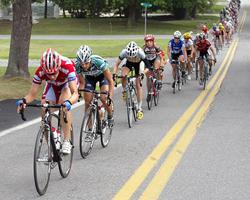 The US Women's Cycling Development program was founded by former pro rider, Michael Engleman, as a way to help promising young women cyclists reach their full potential as athletes. The USWCDP networks current and former women pro riders with up and coming athletes through mentoring and coaching.
With experienced mentors like Olympians Dede Barry and Mari Holden, along with current pros Amber Neben, Tina Pic, Kim Anderson and others, the USWCDP helps young riders like Mara Abbott, Katharine Carroll and many more to race better, find teams and become professional bike racers. The dedicated and well spoken women of this program provide thoughtful, compelling and sometimes hilarious anecdotes of their experiences in this diary.
For further reading about the programme, visit the USWCDP website
August 30, 2008
The unknown makes the podium
By Hilary Billington
Hilary Billington on her way to fifth in the USAC Elite Women's National Championship road race
Photo ©: Mitch Clinton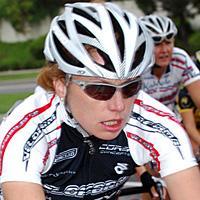 I know I just wrote recently, but I have some exciting race news that I want to share. When I last wrote, I had just finished racing at Cascade. In the past, before I was working with the USWCDP, I would have been at a loss for what to do after a hard week of racing. But this time Michael guided me through a couple of low key recovery weeks with an eye toward sharpening my form for my first USAC Elite Women's National Championship road race. (I didn't race the TT this year, but will next year – after I work more with Michael to better get my head around that discipline).
Portland, Oregon, is a great place to live – and a great place to train and race bikes (if you can handle the rainy winters, but that's why we have fender bikes). In the summer you can race seven days/night a week. While getting ready for Nationals I raced on a Monday and a Tuesday at Portland International Raceway (PIR) with the 1,2,3 men – one night with all ages, and one night with the masters. Both nights were great for finding my leg speed and working with a big group in the wind. A quick thanks to the tireless promoters of those events, Jim Anderson and Jeff Mitchum and all the other great OBRA members.
While my husband Scott packed up the kids to head to our summer vacation in Maine, I packed up my bike for Nationals in CA and packed an extra bag to take to Maine to join the family after the race. Tammra Tanner, the race promoters wife, had arranged a great host house for Mara Abbott and me.
Since this is a racer's diary on a racing website, here is my race report: The race started early, at 7:00. The course was 20.1 miles per lap with two 180 degree turns at either end. There was about a seven-kilometre rise of two to three percent, followed by a downhill back the same stretch of road. This led to a 90 degree right turn 1km from the finish. The final kilometre was mostly up hill, with the last 50 metres leveling off.
There were several moves with a few racers in each move, but I had noticed that girls like Mara, Tina Pic, Brooke Miller, Katharine Carroll, Amber Rais, etc., were still in the main group. I was racing by myself, so I had to be careful where I chose to burn my matches. On the last lap, the pace really picked up. Mara put in a strong move up the two-three percent grade. Then I got in one of several short-lived attacks. As we neared the last 180 degree turn before the run toward the finish, it was single file and I was in about the top 15 riders.
As we went around the turn, I noticed that about 20 of us had separated from the rest of the field. The pace didn't let up after the turn and there wasn't really much time to think about anything except getting to the finish in the best possible position. Mara and Lauren Franges – I think – got a gap on our group, but they were slowly pulled back as we hit the last turn at one kilometre to go. The pace really exploded at that turn. I put my head down and tried to move from wheel to wheel, moving up as far as I could before the finish. I had told myself before that no matter where I was, I was going to ride hard all the way to the line.
The support staff
Photo ©: Scott Powell

When I crossed the line, I finally looked up ahead and took a quick count: one, two, three, four... I was fifth. Really? How cool. I was fifth! Being on the podium with some of the best riders in the USA was incredibly cool.
As great as the race experience was, I realize that off-the-bike there is so much that goes on to support bike races and bike racers. It's easy to be rather self absorbed and miss the efforts of all the race supporters.
My coach, Michael Engleman, was a crazy workaholic all weekend. In my own little microcosm of racing, it was easy to think that Michael was taking care of only me, or only me and Mara. Michael has an impressive ability to make you feel like you are the most important racer to him – even though he has 76 women in his programme. The day before the race he took turns motor-pacing 25 girls! He cleaned my bike, put race wheels on it, overhauled my bottom bracket, and had me ready to race. Oh, there was also the "usual" stuff like feeding me during the actual race. Mind you, Michael didn't confess to all of the work he had done until the evening after the race, when we were sitting around enjoying an adult beverage or two. He would never outwardly let you know how hard he works.
The rest of the crew who put on the races were exactly the same way – they didn't let you know how incredibly hard they work. Jet Tanner of Jet Cycling was the race director, and he put on a series of world-class races. There were TT's and road races for juniors, elite women, and cat one men over the course of five days! Jet and his family really deserve some appreciation. Thanks to Gary Buelow, who opened his house to Mara and I for the long weekend. Not only did he take care of us, he also spent 18 straight hours as the volunteer coordinator at one point during the weekend.
When I stood on that podium, it wasn't just me standing there – it was a huge support staff that make racing possible. It was my husband, my kids, my training buddies (even you, George), Michael, Jet and Tammra, Gary, and all the other race volunteers. We as the racers get the privilege of racing on safe, exciting, well supported racecourses, and if things go well, we get a little glory at the end on the podium. "Glory" is what I look forward to experiencing again.
Photography
For a thumbnail gallery of these images, click here
Images by Scott Powell
Images by Mitch Clinton/www.clintonphoto.com