Recently on Cyclingnews.com
US Women's Cycling Development Program diary
US Women's Cycling Development Program diarist Kathrine Carroll drives the pace in 'Toona"
Photo ©: Mark Zalewski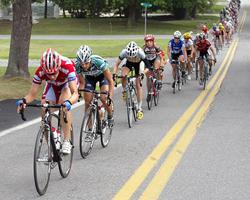 The US Women's Cycling Development program was founded by former pro rider, Michael Engleman, as a way to help promising young women cyclists reach their full potential as athletes. The USWCDP networks current and former women pro riders with up and coming athletes through mentoring and coaching.
With experienced mentors like Olympians Dede Barry and Mari Holden, along with current pros Amber Neben, Tina Pic, Kim Anderson and others, the USWCDP helps young riders like Mara Abbott, Katharine Carroll and many more to race better, find teams and become professional bike racers. The dedicated and well spoken women of this program provide thoughtful, compelling and sometimes hilarious anecdotes of their experiences in this diary.
For further reading about the programme, visit the USWCDP website
July 14, 2008
The first time
By Alison Starnes
Starnes went from cat 4 to Pro races in just three months
Photo ©: Alison Starnes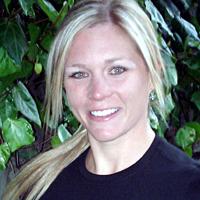 There is a first time for everything. There are first steps, first kisses, first houses, and there are first bicycle races. This past year is stuffed with a great number of "firsts" for me. In the last year, I graduated college, got married, bought my first bike, competed as an elite amateur in triathlon, and ultimately, discovered bike racing.
From the moment I felt the thrill of the competition of attrition, skill, and strength of cycling, I have never looked back. It would be misleading to say that I found bike racing, but more accurately, bike racing found me. It has always been there, yet I never considered giving it a chance. My grandfather, who is currently seventy-seven years old, is still competing in cycling and is decorated with numerous national jerseys in the time trial, including the 2008 Nationals. My father is an expert mountain biker as well as an elite road cyclist. I guess you can say cycling is in my blood, and I am merely following my instinct to race my bike.
To put things in order, my name is Alison Starnes and this is my first year bike racing. Within a period of three months from my first Category 4 bike race, I found myself on the start line for the St. Paul Criterium, which is the first stage of the Nature Valley Grand Prix. I qualified for Nature Valley Grand Prix to join Nature Valley's composite team at my first race as a Cat 2, and now I was having the opportunity to race with the fastest women in the nation.
There is nothing quite like the feeling of just jumping into the fastest professional female peloton in the nation for one of your first Pro1/2 races. To put it bluntly, I was scared. Not only was this my first NRC race, but it was my first time racing with a sold-out field size of 150 participants. The staging area was not really a pleasant experience due to the torrential downpours that were welcoming us to a lovely Minnesota summer evening. This was my inaugural visit to the state of 10,000 lakes, and she was welcoming me with the experience of racing one of my first Pro1/2 Criteriums with another first time—racing in the rain. Due to the poor conditions, I intelligently opted not to use the carbon wheel my boss, Charlie Livermore, generously lent me.
Stage Two, the Cannon Falls Road Race offered many other new experiences, such as an extremely fast pace, which I especially noticed through the feed zones and inevitably suffered from my first full-body cramp, and was unable to stay upright on my bike momentarily. This allowed me to receive yet another learning experience of proper hydration and fueling for a super fast road race in humidity.
Starnes got married and can fully concentrate on bike racing now
Photo ©: Alison Starnes

Bike racing is an art class, and at this point, I am barely making a passing grade. I could not help but watch not only the raw strength and fitness of these women, but also the manner they could handle their bikes with such finesse and expertise at high speeds and tight corners. It is comical to think that this time last year, I did not even know how to ride a road bike. After two stages of constantly getting out positioned and learning the hard way that I would have to fight to stay alive in each race, I was discouraged that I might never fit in with such a talented group of women.
Stage Three, St. Paul Riverfront Time Trial which was a short, fast course, with a one-kilometre finishing power climb. Very few people can call up their grandfather and ask them what gearing you should use in your latest time trial endeavor. My "Grampy", Paul Tetrick, picked the correct cassette to use, what gear to begin the TT in, and which leg to use at the beginning. That man knows how to time trial! Fortunately, thanks to Three Rivers Capital, I was able to use an amazing Look 486 Time Trial bike. This bike was made even faster when the mechanic, Tyson, at Penn Cycles and Fitness let me borrow some super fast Bontrager wheels!
To top off the stage, I decided to improvise my own skinsuit. I work at Endurance Performance Training Centers (www.enduranceptc.com) where I teach innovative science-based cycling classes. When I am instructing the classes, I wear a compression shirt with EPTC shorts. Attempting to be really fast in the time trial, I decided that this outfit was going to be faster then a jersey and bibs. Hence, I "created" my very own skin suit as I tucked in the shirt, and pulled up the shorts, for a pretty hilarious combination. Finally, this was the stage where I did not have to worry about any other factors but myself and a clock. Finishing on the Ohio Street climb with a time of 15:07 was enough to make me the best Amateur/Category 2 rider as well as top 10 overall! After seeing my creative outfit, Kat Carrol did offer to lend me a skinsuit for my next time trial.
Starnes can look back only on a very very short cat 4 career...
Photo ©: Alison Starnes

The rest of Nature Valley offered more lessons of bike handling, positions, and focus, only showing me even more clearly how much I have to learn. Looking at the women around me, I felt like a middle-school student thrown into a hall of doctoral candidates. For the rest of this year, I plan on keeping attending "class" as I become a sponge to those talented ladies around me and absorb all I can.
I have so much to be thankful for, and know that I have been truly blessed to be where I am today. If it was not for my local women's racing team, Dolce Vita Cycling, I would have had no idea that bike racing could be so addictive. Also, being a part of Powerbar Team Elite has given me numerous opportunities to attend races and compete. My loving husband, Zach, and my parents have made so many sacrifices to encourage me and allow me to pursue my dreams.
Thankfully, I work at a place like Endurance who understands my passion for cycling and wants to aid in my progression. In order to maximize my potential, I began working with Michael Engleman from the US Women's Cycling Developmental Program (www.uswcdp.org) as he aids in my overall growth as a young rider. I plan on competing at the Elite Time Trial Nationals while Michael attempts to "throw" me into the deep end, hoping I will find out it is not as deep as I thought!
There truly is a first time for everything, no matter how cliché it seems. As this year continues, I know there will be plenty more "firsts" for me. Even in the midst of all these rapid changes and learning experiences, I know I still have my foundation grounded in my faith, my family, and my friends. Without these constants in my life, the "firsts" might become too overwhelming, but instead, they are merely a chain reaction that has ignited the beginning of a challenging, but fun adventure.
Photography
For a thumbnail gallery of these images, click here
Images by Alison Starnes