Recently on Cyclingnews.com
US Women's Cycling Development Program diary
US Women's Cycling Development Program diarist Kathrine Carroll drives the pace in 'Toona"
Photo ©: Mark Zalewski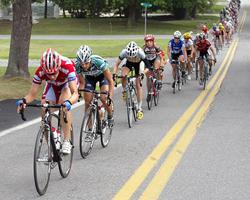 The US Women's Cycling Development program was founded by former pro rider, Michael Engleman, as a way to help promising young women cyclists reach their full potential as athletes. The USWCDP networks current and former women pro riders with up and coming athletes through mentoring and coaching.
With experienced mentors like Olympians Dede Barry and Mari Holden, along with current pros Amber Neben, Tina Pic, Kim Anderson and others, the USWCDP helps young riders like Mara Abbott, Katharine Carroll and many more to race better, find teams and become professional bike racers. The dedicated and well spoken women of this program provide thoughtful, compelling and sometimes hilarious anecdotes of their experiences in this diary.
For further reading about the programme, visit the USWCDP website
May 15, 2008
The cycling community
By Coryn Rivera
Coryn Rivera, 15, takes one of her many wins to date
Photo ©: USWCDP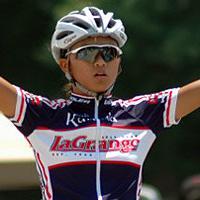 Cycling isn't just a sport; it takes up all 24 hours in a day. Cycling to me is a lifestyle – I train for cycling, I eat for cycling and I live for cycling.
2008 will be my fifth year racing. I currently race for Kahala LaGrange, the most supportive club I've ever been in from Westwood, California, that also won the 2007 Division I Club of the year. I am a category two racer and I proudly hang 16, hard fought, National Champion jerseys and gold medals in my closet.
Being a junior female cyclist sure is tough, but it is loads of fun. Trying to juggle school, homework, house chores, friends, family, training and racing in one day is no easy task. I wake up at 5:50, snooze for 10 minutes then start my day of with a bowl of oatmeal and 10 push-ups and sit-ups and some stretching. After that, I dress up in my school uniform and head to my school, Mater Dei High School.
Currently, when I come home from school I jump into my chamois and ride until sundown. The weekends usually consist of non other than racing. I love racing, the adrenalin rush, the speed, the knowledge you need and everything else that makes racing spectacular. Also, as a junior I have to race with junior gears even in senior races. So that basically means when you're on a fast downhill or an all out sprint in a 1/2 race all the women around me are on their 53/12 while I am spinning out on a 45/12.
But the best part about cycling is the community. At each race I meet new people and learn new things that make my day. The cycling community is just filled with knowledgeable and enthusiastic people, and I can't forget the people that will always somehow put a smile on your face no matter how bad you did at a race.
In the future I plan to take cycling to its fullest potential. Like in 2009-2010 I will be eligible to race in Junior World Championships. And, ultimately, as time goes on I hope to be among the best in the European racing circuit and attend the Olympics. However, I am still ripe and young, my goals are the vision of my future, as for now I will be the 15 year-old girl that I am and I will live life to its fullest and learn as much as I can each and every day.
Photography
For a thumbnail gallery of these images, click here
Images by USWCDP