US Women's Cycling Development Program diary
US Women's Cycling Development Program diarist Kathrine Carroll drives the pace in 'Toona"
Photo ©: Mark Zalewski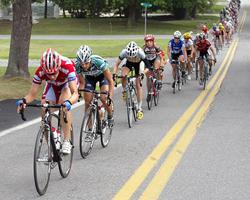 The US Women's Cycling Development program was founded by former pro rider, Michael Engleman, as a way to help promising young women cyclists reach their full potential as athletes. The USWCDP networks current and former women pro riders with up and coming athletes through mentoring and coaching.
With experienced mentors like Olympians Dede Barry and Mari Holden, along with current pros Amber Neben, Tina Pic, Kim Anderson and others, the USWCDP helps young riders like Mara Abbott, Katharine Carroll and many more to race better, find teams and become professional bike racers. The dedicated and well spoken women of this program provide thoughtful, compelling and sometimes hilarious anecdotes of their experiences in this diary.
For further reading about the programme, visit the USWCDP website
April 30, 2008
Editor's Note: At just 10 years of age, Millie Tanner is looking to follow in the footsteps of one of some of her hero's: Amber Neben, Kat Carroll, Dotsie Bausch, Amber Rais, and fellow junior cyclist and training partner, Coryn Rivera. Her goal in cycling is to be the best she can be, compete and be a spokesperson for the sport.
Millie has goals of becoming a State Champion, and then to a National Champion. She loves the sport of cycling and would like to see more women and junior women in the sport. Hopefully, this will inspire more juniors to participate in cycling. Visit www.milliegoat.com to see more about Millie.
Tanner keeps it fun
By Millie Tanner
Looking serious: Millie Tanner
Photo ©: USWCDP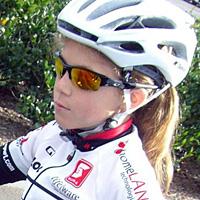 Hi, my name is Millie Tanner. I am a junior cyclist. I race in age group 10-12 for women. I am currently racing in Southern California and part of the Southern California Nevada Cycling Association. The thing I love about cycling is going fast, with the wind in my hair, having fun – Cycling is my passion.
Riding is very special to me. I get my influence from my father, who loves to coach cycling. When I was about seven [years old], I wanted to ride. So that Christmas, I was given my first road bike. The rides started around the block in the neighbourhood to a bigger block outside of the neighbourhood. Then it turned into 15, 20, 25, 30 and even 35 miles! Ever since then, I loved cycling.
Cycling to me is quick turns and the speed, but my favourite thing of all is the personal suffering. That is what keeps me on my bike. Suffering is the greatest thing because of the conflict between you and your bike to keep it going fast. I am thankful for Specialized and all their help.
Millie Tanner, 10, having some fun
Photo ©: USWCDP

My season so far is going great. I am currently ranked first in the SCNCA. It took a lot of work to get there, and I have had a lot of races so far this season. I have six first places, two second places and one third place, in nine races in total so far. This was far better than last year, when I started; I was fighting just to get onto the podium. I have a lot of good competitors, and they are really a bunch of great girls and friends.
It is funny, if you work hard, be patient and make it a lot of fun, you can do really well in this sport. Cycling is so much fun. The tactics and team play are so cool. Attack here, draft there, move over there and cover an attack – geez, too much fun.
In the future, I have goals of being a State Champion, a National Champion, a member of the National Team, a collegiate rider, an Olympian and a professional rider. All of these events will be my motivation for my bike and me.
The California State Crits and the California State Road Races are coming up, and I am excited. I have a lot of great competitors out there, and I cannot wait to see them. For now, these local races are tune-ups before the State Championships. I hope to do well and if not, I will suffer trying.
Photography
For a thumbnail gallery of these images, click here
Images by USWCDP