Recently on Cyclingnews.com
US Women's Cycling Development Program diary
US Women's Cycling Development Program diarist Kathrine Carroll drives the pace in 'Toona"
Photo ©: Mark Zalewski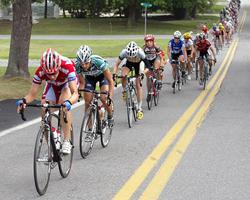 The US Women's Cycling Development program was founded by former pro rider, Michael Engleman, as a way to help promising young women cyclists reach their full potential as athletes. The USWCDP networks current and former women pro riders with up and coming athletes through mentoring and coaching.
With experienced mentors like Olympians Dede Barry and Mari Holden, along with current pros Amber Neben, Tina Pic, Kim Anderson and others, the USWCDP helps young riders like Mara Abbott, Katharine Carroll and many more to race better, find teams and become professional bike racers. The dedicated and well spoken women of this program provide thoughtful, compelling and sometimes hilarious anecdotes of their experiences in this diary.
For further reading about the programme, visit the USWCDP website
April 11, 2008
Heading across the Pond – Phase I
Follow that dream
By Kori Seehafer
Kori Seehafer went into the unknown to pursue the dream of the Olympics
Photo ©: Menikini-Selle Italia-Masters Color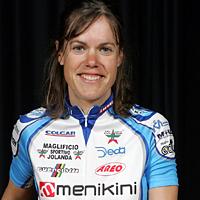 I can't believe I'm finally here. I've been so nervous about planning for this trip that it's never occurred to me what I'm actually doing. I've just arrived in Italy, and it's the first time excitement has hit me; otherwise, I've been filled with trepidation. I've never been without my hubby for more than six weeks. I've never had my finances in limbo. I've never lived abroad. Now, here I am totally in the dark, ready to have new encounters in all facets of my life, all because I want to give myself every chance to try and reach for my dreams – to be in the Olympics. My husband has always given me support in trying to reach my goals, but now I have to stand alone with this choice I've made. It's hard to step away from those I know and love and to follow my dream; especially, when it doesn't include my dear ol' hubby!
This is my first rendezvous with an entire European racing season and with a European team. It's time to see if all the preparation pays off. In October 2007, I signed a contract with a UCI European Team called Menikini-Selle Italia-Masters Color. Since then, there's been no time for any excitement because my life as I know it is changing. This off-season I've been trying to prepare myself for this great change and who knows when I'll digest the reality of my choices. I know it will be a hard road, but I'm ready for the challenges.
In 1998, I graduated from College with a Math Education degree. I started bike racing in college and I really enjoyed it, but I never thought I'd race beyond the local level. I never actually knew what lied beyond the regional level of racing until I read about Tour de Toona and decided to try it for the first time in 1998. Once I saw that scene, I quickly learned that there was a National Circuit beyond local racing, so I wanted to try and get myself to other key National races. My focus was still school and teaching, but in my senior year of college I tried teaching eighth-grade students and it freaked me out. I have no behaviour management skills and it showed. Middle school is such a tumultuous time – a time for great changes – and I had a hard time dealing with this whirlwind. I decided to just race my bike during the summer, and then I'd decide later on if I wanted to enter the school system. I worked part-time (and currently work) for Sylvan Learning Center and began the sport that I now know and love during the 1999 year.
The Menikini-Selle Italia-Masters Color team for 2008
Photo ©: Menikini-Selle Italia-Masters Color

I had to develop for quite a few years because I wasn't naturally gifted in the sport. Then, about four years ago (in 2005), I graduated from the development ranks. I joined a bigger national team called T-Mobile, and this is when I'd say I became a "pro". I still wasn't and am not earning a teacher's salary, but that's when I started racing as a big gun in the U.S. Since then, I have developed my own reputation in the States. I am that engine with heart that always wanted success for the team, but I had been racing a long time domestically, and I was starting to confuse all the years in my head. I knew all the courses, understood what to expect on most of the circuits, and I had analysed the strengths and weaknesses of my opponents. I needed a new change and challenge.
I have always had a desire to race for a European team but felt limited financially, and I'm a creature of habit, so it made it difficult to take that leap of faith. I have a strong desire to race with the best and to be my best. I wanted to race for a European team before I was done cycling, and it's also an Olympic year. If I want to qualify, I need to be in Europe, so it's now or never.
In August 2007, I forced myself to make the effort and to try getting on a European team. This first step occurred when I was at the 2007 Route de France. I was with the U.S. National Team. I had won the opening time trial and had worn the leader's jersey for a few days. I decided that now was a good time to talk to teams. I was nervous to take this step because most European teams appeared grumpy, and team dynamic is so important. I tried to scout out the teams that seemed to be happy. Menikini was one team that laughed a lot and I liked this. Also, my friend used to ride for Zini, the director, and she only had positive things to say about him. Soooo…I passed my resume over, and Walter Zini showed interest. He spoke English to me, but said the team only speaks Italian. Basically, I must learn the language. He was willing to offer an equivalent salary to my USA pay (lots lower in euro but equal when converted), so I thought 'why not? Let's give er a go.' I signed my contract in October, thus completing phase one. The first step towards my European encounter was complete.
Continue to Phase II: Off-season prep.
Photography
For a thumbnail gallery of these images, click here
Images by Menikini-Selle Italia-Masters Color