Recently on Cyclingnews.com
US Women's Cycling Development Program diary
US Women's Cycling Development Program diarist Kathrine Carroll drives the pace in 'Toona"
Photo ©: Mark Zalewski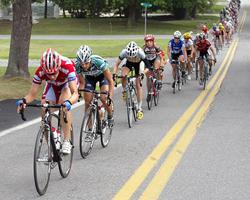 The US Women's Cycling Development program was founded by former pro rider, Michael Engleman, as a way to help promising young women cyclists reach their full potential as athletes. The USWCDP networks current and former women pro riders with up and coming athletes through mentoring and coaching.
With experienced mentors like Olympians Dede Barry and Mari Holden, along with current pros Amber Neben, Tina Pic, Kim Anderson and others, the USWCDP helps young riders like Mara Abbott, Katharine Carroll and many more to race better, find teams and become professional bike racers. The dedicated and well spoken women of this program provide thoughtful, compelling and sometimes hilarious anecdotes of their experiences in this diary.
For further reading about the programme, visit the USWCDP website
March 23, 2008
Going down under
By Amy Dombroski
Not business as usual when your team-mate gets the World Cup leader's jersey
Photo ©: Amy Dombroski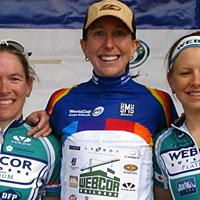 The southern hemisphere provided a World Cup win, a broken collar bone, road rash, and two bruised ribs, stunning scenery and sunny skies, wicked wind, second place in team GC, two broken bikes, baptism by fire, and the anticipation and excitement of the season ahead with an amazing team. Indeed there were a mixture of emotions and some extreme ups and downs.
With a week-long "off-season" after cyclo cross Worlds and training on skate skis in snow encased Durango, I arrived in California about three weeks ago to meet the team. Not knowing what to expect, I was star-struck as 'the' Katheryn Curi Mattis welcomed me with a hug and I nervously shook hands with 'the' Alex Wrubleski and Erinne Willock. After packing the fleet of new bikes (which our stellar mechanic, Dave Drumm, meticulously built), piling green clothes into our duffels, and grabbing a few oranges from Karen's orange tree, we were on our way to the land down under.
Landing in Melbourne to a cold and drizzly morning, we all felt uneasy about the lack of warm weather clothes we had packed. However, on the ride to Geelong the clouds dissipated and left us with a dry and sunny two weeks. The day after our arrival, the Geelong Tour started with a morning time trial. The jet lag made my legs feel like a $1-bag of horse poo being sold on the side of the road. A couple hours and a Long Black coffee later, the circuit race was underway. It was a beautiful circuit along the ocean, though pancake flat and extremely windy. The sprinters were licking their chops. Welcome to survival – my mentality for the next seven days of racing. The next day was another circuit race outside of Geelong, and even more beautiful and more windy. It was a fun race, however Christine was caught in a crash in the wind and went down hard, taking the impact on her ribs and helmet. Those Bell helmets rock.
A day off and then the World Cup. From what I was told, it was an active race. I was busy getting dropped, chasing back on, getting dropped, chasing, then really getting dropped. Erinne was in a break for a while and just as that came back, Cervelo's Emma Rickards attacked in the feed zone, and Katheryn was quick to jump. The two of them stayed off for the remaining 75k and it came down to cat and mouse in the end. Katheryn executed a beautiful win – perfection to the eye. Erinne and Alex set Gina up for a ninth place pack finish, and Christine had more bad luck with a flat with five kilometres to go.
Dombroski's legs felt wobbly due to the jet lag
Photo ©: Amy Dombroski

Then we were in New Zealand and lining up for the criterium in Lower Hutt, a couple of kilometers from the hotel. After this crit, there were three days of road races and a conclusion day of a time trial and criterium. By the third day Erinne was sitting pretty in fourth place in the general classification. The next day was a circuit along the water in Wellington. Gina was involved in a nasty crash with about two kilometres to go and was lucky to escape with road rash and a bruised rib. Fortunately her bike and helmet took the blow of the crash.
Christine, Alex, and Erinne all rode fast time trials, finishing in the top 15. Erinne's pulled her up to third in GC. The wind was howling like a banshee; enough to take Katheryn's front wheel out from under her. Fresh off a World Cup win, Katheryn now has a broken collar bone. The Tour of New Zealand ended as we left the streets of Wellington second place in Team GC with two riders down and Erinne taking third overall.
Now slightly demoralized and utterly worked over from falling head over teacup into my first international road racing experience, I am in California again trying to recover from the last two weeks of butt-kicking I received.
Photography
For a thumbnail gallery of these images, click here
Images by Amy Dombroski / USWCDP