US Women's Cycling Development Program diary
US Women's Cycling Development Program diarist Kathrine Carroll drives the pace in 'Toona"
Photo ©: Mark Zalewski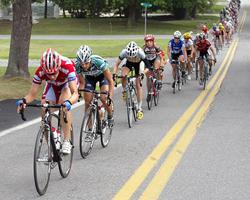 The US Women's Cycling Development program was founded by former pro rider, Michael Engleman, as a way to help promising young women cyclists reach their full potential as athletes. The USWCDP networks current and former women pro riders with up and coming athletes through mentoring and coaching.
With experienced mentors like Olympians Dede Barry and Mari Holden, along with current pros Amber Neben, Tina Pic, Kim Anderson and others, the USWCDP helps young riders like Mara Abbott, Katharine Carroll and many more to race better, find teams and become professional bike racers. The dedicated and well spoken women of this program provide thoughtful, compelling and sometimes hilarious anecdotes of their experiences in this diary.
For further reading about the programme, visit the USWCDP website
March 9, 2008
Kids on bikes
By Kris Keim
Kris Keim all smiles when on the bike – even when starting out on three wheels
Photo ©: Kris Keim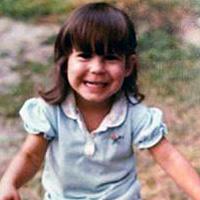 I'm sure if we all think back to our childhood we can remember getting our first bike for Christmas or maybe our birthday. My mom recently found a picture of me on my first bike "riding" or more like being pushed by my dad. Going through all the old photos made me realise that a majority of my childhood was spent riding around Newberry, South Carolina, on my pink beach cruiser bike!
I can still remember those hot summer days riding bikes with my friends all over town (getting into tons of mischief), but not having a care in the world except for where my legs would pedal me next. It's crazy to think that I actually did spend a majority of my earlier years riding bikes for hours on end never considering the thought that my passion for riding could one day lead to a career in competitive cycling.
Off to an early start
Photo ©: Kris Keim

I still consider myself a novice to the sport especially the process of training, but there's one thing I have started to learn more about myself this training season and that is that I am most happy when I'm on a bike. Riding, training and racing inspire me to be the best I can be and whenever I'm sad or need to clear my head the first thing I'll do is strap on my cycling shoes and hit the pedals for a spin. There's this pure joy that I get when I'm climbing, even if my legs are hurting or I'm tired there's this rush of energy and accomplishment that runs through me and I thrive off that feeling. Having the opportunity to ride/train with friends is also sweet, we all get to share our love for riding and it makes the four- to five-hour training rides fly by too.
The other day I was riding through the suburbs of Boulder and came across a group of kids on their bikes. They noticed me rolling up and I could tell they were checking to see if they could "race" me to the end of the street. I smiled at them and got down in my drops and off they took... their little legs spinning out of control trying to beat me. Of course, I acted like I was sprinting my heart out and let the group of kids take the win, the best part was that they were all wearing their helmets too!
As I turned the corner I saw the one little girl had a huge grin on her face and I couldn't help but think that one day she could be a member of the US Women's Cycling Development Program (USWCP) and a national cycling champion.
The past few weekends have offered Boulder some amazing weather for riding and I've been astonished to see 100's of people riding their bikes. Heck, some in groups of 20-30 or cranking it solo style on nine speeds up some tough canyon climbs. My favourite siting was of this guy trying to keep up with his wife the other day... she was totally dropping him up Lee Hill! I rode past her and said, "you go girl, don't let him catch you." Having the opportunity to share my passion for riding through the USWCDP is something I'm truly honoured to do because someday that little girl I saw might need our support in order to reach her full athletic potential.
Photography
For a thumbnail gallery of these images, click here
Images by Kris Keim / USWCDP