Recently on Cyclingnews.com
US Women's Cycling Development Program diary
US Women's Cycling Development Program diarist Kathrine Carroll drives the pace in 'Toona"
Photo ©: Mark Zalewski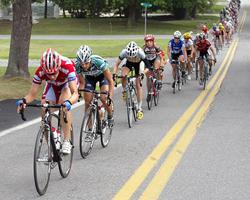 The US Women's Cycling Development program was founded by former pro rider, Michael Engleman, as a way to help promising young women cyclists reach their full potential as athletes. The USWCDP networks current and former women pro riders with up and coming athletes through mentoring and coaching.
With experienced mentors like Olympians Dede Barry and Mari Holden, along with current pros Amber Neben, Tina Pic, Kim Anderson and others, the USWCDP helps young riders like Mara Abbott, Katharine Carroll and many more to race better, find teams and become professional bike racers. The dedicated and well spoken women of this program provide thoughtful, compelling and sometimes hilarious anecdotes of their experiences in this diary.
For further reading about the programme, visit the USWCDP website
February 6, 2008
The Worlds experience
By Amy Dombroski

On a group-training ride back in October, a friend asked me what my cyclo-cross schedule was looking like for the coming season. I mentioned that I was interested in travelling to more UCI (International Cycling Union - ed.) races to accumulate points for a better start position at nationals. My friend asked "are you on the quest for Italy?" There was a silence. "Ahh, huh?" I said. He replied with a laugh, "Cyclo-cross Worlds, they're in Italy this year. Is that something you're aiming for?" Almost veering off the side of the road and falling into a ditch, I snickered and choked out "right..."
Pre-riding the World Championships parcours
Photo ©: Amy Dombroski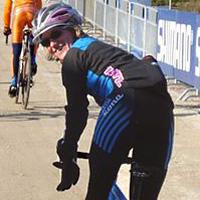 A couple days later I received an e-mail from Alex, the Velo Bella - Kona team manager. Attached was a list of every UCI race for the 2007-2008 season, including at the bottom, Worlds, in Treviso, Italy. After putting a checkmark next to my intended races – the USGP in Portland, the UCI Boulder and Redline Cups, Colorado State Championships in Lyons and Nationals in Kansas – I paused briefly and shifted my eyes to the bottom. Ahh heck, it can't hurt to put a checkmark beside the World Championships, right?
After inking the checkmark in beside Worlds, I had put the idea of going to Italy to race my bicycle out of mind. Well, the season flew by and every weekend of racing was better and better. Somehow, this far-fetched and laughable surreal thought became a reality which became real through the support of family, friends and sponsors.
It's not all fun
Photo ©: Amy Dombroski

Begging for a means to help me with the trip, Michael Engleman contacted Genuine Scooters, a sponsor and advocate of the United States Women's Cycling Development Program. Without hesitation Genuine donated a scooter which Tom Danielson bought to pay for the week at Worlds. Alex Burgess and the Velo Bella - Kona club joining forces to secure a plane ticket and covered the pre-Worlds camp in Izegem and the Hoogerheide World Cup. My dad's business, Dombroski's Tree Farm and Brian Long, a friend who runs First Movers Advantage, provided me with some pocket money, which ended up covering the "excess baggage fee." Truly this trip never would have happened without the generous support of friends, family and sponsors.
We arrived in Izegem, Belgium, on Friday, January 18, to a fresh bowl of soup which Els had prepared. We spun around Belgium that day and the next, and then drove to Hoogerheide, Holland, for the World Cup on the 20th. After shooting down a 100mg caffeinated Clif gel and guzzling a Go Fast, I caught myself yawning on the start line; my body was still asleep and not stoked to wake up. The start was fast and furious. The ladies were aggressive, but I was expecting that and gave back what I received.
The course was a real power-suck, a slog in the peanut butter mud. There were downhill sections where I was out of the saddle, in my easiest gear, pedalling like a banshee and hardly moving forward. The demoralizing course woke me up, and the next few days were spent tooling around Belgium in search of waffles and chocolate croissants.
Team USA
Photo ©: Amy Dombroski

Then the countdown began. We met up with the rest of the Worlds Team – team-mates, mechanics, soigneurs - and boarded a rickety plane to Treviso. We were greeted with a plate of salad, a portion of lasagne bigger than my head, and some other meaty dish to which we said "No, no, full, finito!!" The next day we all cruised over to the course to pre-ride. There were already spectators here and there along the course, three days prior to the race. I was extremely happy with the course, as it was comparable to Colorado: dry and fast. However, every day was different, as more people rode it, turning grass into mud, then to frozen ruts over-night.
Hoogerheide World Cup, where the 2009 Worlds will be held
Photo ©: Amy Dombroski

Finally, it was race day. Representing the USA was amazing, as the herds of super-fans treated us like celebrities. Instead of the placid yawn of Hoogerheide, I couldn't wipe the crazed and enormous grin off my face. I kept pinching my arm harder and harder to confirm that I was really there. It wasn't until about three minutes prior to start, as I was receiving my third-to-last call-up that I realized my heart was beating so hard that I was busting out of my skinsuit.
My legs were trembling such that I couldn't get into my pedals. My hands were shaking so that Fox had to unzip my jacket for me. And did I miss someone shoving a Shot-put down my throat? In the intense silence of the roaring cheers, all this vanished as the 40 women thundered off for 45 minutes of lung-sucking pain.
I didn't have the race of my life. I didn't feel that extra pop in my legs. I didn't nail every section of the course. I didn't change my bike smoothly or... enough. Nevertheless, I didn't leave anything out on the course. I crushed every pavement section, standing up and hammering out of the saddle. I fought and concentrated. There were things I could have done differently in the month after nationals. And I had an incredible learning experience and the time of my life, and there's not much more to ask for than that.
I guess I am on the quest for Hoogerheide now.
Photography
For a thumbnail gallery of these images, click here
Images by Amy Dombroski / USWCDP