Recently on Cyclingnews.com
US Women's Cycling Development Program diary
US Women's Cycling Development Program diarist Kathrine Carroll drives the pace in 'Toona"
Photo ©: Mark Zalewski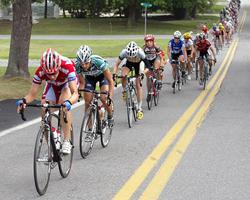 The US Women's Cycling Development program was founded by former pro rider, Michael Engleman, as a way to help promising young women cyclists reach their full potential as athletes. The USWCDP networks current and former women pro riders with up and coming athletes through mentoring and coaching.
With experienced mentors like Olympians Dede Barry and Mari Holden, along with current pros Amber Neben, Tina Pic, Kim Anderson and others, the USWCDP helps young riders like Mara Abbott, Katharine Carroll and many more to race better, find teams and become professional bike racers. The dedicated and well spoken women of this program provide thoughtful, compelling and sometimes hilarious anecdotes of their experiences in this diary.
For further reading about the programme, visit the USWCDP website
January 16, 2008
Keeping training interesting with alligators
By Jacquelyn Crowell

A relaxed day of riding
Photo ©: Jacquelyn Crowell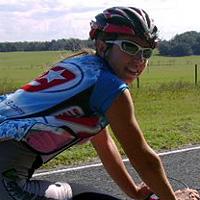 Will an alligator attack you if you ride past it on your bike? I live in Florida, the alligator capital of the universe, and spend many lonely hours riding down small roads in the middle of nowhere, so it's almost inevitable that I know the answer to this age-old question. In fact, I'm sure my fellow students at the University of Florida (UF) would think it strange if I didn't. Why? Because in addition to the alligators I see as I ride through Florida's swamplands, we have several alligators in the lakes on campus.
UF is currently in the middle of winter break. For most students, it's a time to visit with family, hang out with old friends and just relax. Although I'm definitely not a typical college student, I still manage to have time for traditional things. Last Saturday, my family planned a little trip to my grandparents' house in Melbourne, Florida. I had to do five hours that day, so, instead of missing the trip, I left the house on my bike just after sunrise and headed East across Florida. I brought the essentials in my jersey pockets: food, a compass, a map and my iPod. Along the way, I made friends with some motorcyclists and saw lots of wildlife (yes, including several alligators). As usual, the alligators just stayed in their spots. I have typed in 'max speed of alligator on land' into Google just to make sure I'd be able to out-sprint one if necessary. I made it to my grandparents' house with a ride time of 5:22 and then ate everything they put in front of me.
The week after Christmas was the longest training week I've ever done. I rode everywhere there is to ride in Orlando, and even found some new routes that I didn't know existed. I listened to my usual Podcasts and snacked on food, even when I wasn't hungry, just to give myself something to do. Recently, I've taken to purposely getting myself lost (how I find new routes) on my long rides so that my mind is occupied by figuring out how to get home instead of how much my butt hurts. I've also started making a point of riding to places. It's much more satisfying to finish and be able to say "I rode to ____ today" instead of "I rode around for ____ hours."
Creating mental pictures for training
Photo ©: Jacquelyn Crowell

I learned that, although I've been cycling for several years and I talk about it all the time, my non-cyclist friends have never quite understood what I do. "You rode to where?" they ask in astonishment.
"To Melbourne," I respond, and their answer is usually something similar to "but that's so... far!"
On the longer days, I try to meet up with Amanda, my training partner and roommate at UF. They say that mental pictures are a great way to motivate yourself and help you attain your goals. When I need motivation, I imagine a 40mph [64.4km/h] sprint in which Laura Van Guilder's wheel is four inches behind mine. When that fails, Amanda is usually there to keep me from slacking off.
I'm in the middle of a rest week right now. For the first time in a long time, I sat down in front of the TV and let myself relax. I'm going camping and hiking with some friends on Friday in order to take advantage of this rest week (probably not the best rest in my coach's eyes). But this break is so short, and I don't want to miss out on the fun. Both classes and the racing season start up again soon, and I'll have plenty of time to be stressed out. I'm not planning on travelling much in the next couple months, but be sure to look for me in some of the upcoming Florida and Georgia races. I'll keep you updated on my training and racing. Oh, and if an alligator ever does come after me while I'm riding, I'll be sure to let you know.
Photography
For a thumbnail gallery of these images, click here
Images by Jacquelyn Crowell