US Women's Cycling Development Program diary
US Women's Cycling Development Program diarist Kathrine Carroll drives the pace in 'Toona"
Photo ©: Mark Zalewski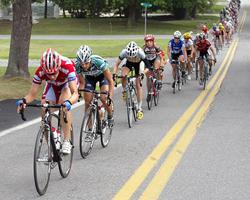 The US Women's Cycling Development program was founded by former pro rider, Michael Engleman, as a way to help promising young women cyclists reach their full potential as athletes. The USWCDP networks current and former women pro riders with up and coming athletes through mentoring and coaching.
With experienced mentors like Olympians Dede Barry and Mari Holden, along with current pros Amber Neben, Tina Pic, Kim Anderson and others, the USWCDP helps young riders like Mara Abbott, Katharine Carroll and many more to race better, find teams and become professional bike racers. The dedicated and well spoken women of this program provide thoughtful, compelling and sometimes hilarious anecdotes of their experiences in this diary.
For further reading about the programme, visit the USWCDP website
January 12, 2008
Rekindling the sparkle
By Mara Abbott
Boulder, Colorado
Photo ©: Mara Abbott

I came back to Boulder because I lost my sparkle. Technically, I came back because I wanted to spend Christmas with my family, but I also came back because after all of the changes and unbalancing of life in the last semester, I felt like I was forgetting how to smile at the little things and that I wasn't honoring my personal commitment to 24-7 happiness. I felt scared and really unsure of myself, and I wanted to come to the place where I felt safe and the most at home. It was time to return to Colorado.
The first ride I went on when I got back to Boulder for Christmas was with Kris Keim, and she therefore got to hear me make an incredibly pretentious statement. As she is our resident USWCDP Southern Belle, I decided to treat her to my interpretation of a quote by Gerard O'Hara in Gone With the Wind. How did it feel to be home?
I exclaimed, "Colorado! It's the only thing worth fightin' for, worth livin' for, worth dyin' for!" Now, in the text Gerard was talking about land in general but like there was for Scarlett, in my life there is the need to specify. Rhett describes Scarlett's attachment to her plantation, Tara, by saying "sometimes I think she's like the giant Antaeus who became stronger each time he touched Mother Earth. It doesn't do for Scarlett to stay away too long from the patch of red mud she loves". Patch of red mud… Rocky Mountains…? I think it just gets better and better each time I return.
Mara and her favorite teddy bear
Photo ©: Mara Abbott

A lot of cyclists come to Boulder for the amazing training, which it definitely has. But for me, Boulder is not only a fabulous place to train. It is my home–it is where my family is there to take care of me when I need it, where my old swim team is there for when I am feeling nostalgic, and where the mountains and atmosphere are omnipresent.
I have this stuffed bear that my parents gave me for the Christmas when I was one year-old. As a source of comfort and luck, "Snuggly Bear" (as he has always been known) has traveled with me to every single race this year. Appalled either by the quantity of dirt that he had accumulated in various overhead airline compartments, or perhaps by the fact that I had failed to notice the grime, one day while I was riding my mom took it upon herself to not only wash, but blow dry my faithful companion. If that doesn't make you feel warm and fuzzy, I don't know what can.
Then between family and riding in the mountains, I found another way to hit "reset" on myself, although the original motives may in fact have been a bit skewed. The problem was that at our first High Road team camp, there was a strength and flexibility test, and I not only failed flexibility I was the only one to do so. My ego was at stake and clearly something had to be done. So with Christmas money from the grandparents, I joined Core Power Yoga, a chain that has a branch within walking distance from my parents' house.
Great training roads…
Photo ©: Mara Abbott

And then I fell in love. I have attended yoga class 23 times in the last 22 days, and it not only does it help with spiritual centering, just like the yogis claim, but with the strength and flexibility I am gaining I have felt more strong and comfortable on my bicycle in the last three weeks than EVER before. Completely sold. Completely addicted. Because when an instructor challenged us to play around during a recent class and I found myself smiling for no particular reason, I realized I had achieved my goal… the sparkle was coming back.
The one thing that was spoiling my Boulder Bliss, however, was the little part of me that looked to next semester and knew that I had over-committed myself. I hadn't had the will-power or desire to say "no" to any of the cycling opportunities that had come my way, and had thus set myself up to miss 4.5 weeks of school. Out of 15. Not the recipe for academic excellence. Or, perhaps more importantly, not a good use of college tuition money. And not a lot of fun. So when my mom asked me if I was sure that I was committed to school this semester, the answer was… no. And this realization led me to make what feels like perhaps the most bizarre decision that I have ever made. Whitman, ever accommodating, is letting me finish my remaining nine credits remotely at CU.
Which is in Boulder. COLORADO. I am coming home!!
For a thumbnail gallery of these images, click here
Images by Mara Abbott