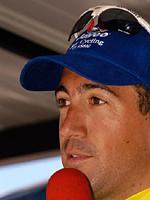 Photo: © Shane Goss
Moving on up: The Trent Wilson Journal 2008
After four years as a pro in Europe, "Willo" is racing in the USA for Jittery Joe's. He will continue in his second year with the the Athens, Georgia-based team, in a leadership role. It will no doubt provide exciting times for the likeable boy from Sydney's west.
Trent also has his own web site at www.trentwilson78.com where you can find out even more about this Sydney rider.
May 8, 2008
Georgia is gone
The DS and me in the 2008 Tour de Georgia
Photo ©: Trent Wilson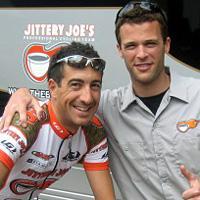 G'day,
Tour of Georgia is GONE! Its over for another year and as always it was a great race, in many ways.
I went into the tour with mixed feelings. I knew I had done the training to go well but the form just wasn't there in the races the month previous. I decided I would ride for stage results so I came into the first three days of the tour going bananas to get into the main break of the day. Everyday I made at least a few moves that looked like they were gone and another few that looked dangerous, but of course missed the move of the day every time.
Day one: I was away with two early break specialists Eric Wolberg and Mike Sayers gaining 40 seconds before the break of the day decided to go. It came down to a wild bunch kick though after a hectic day in the wind.
Day two: I gained 50 seconds solo before getting swallowed up, luckily as it was a block headwind and wasn't keen to be out there solo all day. It was once again a bunch kick and once again hectic. This time though there was a crash bringing down Cody.
Day 3: I got a decent gap with Mike Creed and Mike Lang before getting caught and later made another move including Hilton Clarke, O'Bee and others that never got away. I was definitely getting frustrated. It came down to a bunch kick again. We got Cantwell up for a top ten in the bunch kick that was run around a cool but very hard finishing circuit.
Good robes on Tour de Georgia.
Photo ©: Trent Wilson

In the team time trial, we didn't set the best time and didn't ride to our full potential but it happens. I personally though felt incredible and decided to change tactics and ride for the finale the following day. I felt the long hilly stage with the hard finish would suit me. I made the finish with the front group, but royally stuffed the finish. I finished 10th, but I was filthy at myself. Opportunities don't pop up like that everyday for a non-specialist like me.
On the Brasstown Bald stage I was tossing up whether to go in the break or sit back. I decided to sit back and Neil Shirley went for the break. That he did and he made the move collecting the most aggressive jersey along the way. I had an okay climb to the top of Brasstown finishing 22nd.
The final day gave us our first bit of bad weather in the Atlanta circuit race. It dried out by the finish and it was a bunch kick again, just! The main break of the day got caught in the closing kilometres. We had Jared up there flying the flag.
Now, I am back in Nashville relaxing and spending time with Ali. The first major goal of the season is over so I've had a pretty easy week on the bike. I even got out for a round of golf, the first for the USA season. Wasn't hitting em' too bad actually!
Next up is few local derbies before my next major goal of the year, Philly week and Tour de Beauce. The next few weeks will be a big build up of big kilometres so I'll be going well by then. Think we're going to recruit Sulli up here for a few weeks to help pump them out.
Cheers Willo
Photography
For a thumbnail gallery of these images, click here
Images by Trent Wilson