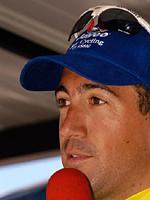 Photo: © Shane Goss
Moving on up: The Trent Wilson Journal 2008
After four years as a pro in Europe, "Willo" is racing in the USA for Jittery Joe's. He will continue in his second year with the the Athens, Georgia-based team, in a leadership role. It will no doubt provide exciting times for the likeable boy from Sydney's west.
Trent also has his own web site at www.trentwilson78.com where you can find out even more about this Sydney rider.
April 24, 2008
Anything but beer and skittles
G'day,
Getting some fuel
Photo ©: Trent Wilson

Tour de Georgia is upon us, six weeks in the states have flown by, we have a few races under our belt and the team's biggest goal of the year is only a few days away.
After training camp I had a few days to settle back into Nashville before heading west to Califonia. Out in Cali, we had the first two races of the year. These races were very important seeing they were the only two races before Tour de Georgia. They had to be used as good prep and for a few results where possible.
I thought I would struggle at San Dimas, being the first hit out of the year, and go well at Redlands. It turned out to be the opposite way around. I surprised myself in the 5k uphill time trial in San Dimas. The biggest effort I'd done previous was get out of bed. It had all been long miles on the bike. I ran twelfth, which was far from disgraceful. In the road race I rode aggressive, making a few breaks, and eventually making the major break, only getting caught 2k from the line. The tour finished with a crit, which was pretty much a formality, well for everyone but Rock racing that lost the tour by one second.
The week between San Dimas and Redlands I felt like I was stuck to the road, which is how I felt pretty much the entire tour. It's not the Redlands I expected personally, the legs just weren't there. Got to give a shout out to Big Ev Elkin, who ran fourth in the last road race of the tour. It's a solid race with a hard climb every lap and the big fella (now a lot leaner) got around in the front group of 20 to just miss a podium, with Shirls finishing sixth just behind him.
Warming up for the time trial.
Photo ©: Trent Wilson

Since California it's been good to really get to settle into America and stay at home in Nashie for a while before Georgia. I have had the chance to relax, train properly and get into a routine. The weather though, has had no routine, varying between 7 and 28 degrees at will. One day you're wearing all your kit, and then the next day you're getting a sun tan.
I did head two hours south last weekend though for a local derby. I stayed with my "now good mates" Jamie and Desiree Pillsbury. These guys are cool! I had never met them before and they willingly opened their door to me and Sulli. We had an absolute ball hangin' with them last week. The race itself was a good hit out for Georgia, and that's about it. There was a TT, a road race and a crit but it was pretty much controlled by Toshiba who had seven riders and weren't too keen on riding with anyone with an orange jersey on.
Speaking of Sulli (Ryan that is), you know he's Sean Sullivan's brother don't you? You know they look so alike it's not funny? They even talk the same. Well anyway, after two beers I even called him Sean. I think Ryan will get over everyone thinking he is Sean. So from now on I'm calling Ryan "brother of Sean". He loves it!
Lastly, just to let everyone know I haven't had time to even play golf, plus the greens in Nashville aren't really playable due to the weather at the moment. A lot of people think all I do is cook barbie's and drink beer, I just let you guys know about the cool stuff. The month has definitely been anything but "beer and skittles".
Cheers,
Willo