Diarist Amber Rais
Photo ©: David Pierce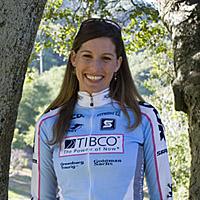 The Amber Rais diary 2008
Amber Rais made a name for herself during her second season of racing at the professional level for Webcor Builders in 2007. She heads into 2008 with a new team, Team Tibco, and new goals. A former collegiate swimmer, Rais found her passion in bike racing during graduate school, where she earned a Masters degree in Earth Systems.
Throughout the season, Amber will give an up & comer's perspective on racing, as well as some suggestions for becoming more environmentally conscious with her 'Blue Planet Tips'.
Giro Toscana
A little out of breath after winning stage 6 at the Cascade Cycling Classic
Photo ©: Kurt Jambretz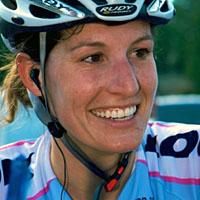 My season ended with a surprise trip to Italy. According to my race calendar, I had originally been slated to finish my race season with the Tour of Missouri Women's Criterium in early September, which would have meant nearly a full month of training without racing before I could take some time off in October. I had mentally prepared myself for this eventuality when an opportunity arose to race the Giro Toscana in Italy with the National Team. Of course I jumped at the chance to get one last stage race under my legs in September, and let's be honest, it's Tuscany!
With Jim Miller directing, we were a team of six riders: Kristin Armstrong, Katheryn Curi, Brooke Miller, Carmen McNellis, Kristin McGrath and me. We ate enormous quantities of pasta and red (pomodoro) sauce, but our most impressive gastronomic achievement may have been our daily consumption of cappuccinos, which adorned our breakfast table daily as stacked porcelain towers, alabaster monuments to the remarkable consumptive prowess of Team USA (pronounced oo-sah). We also ate substantial volumes of parmesan cheese, about which we managed to be a little more discreet than we were about the cappuccinos.
The Giro Toscana marked my first-ever race in Italy, and everyone warned me that the style of racing here would be much different and more challenging than the racing style I knew in France and Germany. Although the forewarnings proved true and were likely meant to prepare me for potential frustration, I thoroughly enjoyed the chaotic energy of the races.
Given my admittedly cursory experience and knowledge of the country, Italy seems to me to embrace a sense of optimistic chaos, wherein to an outsider there may appear no order, yet pervading the apparent chaos is a cheerfully robust and decidedly Italian faith that it will all work out. And it does. Perhaps there is more order in this relaxed approach than meets the eye of an outsider like myself, but I like the idea that life doesn't have to be tightly controlled to work out well in the end.
My friend and fellow American racer Kori Seehafer, who has been racing (with great success) on the Italian Menikini team this year, shared a fantastic new Italian word with me: casino. There is no direct translation into English, but the word means chaos or disarray, rather like a whirlwind, only without the connotation of speed. Riding and racing my bike in Italy has been just like that: a happy casino.
In Italy, life is only half as much fun without Nutella
Photo ©: Amber Rais

Our races would whiz into town over narrow cobbles, the police pulling traffic to the sides of the roads for us only moments before we pass at high speed within inches of rearview mirrors and bumpers. Usually it all works out, but a few times, one would hear the squeal of metal or breaks or startled cyclists, as happened during one afternoon race when, flying through town toward the setting sun, one woman clipped a parked car at high speed, wiping out part of the peloton, including me.
I managed to get my arm out of another woman's front wheel, and my front wheel back on, as our head mechanic Chris Franges untangled my chain. With a solid push, I was on my way again. We had one lap to go on the finishing circuits, so I was alone, and at that point, time trialing to make time-cut rather than to catch the peloton. However, being alone, I was also out of the race envelope, which meant traffic had resumed in full Italian fashion. I darted in and out of cars and pedestrians, yelling one of only four Italian words I knew at the top of my lungs: occhio!
There were no course marshals, so I took each turn from memory, hoping I wouldn't end up lost somewhere in the countryside wondering where I'd gone wrong. Suddenly two police vehicles swooped in around me, one passing me, the other tucking in behind me: my very own race caravan! With sirens blaring, the two vehicles would charge into the intersection ahead and stop all traffic to let me pass. They escorted me all the way to the finish. I felt like the President coming into town – oo-sah coming through!
Crashing was certainly not the highlight of the week in Tuscany, but I did get a kick out of having my own escort while completely off the back. The Giro was fast and hard and not for the feint of heart! We baked in the sun, suffered in the mountains, and negotiated some tortuous cobblestone streets in pouring rain. I couldn't have asked for a better way to end the season than a competitive, soul-stirring race like this one.
Der schöne steirische Herbst
Bring on the pain
Photo ©: Amber Rais

Still simmering from the competitive fires of Italian racing, I took the train from Italy north into Austria and back home to Graz, marking the start of my off-season. Transitioning from the casino of my life as a cyclist, I gradually settled into a calmer rhythm here in the rustic beauty of autumn in Austria, which brings me to another word I recently learned: Gemütlichkeit.
Like the word casino, Gemütlichkeit has no English equivalent; in fact, it is unique to the German language. The word connotes cozy warmth, comfort, cheer, happiness and fulfillment, yet it is understood to mean something different to everyone. For example, reading a book with tea and a good blanket might be gemütlich for one person, while for another, laughing with friends over a beer at the Hofbräuhaus might be gemütlich.
For me, relishing hot tea and warm Apfelstrudel after a hike through crisp mountain air is gemütlich. Whatever brings you Gemütlichkeit, I hope your autumn is filled with it!
Around here, we are celebrating the magnificent steirische Herbst (Styrian autumn). Along our cobblestoned street in the Altstadt of the city, parks and cafes brim with people laughing and savouring the last warm autumn days and outdoor seating now cozily adorned with fleece blankets in the evenings. Children in the parks hunt for chestnuts among the leaves, and paths along the Schlossberg bask in the last vestiges of their colourful, leafy canopies.
Pretty country side is plentiful in the US (pictured) and in Europe
Photo ©: Amber Rais

If you're ever in Styria in the fall, take a tour along the steirische Weinstrasse (Styrian wine road) and stop in at a few Buschenschanks along the way for some traditional Austrian cooking and handmade wines! At a Buschenschank, every item on the menu is grown, harvested and prepared on the property – ganz frisch! This time of year on the Weinstrasse, you'll find endless vineyards laden with bunches of plump, dark grapes; tall, elegant vines of Austrian hops; and outdoor wine festivals, festooned with the fiery colours of changing leaves and infused with the sounds of accordion Polka and the percussion of the traditional Schuhplattler dance.
So far, the weather has been fantastic, and I'm keeping my fingers crossed for a mild winter. I'll be sure to keep you posted on how the winter training goes.
In anticipation of the cold weather, I've put together a veritable arsenal of winter training equipment, including a new set of USWCDP Special Edition Kreitler rollers, and I'll be brutally honest with you: I have no skill when it comes to riding the rollers… yet. I'm hoping this new component of my training will make a substantial difference in my performance next season.
Along with this entry, I've included some photo highlights from adventures throughout the season. Enjoy, and until next time, I wish you viel Gemütlichkeit!
Thanks for reading, Amber
www.amberrais.com
www.teamtibco.com
Blue Planet Tip
This tip comes from my friend Ueyn Block, a fellow cyclist and former Stanford Cycling racer:
You can repair your spare tubes or do other things with them once they are beyond repair
Photo ©: Amber Rais

When you flat a tube, tie the tube in a knot to mark the site of the puncture, and after your ride, set the tube aside in a place you've designated for your used tubes. As your collection of punctured tubes expands, pick a day – perhaps every three to six months, depending on how quickly you accumulate flats – to sit down and patch all of the tubes at once. This way, you only have to get out the cement and patch kit one time to patch a load of tubes, which then refresh your stores of spares. Your pile of tubes then gets reused, saving you money and time, as well as saving them from the landfill.
For tubes that are simply beyond repair or that have been patched one too many times to be trusted on the bike, here are a few ideas for other uses:
1. Cut the tubes perpendicular to the seam at quarter inch intervals to make yourself a load of usable rubber bands.
2. Use the tubes in place of bungee cords. They are especially useful for tying down cycling equipment or luggage on a car roof or rack.
3. Cut squares of the rubber tube to place between your speed sensor and your frame to protect your bike's paint job and to keep the sensor mount from slipping. You can do the same for your cadence sensors, removable fenders, heart rate monitors, and cycling computers.
4. Do you have other suggestions? Please write me with your ideas at www.amberrais.com, and I'll post them to my next diary entry.
Photography
For a thumbnail gallery of these images, click here
Images by Amber Rais
Images by Kurt Jambretz /www.actionimages.cc
Images by Luke Seemann/www.flickr.com/photos/seemann/2712682520