Diarist Amber Rais
Photo ©: David Pierce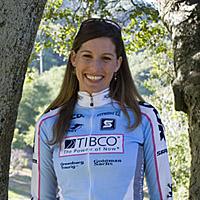 The Amber Rais diary 2008
Amber Rais made a name for herself during her second season of racing at the professional level for Webcor Builders in 2007. She heads into 2008 with a new team, Team Tibco, and new goals. A former collegiate swimmer, Rais found her passion in bike racing during graduate school, where she earned a Masters degree in Earth Systems.
Throughout the season, Amber will give an up & comer's perspective on racing, as well as some suggestions for becoming more environmentally conscious with her 'Blue Planet Tips'.
It's the little things that count
Spring!
The riding around Graz offers great views
Photo ©: David Pierce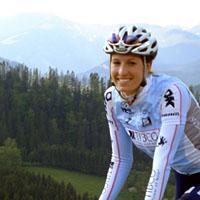 I'm back on the road after a week of recovery at home in Graz, Austria, following the Tour of the Gila in New Mexico. Back in February, I left winter in Graz to race the early season NRC calendar in the U.S., and upon returning home last week, I met a veritable explosion of spring.
Graz teems with life, and even the coldest winter charms crowds into the Hauptplatz for warm Glühwein and Heisse Maroni or onto the snowy Schlossberg for a spectacle of fireworks. In spring, the streets are more alive than ever. Lush foliage and wildflowers sprout along every Fussweg (ped path) and stone wall in the city, where the green leaves and red tile rooftops contrast brightly throughout the Altstadt. Laced branches cast mosaic shadows across the cobblestones, and arched canopies lead to the great stone gates of the old Schloss. Everywhere, cafes spill into the streets with colorful umbrellas, tables, chairs, throw blankets, and clinking Tassen mit Kaffee.
After three months on the road, I soaked up this much-needed homecoming. David and I explored some new training routes, continually stunned by the languorous, pastoral landscapes and bucolic hills, and spent a day exploring the town of Maribor in Slovenia. Spring in Europe is breathtaking! The photos only hint at the invigorating effect these landscapes have on the soul.
Ups and Downs
Team TIBCO summits Geiger Grade
Photo ©: Amber Rais

The past few months have kept me busy with travel, racing and the continuous challenge of weathering emotional roller-coasters. When most people must set their personal emotions aside to do their jobs, my job demands that I amplify and leverage my emotions to best perform my responsibilities. I love that my 'work' as a cyclist involves such raw passion, but the emotional intensity bears a double edge.
I'm still learning the ropes of professional cycling, and in particular, how to manage the ups and downs professionally and effectively, without neglecting the underlying personal journey. The best performers seem to be those who master their emotions and mental state during competition, consistently summoning the right emotions at the right times (even in the face of pain, fear and doubt) to elevate their physical performances. To command one's emotions is no easy task, let alone when suffering on the rivet in the middle of a bike race, or in the face of setbacks, disappointment or bad luck. On the bright side, every obstacle presents an opportunity to better learn how to command your emotions.
Preparation for Gila
View of Graz
Photo ©: Amber Rais

Two weeks before the Tour of the Gila, I crashed warming up for a race, breaking a rib and puncturing my lung. In the big picture, my injuries were minimal and in all likelihood will hardly constitute a blip on the radar of my memory in a few years, but the setback felt crushing after working so hard to build up my form.
As I lay in the ER, disappointment swept over me, as though the saline IV had been laced with liquid self-pity. Yet, here existed an opportunity for mastering my emotions and mental state. I stopped my spiraling thoughts and reminded myself: I'm breathing, alive and aside from the stupid pain in my chest, healthy. Things could be far worse. In the meantime, life is good, and I will get to where I want to be. I have a long season ahead of me.
With an optimistic outlook and the selfless support from my team-mates, I spent the next two weeks gingerly getting back to riding on the road. At first, they helped me time my medications and set up my bike on the trainer. Later, as I got out on the road, they rode in front and pointed out every tiny road imperfection for me. This may sound above and beyond the call of duty (don't get me wrong – it is), but this is how my team-mates are all of the time. They are just as supportive when things are going really well. My only complaint is that they made me laugh all of the time, which killed my rib!
Weathering the ups and downs of the sport becomes much easier with a good team around you. I've been very fortunate to have great team-mates for my whole career thus far, and their various influences have all inspired me to be a better cyclist and team-mate.
In Maribor, Slovenia, one can rent a bicycle for free!
Photo ©: Amber Rais

Following the SRAM Sea Otter Classic our team trained in my hometown of Reno, where we put in some great training miles climbing over Geiger Grade and up to Lake Tahoe over Mount Rose Pass. We checked out the Old West mining town of Virginia City, making our annual pilgrimage to Grandma's Fudge Shop (conveniently located at the top of the long climb for maximum motivational leverage). The riding in Reno is phenomenal, and the cycling community is even better. If you're ever in Reno, stop by the Bicycle Warehouse and say hello to Dave Eastwood. He and his crew took great care of us during our stay, and they know all the best rides in the area.
While my team-mates conquered the monster passes with impressive strength, I practiced mastering my emotions, focusing on small triumphs like breathing hard or climbing out of the saddle. Keeping my thoughts from dwelling on what I could not do required discipline, looking forward, and forgetting the rest.
My plan for Gila would be the same: Do my best, take the small triumphs where I can, and forget the rest.
Then, I won. On stage 2, a hilly, windy 80-mile road race, I got away with two other riders (Alison Testroete of Aaron's and Anne Samplonius of Cheerwine). We battled 30 mph headwinds and grueling climbs off the front for 55 miles, and I felt downright terrible. I also wished very hard that I could shrink a few inches behind my small breakmates as the winds blew us around the road. At times I pictured myself stopping on the shoulder with my thumb out to hitch a ride back to town and be done with this madness.
We faced a three-up sprint finish. I hadn't tried sprinting since breaking the rib and had just recently been able to climb out of the saddle; but I forgot about that and focused my mind wholly on the white line stretched across the road ahead. I jumped first and won the sprint, crossing the line with both legs cramping.
A nice billboard!
Photo ©: David Pierce

I did my best. I took the small triumphs where I could and forgot everything else.
I'm not saying my mental outlook is why I won, or that I had any idea that I would win that day. Winning always takes a little something extra – a little luck thrown into the mix. Alison gave me a run for my money in the sprint, and all three of us were knackered by the time we rounded the final corner. We had really suffered in the wind that day. I'll never shy away when the opportunity to win presents itself, but even when you do everything right, you never know what can happen. The key is to appreciate the good times as they come, and not to put too much stock in the bad times. You never know what may lie around the corner.
In particular, being part of a team provides many moments of triumph and inspiration, even on the most difficult days. The day I won, Rushlee and Jerika had attacked fearlessly early in the race, setting up ideal conditions for a break. Jerika later crashed badly, but soldiered on to finish the stage with impressive determination. Rachel won the stage 4 criterium by launching out of the winning break. Watching Helen and Jo attack so fearlessly that day had electrified my dead legs with renewed motivation. On stage 5, Jo earned a podium finish, crediting the team's aggressive racing with inspiring her to find that extra bit on the final climb. Even when weathering your own personal rollercoaster, there is no better feeling than celebrating good teamwork with your fellow racers!
I'm off to catch a flight to France, where I'll race the Tour de L'Aude with the U.S. National Team, so stay tuned for more stories from the old country!
Thanks for reading, Amber
www.amberrais.com
www.teamtibco.com
Blue Planet Tip
Walking along the river Drava
Photo ©: David Pierce

Team TIBCO racers and staff have been donating prize money to offset the team's carbon emissions this season. Offsetting your personal emissions is much easier than you might think. Team TIBCO uses Clif Bar's Cool Tags program (http://www.clifbar.com/soul/cool_tags/), which makes purchasing your offsets very straightforward and easy (you pay $2 to offset about 300 pounds of CO2).
Want to learn more about global warming, carbon emissions and how carbon offsets work? Check out Clif Bar's Cool Tags partner, Native Energy (http://www.nativeenergy.com/). Native Energy has been rated very highly in an independent academic review of carbon offset companies (http://www.tufts.edu/tie/tci/carbonoffsets/index.htm), and their website includes a very informative section covering Frequently Asked Questions about carbon offsets (http://www.nativeenergy.com/pages/faq_s/15.php).
Photography
For a thumbnail gallery of these images, click here
Images by Bob Kelly
Images by David Pierce
Images by Amber Rais