Diarist Amber Rais
Photo ©: David Pierce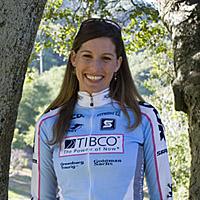 The Amber Rais diary 2008
Amber Rais made a name for herself during her second season of racing at the professional level for Webcor Builders in 2007. She heads into 2008 with a new team, Team Tibco, and new goals. A former collegiate swimmer, Rais found her passion in bike racing during graduate school, where she earned a Masters degree in Earth Systems.
Throughout the season, Amber will give an up & comer's perspective on racing, as well as some suggestions for becoming more environmentally conscious with her 'Blue Planet Tips'.
Grüß Gott Winter
March 11, 2008
Good advice greets me
Photo ©: Amber Rais

This winter challenged me in many ways, both on and off the bike. As you know, I recently moved to Graz, Austria from the United States, where I had been living in California, spoiled with mild winters. Obviously, moving to a new country presents unique challenges off the bike: learning the language, new cultural norms, and how to navigate the grocery stores (not always as easy as you might think). David and I have made slow but steady progress learning Deutsch in our weekly language courses, and through immersion and experience we're now able to converse over such essential topics as coffee (Einen grossen Kaffee, bitte), cycling (Radsport), beer (Ein grosses Bier, bitte), skiing (Skifahren), heating problems (Heizung), car trouble (Mein Auto ist kaputt) and reading signs (Das ist verboten).
I also learned that Austrian lines differ enormously from American lines. Whereas in the U.S., 'waiting in line' means forming a queue in which each person waits for his or her turn, 'waiting in line' in Austria is more like racing a crit: if you're not moving up, you're moving back. I had to learn this the hard way at the grocery store, but picked it up quickly after I lost several places in line each time I neglected to sprint for a newly opened register!
In addition to grocery line sprinting, I faced new training challenges on the bike. Confronted with snow and temperatures down to ten degrees below zero (Celcius, not Fahrenheit!), I chalked up hours upon hours on the trainer, staring fixedly at my power meter, or to break things up, at the wall.
View of the Austrian countryside near Graz
Photo ©: Amber Rais

On those exciting days when I did get to train outdoors, I'd pedal around looking like the Stay Puft Marshmallow Man in multiple layers of cycling gear. I lost count of how many times my toes turned purple while riding for hours through freezing rain or fog at three below zero, after which I would have to wait until my toes turned white again before setting foot in the shower to defrost. Even so, it always felt good to get the blood pumping and to have accomplished a goal for the day. After a long, cold ride, my muscles would savor the pleasant exhaustion that follows a great workout, and the extra challenge of the weather would make that post-ride satisfaction even sweeter.
In all cases, the challenges highlighted the joys. Walking home in the evenings along our cobblestone street, winding through 16th century buildings lit up with a glowing sunset over the river, I couldn't be happier. I love our place in Graz. Everything is within walking distance, and everyone bikes everywhere. The bike path (Radweg) network integrates extremely well with other traffic, making it easier for people to get around by bike or by foot than by car. There were many days when I decided the snow was too deep for riding, but would later see a little old lady grinding through that same snow on her single-speed, basket-adorned bicycle. While I admit that seeing little old ladies riding in weather I wouldn't train in didn't make me feel very tough, I did love that people persevered with bicycle commuting even in terrible weather conditions. Around here, your average Hausfrau is as tough as the gnarliest bike messenger!
My First Day on Nordic Skis
Self portrait at the top of the first hill
Photo ©: Amber Rais

The winter weather forced me to get creative with my training, so I tried Nordic skiing for the first time in my life. When I rented the langlaufen skis and managed to negotiate the entire transaction auf Deutsch, my linguistic victory distracted me from gleaning some important information from the shop; for example, whether the skis were meant for classic or skate skiing, or how to Nordic ski.
I found the trail head at Wilde Wasser Alm in Untertal in the mountains above Schladming. I put on the boots and skis, cranked up my iPod, stepped onto the snow and fell flat on my face. Lesson one: Nordic skis don't have much of an edge. Regaining my balance, I embarked on lesson two: how to move forward on the skis. I tried to glide forward but could only manage to slide around in one place, face-planting a few more times. On the bright side, my attempts (however ridiculous) still worked up a sweat and got my heart rate going!
My new winter playground: the Austrian Alps.
Photo ©: Amber Rais

I watched another skier glide past, and by copying this unknowing mentor, I made slow, hilariously uncoordinated progress forward. I crested the first hill and beheld the glorious expanse of the Wilde Wasser Alm, with its winding creek and towering canyon walls decorated with the blue ice of enormous frozen waterfalls. This glorious moment of personal triumph ended as soon as I attempted to get down the other side of the hill, where I bailed at high speed and helicoptered into a pile of snow.
While crashing isn't always fun (or dignified), the struggle to find my rhythm on the snow made each successful glide more deeply gratifying and added an element of humor and triumph to the whole experience that left me grinning to myself the whole day.
Through trial and error – and the kind advice of an elderly couple who had seen me crash – I got the hang of traditional Nordic skiing. What a great way to enjoy the beauty of winter in the mountains! I would spend three or more hours at a time out on the trails, stopping in a Gasthaus now and then for hot Gemüsesuppe (vegetable soup), savoring the exhilarating combination of fresh mountain air and warm muscles contented with a great workout.
Kitzbühel Hannenkahmrennen
Hermann Maier and me
Photo ©: David Pierce

In addition to getting creative with training, I found inspiration in other sports. In January, our good friends Brian and Jeannie visited from San Francisco to join us at the FIS Alpine World Cup races at Kitzbühel in Austria. The Kitzbühel Hannenkahmrennen World Cup is a classic in its 68th year, and the downhill course – der Streif – is well known and much feared in the skiing world. The Austrian skiers are adored like rock stars in their home country, so the mountains at Kitzbühel were flooded with Austrian flags, red-and-white-painted faces, red flares and air horns.
We watched the athletes tear down the mountain at unbelievable speeds (some were clocked above 120 kph), and the sound of the air as they flew past us made my stomach drop. These athletes attacked the sheer mountain faces with no fear, and as I watched them, I couldn't help but feel freshly inspired.
One of the highlights of the weekend was meeting Hermann Maier in person. We had stopped at a local hotel for some coffee to warm our hands after a long day on the mountain, when Hermann Maier sauntered into the lobby. I grabbed my camera and asked David to come with me and get a photo, for which der Herminator graciously posed.
I'm not a ski racer, but even I know that this man is one of the all-time greats. There I stood, next to a legend in the flesh, and I realized how easy it can be to forget that our heroes are humans, too. When an athlete like Hermann Maier attacks a sheer sheet of ice with machine-like precision and no trace of fear, it is easy to think of him as superhuman, with abilities beyond those of us mere mortals. The reality is far more impressive: even the legends struggle, but they persevere to become the greats as we know them.
The Human Element
Another early morning on the cross-country ski trails;
Photo ©: Amber Rais

Part of me would like to tell you that I trained six hours per day, impervious to the harsh weather and that I cranked out hundreds of hours on the trainer without faltering, but the truth is, I'm human, too. My toes turn purple when they get too cold, and my motivation waned when the weather turned particularly sour.
Training this winter wasn't easy, but I did it. I cranked out the kilometers on the trainer; rode long hours in rain, sleet and snow, braving the elements despite almost constant discomfort (and at times, sheer misery). I am not a robot. I struggled, but I would not have it any other way. The struggle is what gives deeper meaning to the triumphs and joys along the way.
It's no wonder the Olympic Games can move us to tears. As fellow human beings, we can share in the emotion of triumph, knowing the athletes struggled with the same fears, doubts and frustrations we all face. This is exactly what I love about sport, what makes it so beautiful in all its forms: the human element.
Thanks for reading,
Amber

www.amberrais.com
www.teamtibco.com
Blue Planet Tip
Quit your habit of storing food in semi-disposable plastic containers. Storing food in glass or ceramic containers is better for your health and for the environment. Some plastics (particularly #3 and #6) contain hormone-disrupting chemicals than can leach into your food, so choosing glass or ceramic over plastic can help you avoid those nasty toxins. Further, with plastics building up in our landfills and oceans, the more you can avoid purchasing plastic products, the better. You don't have to throw out your current Tupperware collection, but if you ever need more, go for glass or ceramic. In the meantime, transfer your leftovers to a ceramic plate before you nuke it. Your endocrine system will thank you.
Photography
For a thumbnail gallery of these images, click here
Images by Amber Rais
Images by David Pierce
Images by Jesse Bastide