Namrita & Eddie O'Dea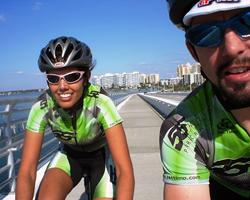 Going long: Eddie & Namrita O'Dea Diary 2008
Eddie and Namrita O'Dea are two married racers balancing the demands of professional racing and training for and even the promoting of endurance races. The duo will travel the US national circuit of 24 hour solo events while dropping in on assorted 100 milers and 12 hour races in between. Follow both into and throughout 2008 as they pursue their roles as spouses, team-mates, co-promoters and yes, even co-business owners.
October 20, 2008
Winning streak wraps up 2008 season
Namrita O'Dea runs through transition
Photo ©: Mark Duffus

Thanks to all the friends that offered to help us try to get to the 24 hours of Moab. Unfortunately, we were not able to pull enough resources together in time. It was very, very disappointing to us as winning the Granny Gear National Points Series was our big goal of the 2008 season and we were all ready to make it happen.
On a more positive note, we decided to not let the recent happenings get us down and picked up some local races to compete in.
FM.24.08
Eddie O'Dea proves his American Classic wheels are worthy
Photo ©: Unknown

Eddie competed in his first solo 24 hour race on the road at the Faster Mustache 24 hour Urban Race. The event was similar to a 24 hour mountain bike race but a little more interesting. Each rider or team had to stop at five check points throughout the city, some of which had all-night parties going on. There was no set route; the riders were dodging Atlanta traffic for 24 hours. All laps had to be completed between noon Saturday through noon Sunday, and the rider with the most laps won.
Eddie used his wealth of 24 hour solo racing experience and his Light and Motion Stella to set the record for the solo win. Not only did he win bragging rights, but he also won some great prizes such as a custom cycling cap, custom painted track bars, and a one-of-a-kind recycled messenger bag. This was really one of the best run, most fun races we have ever been a part of!
Eight hours of Labor
The start
Photo ©: Chris Kelly

The following weekend, we switched roles, and Eddie supported me as I went on to win the 8 hours of Labor race in Florida. That was also a great time and we got to catch up with friend and local racer Harvey Minton (Independent Fabrication) who is back in the race scene and doing quite well.
Women's MTB getaway
The next event was the Women's Mountain Bike Weekend I put together with Mulberry Gap Mountain Bike Getaway in the "Mountain Bike Capital of Georgia", Ellijay. It was good times filled with bike talk, riding the Pinhoti and Bear Creek trails, eating plenty of homemade organic food, and bonding with other mountain bike chicks. We had a wide variety of riders from early beginner to advanced and everyone had a fantastic time. The next one is coming up on the weekend of October 24-26, 2008.
12 hours of Dauset
Racers catch some zzzzs
Photo ©: Chris Kelly

Who needs a break? The following weekend, Gone Riding came back to Georgia for the annual 12 hours of Dauset so I decided I wanted to go defend my winning title from 2007. Eddie provided top notch support again, allowing me to take another first place podium spot. Eddie is getting quiet adept at supporting me and entertaining our two dogs for long periods. So far, switching racing and support duties between the two of us seems to be working quite well! Both of us knows what it takes to be a good support crew for each other so this strategy just makes sense for us.
Interbike
We had a very successful trip to Interbike where we were able to meet with most of our current sponsors and make some new contacts, as well. I spent most of the days working with Twin Six at their indoor booth and the rest of the time experiencing everything Interbike. Cross Vegas was a blast to watch and we had a good time with the folks from Crank Brothers and Twin Six on our last night there.
12 hours of Conyers
That's a big trophy
Photo ©: Eddie O'Dea

Instead of staying home and watching the 24 hours of Moab, where we should have been racing, we decided to team up with Tina Pic (Colavita/Sutter Home) and her husband Chris Pic of Blue Competition Cycles for the last local endurance race, the 12 hours of Conyers. We kept the lead all day long, despite the second place team making us worry a little bit! In the end, we had a nice lead and came home with the victory in the four-person co-ed class. It was a nice change of pace from our usual solo efforts even though neither Eddie nor I have trained for that type of intensity at all this year.
Soon it will be time to start planning and training for our 2009 season. There are some changes in store. In the meantime, we are going to relax a bit and have some fun on the roads, trails and maybe even the velodrome.
Stay tuned for more!
Namrita O'Dea
www.eddieodea.com
www.namritaodea.com
Photography
For a thumbnail gallery of these images, click here
Images by Chris Kelly / www.ckdake.com
Images by Unknown
Images by Mark Duffus
Images by Eddie O'Dea